Abstract
The organic-rich claystone and shale sediments of Lower Cretaceous Abu Gabra Formation are considered an important regional source rock in the Muglad Basin, Sudan. A total of 20 cutting samples from these organic-rich sediments were collected from six wells drilled at oilfields in the Fula sub-basin, Muglad Basin, in order to geochemically assess the type of organic matter, thermal maturity, and palaeoenvironmental conditions. Results reveal that Abu Gabra organic-rich sediments contain high organic matter more than 2.0 wt% TOC and have a very good to excellent oil-generation potential. This is supported by high bitumen extractions and hydrocarbon yields with values exceeding 5,000 and 3,000 ppm, respectively. The investigated biomarkers indicated that the Abu Gabra sediments contain a mixture of algal and amorphous organic matter that were deposited in a lacustrine environment setting. This has been identified from kerogen microscopy and normal alkane distributions, which are characterized by dominance of types I/II kerogen and low-medium molecular weight n-alkane compounds, respectively. This is also supported by high abundance of C27 regular sterane concentrations, high C27/C29 regular sterane ratios and relatively low value of the biomarker sterane/hopane ratio as well as the presence of tricyclic terpanes. A mainly suboxic to relatively anoxic preservation conditions is inferred from Pr/Ph ratios (1.01–2.51). This is further supported by lower amounts of acyclic isoprenoids compared to n-alkanes (e.g., pristane/n-C17 and phytane/n-C18 ratios). Based on the analyzed biomarker thermal maturity indicators, it may be deduced that the Abu Gabra sediments have entered an early mature stage for oil generation. This is also supported by vitrinite reflectance values of 0.58–0.72 % Ro indicative that these sediments have reached oil window maturity.
Access options
Buy single article
Instant access to the full article PDF.
US$ 39.95
Tax calculation will be finalised during checkout.
Subscribe to journal
Immediate online access to all issues from 2019. Subscription will auto renew annually.
US$ 79
Tax calculation will be finalised during checkout.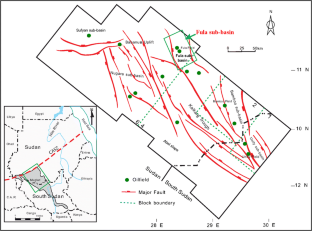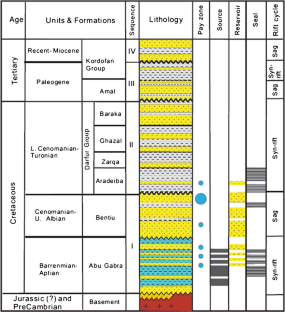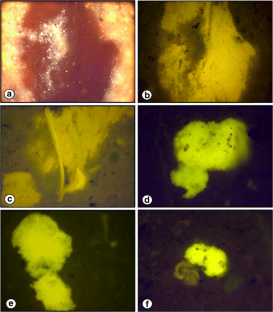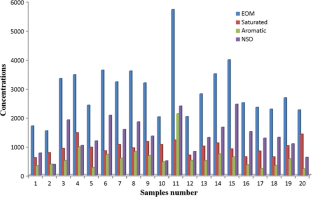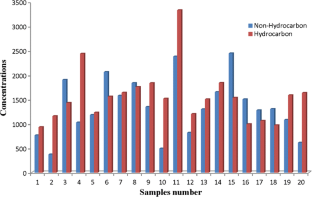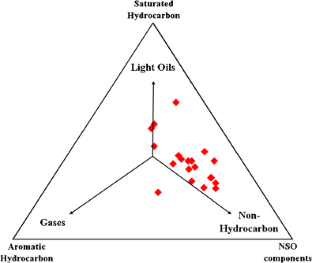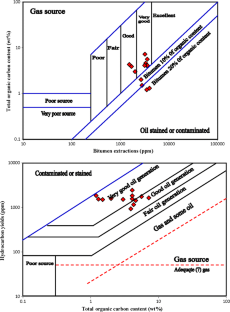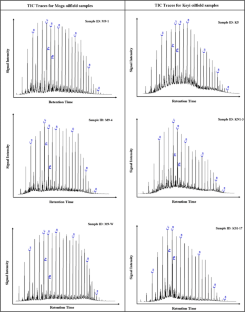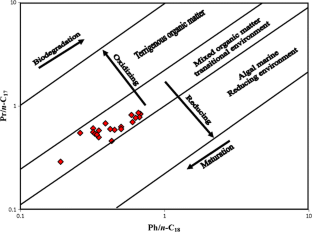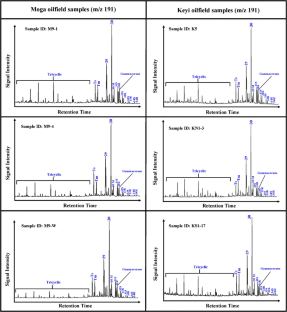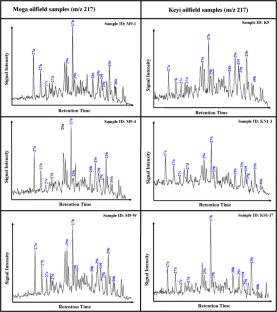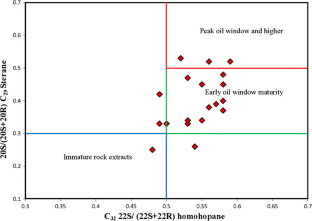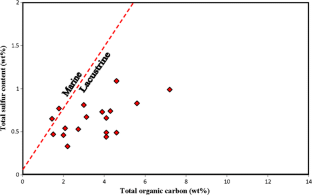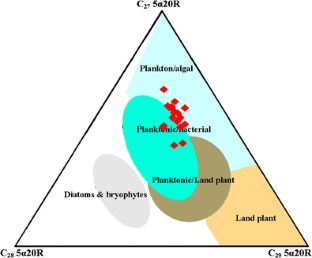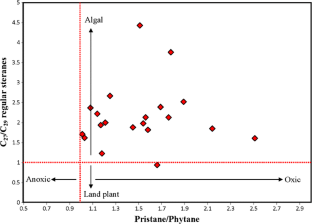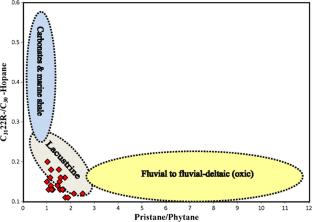 References
Abdalla YM, Michael JP, William AA (2001) Petroleum maturation modelling, Abu Gabra Sharaf area, Muglad Basin, Sudan. J Afr Earth Sci 35:331–344

Abdelhakam EM, Ali SM (2008) Stratigraphy and tectonic evolution of the oil producing horizons of Muglad Basin, Sudan. J Sci Technol 9:1–9

Aquino Neto FR, Triguis J, Azevedo DA, Rodrigues R, Simoneit BRT (1989) Organic geochemistry of geographically unrelated Tasmanites. 14th International Meeting on Organic Geochemistry, September 18–22, Abstracts, Number 189, Paris

Baker DR (1972) Organic geochemistry and geological interpretations. J Geol Educ 20:221–234

Berner RA, Raiswell R (1983) Burial of organic carbon and pyrite sulfur in sediments over Phanerozoic time: a new theory. Geochim Cosmochim Acta 47:855–862

Chandra K, Mishra CS, Samanta U, Gupta A, Mehrotra KL (1994) Correlation of different maturity parameters in the Ahmedabad–Mehsana block of the Cambay basin. Org Geochem 21:313–321

Didyk BM, Simoneit BRT, Brassell SC, Eglinton G (1978) Organic geochemical indicators of palaeoenvironmental conditions of sedimentation. Nature 272:216–222

Douglas AG, Williams PFV (1981) Kimmeridge oil shale, a study of organic maturation. In: Brooks J (ed) Organic maturation studies and fossil fuel exploration. Academic, London, pp 255–269

Ensminger A (1977) Evolution de Composes Polycycliques Sediments. These de Doctorate es-Science, University L. Pasteur, p149

Gülbay RK, Kırmacı MZ, Korkmaz S (2012) Organic geochemistry and depositional environment of the Aptian bituminous limestone in the Kale Gümüshane area (NE-Turkey): an example of lacustrine deposits on the platform carbonate sequence. Org Geochem 49:6–17

Gürgey K (1999) Geochemical characteristics and thermal maturity of oils from the Thrace Basin (western Turkey) and western Turkmenistan. J Pet Geol 22:167–189

Hakimi MH, Abdullah WH (2013) Organic geochemical characteristics and oil generating potential of the Upper Jurassic Safer shale sediments in the Marib-Shabowah Basin, western Yemen. Org Geochem 54:115–124

Hakimi MH, Abdullah WH, Shalaby MR (2011) Organic geochemical characteristics of crude oils from the Masila Basin, eastern Yemen. Org geochem 42:465–476

Hakimi MH, Abdullah WH, Shalaby MR (2012a) Geochemical and petrographic characterization of organic matter in the Upper Jurassic Madbi shale succession (Masila Basin, Yemen): origin, type and preservation. Org Geochem 49:18–29

Hakimi MH, Abdullah WH, Shalaby MR (2012b) Molecular composition and organic petrographic characterization of Madbi source rocks from the Kharir Oilfield of the Masila Basin (Yemen): palaeoenvironmental and maturity interpretation. Arab J Geosci 5:817–831

Huang WY, Meinschein WG (1979) Sterols as ecological indicators. Geochim Cosmochim Acta 43:739–745

Kaska HV (1989) A spore and pollen zonation of the Early Cretaceous to Tertiary non-marine sediments of central Sudan. Palynology 131:79–90

Kruge MA, Hubert JF, Akes RJ, Meriney PE (1990) Biological markers in Lower Jurassic synrift lacustrine black shales, Hartford Basin, Connecticut, U.S.A. Org Geochem 15:281–289

Lirong D, Dingsheng C, Zhi L, Zhiwei Z, Jingchun W (2013) Petroleum geology of the Fula sub-basin, Muglad Basin, Sudan. J Pet Geol 36:43–60

Mackenzie AS, Patience RL, Maxwell JR, Vandenbroucke M, Durand B (1980) Molecular parameters of maturation in the Toarcian shales, Paris Basin, France—I. Changes in the configurations of acyclic isoprenoid alkanes, steranes and triterpanes. Geochim Cosmochim Acta 44:1709–1721

McHargue TR, Heidrick JL, Livingstone JE (1992) Tectono-stratigraphic development of the interior Sudan rifts, Central Africa. Tectonophysics 213:187–202

Mohamed AY, Ashcroft WA, Whiteman AJ (2001) Structural development and crustal stretching in the Muglad Basin, southern Sudan. J Afr Earth Sci 32:179–191

Moldowan JM, Seifert WK, Gallegos EJ (1985) Relationship between petroleum composition and depositional environment of petroleum source rocks. Am Assoc Pet Geol Bull 69:1255–1268

NPA Group. [2008] 'Sudan-Muglad Basin',www.npagroup.co.uk, 27 February. Retrieved on 5 March 2008

Obermajer M, Fowler MG, Snowdon LR (1999) Depositional environment and oil generation in Ordovician source rocks from southwestern Ontario, Canada: organic geochemical and petrological approach. Am Assoc Pet Geol Bull 83:1426–1453

Pan You li, Luo Hui Hong, Abdel Mageed Sharara, CNPCIS, Sivaraman Naganathan, Schlumberger (2006) Developing heavy oil fields by horizontal well placement—a case study. International Oil & Gas Conference and Exhibition in China. Society of Petroleum Engineers, Beijing, China.

Peters KE, Cassa MR (1994) Applied source rock geochemistry. In: Magoon LB, Dow WG (eds) The petroleum system—from source to trap. AAPG Mem 60:93–120

Peters KE, Moldowan JM (1993) The biomarker guide: interpreting molecular fossils. In: Petroleum and ancient sediments. Prentice Hall, Upper Saddle, p 363

Peters KE, Walters CC, Moldowan JM (2005) The biomarker guide, 2nd edn. Cambridge University Press, Cambridge

Philippi GT (1957) Identification of oil source beds by chemical means. 20th, International Geological Congress, Mexico, pp 25–38

Philp RP (1985) Biological markers in fossil fuel production. Mass Spectrom Rev 4:1–54

Powell TG, McKirdy DM (1973) Relationship between ratio of pristane to phytane, crude oil composition and geological environment in Australia. Nat Phys Sci 243:37–39

Schull TJ (1988) Rift basins of interior Sudan: petroleum exploration and discovery. Am Assoc Pet Geol Bull 72:1128–1142

Seifert WK, Moldowan JM (1986) Use of biological markers in petroleum exploration. In: Johns RB (ed) Methods Geochem Geophys 24:261–290

Shanmugam G (1985) Significance of coniferous rainforests and related organic matter in generating commercial quantities of oil, Gipps-land Basin, Australia. Am Assoc Pet Geol Bull 69:1241–1254

Simoneit BRT, Grimalt JO, Wang TG, Cox RE, Hatcher PG, Nissenbaum A (1986) Cyclic terpenoids of contemporaneous resinous plant detritus and of fossil woods, ambers, and coals. In: Leythaeuser D, Rullkötter J (eds) Advances in organic geochemistry 1985. Pergamon, Oxford, pp 877–889

Tissot BP, Welte DH (1984) Petroleum formation and occurrence, 2nd edn. Springer, New York

Waples DW, Machihara T (1991) Biomarkers for geologists—a practical guide to the application of steranes and triterpanes in petroleum geology. Assoc Pet Geol Methods Explor 9:91

Zhang Y, Qin G (2011) Petroleum system of the Fula depression at the Muglad Basin in Central African fault zone. China Univ Geosci J Earth Sci 22:363–370
Acknowledgments
The authors thank the Ministry of Petroleum, Sudan for supplying the data and samples for this study. The authors are most grateful to the Department of Geology for providing facilities to complete this study and to University Malaya for providing IPPP research grants (numbers PG140-2012B and RG145/11AFR)
About this article
Cite this article
Makeen, Y.M., Abdullah, W.H. & Hakimi, M.H. Biological markers and organic petrology study of organic matter in the Lower Cretaceous Abu Gabra sediments (Muglad Basin, Sudan): origin, type and palaeoenvironmental conditions. Arab J Geosci 8, 489–506 (2015). https://doi.org/10.1007/s12517-013-1203-z
Received:

Accepted:

Published:

Issue Date:
Keywords
Abu Gabra Formation

Organic-rich sediments

Biomarkers

Thermal reducing environment

Sudan