Abstract
Geohazards are always followed by many disasters that threaten people's lives and property. They have a characteristic of simultaneous occurrence and regionality. In this century, researchers pay more attention to the mechanisms and assessment methods and techniques of geohazards. The aim of this study is to complete the assessment of susceptibility in Jianshi County, Three Gorges Reservoir in order to avoid disasters and reduce the losses. On basis of the field survey data, the impact factors are chosen and graded. The entropy model is employed to the compute values of different impact factors quantitatively with ArcGIS. All impact factors are weighted based on the calculation results of the entropy model. The result of assessment susceptibility is calculated by different impact factors and reclassified into very high, high, medium, and low susceptibility zones as 10, 20, 30, and 40 % of the total area of Jianshi County, respectively. The percentage is 41.34, 23.90, 21.71, and 13.05 % of the total areas of 162 geohazards and 26.70, 43.52, 23.02, and 6.76 % of the total area of 20 validated geohazards in very high, high, medium, and low susceptibility zones, respectively. There is a significant consistency between the result and validated result. According to the success rate curve, the overall success rate is about 75 %. The present results are scientific and useful for the government management of the geohazards and planning for development.
Access options
Buy single article
Instant access to the full article PDF.
US$ 39.95
Tax calculation will be finalised during checkout.
Subscribe to journal
Immediate online access to all issues from 2019. Subscription will auto renew annually.
US$ 79
Tax calculation will be finalised during checkout.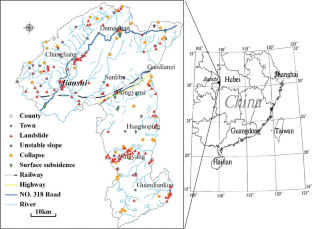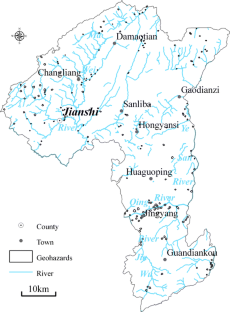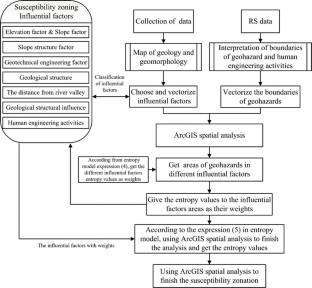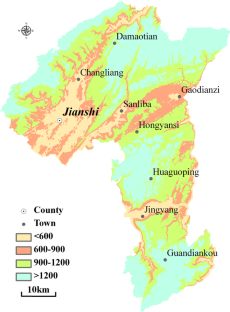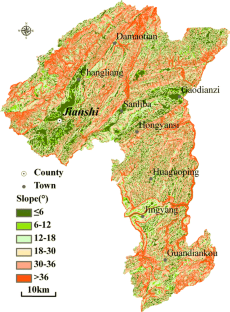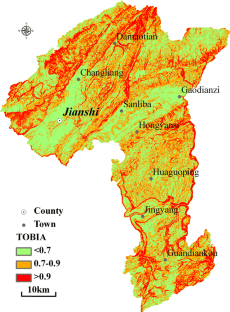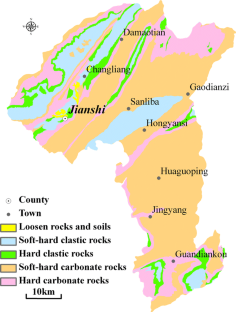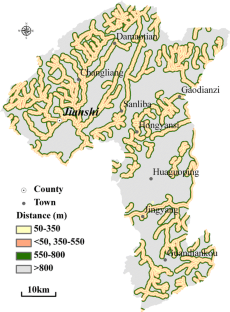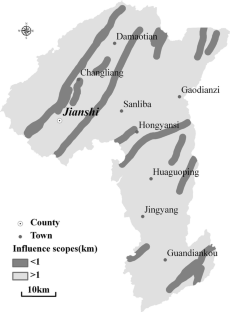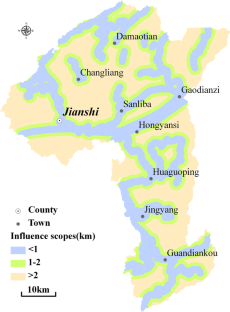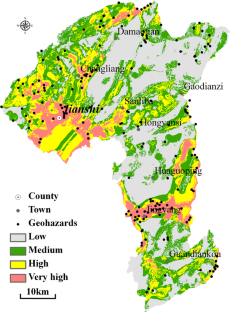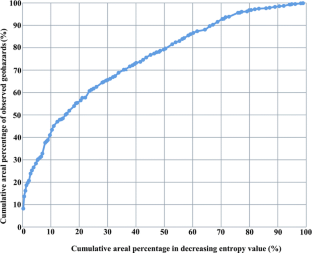 References
Aleotti P, Chowdhury R (1999) Landslide hazard assessment summary review and new perspectives. Bull Eng Geo Env 58(1):21–44

Ayalew L, Yamagishi H (2005) The application of GIS-based logistic regression for landslide susceptibility mapping in the Kakuda-Yahiko Mountains, Central Japan. Geomorphology 65(1–2):15–31

Baeza C, Corominas J (2001) Assessment of shallow landslide susceptibility by means of multivariate statistical techniques. Earth Surf Proc Land 26(12):1251–1263

Bijukchhen SM, Kayastha P, Dhital MR (2013) A comparative evaluation of heuristic and bivariate statistical modelling for landslide susceptibility mappings in Ghurmi-Dhad Khola, east Nepal. Arab J Geosci 6(8):2727–2743

Chen DX, Liu DA (2010) Safety entropy based on slope stability analysis. J Eng Geology 18(6):851–856

Chen RL, Zeng ZX (2008) Method of entropy coefficient to evaluate the surrounding rock stability of underground engineering. J Huaqiao University (Natural Science) 29(3):443–446

Chen SC, Ferng JW, Wang YT, Wu TY, Wang JJ (2008) Assessment of disaster resilience capacity of hillslope communities with high risk for geological hazards. Eng Geol 98:86–101

Chung CF, Fabbri AG (1999) Probabilistic prediction models for landslide hazard mapping. Photogramm Eng Remote Sensing 65(12):1389–1399

Cong WQ, Pan M, Li TF, Wu XZ, Lv GX (2006) Key research on landslide and debris flow hazard zonation based on GIS. Earth Sci Front 13(1):185–190

Dai FC, Lee CF (2002) Landslide characteristics and slope instability modelling using GIS, Lantau Island, Hong Kong. Geomorphology 42:213–228

Donati L, Turrini MC (2002) An objective method to rank the importance of the factors predisposing to landslides with GIS methodology: application to an area of the Apennines (Valnerina; Perugia, Italy). Eng Geol 63:277–289

Gao KC, Cui P, Zhao CY, Wei FQ (2006) Landslide hazard evaluation of Wanzhou based on GIS information value method in the Three Gorges reservoir. J Rock Mech Eng 25(5):991–996

Gökceoglu C, Aksoy H (1996) Landslide susceptibility mapping of the slopes in the residual soils of the Mengen region (Turkey) by deterministic stability analyses and image processing techniques, Engineering Geology 44:147–161

Guinau M, Palla's R, Vilaplana JM (2005) A feasible methodology for landslide susceptibility assessment in developing countries: a case-study of NW Nicaragua after Hurricane Mitch. Eng Geol 80:316–327

Guzetti F, Carrara A, Cardinali M, Reichenbach P (1999) Landslide hazard evaluation: an aid to a sustainable development. Geomorphology 31:181–216

Guzetti F, Reichenbach P, Ardizzone F, Galli M, Cardinali M (2006) Estimating the quality of landslide susceptibility models. Geomorphology 81:166–184

Hou SS, Li A, Zhou PG, Wang R (2006) Regional landslide susceptibility assessment using bivariate statistic method—a case study of Yucheng District, Yaan City, Sichuan Province. Hydrogeol Eng Geol 33(1):1–4

Kayastha P (2012) Application of fuzzy logic approach for landslide susceptibility mapping in Garuwa sub-basin, east Nepal. Front Earth Sci 6(4):420–432

Kayastha P, Dhital MR, De Smedt F (2012a) Landslide susceptibility mapping using the weight of evidence method in the Tinau watershed, Nepal. Nat Hazards 63(2):479–498

Kayastha P, Dhital MR, De Smedt F (2012b) Evaluation of the consistency of landslide susceptibility mapping: a case study from the Kankai watershed in east Nepal. Landslides. doi:10.1007/s10346-012-0361-5

Kayastha P, Dhital MR, De Smedt F (2013a) Evaluation and comparison of GIS based landslide susceptibility mapping procedures in Kulekhani watershed, Nepal. J Geol Soc India 81:219–231

Kayastha P, Dhital MR, De Smedt F (2013b) Application of the analytical hierarchy process (AHP) for landslide susceptibility mapping: a case study from the Tinau watershed, west Nepal. Comput Geosci 52:398–408

Lee KT, Ho JY (2009) Prediction of landslide occurrence based on slope-instability analysis and hydrological model simulation. J Hydrol 375(3–4):489–497

Lee S, Choi U (2003) Development of GIS-based geological hazard information system and its application for landslide analysis in Korea. Geosci J 7(3):243–252

Lee S (2004) Application of likelihood ratio and logistic regression models to landslide susceptibility mapping in GIS. Environmental Management 34, 223–232

Liu CZ, Li TF, Wen MS, Wang XP, Yang B (2004) Assessment and early warning on geo-hazards in the Three Gorges Reservoir region of Changjiang River. Hydrogeol Eng Geol 4:9–19

Liu CZ, Liu YH (2004) Early warning theory for regional geo-hazards and design of explicit statistical system. Hydrogeol Eng Geol 6:109–125

Ohlmacher GC, Davis JC (2003) Using multiple logistic regression and GIS technology to predict landslide hazard in Northeast Kansas, USA. Eng Geol 69(3–4):331–343

Pantelidis L (2009) Rock slope stability assessment through rock mass classification system. Int J Rock Mech Min 46(2):315–325

Remondo J, González A, Díaz de Terán JR, Cendrero A, Fabbri A, Cheng CF (2003) Validation of landslide susceptibility maps: examples and applications from a case study in Northern Spain. Nat Hazards 30(3):437–449

Rong QB, Zhang HJ, Wang FS (2012) Entropy-based set pair analysis model on geological disaster risk for military engineering. Eng 4:76–82

Ruff M, Czurda K (2008) Landslide susceptibility analysis with a heuristic approach in the Eastern Alps (Vorarlberg, Austria). Geomorphology 94(3–4):314–324

Santacanana N, Baeza B, Corominas J, De Paz A, Marturia J (2003) A GIS-based multivariate statistical analysis for shallow landslide susceptibility mapping in La Pobla de Lillet Area (Eastern Pyrenees, Spain). Nat Hazards 30(3):281–295

Sarkar S, Kanungo DP (2004) An integrated approach for Landslide Susceptibility Mapping using remote sensing and GIS. Photogrammetric Engineering & Remote Sensing 70(5):617–625

Shi JS, Xu RC, Shi L, Yang WM, Wu SR (2007) ETM+ imagery and GIS based landslide susceptibility mapping for the regional area of Geheyan reservoir on the Qingjiang River, Hubei Province, China. Earth Sci Front 14(6):119–128

Soeters R, Van Westen CJ (1996) Slope instability recognition, analysis and zonation. In: Turner AK, Schuster RL (eds) Landslides, investigation and mitigation. Transportation Research Board, National Research Council, Special Report 247, National Academy Press, Washington, USA, pp 129–177

Srivastava RM, Leuangthong O (2012) On maximizing spatial entropy. Ninth International Geostatistics Congress, Oslo, Norway June 11–15

Süzen ML, Doyuran V (2004) A comparison of the GIS based landslide susceptibility assessment methods: multivariate versus bivariate. Environmental Geology 45: 665–679

Temesgen B, Mohammed MU, Korme T (2001) Natural hazard assessment using GIS and remote sensing methods, with particular reference to the landslides in the Wondogenet Area, Ethiopia. Phys Chem Earth 26(9):665–675

Tewari RC, Singh DP, Khan ZA (2009) Application of Markov chain and entropy analysis to lithologic succession—an example from the early Permian Barakar Formation, Bellampalli coalfield, Andhra Pradesh, India. J Earth Syst Sci 118(5):583–596

Tseng CY, Chen CC (2011) Entropic component analysis and its application in geological data. Comput Geosci-UK 37(11):1777–1778

Wang FS, Cao Y, Liu M (2011) Risk early-warning method for natural disasters based on integration of entropy and DEA model. J Appl Math 2(1):23–32

Wellmann JF, Regenauer-Lieb K (2012a) Uncertainties have a meaning: information entropy as a quality measure for 3-D geological models. Tectonophysics 526–529:207–216

Wellmann JF, Regtenauer-Lieb K (2012b) Effect of geological data quality on uncertainties in geological models and subsurface flow fields. Thirty-Seventh Workshop on Geothermal Reservoir Engineering

Zhang Y, Yang ZF, Li W (2006) Analyses of urban ecosystem based on information entropy. Ecol Model 197(1–2):1–12

Zhou AG, Zhou JW, Liang HC (2008) Geological environment evaluation. China University of Geosciences Press, Wuhan Hubei
Acknowledgments
This paper is supported by grants from the Wuhan Center of China Geology Survey (Qingjiang River Geological Disasters Detailed Survey, 1212010814008). The authors are greatly indebted to Canute Hyandye and Dr. Gao Xubo for their valuable guidance and advice during the writing of this paper.
About this article
Cite this article
Wang, N., Shi, T., Peng, K. et al. Assessment of geohazard susceptibility based on RS and GIS analysis in Jianshi County of the Three Gorges Reservoir, China. Arab J Geosci 8, 67–86 (2015). https://doi.org/10.1007/s12517-013-1196-7
Received:

Accepted:

Published:

Issue Date:
Keywords
Geohazards

Geological statistics

Entropy model

Susceptibility zonation

Jianshi County