Abstract
The present work focuses on the evaluation of the groundwater quality by chemical and bacteriological analyses to ensure its suitability for drinking and irrigation. Twenty groundwater samples were collected and analyzed from Manfalut district, Assiut, Egypt. Several water quality parameters were determined; the results show higher concentration of total dissolved solids (50 %), electrical conductivity (55 %), chloride (20 %), total hardness (20 %), and bicarbonate (55 %). This indicates signs of deterioration regarding drinking and domestic uses. Salinity hazard, sodium absorption ratio, sodium (Na) percentage, and residual Na carbonate were used to evaluate groundwater quality for irrigation. The values of electrical conductivity and SAR of groundwater samples were estimated illustrating that the most dominant classes are C2S1 (45 %; medium-salinity-low SAR), C3S1 (50 %; high-salinity-low SAR), and C4S1 (5 %; very high-salinity-low SAR). Bacteriological analysis was also conducted for 20 groundwater wells from December 2011 to May 2012. Seven samples (35 %) are contaminated by bacteria (total and fecal coliforms); these wells are not suitable for drinking. The analysis exhibits that bacterial contamination was the maximum in wells located at the center of the study area; this may be due to using the residential septic tanks. It was also discovered that the quality of groundwater is suitable for irrigation in the target aquifer except in a few locations. As for drinking, about 55 % of the samples are not suitable. However, the groundwater wells which are located in the center of the study area are suitable for drinking according to the hydochemical analysis. It was found that some of these wells are not suitable based on bacteriological analysis.
This is a preview of subscription content, log in to check access.
Access options
Buy single article
Instant access to the full article PDF.
US$ 39.95
Tax calculation will be finalised during checkout.
Subscribe to journal
Immediate online access to all issues from 2019. Subscription will auto renew annually.
US$ 99
Tax calculation will be finalised during checkout.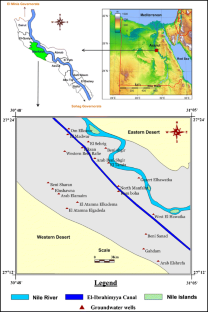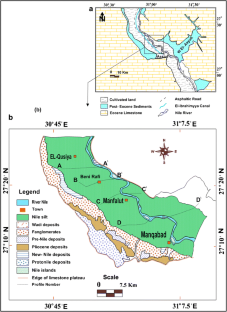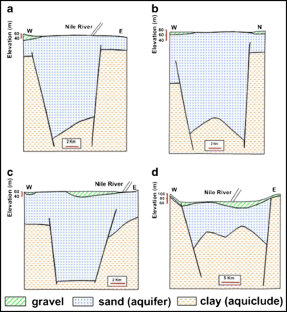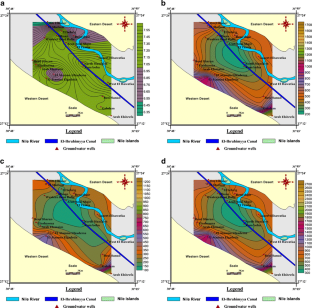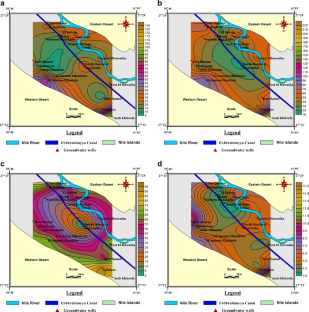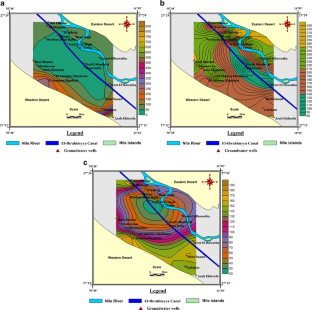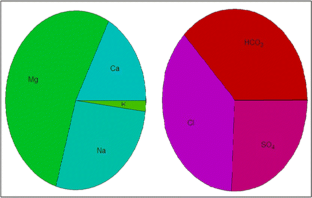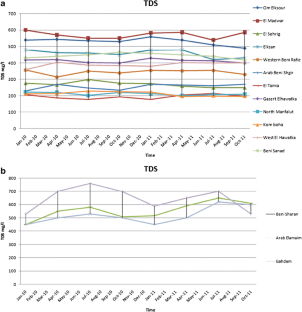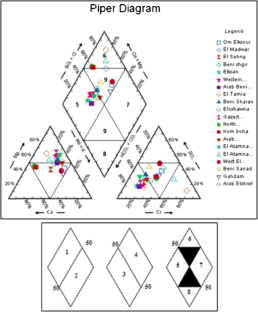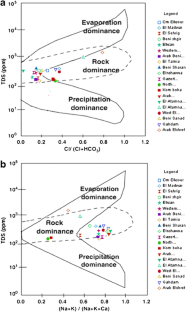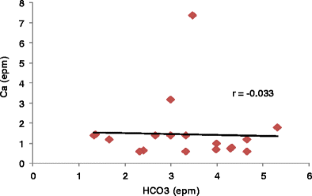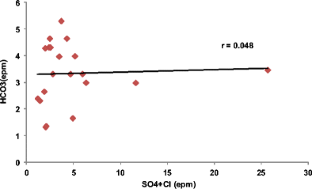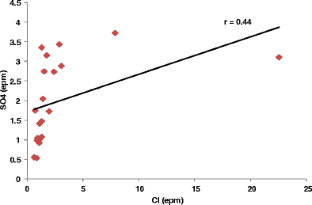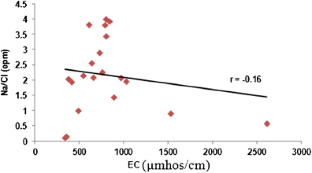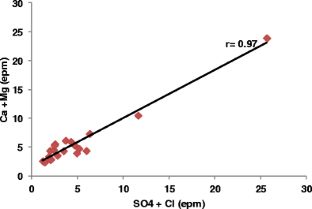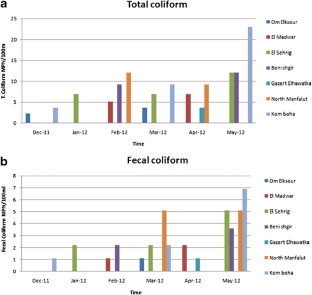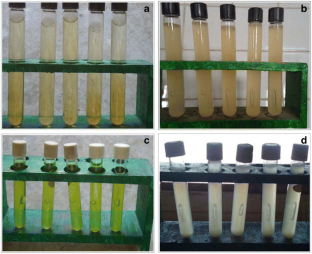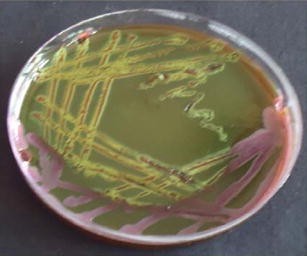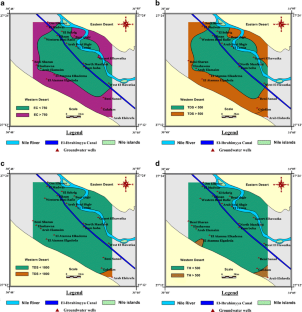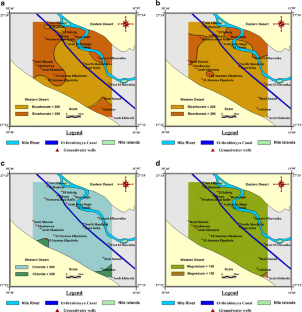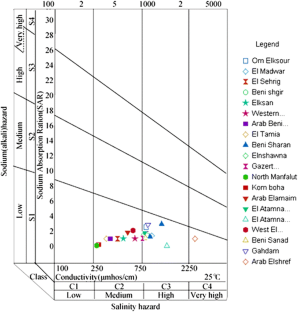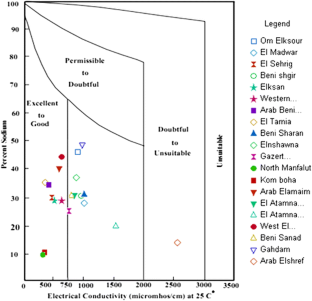 References
Abdel Rahman AA (2006) Hydrogeological and geophysical assessment of the reclaimed areas in Sohag, Nile Valley, Egypt. Ph.D. thesis, Geology Department, Faculty of Science, Ain Shams University, Cairo, Egypt

Aghazadeh N, Mogaddam AA (2010) Assessment of groundwater Quality and its suitability for drinking and agricultural uses in the Oshnavieh Area, Northwest of Iran. J Environ Prot 1:30–40

Al-Ahmadi ME (2013) Groundwater quality assessment in Wadi Fayd, Western Saudi Arabia. Arab J Geosci 6:247–258

Annon (1946) Drinking water standards. J Am Water Works Assoc 938:361–370

APHA, AWWA, WEF, (2005) Standard methods for the examination of water and wastewater, 21st edn. APHA, Washington, DC

AWWA (1971) Water quality and treatment. McGraw-Hill, New York. p. 654.

Babiker IS, Mohamed MAA, Hiyama T (2007) Assessing groundwater quality using GIS. J Water Res Manag 21:699–715

Brian JS, Stephen CP (2006) Physical geology, 4th edn. Wiley, New York

Canter LW (1996) Nitrates in groundwater. Lewis, Baca Raton

Craun GE (1979) Ground Water 17:183

Craun GE (1984) Health aspects of groundwater pollution. In: G. Bitton, C. P. Gerba, Corapcioglu, M. Y. and Haridas, A. J. (eds.) Groundwater pollution microbiology. Wiley, New York. Hydrol. Hi 72, 149.

Davis SN, De Weist RJM (1966) Hydrogeology. Wiley, New York

De Andrade EM, Palacio HA, Souza IH, de Oliveira Leao RA, Guerreiro MJ (2008) Land use effects in groundwater composition of an alluvial aquifer (Trussu River, Brazil) by multivariate techniques. Environ Res 106(2):170–177

Dwivedi UN, Mishra S, Singh P, Tripathy RD (2007). Nitrate pollution and its remediation. In: S. N. Singh & R. D. Tripathy (eds) Environmental bioremediation technologies (chapter 16). Springer, Berlin. pp. 353–389

Eaton FM (1950) Significance of carbonate in irrigation waters. Soil sci 67(3):128–133

Egyptian Higher Committee for Water (2007) Egyptian standards for drinking and domestic uses. EHCW, Cairo

Elewa SA (2004) Effect of the construction of Aswan High Dam on the groundwater in the area between Qena and Sohag,Nile Valley, Egypt. Ph. D. Thesis, Fac. Sci., Assiut Univ.,Egypt

El Kashouty M (2013) Modeling of limestone aquifer in the western part of the River Nile between Beni Suef and El Minia. Arab J Geosci 6:55–76

Farrage AA (1982) Hydrogeological studies on the Quaternary water-bearing sediments in the area between Assiut and Aswan. M.Sc. thesis, Faculty of Science, Assiut University

Farrage AA (1991) Hydrology of the Nile Basin between Assiut and Qena, Upper Egypt. Ph.D. thesis, Department of Hydrology and Engineering Geology, University of Prague, Czechoslovakia

Fetter CW (1999) Contaminant hydrogeology. Prentice-Hall, Englewood Cliffs, NJ

Foster SSD (1995) Groundwater for development: an overview of quality constraints. In: H. Nash, & G.J.H. McCall (eds) Groundwater quality(17th special report). Chapman & Hall, London. pp. 1–3

Gibbs RJ (1970) Mechanism controlling world water chemistry. J Sci 170:1088–1090

Jacksone ML (1973) Soil chemical analysi . Prentice-Hall of India private limited New Delhi.

Jankowski J, Acrworth RI (1997) Impact od debris-flow deposites on hydrochemical processes and the devolopment of dryland salinity in the Yass River catchment, New South Wales, Australia. Hydrogeol J 5(4):71–88

Korany E, Sakr S, Darwish M, Morsy S (2008) Hydrogeologic modeling for the assessment of continuous rise of groundwater levels in the quaternary aquifer, Nile valley, Egypt: case studies. International Conference of Geological Arab World (GAW8), Cairo University, pp. 703–711.

Lerner DN, Harris H (2009) The relationship between land use and groundwater resources and quality. Land Use Policy 26S:265–273. doi:10.1016/j.landusepol.2009.09.005

Lloyd JW, Heathcote JA (1985) Natural inorganic hydrochemistry in relation to groundwater. Oxford University Press, Oxford, 296 pp.

Macler AB, Merkel CJ (2000) Current knowledge on groundwater microbial pathogens and their control. Hydrogeol J 8:29–40

Mansour HH, Philobbos ER (1983) Lithostratigraphic classifications of the surface eocene carbonates of the Nile Valley, Egypt. Bull Fac Sci Assiut Univ Assiut 12(2):129–153

Mohamaden MII, Abuo Shagar S, G AbdAllah (2009) Geoelectrical Survey for Groundwater Exploration at the Asyuit Governorate, Nile Valley, Egypt. JKAU: Mar. Sci., vol. 20 (2009 AD/1430 AH). pp: 91–108

Nickson RT et al (2005) Arsenic and other drinking water quality issues, Muzaffargarh District. Pakistan. Appl Geochem 55–68

Ozler HM, Aydin A (2008) Hydrochemical and mi-crobiological quality of groundwater in West Thrace Region of Turkey. Environ Geol 54(2):355–363

Pawar NJ, Pawar JB, Kumar S, Supekar A (2008) Geochemical eccentricity of groundwater allied to weathering of basalts from the Deccan Volcanic Province, India: Insinuation on CO2 consumption. Aquat Geochem 14:41–71. doi:10.1007/s10498-007-9025-9

Petalas C, Lambrakis N (2006) Simulation of intense salinization phenomena in coastal aquifers—the case of the coastal aquifers of Thrace. J Hydrol 324:51–64. doi:10.1016/j.jhydrol.2005.09.031

Piper AM (1944) A graphical procedure in the geochemical interpretation of water analyses, Trans Amer. Geophy Unio 25:914–928

Raina PS, Pollari FL, Teare GF, Goss MJ, Bassry DA, Wilson JB (1999) The relationship between E. coli indicator bacteria in well—water and gastrointestinal illnesses in rural families. Can J Pub Health 90:172–175

Reid DC, Edwards AC, Cooper D, Wilson E, Mcgaw BA (2003) Water Res. 37 245.World Health Organization. Basic Environmental Health, Geneva, 1997.

Richards LA (US Salinity Laboratory) (1954) Diagnosis and Improvement of Saline and Alkaline Soils [M]. US Department of Agriculture Hand Book, p. 60.

Robinnove CJ, Hangbird RH, Brook Hant JW (1958) Saline water resources of North Dakota. U S Geol Surv Water Supply Paper 1428:72

Said R (1962) The Geology of Egypt. Elsevier Pub. Co., Amsterdam, New York

Saleh A, Al-Ruwaih F, Shehata M (1999) Hydrogeochemical processes operating within the main aquifers of Kuwait. J Arid Environ 42:195–209

Schijven JF, Hassanizadeh SM, Husman AMD (2010) Vulnerability of unconfined aquifers to virus contamination. Water Res 44(4):1170–1181

Sharma SK (2001) Adsorptive iron removal from groundwater. Swets & Zeitlinger B.V, Lisse, The Netherlands

Singh AK, Mondal GC, Kumar S, Singh TB, Tewary BK, Sinha A (2008) Major ion chemistry, weathering processes and water quality assessment in upper catchment of Damodar River basin. India, Environmental Geology 54:745–758

Sravanthi K, Sudarshan V (1998) Geochemistry of groundwater, Nacharam industrial area, Ranga Reddy district, A. P., India. J Environ Geochem 1(2):81–88

TEGPC and CONOCO (1987) Geological Map of Egypt (Scale 1:500000), sheet: NG 36 NW Assiut

Tijani MN (1994) Hydrochemical assessment of groundwater in Moro area, Kwara State, Nigeria. Environ Geol 24:194–202

Todd DK (1980) Groundwater hydrology, 2nd edn. Wiley, New York

United State Salinity Laboratory Staff (1954) Diagnosis and improvement of saline and alkaline soil. US Department of Agriculture, Handbook 60, Washington DC.

World Health Organization (1992) Our planet, our health, report of the WHO Commission on Health and Environment. World Health Organization, Geneva

World Health Organization (1993) Guidelines for drinking water quality, recommendations, vol. 1. World Health Organization, Geneva, p. 1308

World Health Organization (1994) Guidelines for drinking water quality, 2nd edn. World Health Organization, Geneva

World Health Organization (2004) Guidelines for drinking water quality, Vol. 1. Recommendations (3rd edn). World Health Organization, Geneva.

World Health Organization (2008) Guidelines for drinking-water quality [electronic resource]: incorporating 1st and 2nd addenda, v. 1, Recommendations (3rd edn). World Health Organization, Geneva, p. 515.

Wilcox LV (1955) Classification and use of irrigation waters. US Department of Agriculture. Cir. 969, Washington

Zaporozec A (1972) Graphical interpretation of water quality data. Groundwater 10(2):32–43
Acknowledgments
This work has been funded by the TEMPUS Project of Applied Environmental Geosciences and Water Resources Management (JEP-32005-2004), Assiut University, Egypt. We are also grateful to the Laboratory of Faculty of Agricultural, Assuit University for analyzing the groundwater samples.
About this article
Cite this article
Saber, M., Abdelshafy, M., Faragallah, M.EA.A. et al. Hydrochemical and bacteriological analyses of groundwater and its suitability for drinking and agricultural uses at Manfalut District, Assuit, Egypt. Arab J Geosci 7, 4593–4613 (2014). https://doi.org/10.1007/s12517-013-1103-2
Received:

Accepted:

Published:

Issue Date:
Keywords
Hydrocehmical analysis

Bacteriological analysis

Groundwater quality

Contamination

Drinking and irrigation uses

Egypt