Abstract
This study aims to assess the potential of several ancillary input data for the improvement of unsupervised land cover change detection in arid environments. The study area is located in Central Iraq where desertification has been observed. We develop a new scheme based on known robust indices. We employ Landsat (multispectral scanner, thematic mapper, and enhanced thematic mapper) satellite data acquired in 1976, 1990, and 2002. We use the Normalized Deferential Vegetation Index, Normalized Differential Water Index (NDWI), Salinity Index (SI), and Eolian Mapping Index. Two new equations were applied for the SI and the NDWI indices. Validation was performed using ground truth data collected in 16 days. We show that such an approach allows a robust and low-cost alternative for preliminary and large-scale assessments. This study shows that desertification has increased in the study area since 1990.
Access options
Buy single article
Instant access to the full article PDF.
US$ 39.95
Tax calculation will be finalised during checkout.
Subscribe to journal
Immediate online access to all issues from 2019. Subscription will auto renew annually.
US$ 79
Tax calculation will be finalised during checkout.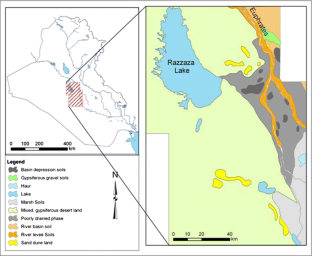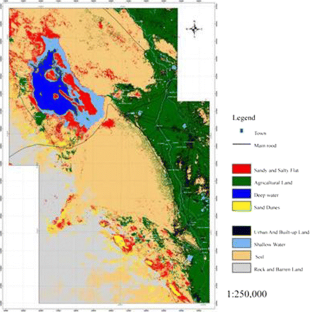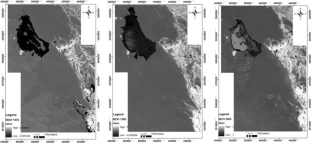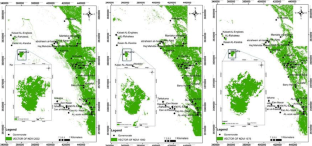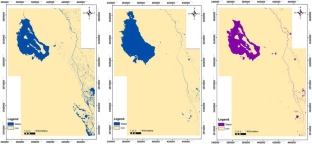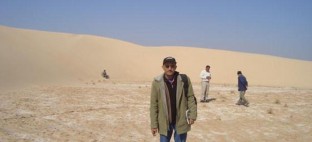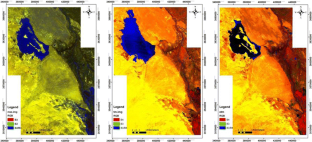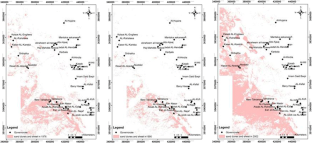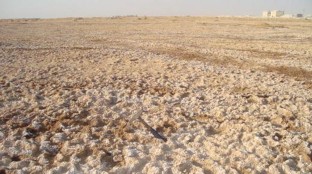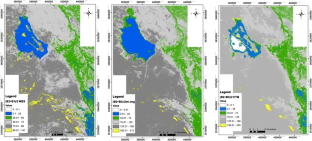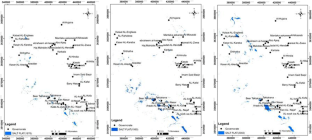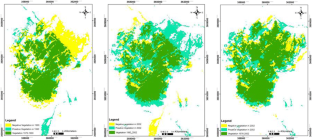 References
Al-Jaf AA, Al-Saady I, (2009) Integration of remote sensing data and GIS application for land cover land use and environmental changes detection in Razaza Lake Bahr Alnajaf area GEOSURV int.rep.no. 3150

Ayad FM (2009) Land degradation detection using geo-information technology of some sites in Iraq. J Al-Nahrain Univ 12(3):94–108

Buringh P (1957) Directorate General of Agricultural Research and Projects–Ministry of Agricultural, Baghdad, Iraq

Chan JC, Chan KP, Yeh AGO (2001) Detecting the nature of change in an urban environment: a comparison of machine learning algorithms. Photogramm Eng Remote Sens 67:213–225

Giri C, Zhu Z, Reed B (2005) A comparative analysis of the Global Land Cover 2000 and MODIS land cover data sets. Remote Sens Environ 94:123–132

Hadeel AS, Jabbar MT, Chin X (2009) Environmental changes monitoring in the arid and semi arid regions: a case study Al-Basra Province, Iraq

Jassim SZ, Goff JC (2006) Geology of Iraq. Dolin, Czech Republic

Khiry MA (2007) Spectral mixture analysis for monitoring and mapping desertification processes in semi-arid area in north Kordofan state, Sudan, PhD thesis, Univ. of Dresden, p 126

Kottek M, Grieser J, Beck C, Rudolf B, Rubel F (2006) World Map of the Köppen–Geiger climate classification updated. Meteorol Z 15(3):259–263

Lyon JG, Yuan D, Lunetta RS, Elvidge CD (1998) A change detection experiment using vegetation indices. IEEE Photogramm Eng Remote Sens 64:143–150

Main RS (2007) A remote sensing change detection study in the arid Richtersveld Region of South Africa, M.Sc. thesis, Univ. of the Western Cape

Metternicht GI, Zinck JA (2003) Remote sensing of soil salinity: potentials and constraints. Elsevier Remote Sens Environ 85:1–20

Ministry of Agricultural (2012) http://www.zeraa.gov.iq/ar/index.php?name=alscosearch

Roy DP, Lewis PE, Justice CO (2002) Burned area mapping using multi-temporal moderate spatial resolution data—a bi-directional reflectance model-based expectation approach. Remote Sens Environ 83:263–286

Shabanas and Zakari (1979) Remote sensing - land use mapping study of desertion problems in Greater Al-Misayab project and follows the salting, present occurrence, GEOSURV int.rep.no. 984

Shalaby A, Tatieshi R (2007) Remote sensing and GIS for mapping and monitoring land cover and land-use changes in the Northwestern coastal zone of Egypt. Appl Geogr 27:28–41
About this article
Cite this article
Othman, A.A., Al-Saady, Y.I., Al-Khafaji, A.K. et al. Environmental change detection in the central part of Iraq using remote sensing data and GIS. Arab J Geosci 7, 1017–1028 (2014). https://doi.org/10.1007/s12517-013-0870-0
Received:

Accepted:

Published:

Issue Date:
Keywords
Iraq

Remote sensing

Changes detection

NDVI

NDWI

SI

EMI

MSS

TM

ETM

Land cover