Abstract
Remote sensing methods enable the rapid and inexpensive mapping of surface geological and mineralogical features. This capability proves highly useful when working on isolated or inaccessible areas. In this study, several enhancements of Landsat Enhanced Thematic Mapper plus (i.e. band ratios, false colour composites and principal component analysis) were used and evaluated to obtain the best possible visualisation of iron deposits hosted in the Devonian sedimentary rocks of northwestern Africa. In particular, two test sites were chosen: southern Algeria (Djebilet area), where the literature mineralogical and geological data on iron mine fields were already available, and the Western Sahara (the southern flank of Tindouf Basin), which was investigated during a field campaign and was where the occurrence of an analogous sedimentary succession led us to hypothesise the possible presence of exploitable iron deposits. This work demonstrates the usefulness of multispectral imagery in the detection of iron-rich areas and establishes a full remote sensing procedure, which can be profitably applied to a wider region of Western Sahara and can provide interesting perspectives on the possibility of detecting new exploitable iron ore deposits in arid environments.
Access options
Buy single article
Instant access to the full article PDF.
US$ 39.95
Tax calculation will be finalised during checkout.
Subscribe to journal
Immediate online access to all issues from 2019. Subscription will auto renew annually.
US$ 79
Tax calculation will be finalised during checkout.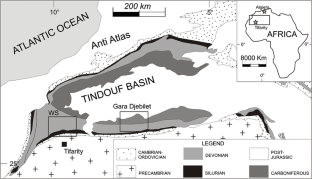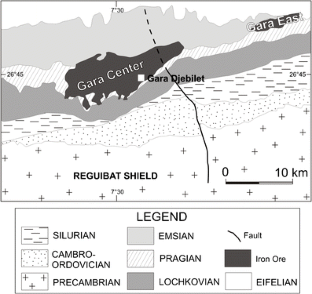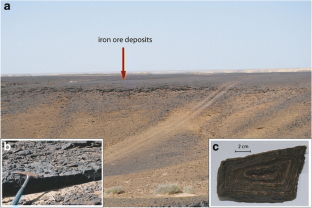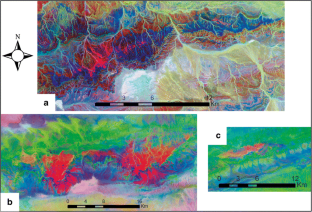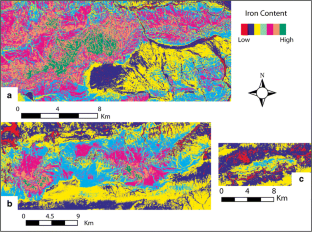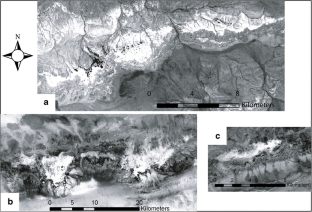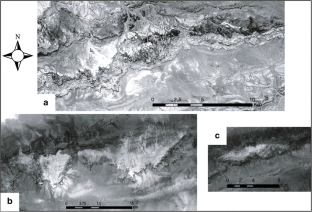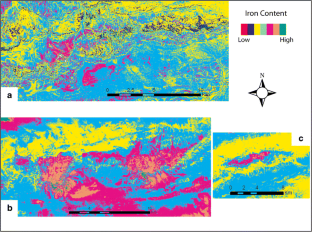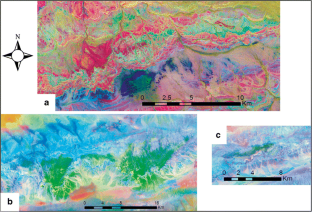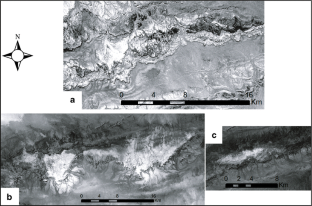 References
Al Rawashdeh S, Saleh B, Hamzah M (2006) The use of remote sensing technology in geological investigation and mineral detection in El Azraq-Jordan. Cybergeo Eur J Geogr Syst Modél Géostat 358:16

Alessandro V, Pieruccini U, Pranzini E, Righini G, Salvestrini L (1997) Elaborazione ed interpretazione di immagini Landsat TM per la discriminazione litologica in un area marginale dello "Zaire Craton" in Angola. Riv It di Telerilev 9:43–52

Aydal D, Arda E, Dumanliar Ö (2007) Application of the Crosta technique for alteration mapping of granitoidic rocks using ETM+ data: case study from eastern Tauride belt (SE Turkey). Int J Remote Sens 28:3895–3913

Chavez PS, Berlin GL, Sowers LB (1982) Statistical method for selecting Landsat MSS ratios. J Appl Photogr Eng 8:23–30

Crosta AP, Moore JM (1989) Enhancement of Landsat Thematic Mapper imagery for residual soil mapping in SW Minais Gerais State, Brazil: a prospecting case history in Greenstone Belt terrain. Proceedings of the 7th (ERIM) Thematic Conference: Remote Sensing for Exploration Geology, Calgary, 2–6 October, pp 1773–1187

Dehnavi AG, Sarikhani R, Nagaraju D (2010) Image processing and analysis of mapping alteration zones in environmental research, East of Kurdistan, Iran. World App Sci J 11:278–283

Dogan HM (2008) Applications of remote sensing and Geographic Information Systems to assess ferrous minerals and iron oxide of Tokat province in Turkey. Int J Remote Sens 29:221–233

Dogan HM (2009) Mineral composite assessment of Kelkit River Basin in Turkey by means of remote sensing. J Earth Syst Sci 118:701–710

Elsayed Zeinelabdein KA, Albiely AI (2008) Ratio image processing techniques: a prospecting tool for mineral deposits, Red Sea Hills, NE Sudan. Int Arch Photogramm Remote Sens Spat Inf Sci 37:1295–1298

Farrand WH (1997) Identification and mapping of ferric oxide and oxyhydroxide minerals in imaging spectrometer data of Summitville, Colorado, USA and the surrounding San Juan Mountains. Int J Remote Sens 18:1543–1552

Ferrari MC (1992) Improved decorrelation stretching of TM data for geological applications: first results in Northern Somalia. Int J Remote Sens 13:841–851

Guerrak S (1988a) Ordovician ironstone sedimentation in Ougarta Ranges: North Western Sahara (Algeria). J Afr Earth Sci 7:657–678

Guerrak S (1988b) Geology of the Early Devonian oolitic iron ore of the Gara Djebilet field, Saharan Platform, Algeria. Ore Geol Rev 3:333–358

Guerrak S (1991) Paleozoic patterns of oolitic ironstone sedimentation in the Sahara. J Afr Earth Sci 12:31–39

Guerrak S, Chauvel JJ (1985) Les minéralisations ferriferes du Sahara Algérien. Le gisement de fer oolithique de Mecheri Abdelaziz (basin de Tindouf). Miner Deposita 20:249–259

Howari FM, Baghdady A, Goodell PC (2007) Mineralogical and geomorphological characterization of sand dunes in the eastern part of United Emirates using orbital remote sensing integrated with field investigations. Geomorphology 83:67–81

Hubbard B, Crowley JK (2005) Mineral mapping on the Chilean–Bolivian Altiplano using co-orbital ALI, ASTER and Hyperion imagery: data dimensionality issues and solutions. Remote Sens Environ 99:173–186

James HL, Van Houten FB (1979) Miocene goethitic and chamositic oolite: northeastern Colombia. Sedimentology 26:125–133

Kaufmann H (1988) Mineral exploration along the Aqaba-Levant Structure by use of TM-data. Concepts, processing and results. Int J Remote Sens 9:1639–1658

Kenea NH (1997) Improved geological mapping using Landsat TM data, Southern Red Sea Hills, Sudan: PC and IHS decorrelation stretching. Int J Remote Sens 18:1233–1244

Kenea NH, Haenisch H (1996) Principal component analyses for lithologic and alteration mappings: examples from the Red Sea Hills, Sudan. Int Arch Photogramm Remote Sens Spat Inf Sci 31:271–275

Legrand P (1967) Le Dévonien du Sahara algérien. In: Oswald DH (ed) International Symposium of the Devonian System. Alta, Calgary, pp 245–284

Legrand P (1969) Découvert de graptolites entre Gara Djebilet et Aouinet el Egra (Synéclise de Tindouf, Sahara Algérien). Bull Soc Hist Nat Afr Nord Algerie 59:99–114

Lemoigne Y (1967) Reconnaissance paléobotanique dans le Sahara Occidental (Région de Tindouf et Gara Djebilet). Ann Soc Geol Nord Fr 87:31–38

Loughlin WP (1991) Principal component analysis for alteration mapping. Photogramm Eng Remote Sens 57:1163–1169

Lubeseder S, Redfern J, Boutib L (2009) Mixed siliciclastic–carbonate shelf sedimentation—Lower Devonian sequences of the SW Anti-Atlas, Morocco. Sed Geol 215:13–32

Madani AA (2009) Utilization of Landsat ETM+ data for mapping gossans and iron rich zones exposed at Bahrah area, Western Arabian Shield, Saudi Arabia. J King Abdulaziz Univ Earth Sci 20:25–49

Patel N, Kaushal B (2011) Classification of features selected through Optimum Index Factor (OIF) for improving classification accuracy. J For Res 22:99–105

Pease PP, Bierly GD, Tchakerian VP, Tindale NW (1999) Mineralogical characterization and transport pathways of dune sand using Landsat TM data, Wahiba Sand Sea, Sultanate of Oman. Geomorphology 29:235–249

Potrel A, Pecaut J, Fanning CM, Auvray B, Burg JP, Caruba C (1996) Old terranes (3.5 Ga) in the West African Craton, Mauritania. J Geol Soc London 153:507–510

Qaid AM, Basavarajappa HT (2008) Application of index factor technique to Landsat-7 data for geological mapping of North East of Hajjah, Yemen. Am-Eurasian J Sci Res 3:84–91

Rajendran S, Thirunavukkarasu A, Balamurugan G, Shankar K (2011) Discrimination of iron ore deposits of granulite terrain of Southern Peninsular India using ASTER data. J Asian Earth Sci 41:99–106

Rajesh HM (2004) Application of remote sensing and GIS in mineral resource mapping—an overview. J Mineral Petrol Sci 99:83–103

Rajesh HM (2008) Mapping Proterozoic unconformity-related uranium deposits in the Rockhole area, Northern Territory, Australia using Landsat ETM+. Ore Geol Rev 33:382–396

Ramadan TM, Kotny A (2004) Mineralogical and structural characterization of alteration zones detected by orbital remote sensing at Shalatein District, SE Desert, Egypt. J Afr Earth Sci 40:89–99

Ready PJ, Wintz PA (1973) Information extraction, SNR improvement and data compression in multi-spectral imagery. IEEE Trans Commun 21:1123

Rohrlich V, Price NB, Calvert SE (1969) Chamosite in the recent sediments of Loch Etvie, Scotland. J Sed Petrol 39:624–631

Rowan LC, Mars JC (2003) Lithologic mapping in the Mountain Pass, California area using Advanced Spaceborne Thermal Emission and Reflection Radiometer (ASTER) data. Remote Sens Environ 84:350–366

Saadi M, Hilali EA, Bensaïd M, Boudda A, Dahmani M (1985) "Carte Géologique du Maroc, echelle 1/1000000," Edition du Service Géologique du Maroc, Notes et Mémoires n° 260

Sabins FF (1999) Remote sensing for mineral exploration. Ore Geol Rev 14:157–183

Salem SM, Arafa SA, Ramadan TM, El Gammal ESA (2011) Exploration of copper deposits in Wadi El Regeita area, Southern Sinai, Egypt, with contribution of remote sensing and geophysical data. Arabian Journal of Geosciences. doi:10.1007/s12517-011-0346-z

Shalaby MH, Bishta AZ, Roz ME, Zalaky MA (2010) Integration of geologic and remote sensing studies for the discovery of uranium mineralization in some granite plutons, Eastern Desert, Egypt. J King Abdulaziz Univ Earth Sci 21:1–25

Siljestrom PA, Moreno A, Vikgren K, Caceres LM (1997) Technical note The application of selective principal component analysis (SPCA) to Thematic Mapper (TM) image for the recognition of geomorphologic features configuration. Int J Remote Sens 18:3843–3852

Singh A, Harrison A (1985) Standardized principal components. Int J Remote Sens 6:883–896

Tangestani MH, Moore F (2000) Iron oxides and hydroxyl enhancement using the Crosta method: a case study from the Zagros Belt, Fars Province, Iran. Int J Appl Earth Obs Geoinf 2:140–146

Tangestani MH, Moore F (2002) Porphyry copper alteration mapping at the Mediuk area, Iran. Int J Remote Sens 23:4815–4825

Villeneuve M (2005) Paleozoic basins in West Africa and Mauritanide thrust belt. J Afr Earth Sci 43:166–195

Zumsprekel H, Prinz T (2000) Computer-enhanced multispectral remote sensing data: a useful tool for the geological mapping of Archean terrains in (semi)arid environments. Comput Geosci 26:87–100
Acknowledgments
This research was financed by Autostrade per L'Italia S.p.a. The authors are grateful to the staff of the SADR Government and to Fiorella Bendoni from NGO Ban Slout Larbi for providing general support during the field work. Dr. Patrizia Musina is acknowledged for the English revision. We are very grateful to Steve Drury, H.M. Rajesh, Prof. Biswajeet Pradhan and two anonymous reviewers for making many helpful suggestions that improved the manuscript.
About this article
Cite this article
Ciampalini, A., Garfagnoli, F., Antonielli, B. et al. Remote sensing techniques using Landsat ETM+ applied to the detection of iron ore deposits in Western Africa. Arab J Geosci 6, 4529–4546 (2013). https://doi.org/10.1007/s12517-012-0725-0
Received:

Accepted:

Published:

Issue Date:
Keywords
Iron

Western Sahara

Landsat 7 ETM+

Mineral detection

PCA

OIF