Abstract
Beginning with a discussion of drought definitions, this review paper attempts to provide a review of fundamental concepts of drought, classification of droughts, drought indices, and the role of remote sensing and geographic information systems for drought evaluation. Owing to the rise in water demand and looming climate change, recent years have witnessed much focus on global drought scenarios. As a natural hazard, drought is best characterized by multiple climatological and hydrological parameters. An understanding of the relationships between these two sets of parameters is necessary to develop measures for mitigating the impacts of droughts. Droughts are recognized as an environmental disaster and have attracted the attention of environmentalists, ecologists, hydrologists, meteorologists, geologists, and agricultural scientists. Temperatures; high winds; low relative humidity; and timing and characteristics of rains, including distribution of rainy days during crop growing seasons, intensity, and duration of rain, and onset and termination, play a significant role in the occurrence of droughts. In contrast to aridity, which is a permanent feature of climate and is restricted to low rainfall areas, a drought is a temporary aberration. Often, there is confusion between a heat wave and a drought, and the distinction is emphasized between heat wave and drought, noting that a typical time scale associated with a heat wave is on the order of a week, while a drought may persist for months or even years. The combination of a heat wave and a drought has dire socio-economic consequences. Drought risk is a product of a region's exposure to the natural hazard and its vulnerability to extended periods of water shortage. If nations and regions are to make progress in reducing the serious consequences of drought, they must improve their understanding of the hazard and the factors that influence vulnerability. It is critical for drought-prone regions to better understand their drought climatology (i.e., the probability of drought at different levels of intensity and duration) and establish comprehensive and integrated drought information system that incorporates climate, soil, and water supply factors such as precipitation, temperature, soil moisture, snow pack, reservoir and lake levels, ground water levels, and stream flow. All drought-prone nations should develop national drought policies and preparedness plans that place emphasis on risk management rather than following the traditional approach of crisis management, where the emphasis is on reactive, emergency response measures. Crisis management decreases self-reliance and increases dependence on government and donors.
Access options
Buy single article
Instant access to the full article PDF.
USD 39.95
Price includes VAT (USA)
Tax calculation will be finalised during checkout.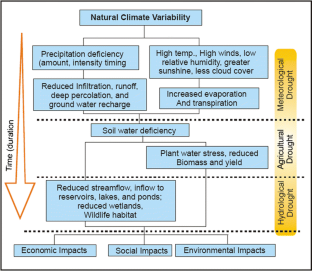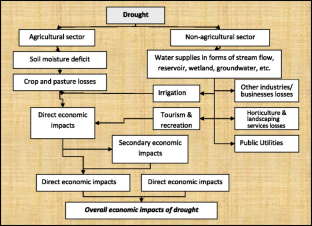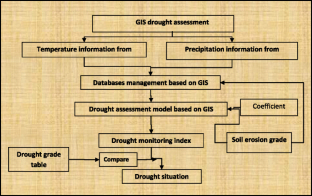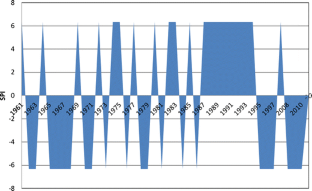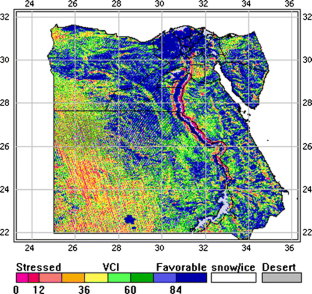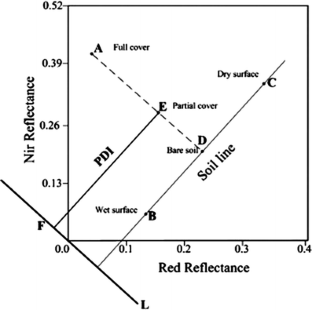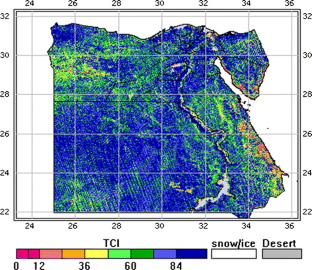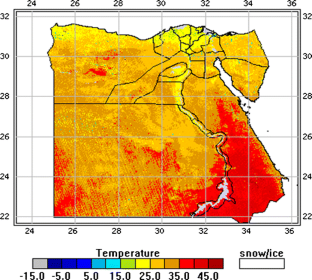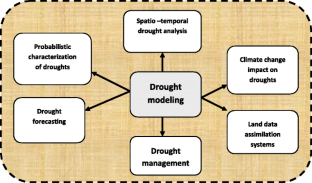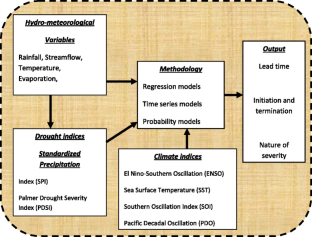 References
Allaby M (2003) Draughts. Book, ISBN-13:7980816047932

AMS (American Meteorological Society) (1997) Meteorological drought policy statement. Bull Am Meteorol Soc 78:847–849

AMS (American Meteorological Society) (2004) Statement on meteorological drought. Bull Am Meteorol Soc 85:771–773

Bajgiran PR, Darvishsefat AA, Khalilic A, Makhdoum MF (2008) Using AVHRR-based vegetation indices for drought monitoring in the Northwest of Iran. J Arid Environ 72:1086–1096

Bordi I, Fraedrich K, Petitta M et al (2006) Large-scale assessment of drought variability based on NCEP/NCAR and ERA-40 re-analyses. Water Resour Manag 20(6):899–915. doi:10.1007/s11269-005-9013-z

Che S, Li C, Shen S (2010) Analysis of drought-flood spatial–temporal characteristics based on standard precipitation index in Hebei Province. Chin J Agrometeorol 31(1):137–143 (in Chinese)

Dai A (2010) Drought under global warming: a review. WIREs Clim Chang 2:45–65. doi:10.1002/wcc.81

Dai A (2011) Characteristics and trends in various forms of the Palmer Drought Severity Index during 1900–2008. J Geophys Res 116:D12115. doi:10.1029/2010JD015541

Ding Y, Hayes MJ, Widhalm M (2010) Measuring economic impacts of drought: a review and discussion. Papers in Natural Resources. Paper 196. http://digitalcommons.unl.edu/natrespapers/196

Food and Agriculture Organization (1983) Guidelines: land evaluation for rainfed agriculture. FAO Soils Bulletin 52, Rome

Feng P, Zhong X, Zhang B (2000) A drought degree evaluation method based on the artificial neural network. Syst Eng Theory Pract 20(3):141–144 (in Chinese)

Gebrehiwot T, Veen AVD, Maathuis B (2011) Spatial and temporal assessment of drought in the Northern highlands of Ethiopia. Int J Appl Earth Obs Geoinf 13:309–321

Ghulam A, Qin Q (2007) Modified perpendicular drought index (MPDI): a real-time drought monitoring method. ISPRS J Photogramm Remote Sens 62(2):150–164

Glantz MH (2003) Usable science: early warning systems: do's and don'ts. Report of workshop, 20–23 October, Shangai, China

Gregoric G, Sušnik A (2010) Drought Management Centre for South Eastern Europe. In: Global environmental change: challenges to science and society in southeastern Europe. doi:10.1007/978-90-481-8695-2_20. Springer Science+Business Media B.V. 2010 and published in International Conference "Global Environmental Change: Challenges for Science and Society in South-Eastern Europe" held 19–21 May 2008

Gumbel EJ (1963) Statistical Forecast of Droughts. Bull Int Assoc Sci Hydrol 8(1):5–23

Hadish L (2010) Drought risk assessment using remote sensing and GIS: a case study in southern zones, Tigray Region, Ethiopia. Msc., Thesis Addis Ababa University, Addis Ababa, Ethiopia

Han P, Wang PX, Zhang SY, Zhu DH (2010) Drought forecasting based on the remote sensing data using ARIMA models. Math Comput Model 51:1398–1403

Hayes MJ (2012) Drought indices, National Drought Mitigation Center (http://www.drought.unl.edu/whatis/indices.htm). With modifications by Dev Niyogi and Umarporn Charusambot, Indiana State Climate Office, Purdue University (http://iclimate.org/2.2.2012).

Hennessy K, Fawcett R, Kirono D, Mpelasoka F, Jonesb D, Bathols J, Whetton P, Stafford Smith M, Howden M, Mitchell C, Plummer N (2008) An assessment of the impact of climate change on the nature and frequency of exceptional climatic events. Report by Climate and Ocean Services Bureau of Meteorology, CSIRO Climate Adaptation Flagship and Drought Policy Review Climate Change Division Department of Agriculture Fisheries and Forestry, Australian

Hisdal H, Tallaksena L (2003) Estimation of regional meteorological and hydrological drought characteristics: a case study for Denmark. J Hydrol 281:230–247

Huo Z, Li S, Wang S et al (2003) Study on the major agriculture meteorological disaster risk assessment. J Nat Disasters 18(6):692–702 (in Chinese)

Jain SK, Keshri R, Goswami A, Sarkar A (2010) Application of meteorological and vegetation indices for evaluation of drought impact: a case study for Rajasthan, India. Nat Hazards 54:643–656. doi:10.1007/s11069-009-9493-x, Springer Science + Business Media B.V

Karavitis CA, Alexandris S, Tsesmelis DE, Athanasopoulos G (2011) Application of the Standardized Precipitation Index (SPI) in Greece. Water J 3:787–805. doi:10.3390/w3030787

Kenny P (2008) Assessment of the social impacts of drought and government and non-government social support services. Issues Paper. http://www.daff.gov.au/__data/assets/pdf_file/0004/710644/social_panels_isues_paper.pdf

Linsely RK Jr, Kohler MA, Paulhus JLH (1959) Applied hydrology. McGraw Hill, New York

Livada I, Assimakopoulos VD (2007) Spatial and temporal analysis of drought in Greece using the Standardized Precipitation Index (SPI). Theor Appl Climatol 89:143–153. doi:10.1007/s00704-005-0227-z, Printed in The Netherlands

Mastrangelo AM, Mazzucotelli E, Guerra D, De Vita P, Cattivelli L (2012) Improvement of drought resistance in crops: from conventional breeding to genomic selection. In: Venkateswarlu et al (eds) Crop stress and its management: perspectives and strategies. Springer Science + Business Media B.V. doi:10.1007/978-94-007-2220-0-7

McKee TB, Doesken NJ, Kleist J (1993) The relationship of drought frequency and duration to time scales. Preprints, 8th Conference on Applied Climatology, 17–22 January, Anaheim, CA, pp. 179–184

Mishra AK, Singh VP (2010) A review of drought concepts. J Hydrol 391:202–216

Mishra AK, Singh VP (2011) Drought modeling—a review. J Hydrol 403:157–175

MWD (Mediterranean Water Scarcity and Drought Working Group) (2007) Mediterranean Water Scarcity and Drought Report. Technical report-009. http://www.emwis.net/topics/WaterScarcity/PDF/MedWSD_FINAL_Edition

Nagarajan R (2009) Drought assessment. Capital Publishing Company, co-published by Springer Science + Business

Nagarajan R (2010) Drought assessment. Earth Environ Sci 2010:160–204. doi:10.1007/978-90-481-2500-5_5, Springer Science+Business

Ni S, Gu Y (2005) Study on frangibility zoning of agricultural drought in China. Adv Water Sci 16(5):705–709 (in Chinese)

Owrangi MA, Adamowski J, Rahnemaei M, Mohammadzadeh A, Sharifan RA (2011) Drought monitoring methodology based on AVHRR images and SPOT vegetation maps. J Water Resour Prot 3:325–334

Palmer WC (1965) Meteorological drought. US Department of Commerce, Weather Bureau, Research Paper No. 45, p. 58

Palmer WC (1968) Keeping track of crop moisture conditions, nationwide: the new crop moisture index. Weatherwise 21:156–161

Paltineanu C, Mihailescu IF, Prefac Z, Dragota C, Vasenciuc F, Claudia N (2009) Combining the standardized precipitation index and climatic water deficit in characterizing droughts: a case study in Romania. Theor Appl Climatol 97:219–233

Quiring SM, Ganesh S (2010) Evaluating the utility of the Vegetation Condition Index (VCI) for monitoring meteorological drought in Texas. Agric For Meteorol 150:330–339

Quiring S, Nielsen-Gammon JW, Srinivasan R, Miller T, Narasimhan B (2007) Drought Monitoring Index for Texas. Final Technical Report submitted by the Texas A&M Research Foundation (RF- 468511) to the Texas Water Development Board on behalf of the project investigators (June 30, 2007)

Schneider SH (1996) Encyclopedia of climate and weather. Oxford University Press, New York

Schubert S, Koster R, Hoerling M (2007) Predicting drought on seasonal-to-decadal time scales. Bull Am Meteorol Soc 88:1625–1630

Shahid S, Behrawan H (2008) Drought risk assessment in the western part of Bangladesh. Nat Hazards J 46:391–413. doi:10.1007/s11069-007-9191-5, Springer Science + Business Media B.V

Singh RP, Roy S, Kogan F (2003) Vegetation and temperature condition indices from NOAAAVHRR data for drought monitoring over India. Int J Remote Sens 24(22):4393–4402

Tao J, Zhongfa Z, Shui C (2011) Drought monitoring and analyzing on typical karst ecological fragile area based on GIS. Procedia Environ Sci 10:2091–2096. Published by Elsevier Ltd. Selection. doi:10.1016/j.proenv.2011.09.326. Available online at www.sciencedirect.com

UN Secretariat General (1994) United Nations convention to combat drought and desertification in countries experiencing serious droughts and/or desertification, particularly in Africa. Paris

Wang PX, Wan ZM, Gong JY, Li XW, Wang JD (2003) Advances in drought monitoring by using remotely sensed normalized difference vegetation index and land surface temperature products. Adv Earth Sci 18(4):527–533 (in Chinese and cited from Han et al. 2010)

Wilhite DA (2000) Drought as a natural hazard: concepts and definitions. In: Wilhite DA (ed) Droughts: a global assessment. Routledge, London, pp 3–18

Wilhite DA, Buchanan-Smith M (2005) Drought as hazard: understanding the natural and social context. In: Wilhite DA (ed) Drought and water crises: science, technology, and management issues. CRC Press, Taylor & Francis Group, Florida, pp 3–29

Wilhite DA, Glantz MH (1985) Understanding the drought phenomenon: the role of definitions. Water Int 10:111–120

Wilhite DA, Glantz MH (1987) Understanding the drought phenomena: the role of definitions. In: Wilhite DA, Easterling WE, Deobarah A (eds) Planning of drought: towards a reduction of societal vulnerability. Westview Press, Wood, pp 11–27

Wipulanusat W, Nakrod S, Prabnarong P (2009) Multi-hazard risk assessment using GIS and RS applications: a case study of Pak Phanang Basin. Walailak J Sci Tech 6(1):109–125

World Meteorological Organization (WMO) (1986) Report on drought and countries affected by drought during 1974–1985. WMO, Geneva, p. 118

Wu J, He B, Lu A, Zhou L, Liu M, Zhao L (2011) Quantitative assessment and spatial characteristics analysis of agricultural drought vulnerability in China. Nat Hazards 56:785–801

Yevjevich VM (1967) An objective approach to definitions and investigations of continental hydrologic droughts. Hydrologic Paper 23. Colorado State University, Fort Collins, CO

Zhang D, Wang G, Zhou H (2011a) Assessment on agricultural drought risk based on variable fuzzy sets model. Chin Geogr Sci 21(2):167–175

Zhang X-P, Rong-Fang L, Sheng L, Quna F, Xiao-Xiao W (2011b) The study of dynamic monitor of rice drought in Jiangxi Province with remote sensing. Procedia Environ Sci 10:1847–1853

Zhou F (2005) Evaluation index system of regional drought and drought strategy. Shandong University, Jinan
About this article
Cite this article
Belal, AA., El-Ramady, H.R., Mohamed, E.S. et al. Drought risk assessment using remote sensing and GIS techniques. Arab J Geosci 7, 35–53 (2014). https://doi.org/10.1007/s12517-012-0707-2
Received:

Accepted:

Published:

Issue Date:
Keywords
Agricultural drought

Meteorological drought

MODIS

NDVI

GIS and remote sensing

Drought indices