Abstract
Following the Intergovernmental Panel on Climate Change report of 2001, a hype regarding the future of Himalayan glaciers, flooding of Indo-Gangetic plains and coastal areas and drying of glacially fed rivers has been created. However, the recent studies of some of the Himalayan glaciers indicate that the rate of recession of most of the glaciers in general is on decline. These observations are in contradiction to the widely popularized concept of anthropogenically induced global warming. It is believed that the rise of temperature of around 0.6°C since mid-nineteenth century is a part of decadal to centennial-scale climatic fluctuations that have been taking place on this Earth for the past few thousands of years.
الخلاصة : بعد الفريق الحكومي الدولي المعني بتغير المناخ) تقرير عام 2001 ، والضجيج فيما يتعلق بمستقبل الأنهار الجليدية في جبال الهيمالايا ، وا لفيضانات في سهول الغانج بين الهند ووالمناطق الساحلية و تم إنشاء جفاف الأنهار تغذية جليدي. ومع ذلك ، فإن الدراسات التي أجريت مؤخرا لبعض من جبال الهيمالايا الأنهار الجليدية تشير إلى أن معدل الركود الاقتصادي لمعظم الأنهار الجليدية في العام هو في انخفاض. هؤلاء الملاحظات هي في تناقض وشعبية على نطاق واسع مفهوم الاصطناعية الاحترار العالمي. ويعتقد أن ارتفاع درجة الحرارة نحو 0.60 درجة مئوية منذ منتصف التاسع عشر القرن هو جزء من العقود للتقلبات المناخية المئوية النطاق التي طرأت على هذا الأرض لآلاف القليلة الماضية من السنين.
Access options
Buy single article
Instant access to the full article PDF.
USD 39.95
Price excludes VAT (USA)
Tax calculation will be finalised during checkout.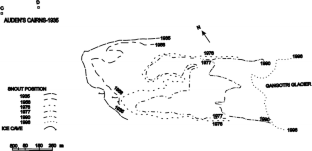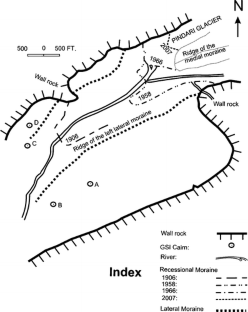 References
Adams J, Maslin N, Thomas E (1999) Sudden climatic transitions during Quaternary. Prog Phys Geog 23(1):1–36

Bali R (2009) Global warming and Hype, India Insight 1(23):7–8

Bali R, Agarwal KK, Ali SN, Rastogi SK, Krishna K (2009) Monitoring recessional pattern of Central Himalayan Glaciers: some optimistic observations. Proc Ind Sci Cong 96:79–80

Benn DI, Owen LA (1998) The role of Indian summer monsoon and the mid latitude westerlies in the Himalayan glaciation: review and speculative discussion. Jour Geol Soc London 155:353–364

Berger A, Tricot C, Gallee H, Loutre MF (1993) Water vapour, CO2 and insolation over the last glacial-interglacial cycles. Phil Trans Royal Soc London B 341:253–261

Bradley RS, Huges MK, Diaz HF (2003) Climate in Medieval time. Science 302:404–405

Carter RM (2007) The myth of dangerous human caused climatic change. In Proceedings: The AUSIMM New Leaders Conference, Brisbane, pp 61–74

Chauhan MS, Mazari RK, Rajgopalan G (2000) Curr Sci 79(13):373–377

Chengappa R (2002) What's wrong with the weather? India Today, August 12

Crowley TJ, Lowrey TS (2000) How warm was the Medieval warm period? Ambiao 299(1):51–54

Clarke PU, Dyke AS, Shakun JD, Carlson AE, Clark J, Wohlfarth B, Mitrovica JX, Hostetler, McCabe AM (2009) The last glacial Maximum, Science. 325:710–714

Diandong R, Karoly DJ, Leslie LM (2007) Temperate mountain glacier-melting rates for the period 2001–30: estimates from three coupled GCM simulations for the greater Himalayas. Jour App Met Clim 46:890–899

Dobhal DP, Gergan JT, Thayyen RJ (2004) Recession and morphogeometrical changes of Dokriani glacier (1962–1995) Garhwal Himalaya, India. Curr Sci 86(5):692–696

Easterbrook DJ (2008) Geologic evidence of the cause of Global warming and cooling—are we heading for Global catastrophy. Retrieve from http://www.ac.edu/∼dbunny/reserach/global/214.pdf

Ganjoo RK, Koul MN (2009) Curr Sci 97(3):309–310

Hasnain SI (2002) Warm Himalayas, editorial, The Asian age

Holland D, Carter RM, de Feitas CR, Goklany IM, Lindzen RS (2007) Climate change; response to Simmonds and Steffen. World Econ 8:143–151

Johnston WR (2002) Facts and figures of sea level. Retrieve from http://www.Copperwiki.org/index.php/Sea_Level_Rise

Jones PD, Moberg A (2003) Hemisphere and large scale surface air temperature variation: an extensive revision and an update to 2001. Jour Clim 16:206–223

Jones PD, Briff KR, Barnett TP, Tett SFB (1998) High resolution palaeoclimatic recorded for the last millennium: interpretation, integration and comparison with General Circulation model control-run temperatures. Holocene 8:455–471

Juyal N, Pant RK, Basavaiah N, Yadava MG, Saini NK, Singhvi AK (2004) Climate and seismicity in the higher Central Himalaya during 20–10 ka: evidence from Garbayang basin, Uttaranchal, India. Palaeogeog Palaeoclim Paleoecol 213:315–330

Juyal N, Pant RK, Basavaiah N, Bhushan R, Jain M, Saini NK, Yadava MG, Singhvi AK (2008) Reconstruction of Late glacial to early Holocene monsoon variability from relict lake sediments of the Higher Central Himalaya, Uttarakhand, India. Jour Asian Ear Sci 34:347–449

Kotlia BS, Sharma MS, Rajgopalan C, Ramesh R, Chauhan MS, Mathur PD, Bhandari S, Chacko ST (1997) Palaeoclimatic condition in the upper Pleistocene and the Holocene Bhimtal-Naukuchiatal lake basin in south central Kumaun, North India. Palaeogeog Palaeoclim Paleoecol 130:307–322

Kotlyakov VM, Serebryanny LR, Solomina ON (1991) Climate change and glacier fluctuation during the last 1, 000 years in the southern mountains of USSR. Mount Res Dev 11(1):1–12

Kouwenberg L, Wagner R, Kurschner W, Visscher H (2005) Atmospheric CO2 fluctuations during the last milleniun reconstructed by stomatal frequency analysis of Tsuga heterophylla needles. Geology 33:33–36

Kumar K, Dumka RK, Miral MS, Satyal GS, Pant M (2008) Estimation of retreat rate of Gangotri glacier using rapid static and kinematic GPS survey. Curr Sci 94(2):258–262

Kurschner WM, Van der Burgh J, Visscher H, Dilcher DL (1996) Oak leaves as biosensors of late Neogene and early Pleistocene paleoatmospheric CO2 concentrations. Mar Micropaleontol 27:299–312

Mann ME, Bradley RS, Hughes MK (1998) Global-scale temperature patterns and climate forcing over the past six centuries. Nature 392:779–787

Mann ME, Bradley RS, Hughes MK (1999) Northern hemisphere temperatures during the past millennium: inferences, uncertainties, and limitations. Geophy Rev Lett 26:759–762

Marshak S (2004) Essentials of geology. W.W. Norton and Company Ltd., London, p 536

McIntyre S, McKitrick R (2003) Corrections to the Mann et al. (1998) proxy database and Northern Hemisphere average temperature series. Environ Energy 14:751–771

McIntyre S, McKitrick R (2005) Hockey sticks, principal components, and spurious significance. Geophy Res Lett 32:L03710

Muller R (2004) Global Warming Bombshell. Article in MIT Technology Review, retrieve from http://www.technologyreview.com/articles/04/10/wo_muller101504.asp

Nainwal HC, Negi BDS, Chaudhary M, Sajwan KS, Gaurav A (2008) Temporal changes in rate of recession: evidences from Satopanth and Bhagirath Kharak glaciers, Uttarakhand, using Total Station Survey. Curr Sci 97(5):653–660

Naithani AK, Nainwal HC, Prasad CP (2001) Geomorphological evidences of retreat of Gangotri glacier and its characteristics. Curr Sci 80:87–94

Owen LA, Finkel RC, Caffee MW (2002) A note of the extent of glaciation throughout the Himalaya during the global Last Glacial Maximum. Quat Sci Rev 21:147–157

Patterson T (2005) The geologic record and climate change. Retrieve from http://geocraft.com/wvFossils/Reframe_Docs/The_Geologic_Record_and_Climate_change.pdf

Petit JR, Jozel J, Raynaud D, Barkov NI, Barnola JN, Basile I, Bender M, Chappellaz J, Davis M, Delaygue G, Delmotte M, Kotlyakov VM, Legrand M, Lipenkov VY, Lorius C, Pepin L, Ritz C, Saltzman E, Stievnard M (1999) Climate and atmospheric history of the past 420, 000 years from the Vostok Ice Core, Antarctica. Nature 399:429–436

Prell WL, Kutzbach JE (1992) Sensitivity of the Indian monsoon to forcing parameters and implications for its evolution. Nature 360:647–652

Raina VK (2003) History of Gangotri glacier down the ages. In Proc. Workshop on Gangotri Glacier, 2003. Geol Sur Ind, Spl Pub 80:1–10

Raina VK (2006) Glaciers: the rivers of ice. Geological Society of India, p 41

Raina VK (2009) Himalayan glaciers. Discussion paper Ministry of Environment and Forest, Govt. of India p. 60

Sangewar CV (1998) Glacier front fluctuations studies in parts of Uttar Pradesh and Himachal Pradesh. Geol Sur Ind Rec 130:135–136

Sharma MC, Owen LA (1996) Quaternary glacial history of the Garhwal Himalaya. India Quat Sci Rev 15:35–365

Shukla SP, Siddiqui MA (2001) Recession of the snout front of Milam glacier, Goriganga valley, Pithoragarh district, Uttar Pradesh. Geol Sur Ind, Spec Pub 53:71–75

Singh J, Yadav RR (2005) Spring precipitation variations over the western Himalaya, India since A.D. 1731 as deduced from tree rings. Jour Geophy Res 110:D 1110

Sinha LK, Shah A (2008) Temporal analysis of Siachen Glacier: a remote sensing perspective. In Nat. Sem. Glacial Geomorphology and Paleoglaciation in Himalaya, pp 43–44

Soon W, Baliunas S (2003) Proxy climatic and environmental changes of the past 1000 years. Clim Res 23:89–110

Sowers T, Bender M (1995) Climate records covering last deglaciation. Science 269(5221):210–214

Srivastava D (2003) Recession of Gangotri glacier. In Proc. Workshop on Gangotri Glacier, 2003. Geol Sur Ind, Spl Pub 80:21–30

Srivastava D, Swaroop S (2001) Oscillations of snout of Dunagiri glacier. Geol Sur Ind, Spl Pub 53:83–85

Swaroop S, Oberoi LK, Srivastava D, Gautam CK (2001) Recent fluctuations in the snout of Dunagiri and Chaurabari glacier, Dhauliganga and Mandakini–Alaknanda basins, Chamoli district, Uttar Pradesh. Geol Sur Ind, Spl Pub 53:77–81

Tewari AP (1973) Recent changes in the snout of Pindari glacier (Kumaun Himalayas). The role of snow and ice in hydrology. Proceedings of Banff Symposia, Sept. 1972, UNESCO-WHO-IAHS, Vol.2, pp 1144–1149

UN (2001) Climate change, the scientific basis. Cambridge University Press, London

Villalba R (1990) Climatic fluctuations in northern Patagonia during the last 1000 years as inferred from tree ring records. Quat Res 34:346–360

Villalba R (1994) Tree ring and glacial evidence for the medieval warm epoch and the little ice age in southern South America. Clim Change 26:183–197

Yadav RR, Park WK, Bhattacharyya A (1997) Dendroclimatic reconstruction of April–May temperature fluctuations in the Western Himalaya of India since A.D. 1698. Quat Res 48:187–191

Yadav RR, Park WK, Bhattacharyya A (1999) Spring-temperature variations in Western Himalaya, India, as reconstructed from tree- rings: AD 1390–1987, The Holocene. 9(1):85–90

Yadav RR, Park WK, Singh J, Dubey B (2004) Do the western Himalayas defy global warming. Geophy Res Lett 31:L17201. doi:10.1029/2004GL020201
Acknowledgments
The authors are thankful to the Head, Centre of Advanced Study in Geology, Lucknow University for providing infrastructural facilities. Grant from Department of Science and Technology (DST) Project No. ESS/91/29/2004 is thankfully acknowledged.
About this article
Cite this article
Bali, R., Agarwal, K.K., Ali, S.N. et al. Is the recessional pattern of Himalayan glaciers suggestive of anthropogenically induced global warming?. Arab J Geosci 4, 1087–1093 (2011). https://doi.org/10.1007/s12517-010-0155-9
Received:

Accepted:

Published:

Issue Date:

DOI: https://doi.org/10.1007/s12517-010-0155-9
Keywords
Himalayan glaciers

Glacial recession

Global warming

Climatic fluctuations