Abstract
Groundwater samples from six wells and various species of plants from soils developed on ophiolites were collected from an arid area (AlKhod area, Oman) and analyzed for trace elements including rare earth elements (REEs). The distribution patterns of REEs in plants indicated an enrichment in middle REEs (MREEs = Sm to Dy) and heavy REEs (HREEs = Ho to Lu), when they are normalized to the REE composition of the Post Archean Australian Shale (PAAS), with a significant negative anomaly in Ce and a positive anomaly in Eu. Compared to Oman ophiolites, the REEs in different species of plants are depleted in Ce and enriched in MREEs and slightly enriched in light REE (LREE = from La to Nd). Relative to PAAS, the distribution of REEs in groundwaters revealed similar patterns to the REE distribution in plants. The distribution patterns of REEs in plants relative to those in waters are nearly flat. These patterns suggest that the transfer of REEs from soil solutions to the groundwaters in Oman occurs without any significant fractionation.
الملخص العربى:-
جُمعت عينات مياه جوفية ستة آبار بالإضافة إلى أنواع مختلفة من النباتات النامية على تربة تكونت على صخور الأوفيولايت، وذلك من منطقة جافة (منطقة الخود، عُمان)، وقد حللت للعناصر النزرة ومن ضمنها العناصر الأرضية النادرة. توضح أنماط توزيع العناصر الأرضية النادرة في النباتات إثراء في العناصر الأرضية الثقيلة (الهولميوم ولوتيتيوم) والمتوسطة (ساماريوم وديسبروزيوم) عندما يتم مقارنتها بترحيب العناصر الأرضية النادرة في الطفل الأسترالي لما بعد الآركي، بالإضافة إلى شذة سلبية واضحة للسيريوم وشذة ايجابية لليوربيوم. بالمقارنة مع أوفيولايت عُمان فإن العناصر الأرضية النادرة في أنواع مختلفة من النباتات تبدي نقصا في السيريوم وإثراء في العناصر الأرضية النادرة المتوسطة وإثراء يسيرا في العناصر الأرضية النادرة الخفيفة ( لانثانوم إلى نيوديميوم ).وبالمقارنة الطفل الاسترالي لما بعد الآركي فإن العناصر الأرضية النادرة في المياه الجوفية يظهر نمطا مماثلا لتوزيع تلك العناصر في النباتات، بحيث أن أنماط التوزيع للعناصر الأرضية النادرة في النباتات منسوبة إلى تلك الأنماط في المياه تكون مسطحة تقريبا. هذا يدل على أن انتقال هذه العناصر من محاليل التربة إلى المياه الجوفية في عُمان يحدث بدون تفاوت واضح.
Access options
Buy single article
Instant access to the full article PDF.
USD 39.95
Price includes VAT (USA)
Tax calculation will be finalised during checkout.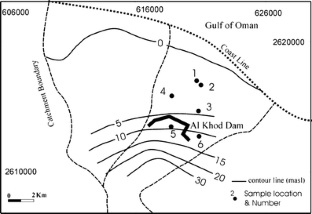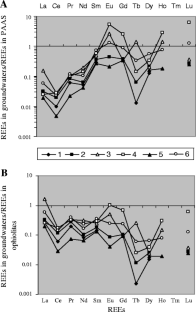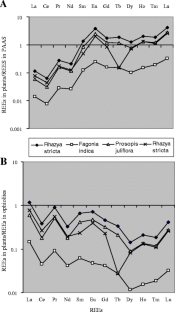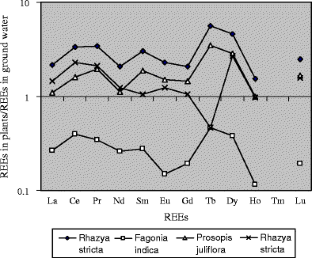 References
Abdalla O, Al-Abri R (2008) Groundwater recharge in arid areas induced by tropical cyclones, Case of Guno in Muscat Region, Sultanate of Oman. The First International Conference on Water Resources and Climate Change in the MENA Region. Muscat, the Sultanate of Oman, 2–4 November 2008

Abdalla O, Al-Rawahi A (2008) Seawater Intrusion in arid regions and the role of recharging Dam, AlKhod, Oman. Ground Water Journal (submitted)

Al Khatry AM, Helmi T (2008) The effect of Gonu cyclone on recharging groundwater aquifers—sultanate of Oman. The First International Conference on Water Resources and Climate Change in the MENA Region. Muscat, the Sultanate of Oman, 2–4 November 2008

Bau M, Usui A, Pracejus B, Mita N, Kanai Y, Irber W, Dulski P (1998) Geochemistry of low-temperature water–rock interaction: evidence from natural waters, andesite, and iron-oxyhydroxide precipitates at Nishiki-numa iron-spring, Hokkaido, Japan. Chem Geol 151:293–307

Bennet RJ, Breen CM (1992) The use of lanthanum to delineate the aluminium signalling mechanisms functioning in the roots of Zea mays L. Environ Exp Bot 32:365–376

Biddau R, Cidu R, Frau F (2002) Rare earth elements in waters from albite-bearing granodiorites of central Sardinia, Italy. Chem Geol 182:1–14

Freeze RA, Cherry JA (1979) Groundwater. Prentice-Hall, Englewood Cliffs, p 604

Fu F, Akagi T, Shinotsuka K (1998) Distribution pattern of rare earth elements in fern: implication for intake of fresh silicate particles by plants. Biol Trace Elem Res 64:13–26

Fu F, Akagi T, Yabuki S, Iwaki M (2001) The variation of REE (rare earth elements) patterns in soil-grown plants: a new proxy for the source of rare earth elements and silicon in plants. Plant Soil 235(1):53–64

Girardeau J, Monnier C, Lemée L, Quatrevaux F (2002) The Wuqbah peridotite, central Oman ophiolite: petrological characteristics of the mantle in a fossil overlapping ridge setting. Mar Geophys Res 23:43–56

Hanna S (1995) Field guide to the geology of Oman. International Printing Press, Ruwi, p 178

Helmke PA (1999) Chemistry of cadmium in soil solution. In: McLaughlin MJ et al (ed) Cadmium in soils and plants. Kluwer, Dordrecht, pp 39–64

Janssen RPT, Verweij W (2003) Geochemistry of some rare earth elements in groundwater, Vierlingsbeek, The Netherlands. Water Res 37:1320–1350

Johannesson KH (2005) Rare earth elements in groundwater flow systems. Springer, Dordrecht, p 294

Johannesson KH, Xiaoping Z (1997) Geochemistry of the rare earth elements in natural terrestrial waters: a review of what is currently known. Chin J Geochem 16:20–42

Johannesson KH, Zhou X (1999) Origin of middle rare earth element enrichments in acid waters of a Canadian High Arctic lake. Geochim Cosmochim Acta 63:153–165

Johannesson KH, Stetzenbach KJ, Hodge VF (1997) Rare earth elements as geochemical tracers of regional groundwater system. Geochim Cosmochim Acta 61(17):3605–3618

Johannesson KH, Farnham IM, Guo C, Stetzenbach KJ (1999) Rare earth element fractionation and concentration variations along a groundwater flow path within a shallow, basin-fill aquifer, southern Nevada, USA. Geochim Cosmochim Acta 63:2697–2708

Johannesson KH, Xiaoping Z, Caixia G, Klaus JS, Vernon FH (2000) Origin of rare earth element signatures in groundwaters of circumneutral pH from southern Nevada and eastern California, USA. Chem Geol 164:239–257

Kharitonova NA, Chelnokov GA, Karabtsov AA, Kiselev VI (2007) Geochemistry of Na–HCO3 groundwater and sedimentary bedrocks from the central part of the Sikhote–Alin mountain region (Far East of Russia). Appl Geochem 22(8):1764–1776

Leybourne MI, Goodfellow WD, Boyle DR, Hall GM (2000) Rapid development of negative Ce anomalies in surface waters and contrasting REE patterns in groundwaters associated with Zn–Pb massive sulphide deposits. Appl Geochem 15(6):695–723

Macumber PG (1997) Al Khawd Fan groundwater investigation. Ministry of Water Resources, Sultanate of Oman

Miekeley N, Casartelli EA, Dotto RM (1994) Concentration levels of rare-earth elements and thorium in plants from the Morro Do Ferro environment as an indicator for the biological availability of transuranium elements. J Radioanal Nucl Chem 182:75–89

Millero FJ (1992) Stability constants for the formation of rare earth inorganic complexes as a function of ionic strength. Geochim Cosmochim Acta 56:3123–3132

Robertson AHF, Searle MP, Ries A (Eds) (1990) The Geology and Tectonics of the Oman Region. Geological Society of London Special Publication 49, 845 p

Semhi K (1996) Erosion et transferts de matières sur le bassin versant de la Garonne—Influence de la sécheresse. PhD thesis, Strasbourg, 203p

Shiming D, Tao L, Chaosheng Z, Juncai Y, Zili Z (2005) Accumulation and fractionation of rare earth elements (REEs) in wheat: controlled by phosphate precipitation, cell wall absorption and solution complexation. J Exp Bot 56(420):2765–2775

Shiming D, Tao L, Chaosheng Z, Wang L-J, Sun Q (2006) Accumulation and fractionation of rare earth elements in a soil–wheat system. Pedosphere 16(1):82–90

Stille P, Steinmann M, Pierret MC, Gauthier-Lafaye F, Chabaux F, Viville D, Pourcelot L, Matera V, Aouad G, Aubert D (2006) The impact of vegetation on REE fractionation in stream waters of a small forested catchment (the Strengbach case). Geochim Cosmochim Acta 70:3217–3230

Taylor SR, McLennan SM (1985) The continental crust: its composition and evolution. Blackwell, Oxford, p 307

Tweed SO, Weaver TR, Cartwright I, Schaefer B (2006) Behavior of rare earth elements in groundwater during flow and mixing in fractured rock aquifers: an example from the Dandenong Ranges, southeast Australia. Chem Geol 234(3–4):291–307

Wei YZ, Zhou XB (2000) Effect of neodymium on physiological activities in oilseed rape during calcium starvation. J Rare Earth 18:57–61

Wei ZG, Yin M, Zhang X (2001) Rare earth elements in naturally grown fern Dicranopteris linearis in relation to their variation in South-Jiangxi region (Southern China). Environ Pollut 114:345–355

Worall F, Pearson DG (2001) Water rock interaction in acidic mine discharge as indicated by rare earth elements. Geochim Cosmochim Acta 65(18):3027–3040

Wyttenbach A, Furrer V, Schleppi P, Tobler L (1998) Rare earth elements in soil and in soil-grown plants. Plant Soil 199(2):267–273

Zhengyi H, Richter H, Sparovek G, Schnug E (2004) Physiological and biochemical effects of rare earth elements on plants and their agricultural significance: a review. J Plant Nutr 27(1):183–220

Zhongwen W, Shan XQ, Shuzhen Z (2001) Comparison of speciation and bioavailability of rare earth elements between wet rhizosphere soil and air-dried bulk soil. Anal Chim 441(1):147–156
Acknowledgement
The authors would like to sincerely thank Annette Patzelt from botanic garden (Muscat, Oman) for her determination of plant taxonomy and the master students in the geology department (College of Science, SQU) for their contribution during the collection of groundwater samples. The authors would also like to thank Marc Steinmann from (Franche-Comté University, France) for his comments on the manuscript.
About this article
Cite this article
Semhi, K., Abdalla, O.A.E., Al Khirbash, S. et al. Mobility of rare earth elements in the system soils–plants–groundwaters: a case study of an arid area (Oman). Arab J Geosci 2, 143–150 (2009). https://doi.org/10.1007/s12517-008-0024-y
Received:

Accepted:

Published:

Issue Date:
Keywords
Rare earth elements

Fractionation

Transfer

Ophiolites

Trace elements

Oman