Samenvatting
Burgerparticipatie is een actiepunt op veel gemeentelijke beleidsagenda's. In het kader van integraal gezondheidsbeleid en de nieuwe Omgevingswet wordt burgerparticipatie steeds belangrijker. Om deze reden is de perceptie van professionals met betrekking tot burgerparticipatie binnen Health Impact Assessment [HIA] onderzocht. Hiertoe zijn individuele interviews met zeven professionals en drie focusgroepgesprekken met twintig professionals gehouden die actief zijn op het gebied van HIA en geworven zijn via het netwerk van het RIVM. De professionals vinden het huidige niveau van burgerparticipatie te laag en willen burgers meer, en in een vroeg stadium, betrekken bij HIA in Nederland. Burgerparticipatie in HIA zorgt voor een groter draagvlak voor (toekomstig) beleid en draagt bij aan kennis ten behoeve van integraal gezondheidsbeleid. De vraag hoe burgerparticipatie in HIA praktisch moet worden uitgevoerd blijft deels onbeantwoord. Twijfels over de kennis en de capaciteiten van burgers spelen hierbij een grote rol.
Abstract
In many municipal policy strategies in the Netherlands, citizen participation is a key issue. Participation has become more and more important in the framework of Health in All Policies (HiAP) and the new Environment Act. Perceptions of professionals regarding citizen participation in Health Impact Assessment (HIA) were explored by conducting interviews with seven professionals and three focus group sessions (with a total of twenty professionals), all active in the field of HIA. All professionals were recruited through the network of the National Institute for Public Health and the Environment. The professionals consider the current level of citizen participation within HIA as insufficient; they prefer a higher level of citizen participation in HIA, that should also take place earlier in the process. Citizen participation is considered to enhance the support basis for policies and to contribute to HiAP. However, the question how citizens should be engaged in practice remained partly unanswered, due to doubts about knowledge and capabilities of citizens.
Access options
Buy single article
Instant access to the full article PDF.
US$ 39.95
Tax calculation will be finalised during checkout.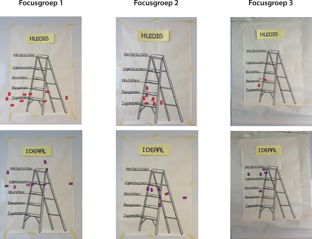 Literatuur
1.

Storm I. General introduction. Towards a HiAP cycle: Health in All Policies as a practice-based improvement process. Amsterdam: Vrije Universiteit; 2016. pag. 7–22.

2.

Storm I, Zoest F van, Broeder L den. Integraal gezondheidsbeleid: theorie en toepassing. Bilthoven: RIVM; 2007.

3.

WHO European Centre for Health Policy. Health impact assessment. Main concepts and suggested approach. Gothenburg Consensus Paper. Copenhagen: WHO Regional Office for Europe; 1999.

4.

World Health Organization. The Adelaide Statement on Health in All Policies: moving towards a shared governance for health and well-being. Health Promot Int. 2010;25(2):258–60.

5.

Mindell JS, Boltong A, Forde I. A review of health impact assessment frameworks. Public Health. 2008;122(11):1177–87.

6.

Informatiepunt Omgevingswet. 2018. https://aandeslagmetdeomgevingswet.nl/aandeslag/. Geraadpleegd op 8 mei 2018.

7.

Delsen L. From welfare state to participation society. Welfare state reform in the Netherlands: 2003–2010. NiCe Working Paper 12-103. Nijmegen Center for Economics, Institute for management Research, Radboud University. 2012.

8.

Broeder L den, Staatsen B. Health Impact Assessment in the Netherlands. In: Kemm J, redactie. Health Impact Assessment. Past achievement, current understanding, and future progress. Oxford: Oxford University Press; 2012.

9.

Boeije H. Analysis in qualitative research. London: SAGE; 2010.

10.

Ludema J, Fry R. The practice of appreciative inquiry. The Sage handbook of action research: participative inquiry and practice. London: SAGE; 2008. pag. 280–96.

11.

Edelenbos J, Monnikhof R. Lokale interactieve beleidsvorming. Een vergelijkend onderzoek naar de consequenties van interactieve beleidsvorming. Utrecht: Lemma; 2001.

12.

Broeder L den, Uiters E, Have W ten, et al. Community participation in Health Impact Assessment. A scoping review of the literature. Environ Impact Assess Rev. 2017;66(Supplement C):33–42.

13.

Kemm J. Values and ethics of Health Impact Assessment. In: Kemm J, redactie. Health Impact Assessment. Past achievement, current understanding, and future progress. Oxford: Oxford University Press; 2013. pag. 62–71.

14.

Mahoney ME, Potter JLL, Marsh RS. Community participation in HIA: discords in teleology and terminology. Crit Public Health. 2007;17(3):229–41.

15.

Hebert KA, Wendel AM, Kennedy SK, et al. Health impact assessment: a comparison of 45 local, national, and international guidelines. Environ Impact Assess Rev. 2012;34(Supplement C):74–82.

16.

Plunkett R, Leipert BD, Ray SL. Unspoken phenomena: using the photovoice method to enrich phenomenological inquiry. Nurs Inq. 2013;20(2):156–64.

17.

Maclennan CF, Ghosh TS, Juliusson L, et al. Derby district redevelopment in Colorado: case study on the health impact assessment process. J Environ Health. 2012;75(1):8–13.

18.

Broeder L den, Chung KY, Geelen L, et al. We are all experts! Does stakeholder engagement in health impact scoping lead to consensus? A Dutch case study. Impact Assess Proj Apprais. 2016;34(4):294–305.

19.

Bekker M. The politics of healthy policies: redesigning health impact assessment to integrate health in public policy. Rotterdam: Erasmus University Rotterdam; 2007.

20.

Vaandrager L, Wagemakers A, Saan H. Evidence in gezondheidsbevordering. Tijdschr Gezondheidswet. 2010;88:271–7.

21.

Lindblom CE. The science of 'muddling through'. Public Administr Rev. 1959;19:79–88.
About this article
Cite this article
Verdonschot, A., Wagemakers, A. & den Broeder, L. Visie van professionals: burgerparticipatie binnen Health Impact Assessment. Tijdschr Gezondheidswet 96, 159–165 (2018). https://doi.org/10.1007/s12508-018-0138-x
Trefwoorden
Health Impact Assessment

Nederland

perceptie

participatie
Keywords
Health Impact Assessment

Netherlands

perception

community participation