Samenvatting
De meeste mensen weten wel wat ze (zouden) moeten doen om gezond te blijven: iedere dag een half uurtje bewegen, gezond eten, niet roken en niet teveel alcohol drinken. Voor onze mentale gezondheid is dit minder duidelijk. Of niet? Psyfit.nl is een online zelfhulpcursus waarmee de mentale conditie wordt getraind. Via een zestal 'mental fitness' principes, zoals het richting geven aan je leven, stimuleren van positieve emoties en leven in het hier en nu, werken mensen aan hun welbevinden en veerkracht wat tezamen de mentale conditie bepaalt. 1 Door de oefeningen, tests en tips krijgen deelnemers inzicht in hun krachten en mogelijkheden om met het leven van alledag om te gaan (zie box 1 Onderdelen in Psyfit.nl en Figuur 1 Screenshot).
Abstract
Online training to improve mental fitness - From effectiveness to impact Psyfit.nl (''mental fitness online'') is a fully automated self-help intervention aimed at improving well-being. The intervention is based on the emerging field of positive psychology in which tools aimed at flourishing and positive functioning are being developed and evaluated. The combination of positive psychology and technology offers synergetic opportunities: both intent to engage and empower large groups of people ('positive technology'). In a randomized controlled trial, the intervention was found to be effective in the enhancement of wellbeing and reduction of depression and anxiety symptoms. Psyfit is currently being put into practice. Different ways to disseminate and implement the intervention in order to improve the uptake and adherence are being explored.
Access options
Buy single article
Instant access to the full article PDF.
US$ 39.95
Tax calculation will be finalised during checkout.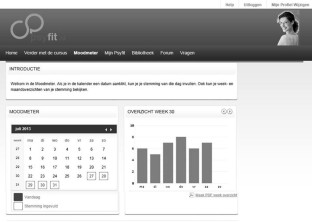 Literatuur
1

Walburg JA. Mentaal Vermogen - Investeren in geluk. Amsterdam: Nieuw Amsterdam, 2008.

2

Diener E, Chan MY. Happy People Live Longer: Subjective Well-Being Contributes to Health and Longevity. Applied Psychol Health Well-being 2011;3(1):1–43.

3

Diener E, Seligman MEP. Very happy people. Psychol Sci 2002;13:81–4.

4

Lyubomirsky S, King L, Diener E.The benefits of frequent positive affect: does happiness lead to success? Psychol Bull 2005;131:803–55.

5

Keyes CLM, Grzywacz JG. Health as a Complete State: The Added Value in Work Performance and Healthcare Costs. J Occup Environ Med 2005;47:523–32.

6

Keyes CLM, Dhingra SS, Simoes EJ. Change in level of positive mental health as a predictor of future risk of mental health. Am J Public Health 2010;100:2366–71.

7

Wood AM, Joseph S. The absence of positive psychological (eudemonic) well-being as a risk factor for depression: A tenyear cohort study. J Affect Disorders 2010;122(213):217.

8

Bergsma A, Have Mten, Veenhoven R, Graaf R de. Most people with mental disorders are happy. J Positive Psychol 2011;6:253–9.

9

Seligman MEP, Csikszentmihalyi M. Positive psychology: An introduction. Am Psychologist 2000;55:5–14.

10

Bohlmeijer E, Bolier L, Westerhof G, Walburg JA. Handboek Positieve Psychologie. Theorie, onderzoek, toepassingen. Amsterdam: Uitgeverij Boom, 2013.

11

WHO. Promoting mental health: Concepts, emerging evidence, practice (summary report). Geneva: World Health Organization, 2004.

12

Bolier L, Abello KM. Online Positive Psychological Interventions: State of the Art and Future Directions. In: Parks AC, Schueller MS (eds). The Wiley Blackwell Handbook of Positive Psychological Interventions. Hoboken: Wiley, 2014: 286–309.

13

Kelders MS. Positieve technologie. In: Bohlmeijer E, Bolier L, Westerhof G, Walburg JA, editors. Handboek positieve psychologie - Theorie, onderzoek, toepassingen. Amsterdam: Uitgeverij Boom, 2013: 373–86.

14

Riva G, Baños RM, Botella C, Wiederhold BK, Gaggioli A. Positive technology: Using interactive technologies to promote positive functioning. Cyberpsychol Behav Soc Network 2012;15:69–77.

15

Riper H, Ballegooijen W van, Kooistra L, De Wit J, Donker T. Preventie & eMental-health - Onderzoek dat leidt, technologie die verleidt, preventie die bereikt en beklijft. Amsterdam / Den Haag Vrije Universiteit Amsterdam / ZonMw, 2013.

16

Bolier L, Haverman M, Kramer J, Westerhof JG, Riper H, Walburg AJ et al. An Internet-Based Intervention to Promote Mental Fitness for Mildly Depressed Adults: Randomized Controlled Trial. J Med Internet Res 2013;15(9):e200.

17

Schneider F, Schulz DN, Pouwels LHL, Vries H de, Osch LADM van. The use of a proactive dissemination strategy to optimize reach of an internet-delivered computer tailored lifestyle intervention. BMC Public Health 2013;13:721.

18

Bolier L, Schneider F, Vries H de, et al. Real-life implementation of an online positive psychological intervention. Valencia: ISRII Conference 23 - 25 October 2014, 2014.

19

Durlak JA, DuPre EP. Implementation matters: a review of research on the influence of implementation on program outcomes and the factors affecting implementation. Am J Commun Psychol 2008;41:327–50.

20

Nederlandse Zorg Autoriteit. Wijzigingen in regeling POH-GGZ. Utrecht: NZA, 2014. http://www.nza.nl/133167/137700/CI-13-34c.pdf.
Additional information
Correspondentieadres
Linda Bolier, Trimbos-instituut, Da Costakade 45, 3521 VS Utrecht, tel. 030-2959352, tel. 06-52512810, e-mail: lbolier@trimbos.nl
About this article
Cite this article
Bolier, L., Haverman, M., Bohlmeijer, E. et al. Online training voor het verbeteren van de mentale conditie. Tijds. gezondheids.wetenschappen 93, 55–57 (2015). https://doi.org/10.1007/s12508-015-0024-8
Keywords:
eHealth

internet

wellbeing

positive psychology

effectiveness

implementation