Samenvatting
Een van de pijlers van het twaalfstappenprogramma is spiritueel welzijn. Van de 259 cliënten in een twaalfstappenbehandeling voor alcoholverslaving vulden 61 cliënten viermaal een lijst in over spiritueel welzijn (SWBS): bij start van de behandeling, na de klinische opname, na drie maanden en bij het einde van de behandeling na dertien maanden. Na een aanvankelijke kleine maar significante vermindering van spiritueel welzijn gedurende de klinische opname, en een trend in herstel tijdens de nazorg, bleek er over de gehele behandeling geen verandering in spiritueel welzijn en geen verband tussen spiritueel welzijn en relapse. Mogelijk speelt in de Nederlandse context spiritueel welzijn geen prominente rol.
Abstract
One of the pillars of the 12-step treatment is spiritual well-being. Of 259 clients in a 12-step treatment for alcohol addiction, 61 clients completed a questionnaire on spiritual wellbeing (SWBS) at the start of treatment, after clinical treatment, after three months, and at the end of treatment after 13 months. After an initial slight but significant reduction of spiritual well-being during clinical treatment, and a trend in recovery of spiritual well-being during follow-up, there appeared no change in spiritual well-being throughout the entire treatment and there was no correlation between spiritual well-being and relapse. Possibly in the Dutch context spiritual well-being plays no prominent role.
This is a preview of subscription content, log in to check access.
Access options
Buy single article
Instant access to the full article PDF.
US$ 39.95
Price includes VAT for USA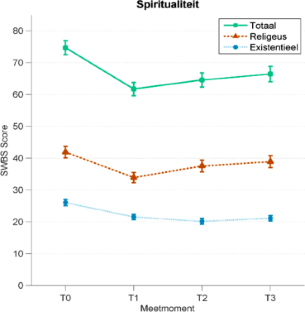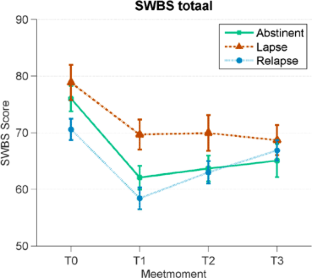 Notes
1.

De MATE kent verschillende onderdelen: 1) Middelen: gebruik, 4) Middelen: afhankelijkheid en misbruik, 6) Persoonlijkheid, 7) Activiteiten en participatie, en zorg en ondersteuning, Q2) Depressie, angst en stress.
Literatuur
Amodia, D., Cano, C., & Eliason, M. (2005). An integral approach to substance abuse. Journal of Psychoactive Drugs, 37, 363–371.

Buford, R., Paloutzian, R. F., & Ellison, C. W. (1991). Norms for the spiritual well-being scale. Journal of Psychology and Theology, 19, 56–70.

Burke, A., Olphen, J. van, Eliason, M., Howell, R., & Gonzalez, A. (2014). Re-examining religiosity as a protective factor: comparing alcohol use by self-identified religious, spiritual, and secular college students. Journal of Religion and Health, 53, 305–316.

Castaldelli-Maia, J. M., & Bhugra, D. (2014). Investigating the interlinkages of alcohol use and misuse, spirituality and culture. Insights from a systematic review. International Review of Psychiatry, 26, 352–367.

Cook, C. C. H. (2004). Addiction and spirituality. Addiction, 99, 539–551.

Corveleyn, J., & Limbergen, S. van (2001). Het Minnesota-model: een stappenbenadering van verslavingsproblematiek. Tijdschrift voor Psychotherapie, 27, 150–160.

Feigenbaum, J. C. (2013). A historical review of perceptions of key aspects of spirituality and religion within alcoholics anonymous. Journal of Addictions Nursing, 24, 229–236.

Ferri, M., Amato, L., & Davoli, M. (2006). Alcoholics anonymous and other 12-step programmes for alcohol dependence. Cochrane Database of Systematic Reviews. doi:10.1002/14651858.cd005032.pub2.

Geppert, C., Bogenschutz, M., & Miller, W. (2007). Development of a bibliography on religion, spirituality and addictions. Drug and Alcohol Review, 26, 435–436.

Grønbaek, M., & Nielsen, B. (2007). A randomized controlled trial of Minnesota day clinic treatment of alcoholics. Addiction, 102, 381–388.

Haber, J. R., Grant, J. D., Sartori, C. E., Koenig, L. N., Heath, A., & Jacob, T. (2013). Religion/spirituality, risk, and the development of alcohol dependence in female twins. Psychology of Addictive Behaviors, 27, 562–572.

Humphreys, K., Kaskutas, L. A., & Weisner, C. (1998). The Alcoholics Anonymous Affiliation Scale: development, reliability, and norms for diverse treated and untreated populations. Alcoholism: Clinical and Experimental Research, 22, 974–978. doi:10.1111/j.1530-0277.1998.tb03691.x.

Kelly, J. F., Stout, R. L., Magill, M., & Tonigan, J. S. (2011). The role of Alcoholics Anonymous in mobilizing adaptive social network changes: a prospective lagged mediational analysis. Drug and Alcohol Dependence, 114, 119–126.

Krentzman, A. R., Cranford, J. A., & Robinson, E. A. R. (2013). Multiple dimensions of spirituality in recovery: a lagged meditational analysis of alcoholics anonymous' principal theoretical mechanism of behavior change. Substance Abuse, 34, 20–32.

Leamy, M., Bird, V., Boutillier, C. le, Williams, J., & Slade, M. (2011). Conceptual framework for personal recovery in mental health: systematic review and narrative synthesis. British Journal of Psychiatry, 199, 445–452. doi:10.1192/bjp.bp.110.083733.

Meerkerk, G. J., Schoenmakers, T. M., Ansem, W. J. C. van, & Mheen, D. van de. (2013). Effectevaluatie van de behandeling van alcoholverslaving door SolutionS Center Voorthuizen. www.ivo.nl/?id=947&parent=479&current=479.

Schippers, G., & Roemer, J. (2007). redactioneel: thema nummer spiritualiteit. Verslaving, 3, 2–4.

Schippers, G. M., Broekman, T. G., & Buchholz, A. (2008). MATE 2.01. Handleiding en protocol. Nijmegen: Bêta Boeken.

Staton, M., Webster, J. M., Hiller, M. L., Rostosky, S., & Leukefeld, C. (2003). An exploratory examination of spiritual well-being, religiosity, and drug use among incarcerated men. Journal of Social Work Practice in the Addictions, 3, 87–103.

Strang, J., Babor, T., Calkins, J., Fischer, J., Foxcroft, D., & Humphreys, K. (2012). Drug policy and the public good: evidence for effective interventions. Lancet, 379, 71–83.

Trimbos-instituut (2015). Jaarbericht Nationale Drug Monitor. https://assets.trimbos.nl/docs/24dd30ba-464f-4dcd-a740-20ac058d310b.pdf.

Werkgroep MDR Stoornissen in het gebruik van alcohol (2009). Samenvatting multidisciplinaire richtlijn stoornissen in het gebruik van alcohol. Utrecht: Trimbos-instituut. www.emcdda.europa.eu/attachements.cfm/att_231343_EN_NL09_Richtlijn%20stoornissen%20gebruik%20van%20alcohol.pdf.

White, J. M., Wampler, R. S., & Fischer, J. L. (2001). Indicators of spiritual development in recovery from alcohol and other drug problems. Alcoholism Treatment Quarterly, 19, 19–35.

Wisselink, D. J., Kuijpers, W. G. T., & Mol, A. (2015). Kerncijfers verslavingszorg 2014 (LADIS). http://www.ggznederland.nl/uploads/assets/Werkdocument%20KC%202015%20.pdf.

Zorginstituut Nederland (2014). STAP. Verslaving in beeld: alcohol en drugs. https://www.zorginstituutnederland.nl/publicaties/rapport/2014/10/16/verslavingszorg-in-beeld-alcohol-en-drugs.
About this article
Cite this article
van Zuidam, Y., Meerkerk, G. Spiritueel welzijn en herstel van alcoholverslaving. Verslaving 13, 14–25 (2017). https://doi.org/10.1007/s12501-017-0101-6