Dat roken een belangrijke risicofactor is voor morbiditeit en mortaliteit kan als bekend worden verondersteld. Toch rookt ongeveer een kwart van de volwassen Nederlanders, want roken is een zeer verslavende gewoonte. Dat hoge verslavingspotentieel kan voor een substantieel deel worden toegeschreven aan de stof nicotine. Nicotine is niet de enige stof in tabak: in tabaksrook zijn zo'n vierduizend chemische verbindingen geïdentificeerd, waaronder vele stoffen met giftige en carcinogene werking.
Access options
Buy single article
Instant access to the full article PDF.
USD 39.95
Price excludes VAT (USA)
Tax calculation will be finalised during checkout.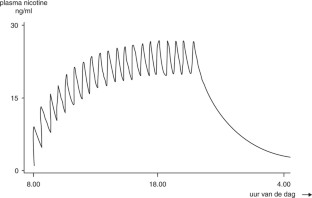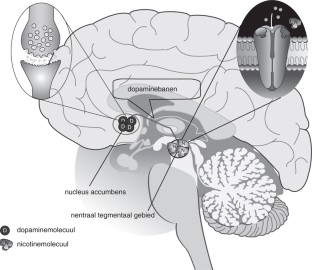 Literatuur
Benowitz, N.L. & Gourlay S.G. (1997). Cardiovascular toxicity of nicotine: implications for nicotine replacement therapy. Journal of the American College of Cardiology, 29, 1422–1431.

Benowitz, N.L. (2003). Cigarette smoking and cardiovascular disease: pathophysiology and implications for treatment. Progress in Cardiovascular Diseases, 46, 91–111.

Benowitz, N.L. (2009). Pharmacology of nicotine: addiction, smoking-induced disease, and therapeutics. Annual Reviews in Pharmacology and Toxicology, 49, 57–71.

Benowitz, N.L. (2010). Nicotine addiction. New England Journal of Medicine, 362, 2295–2303.

Cohen, G., Roux, J.C., Grailhe, R., Malcolm, G., Changeux, J.P. & Lagercrantz, H. (2005). Perinatal exposure to nicotine causes deficits associated with a loss of nicotinic receptor function. Proceedings of the National Acadademy of Science USA, 102, 3817–3821.

Cooke, J.P. & Bitterman, H. (2004). Nicotine and angiogenesis: a new paradigm for tobacco-related diseases. Annals of Medicine, 36, 33–40.

Eliasson, B. (2003). Cigarette smoking and diabetes. Progress in Cardiovascular Disease, 45, 405–413.

Foulds, J., Stapleton, J., Swettenham, J., Bell, N., McSorley, K. & Russell, M.A. (1996). Cognitive performance effects of subcutaneous nicotine in smokers and never-smokers. Psychopharmacology (Berl), 127, 31–38.

Foulds, J., Stapleton, J.A., Bell, N., Swettenham, J., Jarvis, M.J. & Russell, M.A. (1997). Mood and physiological effects of subcutaneous nicotine in smokers and never-smokers. Drug and Alcohol Dependence, 14, 105–115.

Harvey, D.M., Yasar, S., Heishman, S.J., Panlilio, L.V., Henningfield, J.E. & Goldberg, S.R. (2004). Nicotine serves as an effective reinforcer of intravenous drug-taking behavior in human cigarette smokers. Psychopharmacology (Berl), 175, 134–142.

Hecht, S.S. (1999). Tobacco smoke carcinogens and lung cancer. Journal of the National Cancer Institute, 21, 1194–1210.

Henley, S.J., Connell, C.J., Richter, P., Husten, C., Pechacek, T., e.a. 2007. Tobacco-related disease mortality among men who switched from cigarettes to spit tobacco. Tobacco Control, 16, 22–28.

Hoffmann, D. & Hoffmann, I. (1997). The changing cigarette, 1950-1995. Journal of Toxicology and Environmental Health, 50, 307–364.

Joseph, A.M., Norman, S.M., Ferry, L.H., Prochazka, A.V., Westman, E.C., e.a. (1996). The safety of transdermal nicotine as an aid to smoking cessation in patients with cardiac disease. New England Journal of Medicine, 335, 1792–1798.

Kalman, D. (2002). The subjective effects of nicotine: methodological issues, a review of experimental studies, and recommendations for future research. Nicotine and Tobacco Research, 4, 25–70.

Luo, J., Ye, W., Zendehdel, K., Adami, J., Adami, H.O., e.a. (2007). Oral use of Swedish moist snuff (snus) and risk for cancer of the mouth, lung, and pancreas in male construction workers: a retrospective cohort study. Lancet, 369, 2015–2020.

Malizia, E., Andreucci, G., Alfani, F., Smeriglio, M. & Nicholai, P. (1983). Acute intoxication with nicotine alkaloids and cannabinoids in children from ingestion of cigarettes. Human Toxicology, 2, 315–316.

Mayer, B. (2014). How much nicotine kills a human? Tracing back the generally accepted lethal dose to dubious self-experiments in the nineteenth century. Archives in Toxicology, 88, 5–7.

Murray, R.P., Bailey, W.C., Daniels, K., Bjornson, W.M., Kurnow, K., Connett, J.E., Nides, M.A. & Kiley, J.P. (1996). Safety of nicotine polacrilex gum used by 3,094 participants in the Lung Health Study. Lung Health Study Research Group. Chest, 109, 438–445.

National Institute for Occupational Safetv and Health (2000). Registry of toxic effects of chemical substances, NIOSH, Cincinnati. (CD-ROM version.) Denver: Micromedex.

Pidoplichko, V.I., DeBiasi, M., Williams, J.T. & Dani, J.A. (1997). Nicotine activates and desensitizes midbrain dopamine neurons. Nature, 27, 401–404.

Puranik, R. & Celermajer, D.S. (2003). Smoking and endothelial function. Progress in Cardiovascular Disease, 45, 443–458.

Sherwood, N. (1993). Effects of nicotine on human performance. Human Psychopharmacology, 8, 155–184.

Spindel, E.R. (2009). Is nicotine the estrogen of lung cancer? American Journal of Respiratory Critical Care Medicine, 15, 1081–1082.

Tyndale, R.F. & Sellers, E.M. (2002). Genetic variation in CYP2A6-mediated nicotine metabolism alters smoking behavior. Therapeutic Drug Monitoring, 24, 163–171.

Vleeming, W., Schenk, E. & Opperhuizen, A. (2005). Van tabakszaad naar tabaksrook. In K. Knol, C. Hilvering, D.J.Th. Wagener & M.C. Willemsen (red.), Tabaksgebruik: gevolgen en bestrijding (pp. 27–41). Utrecht: Lemma.

Warren, G.W. & Singh, A.K. (2013). Nicotine and lung cancer. Journal of Carcinogenesis, 31, 1.

Wennberg, P., Eliasson, M., Hallmans, G., Johansson, L., Boman, K. & Jansson, J.H. (2007). The risk of myocardial infarction and sudden cardiac death amongst snuff users with or without a previous history of smoking. Journal of Internal Medicine, 262, 360–367.

Zeidler, R., Albermann, K. & Lang, S. (2007). Nicotine and apoptosis. Apoptosis, 12, 1927–1943.
Additional information
Dr. R.J.M. Niesink is farmacoloog/toxicoloog en universitair hoofddocent bij de faculteit Management, Science en Technologie van de Open Universiteit. Hij is senior wetenschappelijk medewerker bij het Programma Drug Monitoring van het Trimbos-instituut en landelijk coördinator van het Drugs Informatie en Monitoring Systeem. E-mail: rniesink@trimbos.nl.Dr. E.A. Croes MD arts-epidemioloog, is senior wetenschappelijk medewerker bij het Nationaal Expertisecentrum Tabaksontmoediging van het Trimbosinstituut.
About this article
Cite this article
Niesink, R., Croes, E. Nicotine: farmacologische en toxicologische aspecten. VERSLAVING 10, 55–67 (2014). https://doi.org/10.1007/s12501-014-0007-5
Published:

Issue Date:

DOI: https://doi.org/10.1007/s12501-014-0007-5