Samenvatting
Angst voor de tandarts treft 2-4 procent van de algemene bevolking in de VS en de Europese landen. Bewezen is dat het een belangrijke barrière is die mensen ervan weerhoudt om reguliere tandheelkundige zorg te zoeken en een negatieve invloed heeft op hun kwaliteit van leven. Internationaal zijn strategieën voor het uitvoeren van tandheelkundige behandelingen bij mensen met deze angst nog steeds farmacologisch en wordt de onderliggende angststructuur niet behandeld. Face-to-face cognitieve gedragstherapie is mogelijk niet gemakkelijk toegankelijk. Daarom is een effectieve, nietinvasieve en toegankelijke behandeling van tandartsangst zeer gewenst. Kumar Raghav promoveerde onlangs op de door hem ontwikkelde aanpassing van de Virtual Reality Exposure Therapy (VRET) voor de behandeling van deze fobiepatiënten.
Access options
Buy single article
Instant access to the full article PDF.
US$ 39.95
Tax calculation will be finalised during checkout.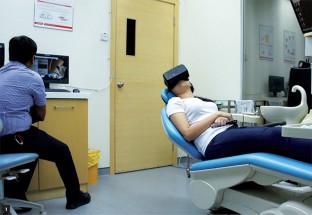 About this article
Cite this article
van Loghum, B.S. Tandarts angst. Tandartsprakt 42, 31–33 (2021). https://doi.org/10.1007/s12496-021-0048-y