Samenvatting
Veel patiënten ontwikkelen chronische pijn na een enkelverzwikking. Een goede verklaring hiervoor was er tot op heden niet. Daarom heeft Miquel Dalmau Pastor, de anatoom van de MIFAS (Minimal Invasive Foot and Ankle Surgery) de anatomie van de laterale enkelbanden opnieuw in kaart gebracht om de functie, pathofysiologie en behandelingsmodaliteiten ervan te begrijpen. Het lateraal collaterale ligament wordt gevormd door het anterieure talofibulaire ligament (ATFL), het calcaneofibulaire (CFL) en het posterieure talofibulaire ligament (PTFL). Geen enkele studie had de verbindingen tussen deze structuren specifiek aan de mediale zijde beoordeeld. Het doel van dit artikel is de morfologie en consistentie van de mediale verbindingen tussen de ligamentaire componenten van het lateraal collaterale ligamentaire complex uit te leggen in relatie met chronische pijn en de prognose daarvan.
Access options
Buy single article
Instant access to the full article PDF.
US$ 39.95
Tax calculation will be finalised during checkout.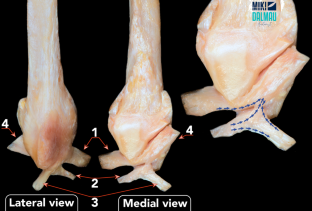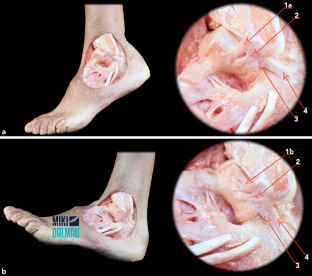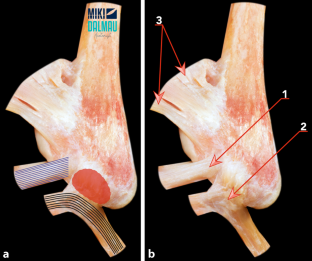 Literatuur
1.

Kerkhoffs G, Kennedy J, Calder J, Karlsson J. There is no simple lateral ankle sprain. Knee Surg Sports Traumatol Arthrosc. 2016;24:941–3.

2.

Waterman BR, Owens BD, Davey S, Zacchilli MA, Belmont PJ Jr. The epidemiology of ankle sprains in the United States. JBJS. 2010;92(13):2279–84.

3.

Gerber JP, Williams GN, Scoville CR, Arciero RA, Taylor DC. Persistent disability associated with ankle sprains: a prospective examination of an athletic population. Foot Ankle Int. 1998;19(10):653–60.

4.

Dalmau-Pastor M, Malagelada F, Kerkhoffs G, Karlsson J, Guelfi M, Vega J. Redefining anterior ankle arthroscopic anatomy: medial and lateral ankle collateral ligaments are visible through dorsiflexion and non-distraction anterior ankle arthroscopy. Knee Surg Sports Traumatol Arthrosc. 2020;28(1):18–23.

5.

Vega J, Malagelada F, Céspedes M‑CM, Dalmau-Pastor M. The lateral fibulotalocalcaneal ligament complex: an ankle stabilizing isometric structure. Knee Surg Sports Traumatol Arthrosc. 2020;28(1):8–17.

6.

Vega J, Rabat E. Innovations in chronic ankle instability. Rev Cir Pie. 2013;27(2):71–9.

7.

Vega J, Peña F, Golanó P. Minor or occult ankle instability as a cause of anterolateral pain after ankle sprain. Knee Surg Sports Traumatol Arthrosc. 2016;24(4):1116–23.

8.

Dalmau-Pastor M, Malagelada F, Calder J, Manzanares M, Vega J. The lateral ankle ligaments are interconnected: the medial connecting fibres between the anterior talofibular, calcaneofibular and posterior talofibular ligaments. Knee Surg Sports Traumatol Arthrosc. 2020;28(1):34–9.

9.

Choi WJ, Lee JW, Han SH, Kim BS, Lee SK. Chronic lateral ankle instability: the effect of intra-articular lesions on clinical outcome. Am J Sports Med. 2008;36(11):2167–72.

10.

Hintermann B, Boss A, Schäfer D. Arthroscopic findings in patients with chronic ankle instability. Am J Sports Med. 2002;30(3):402–9.

11.

Komenda GA, Ferkel RD. Arthroscopic findings associated with the unstable ankle. Foot Ankle Int. 1999;20(11):708–13.

12.

Taga I, Shino K, Inoue M, Nakata K, Maeda A. Articular cartilage lesions in ankles with lateral ligament injury: an arthroscopic study. Am J Sports Med. 1993;21(1):120–7.

13.

Li Q, Tu Y, Chen J, Shan J, Yung PS‑H, Ling SK‑K, et al. Reverse anterolateral drawer test is more sensitive and accurate for diagnosing chronic anterior talofibular ligament injury. Knee Surg Sports Traumatol Arthrosc. 2020;28(1):55–62.
About this article
Cite this article
Wonink, R., Dalmau-Pastor, M. Morfologie als verklaring voor chronische pijn na enkelverzwikking: nieuwe inzichten. Podosophia 28, 66–69 (2020). https://doi.org/10.1007/s12481-020-00275-1
Trefwoorden
anatomie

anterieur talofibulair ligament

calcaneofibulair ligament

posterieur talofibulair ligament

laterale ligamenten enkel