Abstract
The paper aims to enhance customers' satisfaction levels by identifying improvements in the service quality of the rail transport industry in developing countries such as India. A multi-algorithmic combination of a LEXICON analysis and a Naïve Bayes machine learning hybrid approach to sentiment analysis is performed for identifying passengers' opinions on the services provided by Indian Railways. Inputs were gathered from the Twitter microblogging platform. Data analysis reveals that the ticket reservation and refund process, delay in operational activities, and abhorrent behavior of staff were crucial areas in which Indian Railway service needs improvement. The study imparts a conceptual methodology/process for implementing a hybrid multi-algorithmic LEXICON and machine learning techniques in sentiment analysis. The model proves to take less time to process, train, and test data than stand-alone LEXICON or machine learning-based approaches. Managers, practitioners, and researchers may use this approach to understand customer experience especially in rail transportation but also across hospitality sectors such as hotels, restaurants, education, and hospitals.
Access options
Buy single article
Instant access to the full article PDF.
USD 39.95
Price excludes VAT (USA)
Tax calculation will be finalised during checkout.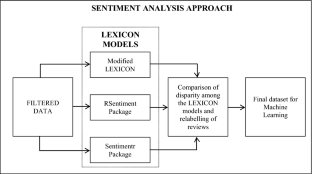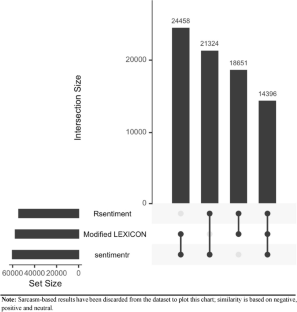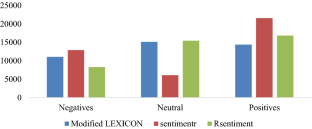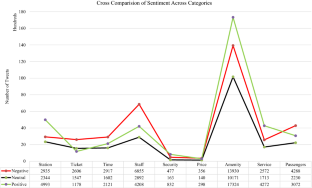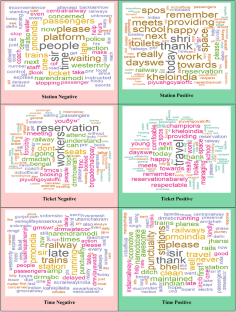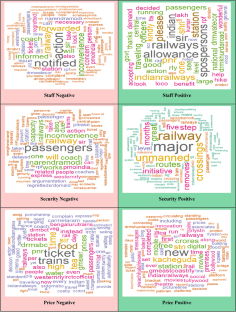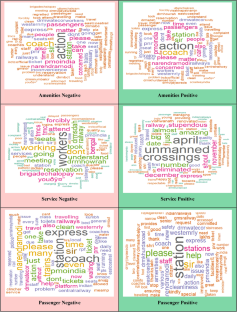 References
Agarwal P (2008) Public transportation and customer satisfaction: the case of Indian Railways. Glob Bus Rev 9(2):257–272. https://doi.org/10.1177/097215090800900206

Agarwal R, Mehrotra A (2017) Using CSI to measure customer satisfaction with indian railways. Anvesha 10(1):22–31. https://www.proquest.com/openview/773b9fccf532b864b7daa0e489563849/

Allen WG, DiCesare F (1976) Transit service evaluation: preliminary identification variables characterizing level of service. Transp Res Rec 606:47–53. http://onlinepubs.trb.org/Onlinepubs/trr/1976/606/606-008.pdf

Arazy O, Woo C (2007) Enhancing information retrieval through statistical natural language processing: a study of collocation indexing. MIS Q 31(3):525–546. https://doi.org/10.2307/25148806

Arnold S (2011) From sentiment to applications. KM World 20(7):1–20

Baird CH, Paranis G (2011) From social media to social customer relationship management. Strategy Leadership 39(5):30–37. https://doi.org/10.1108/10878571111161507

Basu D, Hunt JD (2012) Valuing of attributes influencing the attractiveness of suburban train service in Mumbai City: a stated preference approach. Transp Res Part A Policy Pract 46(9):1465–1476. https://doi.org/10.1016/j.tra.2012.05.010

Bolat E, O'Sullivan H (2016) Radicalising the marketing of higher education: learning from student-generated social media data. J Mark Manag 33(9/10):742–763. https://doi.org/10.1080/0267257X.2017.1328458

Bolton RN, Gustafsson A, McColl-Kennedy JR, Sirianni NJ, Tse DK (2014) Small details that make big differences: a radical approach to consumption experience as a firm's differentiating strategy. J Serv Manag 25(2):253–274. https://doi.org/10.1108/JOSM-01-2014-0034

Bose S (2018) CRAN—Package RSentiment. https://cran.r-project.org/web/packages/RSentiment/index.html (Accessed 17 Jan 2019)

Chaovalit P, Zhou L (2005) Movie review mining: a comparison between supervised and unsupervised classification approaches. In: Proceedings of the 38th annual Hawaii international conference on system sciences, 112c. https://doi.org/10.1109/HICSS.2005.445

Chatterjee S, Kar AK (2020) Why do small and medium enterprises use social media marketing and what is the impact: empirical insights from India. Int J Inf Manage 53:102103. https://doi.org/10.1016/j.ijinfomgt.2020.102103

Cohen J (1960) A coefficient of agreement for nominal scales. Educ Psychol Meas 20(1):37–46. https://doi.org/10.1177/001316446002000104

Cottrill C, Gault P, Yeboah G, Nelson JD, Anable J, Budd T (2017) Tweeting transit: an examination of social media strategies for transport information management during a large event. Transp Res Part C Emerg Technol 77:421–432. https://doi.org/10.1016/j.trc.2017.02.008

Dandotiya R, Aggarwal P, Gopal R (2020) Impact of food and beverage quality on passenger satisfaction in Indian Railways. Int J Custom Relatsh Mark Manag (IJCRMM) 11(2):37–52. https://doi.org/10.4018/IJCRMM.2020040103

Deshpande M, Sarkar A (2010) BI and sentiment analysis. Bus Intell J 15(2):41–49

Dhaoui C, Webster CM, Tan LP (2017) Social media sentiment analysis: lexicon versus machine learning. J Consum Mark 34(6):480–488. https://doi.org/10.1108/JCM-03-2017-2141

Drea JT, Hanna JB (2000) Niche marketing in intrastate passenger rail transportation. Transp J 39(3):33–43

Feinerer I, Hornik K (2018) Text mining package. https://cran.r-project.org/web/packages/tm/tm.pdf (Accessed 28 Dec 2018)

Ge L, Sarhani M, Voß S, Xie L (2021) Review of transit data sources: potentials, challenges and complementarity. Sustainability 13(20):11450. https://doi.org/10.3390/su132011450

Geho P, Smith S, Lewis S (2010) Is Twitter a viable commercial use platform for small businesses? An empirical study targeting two audiences in the small business community. Entrep Executive 15(1):73–85

Gentry J (2015) R Interface for OAuth. https://cran.r-project.org/web/packages/ROAuth/ROAuth.pdf (Accessed 21 Dec 2018)

Gretzel U, Yoo KH (2008) Use and impact of online travel reviews. In: O'Connor P, Höpken W, Gretzel U (eds) Information and communication technologies in tourism 2008. Springer, Vienna, pp 35–47

Haghighi NN, Liu XC, Wei R, Li W, Shao H (2018) Using Twitter data for transit performance assessment: a framework for evaluating transit riders' opinions about quality of service. Public Transp 10(2):363–377. https://doi.org/10.1007/s12469-018-0184-4

Hanna JB, Drea JT (1998) Understanding and predicting passenger rail travel: an empirical study. Transp J 38(1):38–46. https://www.jstor.org/stable/20713372

Indian Railways Year Book 2017–2018. https://indianrailways.gov.in/railwayboard/uploads/directorate/stat_econ/pdf_annual_report/Railway%20Year%20Book_2017_18.pdf (Accessed 20 Aug 2019)

Indian Railways Works Manual. https://indianrailways.gov.in/railwayboard/uploads/codesmanual/IRWM/worksmanualCh4_data.htm (Accessed 28 Sept 2021)

Jacobson L (2009) Take a sentimental journey: what sentiment analysis means for PR professionals. Public Relat Tactics 16(11):18

Jain AP, Padma D (2016) Application of machine learning techniques to sentiment analysis. In: 2nd International conference 2016 proceedings on applied and theoretical computing and communication technology, Bangalore, pp 628–632. https://doi.org/10.1109/ICATCCT.2016.7912076

Kearney M (2018) Collecting Twitter Data. https://cran.r-project.org/web/packages/rtweet/rtweet.pdf (Accessed 20 Dec 2018)

Kho ND (2010) Customer experience and sentiment analysis. KM World 19(2):10–20

Koppel M, Schler J (2006) The importance of neutral examples for learning sentiment. Comput Intell 22(2):100–109. https://doi.org/10.1111/j.1467-8640.2006.00276.x

Ku L, Huang T, Chen H (2009) Using morphological and syntactic structures for chinese opinion analysis. In: Proceedings of the 2009 conference on empirical methods in natural language processing, Singapore, pp 1260–1269

Lex A, Gehlenborg N, Strobelt H, Vuillemot R, Pfister H (2014) UpSet: visualization of intersecting sets. IEEE Trans Vis Comput Graph (InfoVis' 14) 20(12):1983–1992. https://doi.org/10.1109/TVCG.2014.2346248

Liu B (2004) Opinion mining, sentiment analysis, opinion extraction. https://www.cs.uic.edu/~liub/FBS/sentiment-analysis.html (Accessed 14 Jan 2019)

Maruvada DP, Bellamkonda RS (2012) The effects of individual dimensions of railway service quality: findings from Indian Railway passenger services through developing RAILQUAL. Int J Innov Manag Technol 3(1):42

McNemar Q (1947) Note on the sampling error of the difference between correlated proportions or percentages. Psychometrika 12(2):153–157. https://doi.org/10.1007/BF02295996

Meyer C, Schwager A (2007) Understanding customer experience. Harv Bus Rev 85:137

Misopoulos F, Mitic M, Kapoulas A, Karapiperis C (2014) Uncovering customer service experiences with Twitter: the case of airline industry. Manag Decis 52(4):705–723. https://doi.org/10.1108/MD-03-2012-0235

Montenegro R (2014) Are negative tweets more likely to spread than positive ones? https://bigthink.com/ideafeed/is-negative-content-more-likely-to-go-viral (Accessed 5 Feb 2019)

Mueller K, Sgouridis SP (2011) Simulation-based analysis of personal rapid transit systems: service and energy performance assessment of the Masdar City PRT case. J Adv Transp 45(4):252–270. https://doi.org/10.1002/atr.158

Nandan S (2010) Determinants of customer satisfaction on service quality: a study of railway platforms in India. J Public Transp 13(1):97–113. https://doi.org/10.5038/2375-0901.13.1.6

Ni M, He Q, Gao J (2017) Forecasting the subway passenger flow under event occurrences with social media. IEEE Trans Intell Transp Syst 18(6):1623–1632. https://doi.org/10.1109/TITS.2016.2611644

O'Leary D (2011) The use of social media in the supply chain: survey and extensions. Intell Syst Account Finance Manag 18(2/3):121–144. https://doi.org/10.1002/isaf.327

OECD (2007) Participative web and user-created content: Web 2.0, wikis, and social networking. Organisation for Economic Co-operation and Development, Paris

Pang B, Lee L, Vaithyanathan S (2002) Thumbs up? Sentiment classification using machine learning techniques. In: Proceedings of the conference on empirical methods in natural language processing (EMNLP) in Philadelphia, July 2002, pp 79–86

Parasuraman A, Zeithaml V, Berry L (1985) A conceptual model of service quality and its implications for future research. J Mark 49(4):41–50. https://doi.org/10.1177/002224298504900403

Peng F, Schuurmans D (2003) Combining Naive Bayes and n-Gram language models for text classification. Inf Retrieval 7(3/4):335–350. https://doi.org/10.1007/3-540-36618-0_24

Peng C, Lakis M, Pan J (2015) Detecting sarcasm in text: an obvious solution to a trivial problem. http://cs229.stanford.edu/proj2015/044_report.pdf (Accessed 1 Jan 2019)

Pollitt MG, Smith ASJ (2002) The restructuring and privatisation of British Rail: was it that bad? Fiscal Stud 23(4):463–502. https://doi.org/10.1111/j.1475-5890.2002.tb00069.x

Prasad MD, Shekhar BR (2010) Impact of service quality management (SQM) practices on Indian railways—a study of South Central Railways. Int J Bus Manag 5(9):139–146

Priyadharshini J, Muthusamy S (2016) Service quality and passengers satisfaction of southern railways by ServQual model. Int J Trend Res Dev 3(6):3–6

Pullen WT (1993) Definition and measurement of quality of service for local public transport management. Transp Rev 13(3):247–264. https://doi.org/10.1080/01441649308716849

Queiroz GD, Hvitfeldt E, Keyes O, Misra K, Erickson J, Robinson D, Silge J (2018) Text mining using 'dplyr', 'ggplot2', and other tidy tools. https://cran.r-project.org/web/packages/tidytext/tidytext.pdf (Accessed 28 Dec 2018)

Rambocas M, Pacheco BG (2018) Online sentiment analysis in marketing research: a review. J Res Interact Mark 12(2):146–163. https://doi.org/10.1108/JRIM-05-2017-0030

Rashidi TH, Abbasi A, Maghrebi M, Hasan S, Waller TS (2017) Exploring the capacity of social media data for modelling travel behaviour: opportunities and challenges. Transp Res Part C Emerg Technol 75:197–211. https://doi.org/10.1016/j.trc.2016.12.008

Rinker T (2018) Package 'sentimentr'. https://cran.r-project.org/web/packages/sentimentr/sentimentr.pdf (Accessed 16 Dec 2018)

Sahu PK, Sharma G, Guharoy A (2018) Commuter travel cost estimation at different levels of crowding in a suburban rail system: a case study of Mumbai. Public Transp 10(3):379–398. https://doi.org/10.1007/s12469-018-0190-6

Sanyal J, Roy S, Gupta LK (2018) A study on consumer satisfaction with regards to service quality of Indian Railways. Asian J Manag 9(1):113–119. https://doi.org/10.5958/2321-5763.2018.00017.3

Sarkar D (2008) Lattice: multivariate data visualization with R. Springer, New York. ISBN 978-0-387-75968-5

Silcock DT (1981) Measures of operational performance for urban bus services. Traffic Eng Control 22(12):645–648

Taboada M, Brooke J, Tofiloski M, Voll K, Stede M (2011) Lexicon-based methods for sentiment analysis. Comput Linguist 37(2):267–307. https://doi.org/10.1162/COLI_a_00049

Tang D, Wei F, Yang N, Zhou M, Liu T, Qin B (2014) Learning sentiment-specific word embedding for Twitter sentiment classification. In: Proceedings of the 52nd Annual Meeting of the Association for Computational Linguistics (ACL), pp 1555–1565. https://doi.org/10.3115/v1/P14-1146

Thelwall M, Buckley E, Paltoglou G (2011) Sentiment in Twitter events. J Am Soc Inf Sci Technol 62(2):406–418. https://doi.org/10.1002/asi.21462

Tripp C, Drea JT (2002) Selecting and promoting service encounter elements in passenger rail transport. J Serv Mark 15(5):432–442. https://doi.org/10.1108/08876040210436902

Vanniarajan T, Stephen A (2008) Railqual and passengers satisfaction: an empirical study in Southern railways. Asia Pac Bus Rev 4(1):64–75. https://doi.org/10.1177/097324700800400107

Verhoef PC, Lemon KN, Parasuraman A, Roggeveen A, Tsiros M, Schlesinger LA (2009) Customer experience creation: determinants, dynamics and management strategies. J Retail 85(1):31–41. https://doi.org/10.1016/j.jretai.2008.11.001

Voß S, Mejia G, Voß A (2020) Mystery shopping in public transport: the case of bus station design. In: International conference on human-computer interaction. Springer, Cham, Lecture Notes in Computer Science, vol 12423, pp 527–542. https://doi.org/10.1007/978-3-030-60114-0_36

Wei CP, Chen YM, Yang CS, Yang C (2008) Understanding what concerns consumers: a semantic approach to product feature extraction from consumer reviews. Inf Syst e-Bus Manag 8(1):149–167. https://doi.org/10.1007/s10257-009-0113-9

Wickham H, François R, Henry L, Müller K (2018) A grammar of data manipulation. https://cran.r-project.org/web/packages/dplyr/dplyr.pdf (Accessed 22 Dec 2018)

Wijffels J (2019) Textrank for summarizing text. https://cran.r-project.org/web/packages/textrank/vignettes/textrank.html (Accessed 21 Feb 2019)

Wright A (2009) Our sentiments, exactly. Commun ACM 52(4):14–15. https://doi.org/10.1145/1498765.1498772

Zhang Z, He Q, Gao J, Ni M (2018) A deep learning approach for detecting traffic accidents from social media data. Transp Res Part C Emerg Technol 86:580–596. https://doi.org/10.1016/j.trc.2017.11.027
Ethics declarations
Conflict of interest
On behalf of all authors, the corresponding author states that there is no conflict of interest.
Additional information
Publisher's Note
Springer Nature remains neutral with regard to jurisdictional claims in published maps and institutional affiliations.
About this article
Cite this article
Mishra, D.N., Panda, R.K. Decoding customer experiences in rail transport service: application of hybrid sentiment analysis. Public Transp 15, 31–60 (2023). https://doi.org/10.1007/s12469-021-00289-7
Accepted:

Published:

Issue Date:

DOI: https://doi.org/10.1007/s12469-021-00289-7
Keywords