Abstract
Public transport agencies implement different strategies aimed at improving the operation of transit service and to increase satisfaction among its riders. One service strategy employed by transit agencies is a limited-stop bus service that runs in parallel to a heavily used route to decrease travel times for existing riders and to reduce pressure on the local route. Using bus operations data obtained from automatic vehicle location (AVL) and automatic passenger counter (APC) systems and customer satisfaction data collected in Vancouver, Canada, the present study evaluates levels of satisfaction among users of a local and limited-stop bus service while controlling for the service characteristics these users have experienced in the past seven days. Our results reveal that after controlling for characteristics related to the conditions of the service experienced by users, namely passenger activity levels, patrons of the express route service were more likely to be satisfied with the transit service compared to users of the local service. This finding indicates that the operational characteristics of a limited-stop service, including in-vehicle time savings and higher route frequency, are highly valued by its users. Results of this study demonstrate how operations data can provide a greater context for customer satisfaction analyses. Finally, this study provides transit planners and policy makers with a better understanding of how customers perceive local and limited-stop service.
Access options
Buy single article
Instant access to the full article PDF.
USD 39.95
Price excludes VAT (USA)
Tax calculation will be finalised during checkout.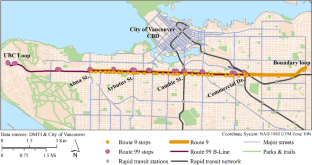 Notes
Note, the operating conditions described here reflect the service that was present during data collection.
References
Bates J, Polak J, Jones P, Cook A (2001) The valuation of reliability for personal travel. Transp Res Part E: Logist Transp Rev 37(2):191–229

Brakewood C, Watkins K (2017) A method for conducting before-after analyses of transit use by linking smart card data and survey responses. In: Kurauchi F, Schmöcker J-D (eds) Public transport planning with smart card data. CRC Press, Boca Raton, pp 93–111

Carrel A, Lau P, Mishalani R, Sengupta R, Walker J (2015) Quantifying transit travel experiences from the users' perspective with high-resolution smartphone and vehicle location data: methodologies, validation, and example analyses. Transp Res Part C: Emerg Technol 58:224–239

Carrel A, Mishalani R, Sengupta R, Walker J (2016) In pursuit of the happy transit rider: dissecting satisfaction using daily surveys and tracking data. J Intell Transp Syst 20(4):345–362

Chen J, Liu Z, Zhu S, Wang W (2015) Design of limited-stop bus service with capacity constraint and stochastic travel time. Transp Res Part E: Logist Transp Rev 83:1–15

Chiraphadhanakul V, Barnhart C (2013) Incremental bus service design: combining limited-stop and local bus services. Public Transp 5(1–2):53–78

Conlon M, Foote P, O'Malley K, Stuart D (2001) Successful arterial street limited-stop express bus service in Chicago. Transp Res Rec: J Transp Res Board 1760:74–80

Davis M, Heineke J (1998) How disconfirmation, perception and actual waiting times impact customer satisfaction. Int J Serv Ind Manag 9(1):64–73

Diab E, El-Geneidy A (2012) Understanding the impacts of a combination of service improvement strategies on bus running time and passenger's perception. Transp Res Part A: Policy Pract 46(3):614–625

Diab E, Badami M, El-Geneidy A (2015) Bus transit service reliability and improvement strategies: integrating the perspectives of passengers and transit agencies in North America. Transp Rev 35(3):292–328

Dueker K, Kimpel T, Strathman J, Callas S (2004) Determinants of bus dwell time. J Public Transp 7(1):21–40

EI-Geneidy A, Strathman J, Kimpel T, Crout D (2006) Effects of bus stop consolidation on passenger activity and transit operations. Transp Res Rec: J Transp Res Board 1971:32–41

El-Geneidy A, Surprenant-Legault J (2010) Limited-stop bus service: an evaluation of an implementation strategy. Public Transp 2(4):291–306

El-Geneidy A, van Lierop D, Grisé E, Boisjoly G, Swallow D, Fordham L, Herrmann T (2017) Get on board: assessing an all-door boarding pilot project in Montreal, Canada. Transp Res Part A: Policy Pract 99:114–124

Ercolano J (1984) Limited-stop bus operations: an evaluation. Transp Res Rec: J Transp Res Board 994:24–29

Friman M, Fellesson M (2009) Service supply and customer satisfaction in public transportation: the quality paradox. J Public Transp 12(4):57–69

Hart N (2016) Methodology for evaluating potential for limited-stop bus service along existing local bus corridors. Transp Res Rec: J Transp Res Board 2543:91–100

Hensher D, Stopher P, Bullock P (2003) Service quality—developing a service quality index in the provision of commercial bus contracts. Transp Res Part A: Policy Pract 37(6):499–517

Ibarra-Rojas O, Delgado F, Giesen R, Muñoz J (2015) Planning, operation, and control of bus transport systems: a literature review. Transp Res Part B: Methodol 77:38–75

Kurauchi F, Bell M, Schmöcker J (2003) Capacity constrained transit assignment with common lines. J Math Model Algorithms 2(4):309–327

Larrain H, Muñoz J (2016) When and where are limited-stop bus services justified? Transp A: Transp Sci 12(9):811–831

Leiva C, Muñoz J, Giesen R, Larrain H (2010) Design of limited-stop services for an urban bus corridor with capacity constraints. Transp Res Part B: Methodol 44(10):1186–1201

Li Z, Hensher D (2011) Crowding and public transport: a review of willingness to pay evidence and its relevance in project appraisal. Transp Policy 18(6):880–887

Milkovits M (2008) Modeling the factors affecting bus stop dwell time: use of automatic passenger counting, automatic fare counting, and automatic vehicle location data. Transp Res Rec: J Transp Res Board 2072:125–130

Mouwen A (2015) Drivers of customer satisfaction with public transport services. Transp Res Part A: Policy Pract 78:1–20

Nielsen G, Nelson J, Mulley C, Tegnér G, Lind G, Lange T (2005) HiTrans best practice guide 2: public transport—planning the networks. http://www.civitas.no/assets/hitrans2publictransportplanningthe-networks.pdf

Noland R, Polak J (2002) Travel time variability: a review of theoretical and empirical issues. Transp Rev 22(1):39–54

Parbo J, Nielsen O, Prato C (2018) Reducing passengers' travel time by optimising stopping patterns in a large-scale network: a case-study in the Copenhagen Region. Transp Res Part A: Policy Pract 113:197–212

Soto G, Larrain H, Muñoz J (2017) A new solution framework for the limited-stop bus service design problem. Transp Res Part B: Methodol 105:67–85

Surprenant-Legault J, El-Geneidy A (2011) Introduction of reserved bus lane: impact on bus running time and on-time performance. Transp Res Rec: J Transp Res Board 2218:10–18

Tang C, Ceder A, Ge Y (2018) Optimal public-transport operational strategies to reduce cost and vehicle's emission. PLoS ONE 13(8):e0201138

Tétreault P, El-Geneidy A (2010) Estimating bus run times for new limited-stop service using archived AVL and APC data. Transp Res Part A: Policy Pract 44(6):390–402

Tirachini A, Hensher D, Rose J (2013) Crowding in public transport systems: effects on users, operation and implications for the estimation of demand. Transp Res Part A: Policy Pract 53:36–52

Translink (2019) 2018 transit service performance review: bus/seabus summaries. https://public.tableau.com/profile/translink#!/vizhome/2018TSPR-BusSeaBusSummaries/TheWorkbook. Accessed 4 Feb 2020

van Lierop D, El-Geneidy A (2017) Perceived reality: understanding the relationship between customer perceptions and operational characteristics. Transp Res Rec: J Transp Res Board 2652:87–97

Vuchic V (2005) Urban transit: operations, planning, and economics. Wiley, New York

Yi Y, Choi K, Lee Y (2016) Optimal limited-stop bus routes selection using a genetic algorithm and smart card data. J Public Transp 19(4):11
Acknowledgements
The authors wish to thank Victor Gaspar from TransLink for providing access to their customer service questionnaire databases. This research is funded by the Natural Science and Engineering Research Council (NSERC) and the Social Sciences and Humanities Research Council (SSHRC) of Canada.
Additional information
Publisher's Note
Springer Nature remains neutral with regard to jurisdictional claims in published maps and institutional affiliations.
About this article
Cite this article
Grisé, E., El-Geneidy, A. Assessing operation and customer perception characteristics of high frequency local and limited-stop bus service in Vancouver, Canada. Public Transp 12, 519–534 (2020). https://doi.org/10.1007/s12469-020-00237-x
Accepted:

Published:

Issue Date:

DOI: https://doi.org/10.1007/s12469-020-00237-x
Keywords