Abstract
Public transport (PT) influences the urban road system in many ways, including traffic congestion, environment, society, safety and land use impacts. While there are many studies focusing on the benefits of PT, research on congestion impacts, a fundamental component of any analysis of transport performance, associated with PT has received little attention. This paper aims to review the traffic congestion impacts of PT and how they are assessed. Traffic congestion is most commonly related to vehicle travel; yet, the real measure of congestion in transport systems is people travel. This paper looks at the appropriateness of existing traffic congestion measures and how suitable they are for measuring the impact of an existing PT system in the short-term. The literature review indicates that most studies relating to the congestion impacts of PT have used vehicle-based congestion measures. People-based measures may be more appropriate in assessing PT impacts. The paper also proposes a new framework for looking at the short-term effects of an existing PT system on traffic congestion. It suggests a few areas where further work can be undertaken to improve our understanding of traffic congestion incorporating PT such as exploring the mode shift from PT to car, estimating network-wide PT congestion creation impacts and determining the net congestion impact of PT.
Access options
Buy single article
Instant access to the full article PDF.
USD 39.95
Price excludes VAT (USA)
Tax calculation will be finalised during checkout.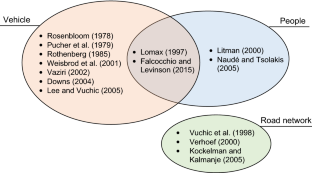 References
Adler M, Van Ommeren JN (2015) Does public transit reduce car travel externalities? Tinbergen Institute Discussion Paper 15-011/VIII

Aftabuzzaman M (2007) Measuring traffic congestion-a critical review. Australasian Transport Research Forum, Melbourne

Aftabuzzaman M, Currie G, Sarvi M (2010a) Evaluating the congestion relief impacts of public transport in monetary terms. J Public Transp 13:1–23

Aftabuzzaman M, Currie G, Sarvi M (2010b) Modeling the spatial impacts of public transport on traffic congestion relief in Melbourne, Australia. Transp Res Rec 2144:1–10

Anderson ML (2013) Subways, strikes, and slowdowns: the impacts of public transit on traffic congestion. NBER Working paper series. University of California, Berkeley

Bayle R (2012) Identifying the performance parameters of importance in the design of Bus Rapid Transit: an experimental framework using microscopic simulation. Institute of Transport and Logistic Studies (ITLS), University of Sydney, Sydney

Ben-Dor G, Ben-Elia E, Benenson I (2018) Assessing the impacts of dedicated bus lanes on urban traffic congestion and modal split with an agent-based model. Procedia Comput Sci 130:824–829

Ben-Edigbe J, Mashros N (2011) Determining impact of bus-stops on roadway capacity. In: Proceedings of the Irish transport research network, Aug 1–7

Bollinger CR, Ihlanfeldt KR (1997) The impact of rapid rail transit on economic development: the case of Atlanta's MARTA. J Urban Econ 42:179–204

Cairns S, Hass-Klau C, Goodwin P (1998) Traffic impact of highway capacity reductions: assessment of the evidence. Landor Publishing, London

Calderdale Council (2015) Tackling traffic congestion and pollution. Calderdale Council, West Yorkshire

Chandler C, Hoel LA (2004) Effects of light rail transit on traffic congestion. Center for Transportation Studies, University of Virginia, Virginia

Chandra S, Kumar U (2003) Effect of lane width on capacity under mixed traffic conditions in India. J Transp Eng 129:155–160

Chen X, Yu L, Zhu L, Guo J, Sun M (2010) Microscopic traffic simulation approach to the capacity impact analysis of weaving sections for the exclusive bus lanes on an urban expressway. J Transp Eng 136:895–902

Cherry C, Tang E, Deakin E, Skabardonis A (2005) High-occupancy vehicle systems: analysis of freeway improvements for express bus service. Transp Res Rec 1925:256–264

Chiabaut N, Barcet A (2019) Demonstration and evaluation of an intermittent bus lane strategy. Public Transp 11:443–456

Chiabaut N, Küng M, Menendez M, Leclercq L (2018) Perimeter control as an alternative to dedicated bus lanes: a case study. Transp Res Rec 2672:110–120

Crain JL, Flynn SD (1975) Southern California rapid transit district 1974 strike impact study. No. DMT-004 Final Rpt. California Department of Transportation, United States

Currie G, Sarvi M, Young B (2007) A new approach to evaluating on-road public transport priority projects: balancing the demand for limited road-space. Transportation 34:413–428

Department for Transport (2017) National Travel Survey: England 2016

DfT (2014) Transport analysis guidance (TAG), Unit A1.3 user and provider impacts. Department for Transport (DfT), London

Douglas N (1993) Travel demand, economic growth and transport infrastructure in rapidly growing economies. The Australian Transport Research Forum (ATRF), Queensland

Dowling R (2009) Multimodal level of service analysis for urban streets: users guide. NCHRP, Oakland

Downs A (2004) Still stuck in traffic: coping with peak-hour congestion. The Brookings Institution, Washington, DC

Eichler M, Daganzo CF (2006) Bus lanes with intermittent priority: strategy formulae and an evaluation. Transp Res Part B Methodol 40:731–744

Ewing R, Tian G, Spain A (2014) Effect of light-rail transit on traffic in a travel corridor. Transportation Research and Education Center (TREC), Portland

Exel NJAV, Rietveld P (2001) Public transport strikes and traveller behaviour. Transp Policy 8:237–246

Exel NJAV, Rietveld P (2009) When strike comes to town… anticipated and actual behavioural reactions to a one-day, pre-announced, complete rail strike in the Netherlands. Transp Res A Policy Pract 43:526–535

Falcocchio JC, Levinson HS (2015) Road traffic congestion: a concise guide, Roger P. Roess. New York University Polytechnic School of Engineering, New York

Fitzpatrick K, Nowlin R (1997) Effects of bus stop design on suburban arterial operations. Transp Res Rec 1571:31–41

Hakkert AS, Gitelman V (1997) Development of evaluation tools for road-rail crossing consideration for grade separation. Transp Res Rec 1605:96–105

Hall R, Vyas N (2000) Buses as a traffic probe: demonstration project. Transp Res Rec 1731:96–103

HCM (1965) Highway Capacity Manual. The Board, Washington, DC

HCM (2000) Highway Capacity Manual. The Board, Washington, DC

Holian M, McLaughlin R (2016) Benefit-cost analysis for transportation planning and public policy: towards multimodal demand modeling. Mineta Transportation Institute Publications, San Jose

Kittelson P, Quade K, Hunter-Zaworski K (2003) Transit capacity and quality of service manual. Transportation Research Board, National Academy Press, Washington, DC

Kockelman KM, Kalmanje S (2005) Credit-based congestion pricing: a policy proposal and the public's response. Transp Res A Policy Pract 39:671–690

Koshy RZ, Arasan VT (2005) Influence of bus stops on flow characteristics of mixed traffic. J Transp Eng 13:640–643

Kwami AV, Kuan YX, Zhi X (2009) Effect of bus bays on capacity of curb lanes. J Am Sci 5:107–118

Lee YJ, Vuchic VR (2005) Transit network design with variable demand. J Transp Eng 131:1–10

Levin MW, Khani A (2018) Dynamic transit lanes for connected and autonomous vehicles. Public Transp 10:399–426

Lindley JA (1987) Urban freeway congestion: quantification of the problem and effectiveness of potential solutions. ITE J 57:27–32

Litman T (2000) Transportation market reforms for sustainability. Transp Res Rec 1702:11–20

Litman T (2015) Evaluating public transit benefits and costs. Victoria Transport Policy Institute, Victoria. http://www.vtpi.org

Lo SC, Hall RW (2006) Effects of the Los Angeles transit strike on highway congestion. Transp Res A Policy Pract 40:903–917

Lomax TJ (1997) Quantifying congestion. Transportation Research Board, Washington, DC

Lomax TJ, Schrank DL (2005) The 2005 urban mobility report. Texas Transportation Institute, Texas

Lomax T, Turner S, Shunk G, Levinson H, Pratt R, Bay P, Douglas G (1997) NCHRP Report 398: quantifying congestion. Volume 1: Final report. National Research Council, Washington DC

Lomax T, Schrank D, Eisele W (1999) The keys to estimating mobility in urban areas, applying definitions and measures that everyone understands. Texas Transportation Institute, The Texas A&M University System, College Station

Meek S, Ison S, Enoch M (2008) Role of bus-based park and ride in the UK: a temporal and evaluative review. Transp Rev 28:781–803

Meyer MD (1997) A toolbox for alleviating traffic congestion and enhancing mobility. Institute of Transportation Engineers, Washington, DC

Moylan E, Foti F, Skabardonis A (2016) Observed and simulated traffic impacts from the 2013 Bay Area Rapid Transit strike. Transp Plan Technol 39:162–179

Naudé C, Tsolakis D (2005) Defining transport congestion. ARRB contract report no. VC71854. Melbourne

Nguyen-Phuoc DQ, Currie G, de Gruyter C, Young W (2017a) Local and system-wide traffic effects of urban road-rail level crossings: a new estimation technique. J Transp Geogr 60:89–97

Nguyen-Phuoc DQ, Currie G, de Gruyter C, Young W (2017b) Net impacts of streetcar operations on traffic congestion in Melbourne, Australia. Transp Res Rec 2648:1–9

Nguyen-Phuoc DQ, Currie G, de Gruyter C, Kim I, Young W (2018a) Modelling the net traffic congestion impact of bus operations in Melbourne. Transp Res A Policy Pract 117:1–12

Nguyen-Phuoc DQ, Currie G, de Gruyter C, Young W (2018b) Congestion relief and public transport: an enhanced method using disaggregate mode shift evidence. Case Stud Transp Policy 6:518–528

Nguyen-Phuoc DQ, Currie G, de Gruyter C, Young W (2018c) How do public transport users adjust their travel behaviour if public transport ceases? A qualitative study. Transp Res F Traffic Psychol Behav 54:1–14

Nguyen-Phuoc DQ, Currie G, de Gruyter C, Young W (2018d) Transit user reactions to major service withdrawal—a behavioural study. Transp Policy 64:29–37

Okitsu W, Lo K (2010) Simulation-free railroad grade crossing delay calculations. Western ITE Annual Meeting, San Francisco

O'Toole R (2004) Great rail disasters: The impact of rail transit on urban livability. Independence Institute, Colorado, United States

Parkhurst G (2000) Influence of bus-based park and ride facilities on users' car traffic. Transp Policy 7:159–172

Parry IWH, Small KA (2009) Should urban transit subsidies be reduced? Am Econ Rev 3:700–724

Patankar VM, Kumar R, Tiwari G (2007) Impacts of bus rapid transit lanes on traffic and commuter mobility. J Urban Plan Dev 133:99–106

Pavkova K, Currie G, Sarvi M, Delbosc A (2015) New methods exploring urban public transport congestion using Lorenz curves. In: 33rd Conference of Australian Institutes of Transport Research (CAITR), Melbourne

Pnevmatikou AM, Karlaftis MG, Kepaptsoglou K (2015) Metro service disruptions: how do people choose to travel? Transportation 42:933–949

Powell JL (1982) Effects of rail-highway grade crossings on highway users. In: 61st Annual meeting of the Transportation Research Board, Washington DC

Pucher J, Altshuler A, Womack J (1979) The urban transportation system: politics and policy innovation. MIT Press, Cambridge

Rosenbloom S (1978) Peak-period traffic congestion: a state-of-the-art analysis and evaluation of effective solutions. Transportation 7:167–191

Rothenberg MJ (1985) Urban congestion in the United States: what does the future hold?. Institute of Transportation Engineers, Washington, DC

Rubin TA, Mansour F (2013) Transit utilization and traffic congestion: Is there a connection? Policy Study 427. Reason Foundation, Los Angeles

Rymer B, Urbanik T II, Cline JC Jr (1989) Delay at light rail transit grade crossings. Transp Res Rec 221:621–634

Schrader MH, Hoffpauer JR (2001) Methodology for evaluating highway–Railway grade separations. Transp Res Rec 1754:77–80

Schrank D, Eisele B, Lomax T (2012) TTI's 2012 urban mobility report. Texas A&M Transportation Institute, Texas

Schuman R (2011) INRIX national traffic scorecard: 2010 annual report. Technical report, INRIX, Kirkland

Shalaby AS (1999) Simulating performance impacts of bus lanes and supporting measures. J Transp Eng 125:390–397

Stopher PR (2004) Reducing road congestion: a reality check. Transp Policy 11(2):117–131

Systematics C (2008) NCHRP Report 168: Cost-effective performance measures for travel time delay, variations, and reliability. Dowling Associates, System Metrics Group, and Texas Transportation Institute, Texas

Taggart RC, Lauria P, Groat G, Rees C, Brick-Turin A (1987) NCHRP Report 288: Evaluating grade-separated rail and highway crossing alternatives. Transportation Research Board, NRC, Washington, DC

Tang TQ, Li Y, Huang HJ (2009) The effects of bus stop on traffic flow. Int J Mod Phys C 20:941–952

Taylor BD (2004) The politics of congestion mitigation. Transp Policy 11(3):299–302

TFL (2010) Traffic modelling guidelines. Transport for London (TfL), London

TFL (2013) Travel in London, Report 6. Transport for London (TfL), London

Tiwari G, Fazio J, Pavitravas S (2000) Passenger car units for heterogeneous traffic using a modified density method. In: Proceedings of fourth international symposium on highway capacity, Hawaii, pp 246–257

Transport Committee (2013) Bus services in London, UK. https://www.london.gov.uk/sites/default/files/Bus%20Services%20in%20London%20Report%2C%20Transport%20Committee_0.pdf. Accessed 8 Feb 2020

Vaziri M (2002) Development of highway congestion index with fuzzy set models. Transp Res Rec 1802:16–22

Verhoef ET (2000) The implementation of marginal external cost pricing in road transport. Pap Reg Sci 79:307–332

VICROADS (2010) Nunawading Stringvale road rail separation impact study. VicRoads, Melbourne

Vuchic VR (2007) Urban transit systems and technology. Wiley, New York

Vuchic V, Lee YJ, Shin Y (1998) Travel costs and intermodal distribution in urban transportation. Transp Res Rec 1649:105–112

WDOT (2003) The socio-economic benefits of transit in Wisconsin. Wisconsin Department of Transportation Research, Development and Technology Transfer, Wisconsin

Weisbrod G, Vary D, Treyz G (2001) Economic implications of congestion. Transportation Research Board, National Research Council, Washington DC

WSDT (2011) The 2011 Congestion Report. Washington State Department of Transportation, Washington, DC

Xia YX, Xue Y (2010) Analysis of the effect of bay-bus-stop on traffic flow in one-direction two road by the continuum model. In: 2010 International conference on artificial intelligence and computational Intelligence (AICI), IEEE, pp 19–22

Yuan YM, Jiang R, Wu QS, Wang R (2007) Traffic behavior in a two-lane system consisting of a mixture of buses and cars. Int J Mod Phys C 18:1925–1938

Zhao XM, Gao ZY, Jia B (2007) The capacity drop caused by the combined effect of the intersection and the bus stop in a CA model. Phys A 385:645–658
Additional information
Publisher's Note
Springer Nature remains neutral with regard to jurisdictional claims in published maps and institutional affiliations.
About this article
Cite this article
Nguyen-Phuoc, D.Q., Young, W., Currie, G. et al. Traffic congestion relief associated with public transport: state-of-the-art. Public Transp 12, 455–481 (2020). https://doi.org/10.1007/s12469-020-00231-3
Accepted:

Published:

Issue Date:

DOI: https://doi.org/10.1007/s12469-020-00231-3
Keywords