Abstract
Integrated treatment of hitherto individual steps in the planning process of public transit companies discloses opportunities to reduce costs and to improve the quality of service. The arising integrated planning problems are complex and their solution requires the development of novel mathematical methods. This article proposes a mathematical optimization approach to integrate duty scheduling and rostering in public transit, which, in our case, allows to significantly increase driver satisfaction at almost zero cost. This is important in order to increase the attractiveness of the driver profession. The integration is based on coupling the subproblems by duty templates, which, compared to a coupling by duties, drastically reduces the problem complexity.
Access options
Buy single article
Instant access to the full article PDF.
US$ 39.95
Tax calculation will be finalised during checkout.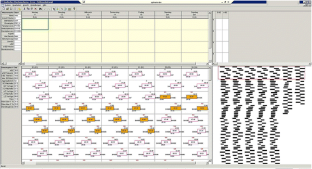 References
Borndörfer R, Grötschel M, Jäger U (2010) Planning problems in public transit. Production Factor Mathematics, pp 95–122

Borndörfer R, Grötschel M, Löbel A (2003) Duty scheduling in public transit. In: Jäger W, Krebs H-J (eds) Mathematics—key technology for the future. Springer, Berlin, pp 653–674. ZIB Report 01-02

Borndörfer R, Langenhan A, Löbel A, Schulz C, Weider S (2013) Duty scheduling templates. Public Transp. doi:10.1007/s12469-013-0064-x

Bundesministerium der Justiz. Verordnung zur Durchführung des Fahrpersonalgesetzes (Fahrpersonalverordnung—FPersV), 2005. Zuletzt geändert durch Art. 3 Abs. 6 G v. 19.12.11

Desrochers M, Gilbert J, Sauvé M, Soumis F (1992) Crew-opt: subproblem modeling in a column generation approach to urban crew scheduling. In: Desrochers M, Rousseau J-M (eds) Computer-aided transit scheduling, Lecture Notes in Economics and Mathematical Systems. Springer, Berlin

Ernst AT, Jiang H, Krishnamoorthy M, Sier D (2004) Staff scheduling and rostering: a review of applications, methods and models. Eur J Oper Res 153(1):3–27

Ernst AT, Jiang H, Krishnamoorthy M, Nott H, Sier D (2001) An integrated optimization model for train crew management. Ann Oper Res 108(1):211–224

European Parliament and the Council (2006) Regulation (EC) no 561/2006 of the European Parliament and of the Council of 15 March 2006 on the harmonisation of certain social legislation relating to road transport and amending Council Regulations (EEC) no 3821/85 and (EC) no 2135/98 and repealing Council Regulation (EEC) no 3820/85

Fengler W, Kolonko M (1997) Entwicklung von Fahrplänen unter mehrfacher Zielsetzung. Der Nahverkehr 11(97):45–48

Hartog A, Huisman D, Abbink EJW, Kroon LG (2009) Decision support for crew rostering at NS. Public Transp 1(2):121–133

Kurpjuweit K (2011) BVG-Chefin Nikutta im Interview: Für eine Preiserhöhung ist es zu spät. Der Tagesspiegel vom 03(08):2011

Lemaréchal C (2001) Lagrangian relaxation. In: Jünger M, Naddef D (eds) Computational combinatorial optimization, Lecture Notes in Computer Science, vol 2241. Springer, Berlin, pp 112–156

Leuthardt H (1998) Kostenstrukturen von Stadt-, Oberland- und Reisebussen. Der Nahverkehr 6(98):19–23

Leuthardt H (2000) Betriebskosten von Stadtbahnen. Der Nahverkehr 10(2000):14–17

Mesquita M, Moz M, Paias A, Pato M (2013) A decomposition approach for the integrated vehicle-crew-roster problem with days-off pattern. Eur J Oper Res 229(2):318–331

Mesquita M, Moz M, Paias A, Pato M (2015) A decompose-and-fix heuristic based on multi-commodity flow models for driver rostering with days-off pattern. Eur J Oper Res 245(2):423–437

Scholz G (2011) IT-Systeme für Verkehrsunternehmen. dpunkt

Weider S (2007) Integration of vehicle and duty scheduling in public transport, Ph.D. thesis. TU Berlin
About this article
Cite this article
Borndörfer, R., Schulz, C., Seidl, S. et al. Integration of duty scheduling and rostering to increase driver satisfaction. Public Transp 9, 177–191 (2017). https://doi.org/10.1007/s12469-017-0153-3
Accepted:

Published:

Issue Date:
Keywords
Benders decomposition

Driver satisfaction

Duty scheduling

Duty templates

Rostering