Abstract
Several cities in the developing world are transforming decentralized bus transit services into integrated transit systems. These programs aspire to improve service quality and mitigate negative impacts such as pollution and traffic injuries and fatalities. However, implementation processes in Santiago, Chile and elsewhere have proven difficult. One contributing factor has been a lack of integration of community concerns in the planning process. In this paper, we provide a framework for direct identification of user needs and apply it to an ongoing transit reform process in Bogotá, Colombia. Bogotá is integrating its bus rapid transit system with reorganized bus services throughout the city. Using expert interviews and a semi-structured community survey, we identify awareness, expectations and aspiration gaps between transit users and planners, as well as equity concerns. These gaps are part of a conflict we refer to as vision dissonance. We suggest specific actions to mitigate these problems in Bogotá and actions that may help reformers in other cities avoid encountering similar problems. A key lesson is that user consultation is valuable for identifying incompatibilities between users' self-identified needs and project goals. If such consultation is conducted early in a planning process, planners of future projects may be able to prevent rather than correct unanticipated incompatibilities. The methods developed for this research can help planners in other large-scale transit integration processes conduct effective user consultation.
Access options
Buy single article
Instant access to the full article PDF.
US$ 39.95
Tax calculation will be finalised during checkout.
Subscribe to journal
Immediate online access to all issues from 2019. Subscription will auto renew annually.
US$ 79
Tax calculation will be finalised during checkout.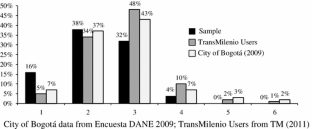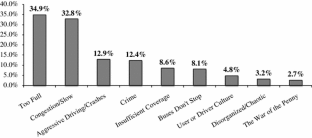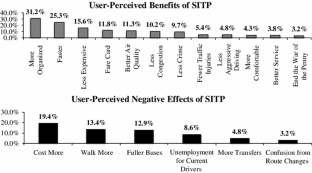 Notes
1.

The launch was planned for December 2011, but actually occurred in September 2012.

2.

The number of companies in operation will reduce during SITP's gradual implementation process. The basic conditions we describe here, however, continue to apply to the remaining CPT service.

3.

The existing informal regulation of buses is comprised of people who earn their living by standing at bus stops and marking at what time buses pass on a clipboard. They share this information with drivers in exchange for tips. Buses are not centrally regulated by the companies or any municipal authority.

4.

Contractual issues prevented the implementation of a single ticketing system during the first months of SITP's operation. As of writing, the system was still operating with two different fare collection systems, which have not yet been fully integrated.

5.

It is not possible to know the exact passenger capacity reduction as it depends on the size of the vehicles to be scrapped and may change if TM adjusts the vehicle occupancy standards for SITP.

6.

The five sites were in Normandía (in the locality of Engativá), San Cristobal Norte (Usaquén), Las Lomas (Rafael Uribe Uribe), Kennedy Central (Kennedy), and Fontibón Centro (Fontibón). The number of complete interviews at each site ranged from 32 (Normandía) to 46 (Kennedy).

7.

93 % of respondents were either waiting for or exiting the bus; the remaining respondents were on the street for another purpose.

8.

TM provided two staff members, with knowledge of the SITP, to assist with survey data collection. They were trained by one of the authors, who also joined them in the field for supervision, additional data collection, and proactive quality control (Axinn and Pearce 2006).

9.

One group of operators, APETRANS, staged two brief strikes. As a result, the rate of compensation to current bus owners for the use of their vehicles nearly doubled.
References
Adamowicz W, Louviere J, Williams M (1994) Combining revealed and stated preference methods for valuing environmental amenities. J Environ Econ Manag 26:271–292. doi:10.1006/jeem 1994.1017

Adamowicz W, Swait J, Boxall P et al (1997) Perceptions versus objective measures of environmental quality in combined revealed and stated preference models of environmental valuation. J Environ Econ Manag 32:65–84. doi:10.1006/jeem 1996.0957

Ardila-Gómez A (2004) Transit planning in Curitiba and Bogotá. roles in interaction, risk, and change. Dissertation, Massachussetts Institute of Technology

Ardila-Gómez A (2007) How public transportation's past is haunting its future in Bogotá, Colombia. Transp Res Rec 2038:9–15. doi:10.3141/2038-02

Axinn WG, Pearce LD (2006) Mixed method data collection strategies. Cambridge University Press, Cambridge

Beltrán P, Gschwender A, Palma C (2013) The impact of compliance measures on the operation of a bus system: the case of Transantiago. Res Transp Econ 39:79–89. doi:10.1016/j.retrec.2012.05.026

Bogotá DC (2006) Plan Maestro de Transporte, Decreto 319 de 2006. http://www.movilidadbogota.gov.co/hiwebx_archivos/ideofolio/Decreto319de2006_11_4_7.pdf, visited 7/14/11

Bogotá ¿Cómo Vamos? (2010) Encuesta de Percepción Ciudadana 2010. http://www.bogotacomovamos.org/scripts/encuestap.php, visited 7/14/11

Cámara de Comercio de Bogotá (2009) Encuesta de Percepción y Victimización – II Semestre de 2009. http://www.ccb.org.co/contenido/contenido.aspx?catID=126&conID=562, visited 7/14/11

CARACOL (2012) "A partir de hoy bajan las tarifas de Transmilenio", July 12, 2012. http://www.caracol.com.co/noticias/bogota/a-partir-de-hoy-bajan-las-tarifas-de-transmilenio/20120731/nota/1732959.aspx, visited 10/29/2012

CARACOL (2013) "Distrito planea reducción de tarifas en pasajes de Transmilenio para estratos 1 y 2". http://www.caracol.com.co/noticias/bogota/distrito-planea-reduccion-de-tarifas-en-pasajes-de-transmilenio-para-estratos-1-y-2/20130507/nota/1893910.aspx, visited 05/15/2013

Charmaz K (2006) Constructing grounded theory. Sage Publications, London; Thousand Oaks, CA

Combs T (2013) "Impacts of bus rapid transit and urban form on vehicle ownership and travel behavior: the case of Bogota, Colombia." Dissertation, University of North Carolina at Chapel Hill (forthcoming)

Corburn J (2005) Street science: community knowledge and environmental health justice. MIT Press, Cambridge, MA

DANE (2008) Encuesta de Calidad de Vida 2008, Colombia

DANE (2011) Proyecciones de Población, Bogotá, Colombia. http://www.dane.gov.co/daneweb_V09/index.php?option=com_content&view=article&id=75&Itemid=72, visited 7/8/11

DANE-DNP (2010) MESEP/Misión para el Empalme de las Series de Empleo, Pobreza y Desigualdad, Colombia. http://www.dnp.gov.co/PortalWeb/LinkClick.aspx?fileticket=Crk3ZivixSk%3d&tabid=337, visited 7/14/11

de Vasconcellos EA (2001) Urban transport, environment, and equity: the case for developing countries. Earthscan, London; Sterling, VA

DiMaggio P (1997) Culture and cognition. Annu Rev Sociol 23:263–287

Dotson E (2011) Institutional and political support for urban transport. In: Dimitriou HT, Gakenheimer RA (eds) Urban transport in the developing world: a handbook of policy and practice. Edward Elgar, Cheltenham

Downs A (2004) Why traffic congestion is here to stay… and will get worse. Access: research at the University of California Transportation Center 19–25

EMBARQ (2009) Centro de Transporte Sostenible del Instituto de Recursos Mundiales—WRI, "Evaluación Ex-Post Sistema de Transporte Masivo de Bogotá, Fases I y II, Informe 4", estudio elaborado para el Departamento Nacional de Planeación, Bogotá, Colombia

Fainstein S (2010) The just city. Cornell University Press, Ithaca, NY

Fondo de Prevención Vial FPV (2013) Anuario Estadístico de la Seguridad Vial Colombia 2011, Corporación Fondo de Prevención Vial—Universidad de los Andes, Grupo SUR. http://www.fpv.org.co/uploads/documentos/libreria/anuario_2011_pagina.pdf, visited 11/12/2013

Gibbons M (1999) Science's new social contract with society. Nature 402:81–84

Gómez-Carvajal N. (2013) El reto del SITP: sacar los buses viejos y multiplicar su operación, El Tiempo, Bogotá, 1 de Noviembre de 2013. http://www.eltiempo.com/colombia/bogota/ARTICULO-WEB-NEW_NOTA_INTERIOR-13154138.html, visited 11/12/2013

Hidalgo D (2009) Citywide transit integration in a large city: the Interligado System of São Paulo, Brazil. Transp Res Rec 2114:19–27

Hidalgo D, Carrigan A (2010) Modernizing public transport: lessons learned from major bus improvements in Latin America and Asia. World Resources Institute, Washington, DC

Kaminstein DS (1996) Persuasion in a toxic community: rhetorical aspects of public meetings. Hum Organ 55:458–464

Kash G (2013) Open versus closed: effects of question form on transit rider expressions of policy preferences in Arequipa, Peru. Transp Res Rec J Transp Res Board 2354:51–58. doi:10.3141/2354-06

Knight T (1974) An approach to the evaluation of changes in travel unreliability: a "safety margin" hypothesis. Transportation 3(4):393–408

La Tercera (2009) Senado aprueba subsidio para Transantiago de más de US$3.600 millones. http://latercera.com/contenido/674_168217_9.shtml, visited 7/15/2011

Lecompte Plata MC (2011) Accesibilidad al transporte y equidad: un análisis de género. Universidad de los Andes

Littman T (2011) Rebound effects, TDM encyclopedia. http://www.vtpi.org/tdm/tdm64.htm, visited 7/14/11

Marshall C, Rossman G (2011) Designing qualitative research, 5th edn. Sage, Thousands Oaks

McGinn AP, Evenson KR, Herring AH et al (2008) The association of perceived and objectively measured crime with physical activity: a cross-sectional analysis. J Phys Activity Health 5:117–131

Morgan DL (2007) Paradigms lost and pragmatism regained: methodological implications of combining qualitative and quantitative methods. J Mixed Methods Res 1:48–76. doi:10.1177/2345678906292462

Muñoz JC, Ortúzar J de D, Gschwender A (2009) Transantiago: the fall and rise of a radical public transport intervention. In: Saleh W, Sammer G (eds) Travel demand management and road user pricing: success, failure and feasibility. Farnham, Ashgate, Chapter 9, pp 151–172

Observatorio de Movilidad Urbana (2008) http://camara.ccb.org.co/documentos/3223_capitulo_1.pdf, visited 7/14/11

Orrico Filho R, Guilherme de Aragao JJ, Mederios dos Santo E (2009) Urban transport in South America: trends in competition and competition policy, Thredbo 10. http://www.thredbo-conference-series.org/downloads/thredbo10_papers/thredbo10-themeB-Filho-Santos.pdf, visited 7/15/11

Redacción Bogotá (2013a) Distrito está obligado a pagar para cubrir costos del SITP: Petro, El Tiempo, April 25, 2013. http://www.eltiempo.com/colombia/bogota/ARTICULO-WEB-NEW_NOTA_INTERIOR-12763648.html, visited 05/15/2013

Redacción Bogotá (2013b) Prorrogan contratos de TransMilenio por 3 años, El Tiempo, Bogotá, March 12, 2013. http://www.eltiempo.com/colombia/bogota/ARTICULO-WEB-NEW_NOTA_INTERIOR-12681468.html, visited 11/12/2013

Reed T, Rodriguez DA, Wallace R (2000) Transit-passenger perceptions of transit- related crime reduction measures. Transportation Research Record 1731 Transportation Research Board, National Research Council, Washington, DC, pp 130–141

Schuman H, Presser S (1979) The open and closed question. Am Sociol Rev 44:692–712

Secretaria de Movilidad (2012) Movilidad en Cifras 2011. http://www.movilidadbogota.gov.co/hiwebx_archivos/audio_y_video/boletin%20cifras.pdf, visited 11/13/2013

Small ML (2011) How to conduct a mixed methods study: recent trends in a rapidly growing literature. Annu Rev Sociol 37:57–86. doi:10.1146/annurev.soc.012809.102657

SUR-CAI-BID (2012) "Desarrollo de Estrategias Ambientales Integradas para una movilidad sustentable en Bogotá", SUR Universidad de los Andes, Clean Air Institute CAI, Banco Interamericano de Desarrollo BID. http://sur.uniandes.edu.co/images/Presentaciones/estmovsustbog.pdf, visited 10/29/12

Suzuki H, Cervero R, Iuchi K (2013) Transforming cities with transit: transit and land-use integration for sustainable urban development. World Bank, Washington, DC

Teddlie C, Yu F (2007) Mixed methods sampling: a typology with examples. J Mixed Methods Res 1:77–100. doi:10.1177/2345678906292430

Tellez-Oliveros V (2013) Subsidio para el SITP costaría $150 mil millones, El Espectador, Bogotá, July 16, 2013. http://www.elespectador.com/noticias/bogota/subsidio-el-sitp-costaria-150-mil-millones-articulo-433828, visited 11/12/2013

Tourangeau R, Rips LJ, Rasinski K (2000) The psychology of survey response. Cambridge University Press, Cambridge

TRANSMILENIO SA (2011) Transmilenio en Cifras, Estadíticas Generales. http://www.transmilenio.gov.co/WebSite/Contenido.aspx?ID=TransmilenioSA_TransmilenioEnCifras_EstadisticasGenerales, visited 7/8/11

TRANSMILENIO SA (2013) Beneficios del SITP. http://www.sitp.gov.co/publicaciones/beneficios_del_sitp_pub, visited 11/12/13

Universidad de los Andes y Cámara de Comercio de Bogotá, Observatorio de Movilidad Urbana (2008) http://www.ccb.org.co/documentos/4795_observatorio_de_movilidad_2009.pdf, visited 7/8/11

Van Stekelenburg J, Klandermans B (2007) Individuals in movements: a social psychology of contention. In: Klandermans B, Roggeband C (eds) Social movements across disciplines. Springer, New York, pp 157–204

Vuchic VR (2005) Urban transit: operations, planning and economics. John Wiley & Sons, Hoboken, NJ

Weiss RS (1995) Learning from strangers: the art and method of qualitative interview studies. Free Press, New York
Acknowledgments
We are grateful for the financial support of the Institute for the Study of the Americas at UNC Chapel Hill and EMBARQ—a member of the BRT-ALC Center of Excellence (www.brt.cl). We would also like to thank María Andrea Agudelo, Johanna Burbano, María Carolina Lecompte, Johann Murcia, Carlos Pardo, Ana Quintero, Daniel Rodríguez, Eva Sclippa, and the staff of TM, especially Martha Gomez and Diana Martinez, who supported the survey field work. An abridged version of this paper was presented at the 2012 TRB Annual Meeting. We would also like to thank the following individuals for granting interviews:
TRANSMILENIO S.A. Staff (2011) Sandra Ángel, Director, Transportation Planning; Javier Hernández, SITP General Manager; Fernando Páez, General Manager TM; Adriana Ruiz, Legal Coordinator
Bus Operators Alfonso Montáño, Driver, UCOLBUS; Héctor Morales, President, COPROTUR; Alfonso Pérez, President, APETRANS (Assoc. of Small Transport Providers); Ramiro Serna, Technical Director, Este Es Mi Bus
Other Interviewees Fernando Álvarez, Secretary of Mobility, City of Bogotá; Carlos Córdoba, Former Director, and Vladimir Daza, Program Assistant, Bogotá Como Vamos; Enrique Peñalosa, former mayor, City of Bogotá; Germán Prieto, Professor of Engineering, Universidad de Bogotá Jorge Tadeo Lozano, former staff member, Bogotá Chamber of Commerce; Edgar Sandoval, consultant, former General Manager, TM.
About this article
Cite this article
Kash, G., Hidalgo, D. The promise and challenges of integrating public transportation in Bogotá, Colombia. Public Transp 6, 107–135 (2014). https://doi.org/10.1007/s12469-013-0083-7
Keywords
Public transportation

Transport systems integration

Institutional settings

User perception

Mixed methods research

Bogotá