Samenvatting
Een belangrijke innovatie op zorggebied van het laatste decennium is telemedicine, met als doel verbeterde efficiëntie en effectiviteit van de zorg. Teleconsultatie, waarbij een zorgverlener op afstand een andere zorgverlener raadpleegt, is veruit de meest toegepaste vorm van telemedicine. Sinds 2001 zijn er in Nederland naar schatting minimaal 100.000 teleconsultaties (TC's) gedaan in teledermatologie, teleoogheelkunde, telecardiologie en telepulmonologie.
Access options
Buy single article
Instant access to the full article PDF.
USD 39.95
Price excludes VAT (USA)
Tax calculation will be finalised during checkout.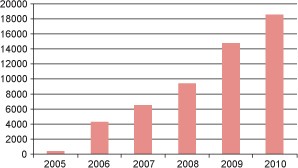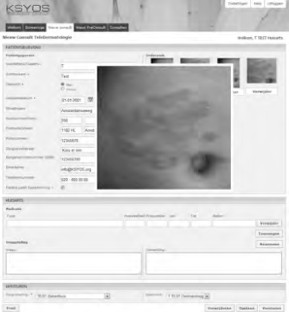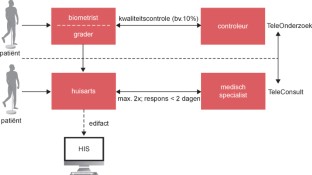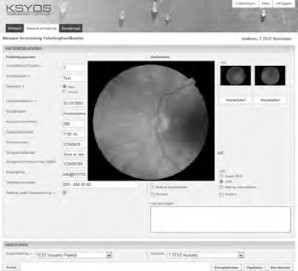 Literatuur
Eminovic N, de Keizer NF, Bindels PJ, Hasman A. Maturity of teledermatology evaluation research: a systematic literature review. Br J Dermatol 2007;156:412–9.

Hersh WR, Hickam DH, Severance SM, Dana TL, Pyle Krages K, Helfand M. Diagnosis, access and outcomes: Update of a systematic review of telemedicine services. J Telemed Telecare 2006;12 Suppl 2:S3–31.

Wurm EM, Hofmann-Wellenhof R, Wurm R, Soyer HP. Telemedicine and teledermatology: Past, present and future. J Dtsch Dermatol Ges 2008;6:106–12.

Hailey D, Ohinmaa A, Roine R. Published evi-dence on the success of telecardiology: a mixed record. J Telemed Telecare 2004;10 Suppl 1:36–8.

Lamminen H, Voipio V, Ruohonen K, Uusitalo H. Telemedicine in ophthalmology. Acta Ophthalmol Scand 2003;81:105–9.

Thrall JH. Teleradiology. Part I. History and clinical applications. Radiology 2007;243:613–7.

Kanthraj GR. Classification and design of teledermatology practice: what dermatoses? Which technology to apply? J Eur Acad Dermatol Venereol 2009;23:865–75.

Massone C, Wurm EM, Hofmann-Wellenhof R, Soyer HP. Teledermatology: an update. Semin Cutan Med Surg 2008;27:101–5.

Akker TW van den, Reker CH, Knol A, Post J, Wilbrink J, Veen JP van der. Teledermatology as a tool for communication between general practitioners and dermatologists. J Telemed Telecare 2001;7:193–8.

Heijden JP van der, Keizer NF de, Bos JD, Spuls PI, Witkamp L. Teledermatology applied following patient selection by general practitioner in daily practice improves efficiency and quality of care at lower costs. Br J Dermatol 2011 Jul 5. doi: 10.1111/j.1365-2133.2011.10509.x. [Epub ahead of print].

Eminovic N, Dijkgraaf MG, Berghout RM, Prins AH, Bindels PJ, Keizer NF de. A cost minimisation analysis in teledermatology: model-based approach. BMC Health Serv Res 2010;10:251.

KSYOS TeleMedisch Centrum. www.ksyos.nl/index.php/voor-gebruikers/toelatingsovereenkomst. Geraadpleegd september 2011.
About this article
Cite this article
van der Heijden, J.P., Schepers, I. Teledermatologie en andere succesvolle teleconsultatiediensten in de dagelijkse huisartsenpraktijk. Bijblijven 27, 7–15 (2011). https://doi.org/10.1007/s12414-011-0065-0
Published:

Issue Date:

DOI: https://doi.org/10.1007/s12414-011-0065-0