Abstract
Multidetector CT (MDCT) angiography is a robust method for the accurate diagnosis of coronary artery disease (CAD) in selected patient populations. Recent advances in CT technology have broadened the application of MDCT as a stand-alone imaging modality to identify both CAD and myocardial ischemia in a single examination. Although myocardial perfusion scintigraphy has an extensive evidence base for the diagnosis of myocardial ischemia, MDCT perfusion imaging has several potential advantages including better spatial resolution, which may allow more accurate detection of small areas of ischemia, as well as ability to detect actual rather than relative blood flow, potentially improving diagnostic accuracy for detecting hemodynamically significant multivessel CAD. The purpose of this review is to provide an overview of the evolution of technical and practical aspects related to MDCT perfusion imaging, and to highlight important studies that have assessed the diagnostic accuracy of MDCT stress perfusion imaging, concluding with the emerging role of 320-detector row MDCT.
Access options
Buy single article
Instant access to the full article PDF.
USD 39.95
Price excludes VAT (USA)
Tax calculation will be finalised during checkout.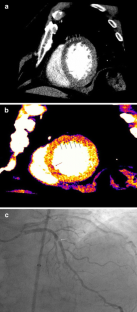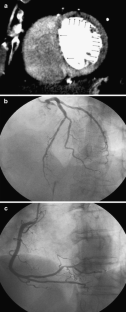 References
Papers of particular interest, published recently, have been highlighted as: • Of importance •• Of major importance
Beller GA, Zaret BL: Contributions of nuclear cardiology to diagnosis and prognosis of patients with coronary artery disease. Circulation 2000, 101:1465–1478.

Shaw LJ, Iskandrian AE: Prognostic value of gated myocardial perfusion SPECT. J Nucl Cardiol 2004, 11:171–185.

Davies RF, Goldberg AD, Forman S, et al.: Asymptomatic Cardiac Ischemia Pilot (ACIP) study two-year follow-up: outcomes of patients randomized to initial strategies of medical therapy versus revascularization. Circulation 1997, 95:2037–2043.

Erne P, Schoenenberger AW, Burckhardt D, et al.: Effects of percutaneous coronary interventions in silent ischemia after myocardial infarction: the SWISSI II randomized controlled trial. JAMA 2007, 297:1985–1991.

Budoff MJ, Dowe D, Jollis JG, et al.: Diagnostic performance of 64-multidetector row coronary computed tomographic angiography for evaluation of coronary artery stenosis in individuals without known coronary artery disease: results from the prospective multicenter ACCURACY (Assessment by Coronary Computed Tomographic Angiography of Individuals Undergoing Invasive Coronary Angiography) trial. J Am Coll Cardiol 2008, 52:1724–1732.

Miller JM, Rochitte CE, Dewey M, et al.: Diagnostic performance of coronary angiography by 64-row CT. N Engl J Med 2008, 359:2324–2336.

Meijboom WB, Meijs MF, Schuijf JD, et al.: Diagnostic accuracy of 64-slice computed tomography coronary angiography: a prospective, multicenter, multivendor study. J Am Coll Cardiol 2008, 52:2135–2144.

Dewey M, Zimmermann E, Deissenrieder F, et al.: Noninvasive coronary angiography by 320-row computed tomography with lower radiation exposure and maintained diagnostic accuracy: comparison of results with cardiac catheterization in a head-to-head pilot investigation. Circulation 2009, 120:867–875.

de Graaf FR, Schuijf JD, van Velzen JE, et al.: Diagnostic accuracy of 320-row multidetector computed tomography coronary angiography in the non-invasive evaluation of significant coronary artery disease. Eur Heart J 2010, 31:1908–1915.

Nasis A, Leung MC, Antonis PR, et al.: Diagnostic accuracy of non-invasive coronary angiography with 320-detector row computed tomography. Am J Cardiol 2010, In press.

Hachamovitch R, Hayes SW, Friedman JD, et al.: Comparison of the short-term survival benefit associated with revascularization compared with medical therapy in patients with no prior coronary artery disease undergoing stress myocardial perfusion single photon emission computed tomography. Circulation 2003, 107:2900–2907.

Hachamovitch R, Hayes S, Friedman JD, et al.: Determinants of risk and its temporal variation in patients with normal stress myocardial perfusion scans: what is the warranty period of a normal scan? J Am Coll Cardiol 2003, 41:1329–1340.

Shaw LJ, Berman DS, Maron DJ, et al.: Optimal medical therapy with or without percutaneous coronary intervention to reduce ischemic burden: results from the Clinical Outcomes Utilizing Revascularization and Aggressive Drug Evaluation (COURAGE) trial nuclear substudy. Circulation 2008, 117:1283–1291.

Tonino PA, De Bruyne B, Pijls NH, et al.: Fractional flow reserve versus angiography for guiding percutaneous coronary intervention. N Engl J Med 2009, 360:213–224.

Hacker M, Jakobs T, Matthiesen F, et al.: Comparison of spiral multidetector CT angiography and myocardial perfusion imaging in the noninvasive detection of functionally relevant coronary artery lesions: first clinical experiences. J Nucl Med 2005, 46:1294–1300.

Rispler S, Keidar Z, Ghersin E, et al.: Integrated single-photon emission computed tomography and computed tomography coronary angiography for the assessment of hemodynamically significant coronary artery lesions. J Am Coll Cardiol 2007, 49:1059–1067.

Schuijf JD, Wijns W, Jukema JW, et al.: Relationship between noninvasive coronary angiography with multi-slice computed tomography and myocardial perfusion imaging. J Am Coll Cardiol 2006, 48:2508–2514.

Hacker M, Jakobs T, Hack N, et al.: Sixty-four slice spiral CT angiography does not predict the functional relevance of coronary artery stenoses in patients with stable angina. Eur J Nucl Med Mol Imaging 2007, 34:4–10.

Lin F, Shaw LJ, Berman DS, et al.: Multidetector computed tomography coronary artery plaque predictors of stress-induced myocardial ischemia by SPECT. Atherosclerosis 2008, 197:700–709.

Di Carli MF, Dorbala S, Hachamovitch R: Integrated cardiac PET-CT for the diagnosis and management of CAD. J Nucl Cardiol 2006, 13:139–144.

Bell MR, Lerman LO, Rumberger JA: Validation of minimally invasive measurement of myocardial perfusion using electron beam computed tomography and application in human volunteers. Heart 1999, 81:628–635.

Lerman LO, Siripornpitak S, Maffei NL, et al.: Measurement of in vivo myocardial microcirculatory function with electron beam CT. J Comput Assist Tomogr 1999, 23:390–398.

Rumberger JA, Feiring AJ, Lipton MJ, et al.: Use of ultrafast computed tomography to quantitate regional myocardial perfusion: a preliminary report. J Am Coll Cardiol 1987, 9:59–69.

Mahnken AH, Bruners P, Katoh M, et al.: Dynamic multi-section CT imaging in acute myocardial infarction: preliminary animal experience. Eur Radiol 2006, 16:746–752.

• George RT, Jerosch-Herold M, Silva C, et al.: Quantification of myocardial perfusion using dynamic 64-detector computed tomography. Invest Radiol 2007, 42:815–822. This article demonstrated that dynamic 64-detector row MDCT can accurately quantify myocardial blood flow in an animal model of coronary stenosis.

Groves AM, Goh V, Rajasekharan S, et al.: CT coronary angiography: quantitative assessment of myocardial perfusion using test bolus data-initial experience. Eur Radiol 2008, 18:2155–2163.

Bastarrika G, Ramos-Duran L, Schoepf UJ, et al.: Adenosine-stress dynamic myocardial volume perfusion imaging with second generation dual-source computed tomography: Concepts and first experiences. J Cardiovasc Comput Tomogr 2010, 4:127–135.

George RT, Silva C, Cordeiro MA, et al.: Multidetector computed tomography myocardial perfusion imaging during adenosine stress. J Am Coll Cardiol 2006, 48:153–160.

•Okada DR, Ghoshhajra BB, Blankstein R, et al.: Direct comparison of rest and adenosine stress myocardial perfusion CT with rest and stress SPECT. J Nucl Cardiol 2009, 17:27–37. This article demonstrated good correlation between helical dual-source MDCT perfusion imaging and SPECT for detection, extent, and severity of myocardial perfusion defects at rest and stress.

Voros S: What are the potential advantages and disadvantages of volumetric CT scanning? J Cardiovasc Comput Tomogr 2009, 3:67–70.

Newhouse JH, Murphy RX Jr: Tissue distribution of soluble contrast: effect of dose variation and changes with time. AJR Am J Roentgenol 1981, 136:463–467.

Canty JM Jr, Judd RM, Brody AS, et al.: First-pass entry of nonionic contrast agent into the myocardial extravascular space. Effects on radiographic estimates of transit time and blood volume. Circulation 1991, 84:2071–2078.

Rogers IS, Cury RC, Blankstein R, et al.: Comparison of postprocessing techniques for the detection of perfusion defects by cardiac computed tomography in patients presenting with acute ST-segment elevation myocardial infarction. J Cardiovasc Comput Tomogr 2010, 4:258–266.

•• George RT, Arbab-Zadeh A, Miller JM, et al.: Adenosine stress 64- and 256-row detector computed tomography angiography and perfusion imaging: a pilot study evaluating the transmural extent of perfusion abnormalities to predict atherosclerosis causing myocardial ischemia. Circ Cardiovasc Imaging 2009, 2:174–182. This article demonstrated that adenosine stress CT perfusion imaging can detect transmural myocardial perfusion differences and that these differences in subendocardial and subepicardial attenuation can be quantified using a transmural perfusion ratio that is inversely related to degree of stenosis on quantitative angiography.

•• Blankstein R, Shturman LD, Rogers IS, et al.: Adenosine-induced stress myocardial perfusion imaging using dual-source cardiac computed tomography. J Am Coll Cardiol 2009, 54:1072–1084. This article demonstrated that dual-source 64-slice adenosine stress CT perfusion imaging has comparable diagnostic accuracy to SPECT in detecting hemodynamically significant stenoses, with similar radiation exposure to SPECT.

Ho KT, Chua KC, Klotz E, et al.: Stress and rest dynamic myocardial perfusion imaging by evaluation of complete time-attenuation curves with dual-source CT. J Am Coll Cardiol Img 2010, 3:811–820.

•• Rocha-Filho JA, Blankstein R, Shturman LD, et al.: Incremental value of adenosine-induced stress myocardial perfusion imaging with dual-source CT at cardiac CT angiography. Radiology 2010, 254:410–419. This article demonstrated the incremental value of dual-source 64-detector adenosine stress perfusion to MDCT angiography for the detection of significant coronary stenoses.

Fragasso G, Rossetti E, Dosio F, et al.: High prevalence of the thallium-201 reverse redistribution phenomenon in patients with syndrome X. Eur Heart J 1996, 17:1482–1487.

Koepfli P, Wyss CA, Namdar M, et al.: Beta-adrenergic blockade and myocardial perfusion in coronary artery disease: differential effects in stenotic versus remote myocardial segments. J Nucl Med 2004, 45:1626–1631.

Ko B, Cameron JD, Leung M, et al.: Adenosine stress perfusion imaging and coronary angiography using 320 slice cardiac CT– a comparison with quantitative coronary angiography and fractional flow reserve [abstract]. Eur Heart J 2010, In press.
Disclosure
Dr. Nasis: none; Dr. Seneviratne: none; Dr. DeFrance: speakers' bureau for Toshiba Medical Systems.
About this article
Cite this article
Nasis, A., Seneviratne, S. & DeFrance, T. Advances in Contrast-Enhanced Cardiovascular CT for the Evaluation of Myocardial Perfusion. Curr Cardiovasc Imaging Rep 3, 372–381 (2010). https://doi.org/10.1007/s12410-010-9053-5
Published:

Issue Date:

DOI: https://doi.org/10.1007/s12410-010-9053-5
Keywords
Imaging

Computed tomography

Atherosclerosis

Ischemia

Perfusion

Myocardium