Abstract
This cross-sectional research aimed to investigate the potential effects of elevated fluoride levels in drinking water on children's intelligence quotient (IQ). A total of 721 children from rural Jiangsu, China, were included in the study and divided into two groups based on the fluoride concentration in their drinking water: a high fluoride group (HF) and a control group (CONTROL). Ion-selective electrode technology was used to assess the amount of fluoride in urine and drinking water. The Combined Raven's Test (CRT-RC2) was used to assess the IQ levels of the children. Generalized linear and multiple logistic regression models were used to examine the association between fluorine exposure and intelligence level ratings. The HF group exhibited lower average IQ scores than the CONTROL group, with a statistically significant difference among the groups (P < 0.001). The proportion of individuals with Dull normal and below of IQ in the HF group was significantly higher than that in the CONTROL group (15.0 vs 3.1%), moreover in children with dental fluorosis (DF) was significantly higher than that in children without it (21.8 vs 4.4%), in children with excessive urinary fluoride (UF) was significantly higher than that in children with normal UF (16.5 vs 1.7%); these distributions were significantly different (P < 0.001, P = 0.048, P < 0.001, respectively). Furthermore, the risk of below normal IQ in children from the HF group was significantly elevated compared to CONTROL children with a normal intelligence quotient, with an adjusted OR of 6.81 (95% confidence interval [CI]: 3.20, 14.48). Urinary fluoride (UF) was inversely linked with IQ scores, with an adjusted coefficient (β) of −4.08 (95% CI −3.04, −1.32). The coefficient of UF in the HF group was statistically different from that in the CONTROL group (P < 0.001). Excessive exposure to fluorine has severe negative effects on the intellectual development of children. It is necessary to monitor children's urinary fluoride levels and investigate other sources of fluoride intake.
Access options
Buy single article
Instant access to the full article PDF.
USD 39.95
Price excludes VAT (USA)
Tax calculation will be finalised during checkout.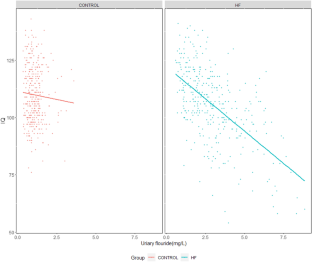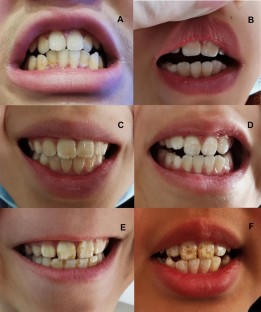 Data Availability
All the data used for the study appear in the article.
References
Anual ZF, Mohammad Sham N, Ambak R, Othman F, Shaharudin R (2021) Urinary concentrations of metals and metalloids in Malaysian adults. Expo Health 13:391–401. https://doi.org/10.1007/s12403-021-00390-z

Aravind A, Dhanya RS, Narayan A, Sam G, Adarsh VJ, Kiran M (2016) Effect of fluoridated water on intelligence in 10–12-year-old school children. J Int Soc Prev Community Dent 6:S237–S242. https://doi.org/10.4103/2231-0762.197204

Asawa K, Pujara P, Thakkar JP, Pandya BG, Sharma AR, Pareek S, Tak A, Tak M, Maniar R (2014) Assessment of intelligence quotient among schoolchildren of fishermen community of Kutch, Gujarat, India. Int Marit Health 65:73–78. https://doi.org/10.5603/IMH.2014.0017

Bashash M, Thomas D, Hu H, Angeles M-ME, Sanchez BN, Basu N, Peterson KE, Ettinger AS, Wright R, Zhang Z-Z, Liu Y, Schnaas L, Mercado-García A, Téllez-Rojo MM, Hernández-Avila M (2022) Prenatal fluoride exposure and cognitive outcomes in children at 4 and 6–12 years of age in Mexico. Environ Health Perspect 125:097017. https://doi.org/10.1289/EHP655

Carrieri M, Trevisan A, Bartolucci GB (2001) Adjustment to concentration-dilution of spot urine samples: correlation between specific gravity and creatinine. Int Arch Occup Environ Health 74:63–67. https://doi.org/10.1007/s004200000190

Chen Q, Chen Q, Wang Q-Q, Xu R-J, Liu T-T, Liu Y-W, Ding Z, Sun H (2022) Particulate matter and ozone might trigger deaths from chronic ischemic heart disease. Ecotoxicol Environ Saf 242:113931. https://doi.org/10.1016/j.ecoenv.2022.113931

Choi AL, Sun G-F, Zhang Y, Grandjean P (2012) Developmental fluoride neurotoxicity: a systematic review and meta-analysis. Environ Health Perspect 120:1362–1368. https://doi.org/10.1289/ehp.1104912

Das G, Tirth V, Arora S, Algahtani A, Kafeel M, Alqarni AHG, Saluja P, Vij H, Bavabeedu SS, Tirth A (2020) Effect of fluoride concentration in drinking water on dental fluorosis in southwest Saudi Arabia. Int J Environ Res Public Health 17:3914. https://doi.org/10.3390/ijerph17113914

Ding Y-P, Gao Y-Y, Sun H-X, Han H-P, Wang W, Ji X-H, Liu X-H, Sun D-J (2011) The relationships between low levels of urine fluoride on children's intelligence, dental fluorosis in endemic fluorosis areas in Hulunbuir, Inner Mongolia, China. J Hazard Mater 186:1942–1946. https://doi.org/10.1016/j.jhazmat.2010.12.097

Duan Q, Jia J, Chen X, Wang X (2018) Association between water fluoride and the level of children's intelligence: a dose–response meta-analysis. Public Health 154:87–97. https://doi.org/10.1016/j.puhe.2017.08.013

Forte FD, Moimaz SA, Aampaio FC (2008) Urinary fluoride excretion in children exposed to fluoride toothpaste and to different water fluoride levels in a tropical area of Brazil. Braz Dent J 19:214–218

Gilbert SG, Weiss B (2006) A rationale for lowering the blood lead action level from 10 to 2μg/dL. Neurotoxicology 27:693–701. https://doi.org/10.1016/j.neuro.2006.06.008

Green R, Till C, Cantoral A, Lanphear B, Martinez-Mier EA, Ayotte P, Wright RO, Tellez-Rojo MM, Malin AJ (2020) Associations between urinary, dietary, and water fluoride concentrations among children in Mexico and Canada. Toxics 8:110. https://doi.org/10.3390/toxics8040110

He X-D, Li P-Y, Ji Y-J, Wang Y-H, Su Z-M, Elumalai V (2020) Groundwater arsenic and fluoride and associated arsenicosis and fluorosis in China: occurrence, distribution and management. Expo Health 12:355–368. https://doi.org/10.1007/s12403-020-00347-8

Li Y, Wang F, Feng J, Lv J-P, Liu Q, Nan F-R, Liu X-D, Xie S-L (2020) Health risk in children to fluoride exposure in a typical endemic fluorosis area on Loess Plateau, north China, in the last decade. Chemosphere 243:125451. https://doi.org/10.1016/j.chemosphere.2019.125451

Macey R, Tickle M, MacKay L, McGrady M, Pretty IA (2018) A comparison of dental fluorosis in adult populations with and without lifetime exposure to water fluoridation. Commun Dent Oral Epidemiol 46:608–614. https://doi.org/10.1111/cdoe.12411

Malde MK, Maage A, Macha E, Julshamn K, Bjorvatn K (1997) Fluoride content in selected food items from five areas in East Africa. J Food Compo Anal 10:233–245. https://doi.org/10.1006/jfca.1997.0537

Malde MK, Zerihun L, Julshamn K, Bjorvatn K (2003) Fluoride intake in children living in a high-fluoride area in Ethiopia - intake through beverages: fluoride intake in children through beverages. Int J Paediatr Dent 13:27–34. https://doi.org/10.1046/j.1365-263X.2003.00422.x

Malde MK, Zerihun L, Julshamn K, Bjorvatn K (2004) Fluoride, calcium and magnesium intake in children living in a high-fluoride area in Ethiopia. Intake through food. Int J Paediatr Dent 14:167–174. https://doi.org/10.1111/j.1365-263X.2004.00513.x

Molina-Frechero N, Gaona E, Angulo M, Pérez LS, González RG, Rascón MN, Bologna-Molina R (2015) Fluoride exposure effects and dental fluorosis in children in Mexico City. Med Sci Monit 21:3664–3670. https://doi.org/10.12659/MSM.895351

Niu R-Y, Xue X-C, Zhao Y-H, Sun Z-L, Yan X-Y, Li X-Y, Feng C-P, Wang J-D (2015) Effects of fluoride on microtubule ultrastructure and expression of Tubα1a and Tubβ2a in mouse hippocampus. Chemosphere 139:422–427. https://doi.org/10.1016/j.chemosphere.2015.07.011

Okotto-Okotto J, Wanza P, Kwoba E, Yu W, Dzodzomenyo M, Thumbi SM, Da Silva DG, Wright JA (2020) An assessment of inter-observer agreement in water source classification and sanitary risk observations. Expo Health 12:809–822. https://doi.org/10.1007/s12403-019-00339-3

Onoriobe U, Rozier RG, Cantrell J, King RS (2014) Effects of enamel fluorosis and dental caries on quality of life. J Dent Res 93:972–979. https://doi.org/10.1177/0022034514548705

Saeed M, Malik RN, Kamal A (2019) Fluorosis and cognitive development among children (6–14 years of age) in the endemic areas of the world: a review and critical analysis. Environ Sci Pollut Res 27:2566–2579. https://doi.org/10.1007/s11356-019-06938-6

Saha D, Goswami R, Majumdar KK, Sikdar N, Pramanik S (2021) Evaluating the association between dental fluorosis and polymorphisms in bone development and mineralization genes among population from a fluoride endemic region of eastern India. Biol Trace Elem Res 199:1–8. https://doi.org/10.1007/s12011-020-02116-9

Saxena S, Sahay A, Goel P (2012) Effect of fluoride exposure on the intelligence of school children in Madhya Pradesh, India. J Neurosci Rural Pract. https://doi.org/10.4103/0976-3147.98213

Sharma D, Singh A, Verma K, Paliwal S, Sharma S, Dwivedi J (2017) Fluoride: a review of pre-clinical and clinical studies. Environ Toxicol Pharmacol 56:297–313. https://doi.org/10.1016/j.etap.2017.10.008

Sun D-J, Gao Y-H (2013) Research progress and prospect of Chinese endemic fluorosis prevention and control. Chin J Endemiol 32:119–120. https://doi.org/10.3760/cma.j.issn.2095-4255.2013.02.001

Sun H, Chen W, Wang D, Jin Y, Chen X, Xu Y, Huang L (2015) Inverse association between intelligence quotient and urinary retinol binding protein in Chinese school-age children with low blood lead levels: results from a cross-sectional investigation. Chemosphere 128:155–160. https://doi.org/10.1016/j.chemosphere.2015.01.036

Till C, Green R, Flora D, Hornung R, Martinez-Mier EA, Blazer M, Farmus L, Ayotte P, Muckle G, Lanphear B (2020) Fluoride exposure from infant formula and child IQ in a Canadian birth cohort. Environ Int 134:105315. https://doi.org/10.1016/j.envint.2019.105315

Wang R, He N, Wang Y-C, Hou G-Q, Zhang P, Jin W (2021) Investigation and analysis on children's dental fluorosis and IQ level in high - fluoride areas of Hengshui City. J Med Control 37:796–800

Wu J-H, Wang W, Liu Y, Sun J, Ye Y, Li B-Y, Liu X-N, Liu H-X, Sun Z-Q, Li M, Cui J, Sun D-J, Yang Y-M, Gao Y-H (2015) Modifying role of GSTP1 polymorphism on the association between tea fluoride exposure and the brick-tea type fluorosis. PLOS ONE 10:e0128280. https://doi.org/10.1371/journal.pone.0128280

Yang Y, Zhang R, Zhang F-Y, Li Y-H (2023) Spatial-temporal variation and health risk assessment of fluoride in surface water in the Tibetan Plateau. Expo Health 15:281–297. https://doi.org/10.1007/s12403-022-00490-4

Yani SI, Seweng A, Mallongi A, Nur R, Abdullah MT, Salmah U, Sirajuddin S, Basir-Cyio M, Mahfudz Anshary A (2021) The influence of fluoride in drinking water on the incidence of fluorosis and intelligence of elementary school students in Palu City. GAC Sanit 35:S159–S163. https://doi.org/10.1016/j.gaceta.2021.07.010

Yu X-C, Chen J-W, Li Y-G, Liu H-L, Hou C-C, Zeng Q, Cui Y, Zhao L, Li P, Zhou Z-Q, Pang S, Tang S, Tian K-M, Zhao Q, Dong L-X, Xu C-Y, Zhang X, Zhang S, Liu L, Wang A-G (2018) Threshold effects of moderately excessive fluoride exposure on children's health: a potential association between dental fluorosis and loss of excellent intelligence. Environ Int 118:116–124. https://doi.org/10.1016/j.envint.2018.05.042

Zhang L, Huang D-Z, Yang J, Wei X, Qin J, Ou S-F, Zhang Z-Y, Zou Y-F (2017) Probabilistic risk assessment of Chinese residents' exposure to fluoride in improved drinking water in endemic fluorosis areas. Environ Pollut 222:118–125. https://doi.org/10.1016/j.envpol.2016.12.074

Zhao L, Yu C-Q, Lv J, Cui Y-S, Wang Y, Hou C-C, Yu J-W, Guo B-H, Liu H-L, Li L-M (2021) Fluoride exposure, dopamine relative gene polymorphism and intelligence: a cross-sectional study in China. Ecotoxicol Environ Saf 209:111826. https://doi.org/10.1016/j.ecoenv.2020.111826

Zhou G-Y, Zhao Q, Luo C, Liu HL, Li P, Cui Y-S, Yu X-C, Chen J-W, Liu L, Zhang S, Wang A-G (2021) Low-moderate fluoride exposure and intelligence among Chinese school-aged children: role of circulating mtDNA content. Sci Total Environ 786:147330. https://doi.org/10.1016/j.scitotenv.2021.147330

Zhu C-S, Bai G-L, Liu X-L, Li Y (2006) Screening high-fluoride and high-arsenic drinking waters and surveying endemic fluorosis and arsenism in Shaanxi province in western China. Water Res 40:3015–3022. https://doi.org/10.1016/j.watres.2006.06.026

Zohoori FV, Buzalaf MAR, Cardoso CA, Olympio KPK, Levy FM, Grizzo LT, Mangueira DFB, Sampaio FC, Maguire A (2013) Total fluoride intake and excretion in children up to 4 years of age living in fluoridated and non-fluoridated areas. Eur J Oral Sci 121:457–464. https://doi.org/10.1111/eos.12070
Acknowledgements
This study was supported by the National Science and Technology Major Project (Grant No. 2022YFC3700105), and Jiangsu Province Association of Endemic Diseases Scientific Research Project on Schistosomiasis, Parasitic Diseases, and Endemic Diseases (Grant No. X201824, Grant No. X202119, Grant No. X202115). We thank the staff of Xuzhou, Fengxian, and Peixian CDCs who supported the epidemiological investigation and laboratory work.
Ethics declarations
Conflict of interest
The authors declared no conflict of interest.
Additional information
Publisher's Note
Springer Nature remains neutral with regard to jurisdictional claims in published maps and institutional affiliations.
Rights and permissions
Springer Nature or its licensor (e.g. a society or other partner) holds exclusive rights to this article under a publishing agreement with the author(s) or other rightsholder(s); author self-archiving of the accepted manuscript version of this article is solely governed by the terms of such publishing agreement and applicable law.
About this article
Cite this article
Xia, Y., Xu, Y., Shi, M. et al. Effects of High-Water Fluoride Exposure on IQ Levels in School-Age Children: A Cross-Sectional Study in Jiangsu, China. Expo Health (2023). https://doi.org/10.1007/s12403-023-00597-2
Received:

Revised:

Accepted:

Published:

DOI: https://doi.org/10.1007/s12403-023-00597-2
Keywords