Abstract
The present study evaluated the seasonal variations, sources and health risks of heavy metals in fine particulate matter (PM2.5) collected at an urban site in Agra, India during January 2018 to January 2019. Heavy metals were analysed by inductively coupled plasma optical emission spectrometry. Enrichment factor (EF) and principal component analysis (PCA) were used to evaluate the sources of heavy metals. The United States Environmental Protection Agency models were applied to assess the health risks for children and adults. Results showed that the average annual mass concentration of PM2.5 was 106.98 µg m−3 which exceeded the National Ambient Air Quality Standards (NAAQS) and World Health Organization (WHO) limits. The average annual concentrations of Ni, As and Cd were above the NAAQS and WHO limits. The highest metal concentrations occurred in the winter season, whereas the lowest concentrations were observed in the monsoon season. EF analysis showed that Cr, Ni, Cu, Zn, As, Cd and Pb were predominantly from anthropogenic sources. Two factors were identified using PCA for the studied metals including resuspended road dust, vehicular activities, solid waste incineration, industrial emission and construction activities. The carcinogenic risks of Cd for children and As, Cr and Ni for both children and adults were higher than 1 × 10–6. The total non-carcinogenic risk exceeded the safe level (= 1) for both children and adults. The results of the present study impart information for the behaviour and risk mitigation of heavy metals.
Access options
Buy single article
Instant access to the full article PDF.
USD 39.95
Price excludes VAT (USA)
Tax calculation will be finalised during checkout.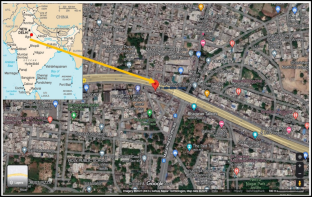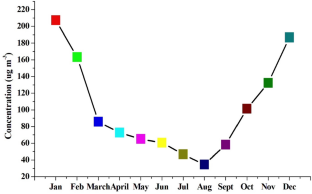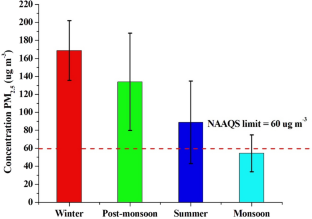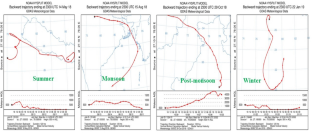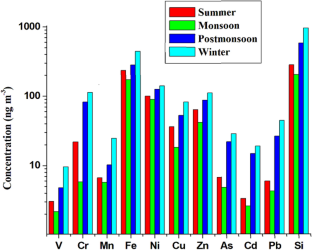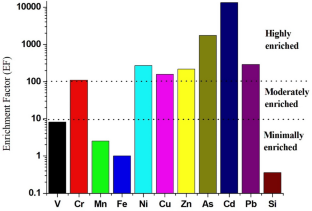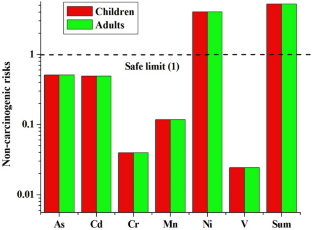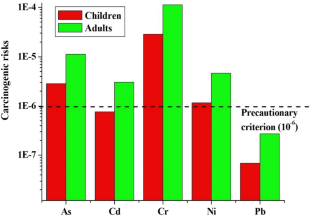 Data Availability
The datasets generated during the current study are publicly available.
References
Agarwal A, Mangal A, Satsangi A, Lakhani A, Kumari KM (2017) Characterization, sources and health risk analysis of PM2.5 bound metals during foggy and non-foggy days in sub-urban atmosphere of Agra. Atmos Res 197:121–131

Alias NF, Khan MF, Sairi NA, Zain SM, Suradi H, Rahim HA, Latif MT (2020) Characteristics, emission sources, and risk factors of heavy metals in PM2.5 from Southern Malaysia. ACS Earth Space Chem 4(8):1309–1323

Bai L, He Z, Ni S, Chen W, Li N, Sun S (2019) Investigation of PM2.5 absorbed with heavy metal elements, source apportionment and their health impacts in residential houses in the North-east region of China. Sustain Cities Soc 51:101690

Banoo R, Sharma SK, Vijayan N, Mandal TK (2022) Assessment of potential source and the source region of particulate matter in an Urban Area of Delhi, India. Aerosol Sci Eng 6:231

Bisht L, Gupta V, Singh A, Gautam AS, Gautam S (2022) Heavy metal concentration and its distribution analysis in urban road dust: A case study from most populated city of Indian state of Uttarakhand. Spat Spatio Temporal Epidemiol 40:100470

Chen R, Zhao Y, Tian Y, Feng X, Feng Y (2022) Sources and uncertainties of health risks for PM2.5-bound heavy metals based on synchronous online and offline filter-based measurements in a Chinese megacity. Environ Int 164:107236

Das R, Khezri B, Srivastava B, Datta S, Sikdar PK, Webster RD, Wang X (2015) Trace element composition of PM2.5 and PM10 from Kolkata-a heavily polluted Indian metropolis. Atmos Pollut Res 6(5):742–750

Draxler RR and Rolph GD (2003) HYSPLIT Model access via NOAA ARL READY Website (http://www.arl.noaa.gov/ready/hysplit4.html). NOAA Air Resources Laboratory, Silver Spring, MD

Duan X, Yan Y, Li R, Deng M, Hu D, Peng L (2021) Seasonal variations, source apportionment, and health risk assessment of trace metals in PM2.5 in the typical industrial city of Changzhi, China. Atmos Pollut Res 12(1):365–374

Feng J, Yu H, Liu S, Su X, Li Y, Pan Y, Sun J (2017) PM2.5 levels, chemical composition and health risk assessment in Xinxiang, a seriously air-polluted city in North China. Environ Geochem Health 39(5):1071–1083

Feng W, Zhang Y, Huang L, Li Y, Wang S, Zheng Y, Xu K (2022) Source apportionment of environmentally persistent free radicals (EPFRs) and heavy metals in size fractions of urban arterial road dust. Process Saf Environ Prot 157:352–361

Gao Y, Ji H (2018) Microscopic morphology and seasonal variation of health effect arising from heavy metals in PM2.5 and PM10: one-year measurement in a densely populated area of urban Beijing. Atmos Res 212:213–226

Gawhane RD, Rao PSP, Budhavant KB, Waghmare V, Meshram DC, Safai PD (2017) Seasonal variation of chemical composition and source apportionment of PM2.5 in Pune, India. Environ Sci Pollut Res 24(26):21065–21072

Gupta A, Moniruzzaman M, Hande A, Rousta I, Olafsson H, Mondal KK (2020) Estimation of particulate matter (PM2.5, PM10) concentration and its variation over urban sites in Bangladesh. SN Appl Sci 2(12):1–15

Han Y, Wang Z, Zhou J, Che H, Tian M, Wang H, Chen Y (2021) PM2.5-bound heavy metals in Southwestern China: characterization, sources, and health risks. Atmosphere 12(7):929

Hassan H, Latif MT, Juneng L, Amil N, Khan MF, Fujii Y, Banerjee T (2021) Chemical characterization and sources identification of PM2.5 in a tropical urban city during non-hazy conditions. Urban Clim 39:100953

Huang Y, Cheng X (2022) Characteristics and sources of atmospheric particulate matter and health risk in Southwest China. In: Singh RP (ed) Asian atmospheric pollution. Elsevier, Amsterdam, pp 409–433

Indian Meteorological Department (IMD) (1989) Climate of Uttar Pradesh. Government of India Press, New Delhi

Izhar S, Goel A, Chakraborty A, Gupta T (2016) Annual trends in occurrence of submicron particles in ambient air and health risk posed by particle bound metals. Chemosphere 146:582–590

Jain S, Sharma SK, Srivastava MK, Chatterjee A, Vijayan N, Tripathy SS, Sharma C (2021) Chemical characterization, source apportionment and transport pathways of PM2.5 and PM10 over Indo Gangetic Plain of India. Urban Clim 36:100805

Jose J, Srimuruganandam B (2021) Source apportionment of urban road dust using four multivariate receptor models. Environ Earth Sci 80(19):1–16

Kalaiarasan G, Balakrishnan RM, Sethunath NA, Manoharan S (2018) Source apportionment studies on particulate matter (PM10 and PM2.5) in ambient air of urban Mangalore, India. J Environ Manage 217:815–824

Ku MS, Liu CY, Hsu CY, Chiu HM, Chen HH, Chan CC (2021) Association of ambient fine particulate matter (PM2.5) with elevated fecal hemoglobin concentration and colorectal carcinogenesis: a population-based retrospective cohort study. Cancer Control 28:10732748211041232

Kulshrestha A, Satsangi PG, Masih J, Taneja A (2009) Metal concentration of PM2.5 and PM10 particles and seasonal variations in urban and rural environment of Agra, India. Sci Total Environ 407(24):6196–6204

Kumar R, Srivastava SS, Kumari KM (2007) Characteristics of aerosols over suburban and urban site of semiarid region in India: seasonal and spatial variations. Aerosol Air Qual Res 7(4):531–549

Kumar A, Yadav IC, Shukla A, Devi NL (2020) Seasonal variation of PM2.5 in the central Indo-Gangetic Plain (Patna) of India: chemical characterization and source assessment. SN Appl Sci 2(8):1–13

Li H, Wang J, Wang QG, Qian X, Qian Y, Yang M, Wang C (2015) Chemical fractionation of arsenic and heavy metals in fine particle matter and its implications for risk assessment: a case study in Nanjing, China. Atmos Environ 103:339–346

Li K, Liang T, Wang L (2016) Risk assessment of atmospheric heavy metals exposure in Baotou, a typical industrial city in northern China. Environ Geochem Health 38(3):843–853

Li N, Han W, Wei X, Shen M, Sun S (2019) Chemical characteristics and human health assessment of PM1 during the Chinese Spring Festival in Changchun, Northeast China. Atmos Pollut Res 10(6):1823–1831

Li L, Meng R, Lei Y, Wu S, Jiang Y (2022) Human health risk assessment of heavy metals from PM2.5 in China's 29 provincial capital cities. Environ Sci Pollut Res 29:63028

Lin CH, Lai CH, Hsieh TH, Tsai CY (2022) Source apportionment and health effects of particle-bound metals in PM2.5 near a precision metal machining factory. Air Qual Atmos Health 15:605

Liu T, Marlier ME, DeFries RS, Westervelt DM, Xia KR, Fiore AM, Mickley LJ, Cusworth DH, Milly G (2018) Seasonal impact of regional outdoor biomass burning on air pollution in three Indian cities: Delhi, Bengaluru, and Pune. Atmos Environ 172:83–92

Luo H, Wang Q, Guan Q, Ma Y, Ni F, Yang E, Zhang J (2022) Heavy metal pollution levels, source apportionment and risk assessment in dust storms in key cities in Northwest China. J Hazard Mater 422:126878

Mandal S, Bhattacharya S, Paul S (2022) Assessing the level of contamination of metals in surface soils at thermal power area: evidence from developing country (India). Environ Chem Ecotoxicol 4:37–49

Manousakas M, Furger M, Daellenbach K, Canonaco F, Chen G, Tobler A, Prevot ASH (2022) Source identification of the elemental fraction of particulate matter using size segregated, highly time-resolved data and an optimized source apportionment approach. Atmos Environ 14:100165

Moryani HT, Kong S, Du J, Bao J (2020) Health risk assessment of heavy metals accumulated on PM2.5 fractioned road dust from two cities of Pakistan. Int J Environ Res Public Health 17(19):7124

National ambient air quality Standards (NAAQS) (2009) at website on 2–11–08. http://cpcb.nic.in/oldwebsite/Environmental%20Standards/default_Environment_standards.html. Accessed 12 Apr 2022

NEERI (National Environmental Engineering Research Institute) (2013) Comprehensive environmental management plan (CEMP) for Taj Trapezium Zone (TTZ) area. NEERI, Nagpur

Rai P, Furger M, Slowik JG, Zhong H, Tong Y, Wang L, Prevot AS (2021) Characteristics and sources of hourly elements in PM10 and PM2.5 during wintertime in Beijing. Environ Pollut 278:116865

Rajput JS, Trivedi MK (2022) Determination and assessment of elemental concentration in the atmospheric particulate matter: a comprehensive review. Environ Monit Assess 194(4):1–30

Rauf AU, Mallongi A, Lee K, Daud A, Hatta M, Al Madhoun W, Astuti RDP (2021) Potentially toxic element levels in atmospheric particulates and health risk estimation around industrial Areas of Maros, Indonesia. Toxics 9(12):328

Sakunkoo P, Thonglua T, Sangkham S, Jirapornkul C, Limmongkon Y, Daduang S, Pimonsree S (2022) Human health risk assessment of PM2.5-bound heavy metal of anthropogenic sources in the Khon Kaen Province of Northeast Thailand. Heliyon 8:e09572

She Q, Cao S, Zhang S, Zhang J, Zhu H, Bao J, Liu Y (2021) The impacts of comprehensive urbanization on PM2.5 concentrations in the Yangtze River Delta, China. Ecol Indic 132:108337

Sui S, Gao Y, Yuan T, He C, Peng C, Wang Y, Liu Z (2022) Pollution characteristics and health risk assessment of PM2.5-bound arsenic: a 7-year observation in the urban area of Jinan, China. Environ Geochem Health 44:4619

Talbi A, Kerchich Y, Kerbachi R, Boughedaoui M (2018) Assessment of annual air pollution levels with PM1, PM2.5, PM10 and associated heavy metals in Algiers. Algeria Environ Pollut 232:252–263

Tao Y, Yuan Y, Cui Y, Zhu L, Zhao Z, Ma S, Ge X (2021) Comparative analysis of the chemical characteristics and sources of fine atmospheric particulate matter (PM2.5) at two sites in Changzhou, China. Atmos Pollut Res 12(8):101124

Epa US (1989) Risk assessment guidance for superfund. Volume 1: human health evaluation manual (Part A). US EPA, Washington

EPA US (2009) Risk assessment guidance for superfund volume I: human health evaluation manual (Part F, supplemental guidance for inhalation risk assessment). US EPA, Washington

US EPA (2011) Risk assessment guidance for superfund. In: Part A. Human health evaluation manual; part E, supplemental guidance for dermal risk assessment; Part F, supplemental guidance for inhalation risk assessment, vol. I. http://www.epa.gov/oswer/riskassessment/human_health_exposure.htm. Accessed 15 Apr 2022

US EPA (2014) Regional screening level tables. http://www.epa.gov/region9/superfund/prg/index.html. Accessed 17 Apr 2022

US EPA (2018) Dose-response assessment for assessing health risks associated with exposure to hazardous air pollutants. US EPA, Washington

Varshney P, Saini R, Taneja A (2016) Trace element concentration in fine particulate matter (PM2.5) and their bioavailability in different microenvironments in Agra, India: a case study. Environ Geochem Health 38(2):593–605

Wang J, Hu Z, Chen Y, Chen Z, Xu S (2013) Contamination characteristics and possible sources of PM10 and PM2.5 in different functional areas of Shanghai. China Atmos Environ 68:221–229

Wang S, Hu G, Yu R, Shen H, Yan Y (2021) Bioaccessibility and source-specific health risk of heavy metals in PM2.5 in a coastal city in China. Environ Adv 4:100047

Wang W, Lin Y, Yang H, Ling W, Liu L, Zhang W, Jiang G (2022) Internal exposure and distribution of airborne fine particles in the human body: methodology, current understandings, and research needs. Environ Sci Technol 56:6857

Wen J, Wang X, Zhang Y, Zhu H, Chen Q, Tian Y, Feng Y (2018) PM2.5 source profiles and relative heavy metal risk of ship emissions: source samples from diverse ships, engines, and navigation processes. Atmos Environ 191:55–63

WHO (World Health Organization) (2014) Ambient (outdoor) air pollution in cities database 2014. WHO, Geneva

Yadav S, Tripathi SN, Rupakheti M (2022) Current status of source apportionment of ambient aerosols in India. Atmos Environ 274:118987

Yan RH, Peng X, Lin W, He LY, Wei FH, Tang MX, Huang XF (2022) Trends and challenges regarding the source-specific health risk of PM2.5-bound metals in a Chinese megacity from 2014 to 2020. Environ Sci Technol 56:6996

Yang J, Fu Q, Guo X, Chu B, Yao Y, Teng Y, Wang Y (2015) Concentrations and seasonal variation of ambient PM2.5 and associated metals at a typical residential area in Beijing, China. Bull Environ Contam Toxicol 94(2):232–239

Yang X, Zheng M, Liu Y, Yan C, Liu J, Liu J, Cheng Y (2022) Exploring sources and health risks of metals in Beijing PM2.5: insights from long-term online measurements. Sci Total Environ 814:151954

Zhai Y, Liu X, Chen H, Xu B, Zhu L, Li C, Zeng G (2014) Source identification and potential ecological risk assessment of heavy metals in PM2.5 from Changsha. Sci Total Environ 493:109–115

Zhang YL, Cao F (2015) Is it time to tackle PM2.5 air pollutions in China from biomass-burning emissions? Environ Pollut 202:217–219

Zhang J, Wu L, Fang X, Li F, Yang Z, Wang T, Wei E (2018) Elemental composition and health risk assessment of PM10 and PM2.5 in the roadside microenvironment in Tianjin, China. Aerosol Air Qual Res 18(7):1817–1827

Zhang X, Eto Y, Aikawa M (2021) Risk assessment and management of PM2.5-bound heavy metals in the urban area of Kitakyushu, Japan. Aerosol Air Qual Res 795:148748

Zhang X, Ji G, Peng X, Kong L, Zhao X, Ying R, Wang L (2022) Characteristics of the chemical composition and source apportionment of PM25 for a one-year period in Wuhan, China. J Atmos Chem. https://doi.org/10.1007/s10874-022-09431-6

Zhou B, Wang J, Liu S, Ho SSH, Wu T, Zhang Y, Wang Q (2022) Extrapolation of anthropogenic disturbances on hazard elements in PM2.5 in a typical heavy industrial city in northwest China. Environ Sci Pollut Res 29:64582
Acknowledgements
This work was financially supported by UGC-BSR (No. ETP/UGC Res. Fellowship/3089). We are thankful to the Director, Dayalbagh Educational Institute (DEI), Agra and Head, Department of Chemistry, DEI, Agra for his support in analysing samples by ICP-OES and for providing us the essential facilities.
Funding
The funded was provided by UGC-BSR (No. ETP/UGC Res. Fellowship/3089).
Ethics declarations
Conflict of interest
The authors declare no conflict of interest.
Additional information
Publisher's Note
Springer Nature remains neutral with regard to jurisdictional claims in published maps and institutional affiliations.
Rights and permissions
Springer Nature or its licensor (e.g. a society or other partner) holds exclusive rights to this article under a publishing agreement with the author(s) or other rightsholder(s); author self-archiving of the accepted manuscript version of this article is solely governed by the terms of such publishing agreement and applicable law.
About this article
Cite this article
Sah, D., Verma, P.K., Kumari, K.M. et al. Characterisation, Sources and Health Risk of Heavy Metals in PM2.5 in Agra, India. Expo Health 15, 585–596 (2023). https://doi.org/10.1007/s12403-022-00528-7
Received:

Revised:

Accepted:

Published:

Issue Date:

DOI: https://doi.org/10.1007/s12403-022-00528-7
Keywords