Abstract
The present study was designed to determine the level of organochlorine pesticides (OCPs), including endrin, heptachlor epoxide, heptachlor, methoxychlor, endosulfan, p,p'-DDT, p,p'-DDE and p,p'-DDD, in four fish species from two different sources (wild and farmed) in Bangladesh. Eight different OCP residues were investigated, of which seven were detected in all the fish samples. The OCP concentrations varied widely within each species, ranging from below the limit of detection to 162 ng/g-ww in wild Heteropneustes fossilis. Among the contaminants, endosulfan was the most abundant OCP. It ranged from 3.94 to 98.4 ng/g-ww. The overall mean level of ΣOCPs in wild fish were significantly higher than the farmed fish (p < 0.05). The highest estimated daily intake (EDI) value was for endosulfan (102.66 ng/g-bw/day), observed in wild Labeo calbasu, whereas the lowest was for p,p'-DDD (0.02 ng/g-bw/day), observed in wild Anabas testudineus. Noncancerous risk estimates revealed that hazard index (HI) values for all fishes except wild L. calbasu were less than 1, which is below the level of concern. HI for wild L. calbasu was 1.1, which indicates a low level of risk for human consumption. Incremental lifetime cancer risk (ILCR) was also calculated; most of the OCP residues had ILCR values below 10−6 for both wild and farmed species except for p,p'-DDE in wild H. fossilis, which had an ILCR value of 4.0 × 10–5. In Bangladesh, no regulations for OCP use or guidelines for maximum admissible concentration are in place. Thus, the findings of the present study will be a baseline for regulatory authorities for developing and implementing regulations and guidelines.
This is a preview of subscription content,
to check access.
Access this article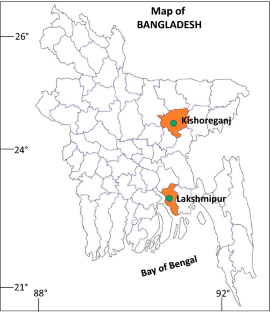 Data Availability
The data that support the findings of this study are available from the corresponding author upon reasonable request.
References
Adeyemi D, Ukokpo G, Anyakora C, Unyimadu JP (2008) Organochlorine pesticide residues in food samples from Lagos markets, Nigeria. Am J Environ Sci 4(6):649–653

Akoto O, Azuure AA, Adotey KD (2016) Pesticide residues in water, sediment and fish from Tono Reservoir and their health risk implications. Springerplus 5(1):1–1

Anastassiades M, Lehotay S, Stajnbaher D, Schenck F (2003) Fast and easy multiresidue method employing acetonitrile extraction/partitioning and "dispersive solid-phase extraction" for the determination of pesticide residues in produce. J AOAC Int 86:412–431

Antunes P, Gil O (2004) PCB and DDT contamination in cultivated and wild sea bass from Rio Aveiro, Portugal. Chemosphere 54:1503–1507

ATSDR (2022). US department of health and human services public health service. Agency for toxic substances and disease registry, potential for human health exposure. https://www.atsdr.cdc.gov. Accessed 15 Mar 2022

BBS (2019) Report on the household income and expenditure survey 2016. Bangladesh Bureau of Statistics, Statistics division, Ministry of Planning, Bangladesh

Bhuiyan MNH, Dawlatana M, Bhuiyan HR, Akter F, Saha BK, Bhuiyan MNI (2009) Quality assessment of dry fishes of Bangladesh with the special emphasis on harmful additives. Bangladesh J Sci Ind Res 44(3):311–318

Binelli A, Provini A (2003) POPs in edible clams from different Italian and European markets and possible human health risk. Mar Pollut Bull 46:879–886

Botaro D, Torres JPM, Malm O, Rebelo MF, Henkelmann B, Schramm KW (2011) Organochlorine pesticides residues in feed and muscle of farmed Nile tilapia from Brazilian fish farms. Food Chem Toxicol 49(9):2125–2130

Buah-Kwofie A, Humphries MS, Pillay L (2018) Bioaccumulation and risk assessment of organochlorine pesticides in fish from a global biodiversity hotspot: iSimangaliso Wetland Park, South Africa. Sci Total Environ 621:273–281

Cheng C, Hu T, Liu W, Mao Y, Shi M, Xu A, Su Y, Li X, Xing X, Qi S (2021) Modern lake sedimentary record of PAHs and OCPs in a typical karst wetland, south China: response to human activities and environmental changes. Environ Pollut 291:118173

Chourasiya S, Khillare PS, Jyethi DS (2015) Health risk assessment of organochlorine pesticide exposure through dietary intake of vegetables grown in the periurban sites of Delhi, India. Environ Sci Pollut Res 22:5793–5806

Darko G, Acquaah SO (2007) Levels of organochlorine pesticides residues in meat. Int J Environ Sci Technol 4(4):521–524

DoF (2019) National fish week, compendium (In Bengali). Department of Fisheries, Ministry of Fisheries and Livestock, Government of Bangladesh, Dhaka

DoF (2020) Yearbook of Fisheries Statistics of Bangladesh, 2019–20. Fisheries Resources Survey System (FRSS), Department of Fisheries, vol. 37. Ministry of Fisheries and Livestock, Bangladesh, p 141

Easton MDL, Luszniak D, Von der Geest E (2002) Preliminary examination of contaminant loadings in farmed salmon, wild salmon and commercial salmon feed. Chemosphere 46(7):1053–1074

Eqani SAMAS, Malik RN, Cincinelli A, Zhang G, Mohammad A, Qadir A, Katsoyiannis A (2013) Uptake of organochlorine pesticides (OCPs) and polychlorinated biphenyls (PCBs) by river water fish: the case of River Chenab. Sci Total Environ 450:83–91

ESCAP (Economic and Social Commission for Asia and the Pacific) (1988) Coastal Environmental Management Plan for Bangladesh, vol. 2 (Final Report)

FAO (2016) The State of World Fisheries and Aquaculture 2016. Contribution to Food Security and Nutrition for All. Food and Agriculture Organization of the United Nations, Rome, p 204

Hamlin HJ, Guillette LJ Jr (2010) Birth defects in wildlife: the role of environmental contaminants as inducers of reproductive and developmental dysfunction. Syst Biol Reprod Med 56(2):113–121

Hasan MA, Das AK, Satter Human MA (2021) Health risk surveillance through organochlorine pesticides in river water and fish from Bangladesh. Biosci Biotechnol Res Comm 14(4):1777–1785

Hasanuzzaman M, Rahman MA, Salam MA (2017) Identification and quantification of pesticide residues in water samples of Dhamrai Upazila, Bangladesh. Appl Water Sci 7(6):2681–2688

Hemre GI, Sandness K (1999) Effect of dietary lipid level on muscle composition in Atlantic salmon Salmo salar. Aquac Nutr 5:9–16

Hites RA, Foran JA, Carpenter DO, Hamilton MC, Knuth BA, Schwager SJ (2004) Global assessment of organic contaminants in farmed salmon. Science 303:226–229

Hoekstra PF, O'Hara TM, Fisk AT, Borga K, Solomon KR, Muir DCG (2003) Trophic transfer of persistent organochlorine contaminants (OCs) within an Artic marine food web from the southern Beaufort-Chukchi Seas. Environ Pollut 124:509–522

Hossain MA, Shoeb M, Nahar N (2016) DDT and Its Metabolites in Fresh Water Fish Samples. J Food Sci Eng 6:344–350

Hu G, Dai J, Mai B, Luo X, Cao H, Wang J, Li F, Xu M (2010) Concentrations and accumulation features of organochlorine pesticides in the Baiyangdian Lake freshwater food web of North China. Arch Environ Contam Toxicol 58(3):700–710

Jacobs MN, Covaci A, Schepens P (2002) Investigation of selected persistent organic pollutants in farmed atlantic salmon (Salmo salar), salmon aquaculture feed, and fish oil components of the feed. Environ Sci Technol 36(13):2797–2805

Kabir KH, Rahman MA, Ahmed MS (2009) Pesticide Analytical Laboratory, Pesticide Research and Environment of Toxicology, Entomology Division, Laboratory Manual, pp 1–18

Konwick BJ, Garrison AW, Black MC, Avants JK, Fisk AT (2006) Bioaccumulation, biotransformation and metabolite formation of fibronil and chiral legacy pesticides in rainbow trout. Environ Sci Technol 40:2930–2936

Kromhout D, Spaaij CJK, de Goede J, Weggemans RM (2016) The 2015 Dutch food-based dietary guidelines. Eur J Clin Nutr 70(8):869–878

Lee HK, Kim K, Lee J, Lee J, Lee J, Kim S, Lee SE, Kim JH (2020) Targeted toxicometabolomics of endosulfan sulfate in adult zebrafish (Danio rerio) using GC-MS/MS in multiple reaction monitoring mode. J Hazard Mater 389:122056

Li X, Gan Y, Yang X, Zhou J, Dai J, Xu M (2008) Human health risk of organochlorine pesticides (OCPs) and polychlorinated biphenyls (PCBs) in edible fish from Huairou Reservoir and Gaobeidian Lake in Beijing, China. Food Chem 109(2):348–354

Li W, Zhang ZM, Zhang RR et al (2020) Effective removal matrix interferences by a modified QuEChERS based on the molecularly imprinted polymers for determination of 84 polychlorinated biphenyls and organochlorine pesticides in shellfish samples. J Hazard Mater 384:121241

Manavi PN, Mahdavi ES, Mazumder A (2018) Organochlorine pesticides in two fish species from the southern Caspian Sea. Mar Pollut Bull 133:289–293

Manirakiza P, Covaci AA, Nizigiymana L, Ntakimazi G, Schepensa P (2002) Persistent chlorinated pesticides and polychlorinated biphenyls in selected fish species from Lake Tanganyika, Burundi, Africa. Environ Pollut 117:447–455

Matin MA, Malek MA, Amin MR, Rahman S, Khatoon J, Rahaman M, Aminuddin M, Mian AJ (1998) Organochlorine insecticide residues in surface and underground water from different regions of Bangladesh. Agric Ecosyst Environ 69:11–15

McKee MJ, Kromrey GB, May TW, Orazio CE (2008) Contaminant levels in rainbow trout, Oncorhynchus mykiss, and their diets from Missouri Coldwater Hatcheries. Bull Environ Contam Toxicol 80:450–454

Muralidharan S, Dhananjayan V, Jayanthi P (2009) Organochlorine pesticides in commercial marine fishes of Coimbatore, India and their suitability for human consumption. Environ Res 109(1):15–21

Mustafa T, Naser MN, Latifa GA, Shoeb M, Nahar N (2019) Organochlorine pesticide residues in fishes and shell fishes of the flood plains of sonargaon upazila, Bangladesh. Bangladesh J Zool 47(1):137–148

Mwakalapa EB, Mmochi AJ, Muller MHB, Mdegela RH, Lyche JL, Polder A (2018) Occurrence and levels of persistent organic pollutants (POPs) in farmed and wild marine fish from Tanzania. A pilot study. Chemosphere 191:438–449

Nahar N, Mamun MIR, Zamir R, Moshiuzzaman M (2008) Analysis of pesticide residues in some local fish and vegetable. Dhaka Univ J Sci 56(2):1–4

PAB (Pesticide Association of Bangladesh) (2000) Pesticides consumption report for the year 1999/2000. Pesticide Association of Bangladesh, Dhaka, pp 18–19

Pal M, Kohli S, Goswami UC (1996) Food and feeding habits of Heteropneustes fossilis (Bloch) from the Brahmaputra River system, Assam. Indian J Fish 43:97–101

Polder A, Muller MB, Lyche JL, Mdegela RH, Nonga HE, Mabiki FP, Mbise TJ, Skaare JU, Sandvik M, Skjerve E, Lie E (2014) Levels and patterns of persistent organic pollutants (POPs) in tilapia (Oreochromis sp.) from four different lakes in Tanzania: geographical differences and implications for human health. Sci Total Environ 488:252–260

Rahman MR, Islam MS, Rahman MM, Prodhan MDH, Uddin MK (2019) Organochlorine pesticide residue status in dry fish of Bangladesh and their risk assessment: a review. Int J Sci Res 9(10):619–639

Rahman M, Hoque MS, Bhowmik S, Ferdousi S, Kabiraz MP, van Brakel ML (2021) Monitoring of pesticide residues from fish feed, fish and vegetables in Bangladesh by GC-MS using the QuEChERS method. Heliyon 7(3):e06390

Rios JM, Ruggeri MF, Poma G, Malarvannan G, Covaci A, Puliafito SE, Ciocco NF, Altamirano JC (2019) Occurrence of organochlorine compounds in fish from freshwater environments of the central Andes, Argentina. Sci Total Environ 693:133389

Rodriguez-Hernandez A, Camacho M, Henriquez-Hernandez LA, Boada LD, Valeron PF, Zaccaroni A, Zumbado M, Almeida-Gonzalez M, Rial-Berriel C, Luzardo OP (2017) Comparative study of the intake of toxic persistent and semi persistent pollutants through the consumption of fish and seafood from two modes of production (wild-caught and farmed). Sci Total Environ 575:919–931

Samidurai J, Subramanian M, Venugopal D (2019) Levels of organochlorine pesticide residues in fresh water fishes of three bird sanctuaries in Tamil Nadu, India. Environ Sci Pollut Res 26(2):1983–1993

Sapozhnikova Y, Bawardi O, Schlenk D (2004) Pesticides and PCBs in sediments and fish from the Salton Sea, California USA. Chemosphere 55:797–809

Shamsuzzaman MM, Mozumder MMH, Mitu SJ, Ahamad AF, Bhyuian MS (2020) The economic contribution of fish and fish trade in Bangladesh. Aquac Fish 5(4):174–181

Siddiqui MKJ, Anand M, Mehrotra PK, Sarangi R, Mathur N (2005) Biomonitoring of organochlorines in women with benign and malignant breast disease. Environ Res 98:250–257

Takada N, Kawashima Y, Ohga K (2003) An inquiry into current status of DDT use in Bangladesh. World Resour Rev 15:217–225

Tanabe S, Kannan K, Tabucanon MS, Siriwong C, Ambe Y (1991) Organochlorine pesticide and polychlorinated biphenyl residues in foodstuffs from Bangkok, Thailand. Environ Pollut 72(3):191–203

Teklit G (2016) Residues analysis of organochlorine pesticides in fish, sediment and water samples from Tekeze dam, Tigray, Ethiopia. J Environ Anal Toxicol 6(342):2161–2525

Tonima M, Naser MN, Latifa GA, Shoeb M, Nahar N (2019) Organochlorine pesticide residues in fishes and shell fishes of the flood plains of sonargaon upazila, Bangladesh. Bangladesh J Zool 47(1):137–148

USEPA (1979) EPA national priorities list, United States Environmental Protection Agency. https://www.atsdr.cdc.gov/toxprofiles/tp89-c5.pdf. Accessed 10 Aug 2021

USEPA (2001) Risk Assessment Guidance for Superfund, Volume I: Human Health Evaluation Manual (Part E, Supplemental Guidance for Dermal Risk Assessment), The United States Environmental Protection Agency, EPA/540/R/99/005. USA Office of Emerage and Remedial Response, Washington DC

USEPA (2013) IRIS Toxicity Values, IRIS (Integrated Risk Information System) Assessments, United States Environmental Protection Agency, http://cfpub.epa.gov/ncea/iris/compare.cfm. Accessed 5 Oct 2020

van Ael E, Belpaire C, Breine J, Geeraerts C, van Thuyne G, Eulaers I, Blust R, Bervoets L (2014) Are persistent organic pollutants and metals in eel muscle predictive for the ecological water quality? Environ Pollut 186:165–171

van Leeuwen SPJ, van Velzen MJM, Swart CP, van der Veen I, Traag WA, de Boer J (2009) Halogenated contaminants in farmed salmon, trout, tilapia, pangasius, and shrimp. Environ Sci Technol 43(11):4009–4015

Walker CH, Sibly RM, Hopkin SP, Paeakall DB (2012) Principles of ecotoxicology, 4th edn. CRC Press, Taylor & Francis Group, Boca Raton, p 381

WHO (2012) World Health Organisation Inventory of Evaluations Performed by the Joint Meeting on Pesticide Residues (JMPR). http://apps.who.int/pesticide-residues-jmpr-database, Accessed 5 Oct 2020

Williams BA, Unyimadu PJ (2013) Organochlorine pesticide residues in muscle tissues of Ethmalosa fimbriata and Psettias sebae from Lagos Lagoon, Nigeria. Int J Aquat Res 5(1):166–172

Wong LI, Labrecque MP, Ibuki N, Cox ME, Elliot JE, Beischlag TV (2015) p, p′-Dichlorodiphenyltrichloroethane (p, p′-DDT) and p, p′-dichlorodiphenyldichloroethylene (p, p′-DDE) repress prostate specific antigen levels in human prostate cancer cell lines. Chem Biol Interact 230:40–49

Yohannes YB, Ikenaka Y, Saengtienchai A, Watanabe KP, Nakayama SM, Ishizuka M (2014) Concentrations and human health risk assessment of organochlorine pesticides in edible fish species from a Rift Valley lake—Lake Ziway, Ethiopia. Ecotoxicol Environ Saf 106:95–101

Zhao Z, Wang Y, Zhang L, Cai Y, Chen Y (2014) Bioaccumulation and tissue distribution of organochlorine pesticides (OCPs) in freshwater fishes: a case study performed in Poyang Lake, China's largest lake. Environ Sci Pollut Res 21(14):8740–8749

Zhou R, Zhu L, Kong Q (2007) Persistent chlorinated pesticides in fish species from Qiantang River in East China. Chemosphere 68(5):838–847
Acknowledgements
The study was funded by the Ministry of Science and Technology (MoST) of the Government of the People's Republic of Bangladesh. The authors acknowledge the laboratory and instrumental supports of Bangladesh Council of Scientific and Industrial Research (BCSIR).
Funding
The funded was provided by Ministry of Science and Technology, Government of the People's Republic of Bangladesh (Grant No. 39.00.0000.009.14.005.2019/ES-16/331).
Ethics declarations
Conflict of interest
The authors declare no competing interests.
Ethical Approval
Not applicable.
Consent to Participate
All authors reviewed and approved the final manuscript.
Consent for Publication
All authors approved for this publication.
Additional information
Publisher's Note
Springer Nature remains neutral with regard to jurisdictional claims in published maps and institutional affiliations.
Rights and permissions
Springer Nature or its licensor holds exclusive rights to this article under a publishing agreement with the author(s) or other rightsholder(s); author self-archiving of the accepted manuscript version of this article is solely governed by the terms of such publishing agreement and applicable law.
About this article
Cite this article
Habibullah-Al-Mamun, M., Tanima, S.A., Paul, B. et al. Occurrence of Organochlorine Pesticides (OCPs) Residues in Farmed and Wild Fish in Bangladesh and Implications for Human Health. Expo Health 15, 425–437 (2023). https://doi.org/10.1007/s12403-022-00501-4
Received:

Revised:

Accepted:

Published:

Issue Date:

DOI: https://doi.org/10.1007/s12403-022-00501-4
Keywords