Abstract
Gold mining in Asia utilizes cyanide to extract gold from ores, and the resulting cyanide-contaminated mine tailings are disposed of in a tailing storage facility (TSF). Nevertheless, several incidents of leakage of cyanide-contaminated water from TSFs have been reported. This study examined the source and assessed health risk of mysterious cyanide-elevated (2.13 mg/L) black seepage in a paddy field near a TSF of the largest gold mine in Thailand. Using cyanide speciation—including free, weak metal complex (WMC), and strong acid dissociable (SAD) forms—as a forensics tool, we revealed that TSF1 of the mine is a potential source of the seepage in the paddy field because the majority of cyanide in the affected paddy was WMC and free cyanide while the SAD cyanide was minor, similar to the underdrain of a TSF1 and opposite to the natural cyanide in unaffected paddies. Furthermore, because free hydrogen cyanide (HCN) in the seepage may cause vapor intrusion problems for nearby villagers, the potential HCN exposure was determined by coupling HCN volatilization from the black water via the two-film theory with atmospheric HCN dispersion using AERMOD. We found that villagers dwelling in 3 to 23 villages may be at risk of acute cyanide toxicity when free cyanide concentration in the black seepage is greater than 0.65 mg/L, emphasizing the importance of prevention and remediation of leakage of TSFs. This is the first systematic assessment of vapor intrusion risk from recurring gold mine leakage in Asia.
This is a preview of subscription content,
to check access.
Access this article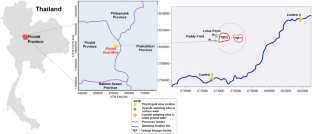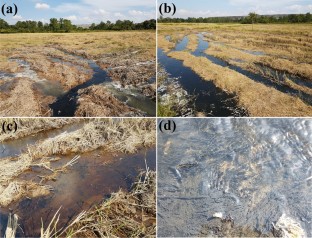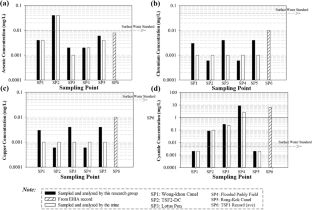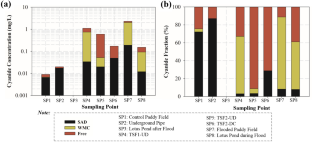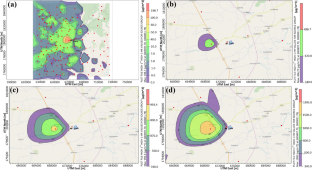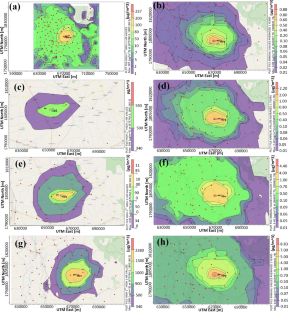 Data Availability
The authors confirm that the data supporting the findings of this study are available within the article [and/or] its supplementary materials.
References
AAP (2012) Thai court rules on Australian gold miner. https://finance.nine.com.au/business-news/thai-court-rules-on-australian-gold-miner/53e216ea-1543-4094-a915-f94763fd24ce. accessed 25 July 2021

Abdalla OAE, Suliman FO, Al-Ajmi H, Al-Hosni T, Rollinson H (2010) Cyanide from gold mining and its effect on groundwater in arid areas, Yanqul mine of Oman. Environ Earth Sci 60:885–892. https://doi.org/10.1007/s12665-009-0225-z

Adams M (1990) The chemical behaviour of cynide in the extraction of gold. 1. Kinetics of cyanide loss in the presence and absence of activated carbon. J S Afr Inst Min Metall 90:37–44

Akara Mining Limited (1999) Environmental impact assessments "Chatree Gold Project". Thailand for Akara Mining Limited, Bangkok

Akara Mining Limited (2012) Environmental and Health Impact Assessment (EHIA) for the Expansion of the Gold Processing Plant of Akara Mining Company Limited. Bangkok

Behre Dolbear International Limited (2016) Independent Environmental, Community, and Technical Review and Audit: Chatree Gold Mine-Thailand. Bangkok

Blight G (2010) Geotechnical engineering for mine waste storage facilities. CRC Press, New York

Bodek I, Ehntholt DJ, Glazer AE, Loreti CP, Lyman W (1988) Chemical classes. Environmental inorganic chemistry. Elsevier, Amsterdam

Broderius SJ, Smith LL (1980) Direct photolysis of hexacyanoferrate complexes: proposed applications to the aquatic environment. Environmental Research Laboratory, Office of Research and Development, US. Environment Protection Agency Duluth, , Minnesota 55804

Brüger A, Fafilek G, Rojas-Mendoza L (2018) On the volatilisation and decomposition of cyanide contaminations from gold mining. Sci Total Environ 627:1167–1173. https://doi.org/10.1016/j.scitotenv.2018.01.320

Business & Human Rights Resource Centre (2019) Raub Australian Gold Mining lawsuit (re defamation by villagers, Malaysia). https://www.business-humanrights.org/en/raub-australian-gold-mining-lawsuit-re-defamation-by-villagers-malaysia. accessed 4 Dec 2020

Chapra SC (2008) Surface water-quality modeling. Waveland Press, Illinois

Chulalongkorn University (2009) Groundwater Flow Direction Analysis and Evaluation of Heavy Metals in Chatree Gold Mine. Bangkok

Cimorelli AJ, Perry SG, Venkatram A, Weil JC, Paine RJ, Wilson RB, Lee RF, Peters WD, Brode RW (2005) AERMOD: a dispersion model for industrial source applications. Part I: general model formulation and boundary layer characterization. J Appl Meteorol 44:682–693. https://doi.org/10.1175/JAM2227.1

Curtis RL, Mousavi A (2014) Gold mining: is it worth its weight? Environ Forens 15:293–295. https://doi.org/10.1080/15275922.2014.950776

De Visscher A (2013) Air dispersion modeling: foundations and applications. Wiley, Hoboken

Dobrosz-Gómez I, Ramos García BD, GilPavas E, Gómez García MÁ (2017) Kinetic study on HCN volatilization in gold leaching tailing ponds. Miner Eng 110:185–194. https://doi.org/10.1016/j.mineng.2017.05.001

Dong L, Deng S, Wang F (2020) Some developments and new insights for environmental sustainability and disaster control of tailings dam. J Clean Prod 260:122270. https://doi.org/10.1016/j.jclepro.2020.122270

Dong K, Xie F, Wang W, Chang Y, Lu D, Gu X, Chen C (2021) The detoxification and utilization of cyanide tailings: a critical review. J Clean Prod 302:126946. https://doi.org/10.1016/j.jclepro.2021.126946

Dtinews (2011) Illegal mining big problem for Vietnam's largest gold mine. http://dtinews.vn/en/news/024/14487/illegal-mining-big-problem-for-vietnam-s-largest-gold-mine.html. accessed 4 Dec 2020

Dzombak DA, Ghosh RS, Wong-Chong GM (2005) Cyanide in water and soil: chemistry, risk, and management. CRC Press, London

Eisler R, Wiemeyer SN (2004) Cyanide hazards to plants and animals from gold mining and related water issues. Rev Environ Contam Toxicol 183:21–54

Fernquest J, Wipatayotin A (2016) Goodbye to Thailand's biggest gold mine. https://www.bangkokpost.com/learning/advanced/1160188/goodbye-to-thailands-biggest-gold-mine. accessed 11 Mar 2019

Flury F, Zernik F (1931) Schadliche Gase. Julius Springer, Berlin, p 297

Fuhr J, Wiese W, Lide D (1990) CRC handbook of chemistry and physics. CRC Press, Boca Raton

Greenpeace (2000) The baia mare gold mine cyanide spill: causes impacts and liability. Greenpeace, Budapest

Hall AH, Rumack BH (1986) Clinical toxicology of cyanide. Ann Emerg Med 15:1067–1074

Hassan NA, Sahani M, Hod R, Yahya NA (2015) A study on exposure to cyanide among a community living near a gold mine in Malaysia. J Environ Health 77:42–48

Hemond HF, Fechner EJ (2014) Chemical fate and transport in the environment. Elsevier, Amsterdam

Hidayati N, Juhaeti T, Syarif F (2009) Mercury and cyanide contaminations in gold mine environment and possible solution of cleaning up by using phytoextraction. HAYATI J Biosci 16:88–94. https://doi.org/10.4308/hjb.16.3.88

Jaszczak E, Polkowska Ż, Narkowicz S, Namieśnik J (2017) Cyanides in the environment-analysis-problems and challenges. Environ Sci Pollut Res 24:15929–15948. https://doi.org/10.1007/s11356-017-9081-7

Johnson CA (2015) The fate of cyanide in leach wastes at gold mines: an environmental perspective. Appl GeoChem 57:194–205. https://doi.org/10.1016/j.apgeochem.2014.05.023

Kamyshny A, Oduro H, Mansaray ZF, Farquhar J (2013) Hydrogen cyanide accumulation and transformations in non-polluted salt marsh sediments. Aquat Geochem 19:97–113. https://doi.org/10.1007/s10498-012-9180-5

Khon Kaen University (2011) Contamination Study and Contaminants Monitoring Network in Thab Khlo, Wang Sai Phun District in Phichit Province, and Wang Phong District in Phetchabun Province Project. Bangkok

Klotz I, Miller D (1947) Diffusion coefficients and molecular radii of hydrogen cyanide, cyanogen chloride, phosgene and chloropicrin1. J Am Chem Soc 69:2557–2558. https://doi.org/10.1021/ja01202a505

Koncsos L, Fonyó G (2004) Analysis of the transport of cyanide spill on the Tisza River. Water Sci Technol 50:101–107

Kuhn D, Young T (2005) Direct photolysis of hexacyanoferrate(II) under conditions representative of surface waters. Chemosphere 60:1222

Leung AMR, Lu JLDP (2016) Environmental health and safety hazards of indigenous small-scale gold mining using cyanidation in the Philippines. Environ HEalth Insights 10:125–131

Liss PS (1974) Flux of gases across the air-sea interface. Nature 247:181–184. https://doi.org/10.1038/247181a0

Lotter N (2005) Cyanide Volatilisation from gold leaching operations and tailing storage facilities

Lottermoser B (2003) Cyanidation wastes of gold–silver ores. Springer, Berlin

Ministry of Public Health (2015) Guideline for environmental health surveillance in risk area: gold mine. Ministry of Public Health, Bangkok

Monserrat L (2016) OEHHA Acute, 8-hour and chronic reference exposure level (REL) summary

Notification of the National Environmental Board No. 8, B.E. 2537 (1994), issued under the Enhancement and onservation of National Environmental Quality Act B.E.2535 (1992), published in the Royal Government Gazette, Vol. 111, Part 16, 24 February 1994.

Phenrat T, Lowry GV (2019) Nanoscale Zerovalent Iron particles for environmental restoration: from fundamental science to field scale engineering applications. Springer, New York

Phenrat T, Marhaba TF, Rachakornkij M (2008) Leaching behaviors of arsenic from arsenic-iron hydroxide sludge during TCLP. J Environ Eng 134:671–682. https://doi.org/10.1061/ASCE0733-93722008,134(8),pp.671

Phenrat T, Laoharochanapan S, Mitsuhata Y (2018) Report on the investigation of the potential leakage of TSF1 of the expert sub-working group for investigating the leakage from tailing storage facility No.1 of Akara Public Company Limited. Bangkok

Pollution Control Department (2021) Surface Water Quality Standard. http://pcd.go.th/info_serv/reg_std_water.html.

Porgo M, Gokyay O (2016) Environmental impacts of gold mining in Essakane site of Burkina Faso. Hum Ecol Risk Assess 23:641–654. https://doi.org/10.1080/10807039.2016.1263930

Prachatai English (2014) Two Perspectives of the Loei Mining Dispute11 March 2019

Reuters (2018) Fight against gold mine turned Thai village into 'war zone'. https://www.todayonline.com/world/fight-against-gold-mine-turned-thai-village-war-zone. accessed 3 Dec 2019

Rubio-Rincón F, Lopez-Vazquez C, Welles L, van den Brand T, Abbas B, van Loosdrecht M, Brdjanovic D (2017) Effects of electron acceptors on sulphate reduction activity in activated sludge processes. Appl Microbiol Biotechnol 101:6229–6240. https://doi.org/10.1007/s00253-017-8340-3

Rujivanarom P (2017) Locals point to severe water pollution near Akara gold mine. https://www.nationthailand.com/in-focus/30331960. accessed 4 Dec 2019

Sarti A, Zaiat M (2011) Anaerobic treatment of sulfate-rich wastewater in an anaerobic sequential batch reactor (AnSBR) using butanol as the carbon source. J Environ Manage 92:1537–1541. https://doi.org/10.1016/j.jenvman.2011.01.009

Scire JS, Strimaitis DG, Yamartino RJ (2000) A user's guide for the CALPUFF dispersion model. Earth Tech 521:1–521

Soldán P, Pavonic M, Boucek J, Kokes J (2001) Baia Mare accident–brief ecotoxicological report of Czech experts. Ecotoxicol Environ Saf 49:255–261. https://doi.org/10.1006/eesa.2001.2070

Srirattana S, Piaowan K, Imthieang T, Suk-in J, Phenrat T (2021) Assessment of lead (Pb) leakage from abandoned mine tailing ponds to Klity Creek, Kanchanaburi Province, Thailand. GeoHealth. https://doi.org/10.1029/2020GH000252

The Age (2005) Miner denies report on fish killed by cyanide. https://www.theage.com.au/business/miner-denies-report-on-fish-killed-by-cyanide-20050811-ge0o7k.html. accessed 4 Dec 2020

The Epoch Times (2015) Toxic Cyanide Pollution From Extracting Gold Is Widespread in China. https://www.theepochtimes.com/toxic-cyanide-pollution-from-extracting-gold-is-widespread-in-china_1733371.html. accessed 15 Dec 2020

The Nation (2016) Six countries produce 91% of gold in Asia. https://www.nationthailand.com/aec/30300363. accessed 15 Dec 2020

The Nation (2016) Villagers near Phichit goldmine get healthcare advice. http://www.nationmultimedia.com/national/Villagers-near-Phichit-goldmine-get-healthcare-adv-30281433.html. accessed 11 Mar 2020

The Nation (2018) Report claims poisonous leak at Phichit gold mine. https://www.nationthailand.com/national/30339901. accessed 15 Dec 2020

The News Lens (2018) CAMBODIA: Gold Mining Blamed for Mass Poisonings Despite Official Denials. https://international.thenewslens.com/article/102330. accessed 15 Dec 2020

TPBS (2018) Villagers affected by gold mine to petition PM in Phichit. https://en.wikipedia.org/wiki/2014_Loei_gold_mine_mob_attack. accessed 11 Mar 2019

Tran QB, Phenrat T, Lohitnavy M (2018) Physiologically based pharmacokinetic modeling of hydrogen cyanide in humans following the oral administration of potassium cyanide and cyanogenic glycosides from food. Hum Ecol Risk Assess 26:1496–1511. https://doi.org/10.1080/10807039.2019.1587288

Tran QB, Lohitnavy M, Phenrat T (2019) Assessing potential hydrogen cyanide exposure from cyanide-contaminated mine tailing management practices in Thailand's gold mining. J Environ Manage 249:109357. https://doi.org/10.1016/j.jenvman.2019.109357

Tran QB, Phenrat T, Lohitnavy M (2020) Human continuous hydrogen cyanide inhalation predictor with a physiologically based pharmacokinetic (PBPK) model. Environ Sci Pollut Res 27:24650–24658. https://doi.org/10.1007/s11356-019-06033-w

USEPA USEPA (2019) Air quality dispersion modeling - preferred and recommended models. Air Quality Dispersion Modeling - Preferred and Recommended Models, City,

WHO (2004) Hydrogen cyanide and cyanides: human health aspects. Verlagsgesellschaft mbH, Stuttgart

Wongsamuth N (2015) Gold rush crawls to a standstill. https://www.bangkokpost.com/news/special-reports/785865/gold-rush-crawls-to-a-standstill. accessed 11 Mar 2019

World Asia (2019) Gold in the Philippines: How much is it really worth? https://gulfnews.com/world/asia/philippines/gold-in-the-philippines-how-much-is-it-really-worth-1.1552204923140.

Zhang H, Zhang Z, Ma X, Zhang Q (2021) Spatial distribution and risk assessment of pollutants in a tailings pond for gold mining in Pinggu District, Beijing, China. Environ Earth Sci 80:416. https://doi.org/10.1007/s12665-021-09710-7
Funding
This project is funded by National Research Council of Thailand (NRCT) (Grant Nos. NRCT5-RSA63011-01 and R2560B008).
Ethics declarations
Conflict of interest
No conflicts of interest or competing interests.
Ethical Approval
Not applicable.
Consent to Participate
Not applicable.
Consent for Publication
Not applicable.
Additional information
Publisher's Note
Springer Nature remains neutral with regard to jurisdictional claims in published maps and institutional affiliations.
Supplementary Information
Below is the link to the electronic supplementary material.
About this article
Cite this article
Tran, Q.B., Khum-in, V. & Phenrat, T. Assessing Potential Health Impacts of Cyanide-Contaminated Seepage in Paddy Field Near a Gold Mine in Thailand: Cyanide Speciation and Vapor Intrusion Modeling. Expo Health 14, 459–473 (2022). https://doi.org/10.1007/s12403-022-00466-4
Received:

Revised:

Accepted:

Published:

Issue Date:

DOI: https://doi.org/10.1007/s12403-022-00466-4
Keywords