Abstract
In this study, pangas and feed samples were analyzed to estimate the levels of metallic elements and to profile the human health risks due to consumption of contaminated fish. This investigation confirmed significant variations in heavy metal concentrations among different tissues of pangas in the order of Ni > Cu > Pb > Cd > Cr in pre-monsoon and Ni > Cd = Cu > Pb = Cr in post-monsoon. Considerably higher concentrations of Pb, Cu, and Cr were estimated in liver; and Cd and Ni were detected in muscle than in other organs (p > 0.05). Statistically significant higher amounts of Cd, Ni, and Cu were observed in pre-monsoon than in post-monsoon. Furthermore, three metal pairs showed significant association (Pb–Ni and Pb–Cu involved positively; Cd–Ni acted negatively). In pre-monsoon, Cd, Pb, Ni, and Cu concentrations of feed significantly differed than those of pangas contents, whereas only Cu varied during the post-monsoon. Regression analysis revealed the significant effect of Ni content in feed on the Cu deposition of pangas (p-value 0.027, that was < 0.05). For the assessment of potential human health risk of the studied metals, estimated daily intake (EDI), target hazard quotient (THQ), hazard index (HI), and carcinogenic risk (CR) indices were calculated. Studied EDI indicated that an average adult ingested a higher amount of Ni and Cu than the recommended intake limit. Nevertheless, only the higher EDI of Ni increases the value of THQ and HI than standard limit indicates adverse non-carcinogenic risk. However, lower CR of Pb confirmed no serious health hazard due to the ingestion of pangas. Factor analysis through principal component and cluster analysis suggested that higher concentrations of Pb and Ni may be regulated by the feed used, geochemical properties, or rapid industrialization in the study area. A proper monitoring for controlling the quality of fish feed with sustainable planning for industrialization could secure the booming of pangasius aquaculture in Bangladesh.
Access options
Buy single article
Instant access to the full article PDF.
USD 39.95
Price includes VAT (USA)
Tax calculation will be finalised during checkout.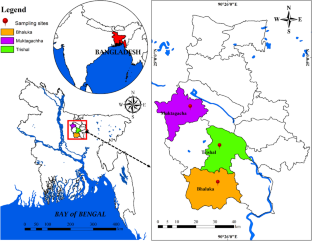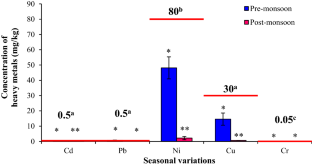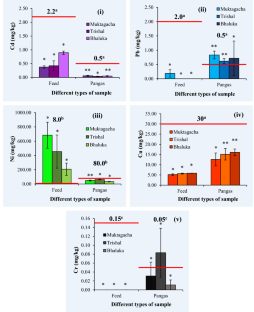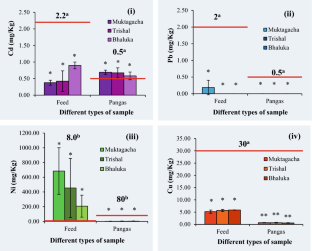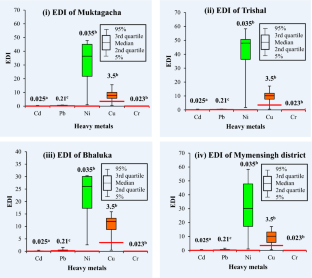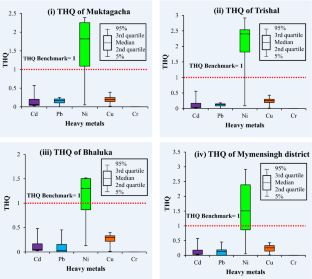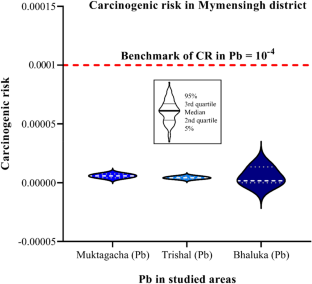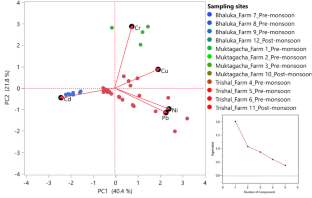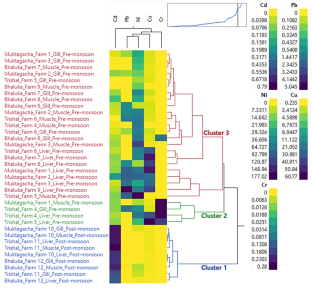 Data Availability
The data that support the findings of this study are available on request from the corresponding author.
References
Ahmed N (2009) Revolution in small-scale freshwater rural aquaculture in Mymensingh, Bangladesh. World Aqua 40:31–35

Ahmed G, Miah MA, Anawar HM, Chowdhury DA, Ahmad JU (2012) Influence of multi-industrial activities on trace metal contamination: An approach towards surface water body in the vicinity of Dhaka Export Processing Zone (DEPZ). Environ Monit Assess 184:4181–4190. https://doi.org/10.1007/s10661-011-2254-9

Ahmed MK, Shaheen N, Islam MS, Habibullah-al-Mamun M, Islam S, Mohiduzzaman M, Bhattacharjee L (2015) Dietary intake of trace elements from highly consumed cultured fish (Labeo rohita, Pangasius pangasius and Oreochromis mossambicus) and human health risk implications in Bangladesh. Chemosphere 128:284–292. https://doi.org/10.1016/j.chemosphere.2015.02.016

Ahmed ASS, Sultana S, Habib A, Ullah H, Musa N, Hossain MB, Rahman MM, Sarker MSI (2019) Bioaccumulation of heavy metals in some commercially important fishes from a tropical river estuary suggests higher potential health risk in children than adults. PLoS ONE. https://doi.org/10.1371/journal.pone.0219336

Akter M, Zakir HM, Sharmin S, Quadir QF, Mehrin S (2020) Heavy metal bioaccumulation pattern in edible tissues of different farmed fishes of Mymensingh Area, Bangladesh and health risk assessment. Adv Res 21:44–55. https://doi.org/10.9734/air/2020/v21i430200

Al Zabir A, Zaman MWU, Hossen MZ, Uddin MN, Islam MS, Islam MS (2016) Spatial dissemination of some heavy metals in soil adjacent to Bhaluka industrial area, Mymensingh, Bangladesh. Am J Appl Sci Res 2:38–47

Ali MHH, Amaal MA (2005) Studies of some heavy metals in water, sediment, fish and fish diets in some fish farms in EL-Fayoum province. Egypt Egypt J Aquat Res 31:261–273

Ali H, Khan E (2017) What are heavy metals? Long-standing controversy over the scientific use of the term 'heavy metals'—proposal of a comprehensive definition. Toxicol Environ Chem 100:6–19. https://doi.org/10.1080/027722

Ali H, Khan E (2018) Assessment of potentially toxic heavy metals and health risk in water, sediments, and different fish species of River Kabul. Pakistan Hum Ecol Risk Assess 24:2101–2118. https://doi.org/10.1080/10807039.2018.1438175

Ali NAAH, Abu-Abdoun II, Janaan AS, Hassan JH, Al Jeaidi MA (2019) Investigation of selected heavy metals concentration in animal feeds in United Arab Emirates. Chem Sci Int J 28:1–6. https://doi.org/10.9734/CSJI/2019/v28i330139

Alizada N, Malik S, Muzaffar SB (2020) Bioaccumulation of heavy metals in tissues of Indian anchovy (Stolephorus indicus) from the UAE coast. Arabian Gulf Mar Pollut Bull 154:111033. https://doi.org/10.1016/j.marpolbul.2020.111033

Anhwange BA, Asemave K, Kim BC, Nyiaatagher DT (2012) Heavy metals contents of some synthetic fish feeds found within Makurdi metropolis. Int J Food Saf Nutr Publ Health 2:55–61

Ashaiekh MA, Eltayeb MAH, Ali AH, Ebrahim AM, Salih I, Idris AM (2019) Spatial distribution of total and bioavailable heavy metal contents in soil from agricultural, residential, and industrial areas in Sudan. Toxin Rev 38:93–105. https://doi.org/10.1080/15569543.2017.1419491

Baeyens W, Parmentier K, Goeyens L, Ducastel G, DeGieter M, Leermakers M (1998) The biogeochemical behaviour of Cd, Cu, Pb and Zn in the Scheldt estuary: results of the 1995 surveys. In: Baeyens WFJ (ed) Trace metals in the Westerschelde Estuary: a case-study of a polluted, partially anoxic estuary. Hydrobiologia, vol 366. Springer, Dordrecht, pp 45–62

Baki MA, Hossain MM, Akter J, Quraishi SB, Haque Shojib MF, Atique Ullah AKM, Khan MF (2018) Concentration of heavy metals in seafood (fishes, shrimp, lobster and crabs) and human health assessment in Saint Martin Island. Bangladesh Ecotoxicol Environ Saf 159:153–163. https://doi.org/10.1016/j.ecoenv.2018.04.035

Barakat MA (2011) New trends in removing heavy metals from industrial wastewater. Arab J Chem 4:361–377. https://doi.org/10.1016/j.arabjc.2010.07.019

BBS (2015) Government of the People's Republic of Bangladesh. Bangladesh Bureau of Statistics Ministry of Planning, Dhaka

Burridge LE, Haya K, Zitko V, Waddy S (1999) The lethality of Salmosan (Azamethiphos) to American lobster (Homarus americanus) larvae, postlarvae, and adults. Ecotoxicol Environ Saf 43:165–169. https://doi.org/10.1006/eesa.1999.1771

CEPA (2009) Technical Support Document for Cancer potency Factors: Methodologies for derivation, listing of available values and adjustments to allow for early life stage exposures. https://oehha.ca.gov/media/downloads/crnr/tsdcancerpotency.pdf.

Dadar M, Adel M, Nasrollahzadeh Saravi H, Fakhri Y (2017) Trace element concentration and its risk assessment in common kilka (Clupeonella cultriventris caspia Bordin, 1904) from southern basin of Caspian Sea. Toxin Rev 36:222–227. https://doi.org/10.1080/15569543.2016.1274762

Duarte GSC, Takemoto RM, Yamaguchi MU, de Matos LS, Pavanelli GC (2019) Evaluation of the concentration of heavy metals in fillets of Pangasius hypophthalmus (Sauvage, 1878), Panga, imported from Vietnam. Int J Dev Res 9:30181–30186

Duffus JH (2002) "heavy metals"—a meaningless term? (IUPAC technical report). Pure Appl Chem 74:793–807. https://doi.org/10.1351/pac200274050793

Duman F, Aksoy A, Demirezen D (2007) Seasonal variability of heavy metals in surface sediment of Lake Sapanca. Turkey Environ Monit Assess 133:277–283. https://doi.org/10.1007/s10661-006-9580-3

EC (2003) Opinion of the scientific committee on animal nutrition on undesirable substances in feed. EC, Brussels

Elnimr T (2011) Evaluation of some heavy metals in Pangasius hypothalmus and Tilapia nilotica and the role of acetic acid in lowering their levels. Int J Fish Aquac 3:151–157

EMEP (2015) Heavy metals: Analysis of long-term trends, country-specific research and progress in mercury regional and global modelling. EMEP Status Rep 2:1–72

Fallah AA, Saei-Dehkordi SS, Nematollahi A, Jafari T (2011) Comparative study of heavy metal and trace element accumulation in edible tissues of farmed and wild rainbow trout (Oncorhynchus mykiss) using ICP-OES technique. Microchem J 98:275–279. https://doi.org/10.1016/j.microc.2011.02.007

FAO (2000) Forest resources of Bangladesh—country report. Forest Resources Assessment Program, Forestry Department. FAO Working Paper 15, Rome

FAO (2006) Arsenic Contamination of Irrigation Water, Soil and Crops in Bangladesh: Risk Implications for Sustainable Agriculture and Food Safety in Asia. FAO Regional Office for Asia and the Pacific, Bangkok, Thailand

FAO/WHO (1984) List of maximum levels recommended for contaminants by the Joint FAO/WHO. Codex Alimentarius Commission. FAO/WHO, Rome

FAO/WHO (1989) Evaluation of certain food additives and the contaminants mercury, lead and cadmium. WHO Technical Report, Series No. 505. FAO/ WHO, Rome

Fergusson JE (1990) The heavy elements: chemistry, environmental impact and health effects. Pergamon Press, Oxford

García-Lestón J, Méndez J, Pásaro E, Laffon B (2010) Genotoxic effects of lead: an updated review. Environ Int 36:623–636. https://doi.org/10.1016/j.envint.2010.04.011

Girgis SM, Mabrouk DM, Hanna MI, ElRaouf AA (2019) Seasonal assessment of some heavy metal pollution and Metallothionein gene expression in cultured Oreochromis niloticus. Bull Natl Res Cent 43:131. https://doi.org/10.1186/s42269-019-0167-x

Gray MA, Harrins A, Centeno JA (2005) The role of cadmium, zinc, and selenium in prostate disease. In: Moore TA, Black A, Centeno JA, Harding JS, Trumm DA (eds) Metal contaminants in New Zealand: sources, treatments, and effects on ecology and human health. Resolutionz Press, Christchurch, pp 393–414

Gu YG, Ouyang J, An H, Jiang SJ, Tang HQ (2017) Risk assessment and seasonal variation of heavy metals in settling particulate matter (SPM) from a typical southern Chinese mariculture base. Mar Pollut Bull 123:404–409. https://doi.org/10.1016/j.marpolbul.2017.08.044

Henry F, Amara R, Courcot L, Lacouture D, Bertho ML (2004) Heavy metals in four fish species from the French coast of the Eastern English Channel and Southern Bight of the North Sea. Environ Int 30:675–683. https://doi.org/10.1016/j.envint.2003.12.007

Hodson PV (1988) The effect of metal metabolism on uptake, disposition and toxicity in fish. Aquat Toxicol 11:3–18. https://doi.org/10.1016/0166-445X(88)90003-3

Hossain MS, Zakir HM, Rahman MS, Islam MM (2015) Toxic metallic contamination in wastewater of some industrial areas of Mymensingh town, Bangladesh. Adv Arch. City Environ 1:7–13

Hossain A, Saha B, Rahman MM, Moniruzzaman M, Begum M (2016) Heavy metal concentration and its toxicity assessment in some market fishes of Dhaka city. Int J Fish Aquat Stud 4:523–527

Hossain MB, Ahmed ASS, Sarker MSI (2018) Human health risks of Hg, As, Mn, and Cr through consumption of fish, Ticto barb (Puntius ticto) from a tropical river. Bangladesh Environ Sci Pollut Res 25:31727–31736. https://doi.org/10.1007/s11356-018-3158-9

Huq SMI, Alam MD (2005) A handbook on analysis of soil, plant and water. Bangladesh-Australia Centre for Environmental Research (BACER-DU). University of Dhaka, Dhaka, pp 1–246

Ikem A, Egiebor NO (2005) Assessment of trace elements in canned fishes (mackerel, tuna, salmon, sardines and herrings) marketed in Georgia and Alabama (United States of America). J Food Compost Anal 18:771–787. https://doi.org/10.1016/j.jfca.2004.11.002

Islam S, Ahmed K, Habibullah-Al-Mamun M, Masunaga S (2015) Potential ecological risk of hazardous elements in different land-use urban soils of Bangladesh. Sci Total Environ 512–513:94–102. https://doi.org/10.1016/j.scitotenv.2014.12.100

Islam GMR, Habib MR, Waid JL, Rahman MS, Kabir J, Akter S, Jolly YN (2017) Heavy metal contamination of freshwater prawn (Macrobrachium rosenbergii) and prawn feed in Bangladesh: a market-based study to highlight probable health risks. Chemosphere 170:282–289. https://doi.org/10.1016/j.chemosphere.2016.11.163

Islam MS, Hossain MB, Matin A, Islam Sarker MS (2018) Assessment of heavy metal pollution, distribution and source apportionment in the sediment from Feni River estuary, Bangladesh. Chemosphere 202:25–32. https://doi.org/10.1016/j.chemosphere.2018.03.077

JECFA, 2019. Joint FAO/WHO Expert Committee on Food Additives. Food Contaminants. http://apps.who.int/foodadditives-contaminants-jecfa-database/search.aspx Accessed 24 May 2020.

Kamruzzaman, Mahamud MA, Alim A, Hossen MS, Islam MA, Mansur MA (2018) Study on heavy metal content of Oreochromis niloticus, Heteropneustes fossilis and Pangasius sutchi collected from pond and open water. Res. Agric. Livest. Fish. 5:117–126. https://doi.org/10.3329/ralf.v5i1.36560

Kim SG, Kang JC (2004) Effect of dietary copper exposure on accumulation, growth and hematological parameters of the juvenile rockfish, Sebastes schlegeli. Mar Environ Res 58:65–82. https://doi.org/10.1016/j.marenvres.2003.12.004

Le HT, Ngo HTT (2013) Cd, Pb, and Cu in water and sediments and their bioaccumulation in freshwater fish of some lakes in Hanoi. Vietnam Toxicol Environ Chem 95:1328–1337. https://doi.org/10.1080/02772248.2013.877462

Lei M, Tie BQ, Song ZG, Liao BH, Lepo JE, Huang YZ (2015) Heavy metal pollution and potential health risk assessment of white rice around mine areas in Hunan Province. China Food Secur 7:45–54. https://doi.org/10.1007/s12571-014-0414-9

Li L, Xu Z, Wu J, Tian G (2010) Bioresource technology bioaccumulation of heavy metals in the earthworm Eisenia fetida in relation to bioavailable metal concentrations in pig manure. Bioresour Technol 101:3430–3436. https://doi.org/10.1016/j.biortech.2009.12.085

Lin HT, Wong SS, Li GC (2004) Heavy metal content of rice and shellfish in Taiwan. J. Food Drug Anal 12:167–174

Loutfy N, Fuerhacker M, Tundo P, Raccanelli S, El Dien AG, Ahmed MT (2006) Dietary intake of dioxins and dioxin-like PCBs, due to the consumption of dairy products, fish/seafood and meat from Ismailia city. Egypt Sci Total Environ 370:1–8. https://doi.org/10.1016/j.scitotenv.2006.05.012

Mahdi Abkener A, Yahyavi M, Bahri A, Jafaryan H (2018) Assessment of heavy metals pollution in muscle of sole (Cynoglossus arel), spiny lobster (Panulirus homarus) and sediments in the northern coasts of the Oman Sea during pre and post monsoon. Iran J Fish Sci. https://doi.org/10.22092/ijfs.2018.124017.1006

Mansour SA, Belal MH, Abou-Arab AAK, Gad MF (2009) Monitoring of pesticides and heavy metals in cucumber fruits produced from different farming systems. Chemosphere 75:601–609. https://doi.org/10.1016/j.chemosphere.2009.01.058

Milenkovic B, Stajic JM, Stojic N, Pucarevic M, Strbac S (2019) Evaluation of heavy metals and radionuclides in fish and seafood products. Chemosphere 229:324–331. https://doi.org/10.1016/j.chemosphere.2019.04.189

Mo WY, Man YB, Zhang F, Wong MH (2019) Fermented food waste for culturing Jade perch and Nile tilapia: growth performance and health risk assessment based on metal/loids. J Environ Manag 236:236–244. https://doi.org/10.1016/j.jenvman.2019.01.102

MOFL (2014) Bangladesh Gazette, Bangladesh Ministry of Fisheries and Livestock, SRO no. 233/Ayen

Mwakalapa EB, Simukoko CK, Mmochi AJ, Mdegela RH, Berg V, Bjorge Müller MH, Lyche JL, Polder A (2019) Heavy metals in farmed and wild milkfish (Chanos chanos) and wild mullet (Mugil cephalus) along the coasts of Tanzania and associated health risk for humans and fish. Chemosphere 224:176–186. https://doi.org/10.1016/j.chemosphere.2019.02.063

Nguyen BT, Do DD, Nguyen TX, Nguyen VN, Phuc Nguyen DT, Nguyen MH, Thi Truong HT, Dong HP, Le AH, Bach QV (2020) Seasonal, spatial variation, and pollution sources of heavy metals in the sediment of the Saigon River. Vietnam Environ Pollut 256:113412. https://doi.org/10.1016/j.envpol.2019.113412

Nofal MI, Zaki VH, Ahmed NAS (2019) Effects of heavy metal pollution on Nile tilapia in Manzala farm: oxidative stress biomarkers and histopathological findings. Int J Fish Aquat Stud 7:315–328

Økland HMW, Stoknes IS, Remme JF, Kjerstad M, Synnes M (2005) Proximate composition, fatty acid and lipid class composition of the muscle from deep-sea teleosts and elasmobranchs. Comp Biochem Physiol B Biochem Mol Biol 140:437–443. https://doi.org/10.1016/j.cbpc.2004.11.008

Orban E, Nevigato T, Di Lena G, Masci M, Casini I, Gambelli L, Caproni R (2008) New trends in the seafood market. Sutchi catfish (Pangasius hypophthalmus) fillets from Vietnam: nutritional quality and safety aspects. Food Chem 110:383–389. https://doi.org/10.1016/j.foodchem.2008.02.014

Pal D, Maiti SK (2018) Seasonal variation of heavy metals in water, sediment, and highly consumed cultured fish (Labeo rohita and Labeo bata) and potential health risk assessment in aquaculture pond of the coal city, Dhanbad (India). Environ Sci Pollut Res 25:12464–12480. https://doi.org/10.1007/s11356-018-1424-5

Rajeshkumar S, Li X (2018) Bioaccumulation of heavy metals in fish species from the Meiliang Bay, Taihu Lake, China. Toxicol Rep 5:288–295. https://doi.org/10.1016/j.toxrep.2018.01.007

Rani Das P, Hossain MK, Sarker BS, Parvin A, Swarna Das S, Moniruzzaman M, Saha B (2017) Heavy metals in farm sediments, feeds and bioaccumulation of some selected heavy metals in various tissues of farmed Pangasius hypophthalmus in Bangladesh. Fish Aquac J. https://doi.org/10.4172/2150-3508.1000218

USEPA, 2020. Regional Screening Levels (RSL). Superfund Risk Assessment. https://epa-prgs.ornl.gov/cgi-bin/chemicals/csl_search/. Accessed 19 Apr 2020

Sabbir W, Rahman MZ, Khan MN, Sabbir CW, Halder T, Ray S (2018) Assessment of heavy metal contamination in fish feed available in three districts of South Western region of Bangladesh. Int J Fish Aquat Stud 6:100–104

Saha N, Mollah MZI, Alam MF, Rahman MS (2016) Seasonal investigation of heavy metals in marine fishes captured from the Bay of Bengal and the implications for human health risk assessment. Food Control 70:110–118. https://doi.org/10.1016/j.foodcont.2016.05.040

Saha B, Mottalib MA, Al Razee ANM (2018) Assessment of selected heavy metals concentration in different brands of fish feed available in Bangladesh. J Bangladesh Acad Sci 42:207–210

Shaheen N, Ahmed MK, Islam MS, Habibullah-Al-Mamun M, Tukun AB, Islam S, Abu AT (2016) Health risk assessment of trace elements via dietary intake of 'non-piscine protein source' foodstuffs (meat, milk and egg) in Bangladesh. Environ Sci Pollut Res 23:7794–7806. https://doi.org/10.1007/s11356-015-6013-2

Shamshad BQ, Shahidur RK, Tasrena RC (2009) Studies on toxic elements accumulation in shrimp from fish feed used in Bangladesh. As J Food Ag-Ind 2:440–444

Siddiqy MR (2017) Urban environment and major challenges in sustainable development: experience from Dhaka City in Bangladesh. South East Asia J Public Heal 7:12–16. https://doi.org/10.3329/seajph.v7i1.34673

Simeonov V, Massart DL, Andreev G, Tsakovski S (2000) Assessment of metal pollution based on multivariate statistical modeling of "hot spot" sediments from the Black Sea. Chemosphere 41:1411–1417. https://doi.org/10.1016/S0045-6535(99)00540-8

Sow AY, Ismail A, Zulkifli SZ, Amal MN, Hambali K (2019) Seasonal variation of heavy metals and metallothionein contents in Asian swamp eels, Monopterus albus (Zuiew, 1793) from Tumpat, Kelantan. Malaysia BMC Pharmacol Toxicol 20:1–8. https://doi.org/10.1186/s40360-019-0286-x

Stone NJ (1996) Fish consumption, fish oil, lipids, and coronary heart disease. Circulation 94:2337–2340

Strungaru SA, Nicoara M, Gorban CF, Paduraru E, Plavan GI (2020) Toxic metal contamination and total organic carbon content in the meat of the main fish species imported and sold in Romanian's supermarkets. Survey Fish Sci 6:45–54

Sunjog K, Kolarević S, Kračun-Kolarević M, Višnjić-Jeftić Ž, Gačić Z, Lenhardt M, Vuković-Gačić B (2019) Seasonal variation in metal concentration in various tissues of the European chub (Squalius cephalus L.). Environ Sci Pollut Res 26:9232–9243. https://doi.org/10.1007/s11356-019-04274-3

Tchounwou PB, Yedjou CG, Patlolla AK, Sutton DJ (2012) Molecular, clinical and environmental toxicicology v3: environmental toxicology. Mol Clin Environ Toxicol 101:133–164. https://doi.org/10.1007/978-3-7643-8340-4

Türkmen A, Türkmen M, Tepe Y, Akyurt I (2005) Heavy metals in three commercially valuable fish species from Iskenderun Bay, Northern East Mediterranean Sea. Turkey Food Chem 91:167–172. https://doi.org/10.1016/j.foodchem.2004.08.008

USEPA (1989) Risk assessment guidance for superfund. Human Health Evaluation Manual. EPA/540/1-89/002. Office of Emergency and Remedial Response, v1, Washington, D.C.

USEPA (2010) Integrated Risk Information System (IRIS); United States Environmental Protection Agency: Washington, D.C., USA. http://www.epa.gov/ncea/iris/index.html. Accessed 1 May 2020

USEPA (2011) USEPA regional screening level (RSL) summary table: November 2011. https://www.epa.gov/risk/regional-screening-levels-rsls-generic-tables. Accessed 27 Apr 2020

USFDA (1993) Food and drug administration Guidance document for arsenic in shellfish. DHHS/PHS/FDA/CFSAN/Office of Seafood, Washington D.C.

Vannoort RW, Thomson BM (2005) 2003/04 New Zealand total diet survey—agricultural compound residues, selected contaminants and nutrients. https://www.mpi.govt.nz/dmsdocument/4004/direct. Accessed 20 Aug 2020

Walker CH, Sibly RM, Hopkin SP, Peakall DB (2012) Principles of ecotoxicology, 4th edn. CRC Press, Boca Raton

Wang W, Wang WX (2016) Phase partitioning of trace metals in a contaminated estuary influenced by industrial effluent discharge. Environ Pollut 214:35–44. https://doi.org/10.1016/j.envpol.2016.03.059

WHO (1985) Guidelines for drinking water quality. Recommendation WHO 1. WHO, Geneva

WHO (2011) WHO guidelines for drinking water quality, 4th edn. WHO Publications, Geneva, pp 307–340

Zhang H, Cui B, Xiao R, Zhao H (2010) Heavy metals in water, soils and plants in riparian wetlands in the Pearl River Estuary. South China Procedia Environ Sci 2:1344–1354. https://doi.org/10.1016/j.proenv.2010.10.145
Acknowledgements
The authors would like to thank Mst Khadiza Begum for her assistance in laboratory works and useful revision of the manuscript.
Funding
This research did not receive any specific grant from funding agencies in the public, commercial, or not-for-profit sectors. However, Md Abdullah-hil Maruf received National Science and Technology (NST) fellowship of Bangladesh as MS research student.
Ethics declarations
Conflict of interest
The authors declare that they have no known competing financial interests or personal relationships that could have appeared to influence the work reported in this article.
Consent for Publication
All the authors have read and approved the paper for submission of publication.
Additional information
Publisher's Note
Springer Nature remains neutral with regard to jurisdictional claims in published maps and institutional affiliations.
About this article
Cite this article
Maruf, M.Ah., Punom, N.J., Saha, B. et al. Assessment of Human Health Risks Associated with Heavy Metals Accumulation in the Freshwater Fish Pangasianodon hypophthalmus in Bangladesh. Expo Health 13, 337–359 (2021). https://doi.org/10.1007/s12403-021-00387-8
Received:

Revised:

Accepted:

Published:

Issue Date:
Keywords
Pangasianodon hypophthalmus

Heavy metals

THQ

Hazard Index

Bioaccumulation