Abstract
The World Health Organization (WHO) estimates that around ~ 150 million people in 70 different countries have been consuming water with arsenic levels higher than the recommended limit of 10 µg/L. Here we describe the concentrations of inorganic arsenic in drinking water in homes of pregnant women living in the province of Tacna, near the southern border of Peru. 161 pregnant women were enrolled in their second trimester of pregnancy. A total of 100 mL drinking water was collected in each household from the source of most common use. Inorganic arsenic was categorized into three levels with a commercial kit. Thirty percent of women had drinking water ≤ 10 µg/L (the WHO recommended level), 35% had 25 µg/L, and 35% had greater than 50 µg/L. Low arsenic levels were found in the southernmost homes, supplied by groundwater, while high levels were found in the northern and metropolitan homes supplied by river water.
Access options
Buy single article
Instant access to the full article PDF.
US$ 39.95
Tax calculation will be finalised during checkout.
Subscribe to journal
Immediate online access to all issues from 2019. Subscription will auto renew annually.
US$ 79
Tax calculation will be finalised during checkout.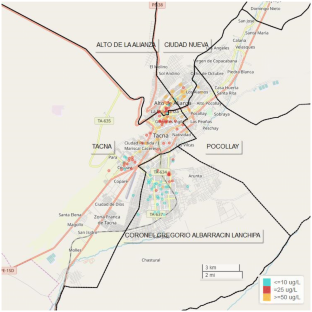 References
Dirección Regional de Salud de Tacna (2017) Análisis de Situación de Salud Región Tacna 2017 (Health Situation Analysis Tacna Region 2017), Tacna. https://diresatacna.gob.pe/media/ckeditor/files/ASIS-TACNA-2017.pdf. Accessed 5 Aug 2019.

EPS Tacna (2019) Sistema de Tratamiento de Agua Potable—Resumen (Drinking Water Treatment System—Summary), Tacna. https://www.epstacna.com.pe/eps-pw/getf.v2.php?t=pdf&f=admin/dbfiles/public.det_contenido/1360153291.pdf. Accessed 5 July 2019

George CM, Sima L, Arias MHJ, Mihalic J, Cabrera LZ, Danz D, Checkley W, Gilman RH (2014) Arsenic exposure in drinking water: an unrecognized health threat in Peru. Bull World Health Organ 92(8):565–572

International Agency for Reseach on Cancer (2012) Arsenic and arsenic compounds. In: Arsenic, metals, fibres and dusts. International Agency for Research on Cancer, Lyon, pp 41–95. https://monographs.iarc.fr/wp-content/uploads/2018/06/mono100C-6.pdf. Accessed 29 Aug 2019.

McClintock TR, Chen Y, Bundschuh J, Oliver JT, Navoni J, Olmos V, Lepori EV, Ahsan H, Parvez F (2012) Arsenic exposure in Latin America: biomarkers, risk assessments and related health effects. Sci Total Environ 429:76–91

Milton AH, Hussain S, Akter S, Rahman M, Mouly TA, Mitchell K (2017) A review of the effects of chronic arsenic exposure on adverse pregnancy outcomes. Int J Environ Res Public Health 14:556

Mullin AM, Amarasiriwardena C, Cantoral-Preciado A, Henn BC, Leon Hsu H-H, Sanders AP, Svensson K, Tamayo-Ortiz M, Téllez-Rojo MM, Wright RO, Burris HH (2019) Maternal blood arsenic levels and associations with birth weight-for-gestational age. Environ Res 177:108603

Naujokas MF, Anderson B, Ahsan H, Aposhian HV, Graziano JH, Thompson C, Suk WA (2013) The broad scope of health effects from chronic arsenic exposure: update on a worldwide public health problem. Environ Health Perspect 121(3):295–302

Ocola Salazar JJ (2015). Arsénico en los Ríos Caplina, Uchusuma y Locumba—Tacna. In: Weiss NB (ed.). Aguas y Arsénico Natural en Perú (1st edn). Academia Nacional de Ciencias, Lima, pp 68–93

Pan American Health Organization (2018) Perinatal information system. https://www.paho.org/clap/index.php?option=com_content&view=article&id=84:sistema-informatico-perinatal&Itemid=242&lang=en. Accessed 29 Aug 2019

Quansah R, Armah FA, Essumang DK, Luginaah I, Clarke E, Marfoh K, Cobina SJ, Nketiah-Amponsah E, Namujju PB, Obiri S, Dzodzomenyo M (2015) Association of arsenic with adverse pregnancy outcomes/infant mortality: a systematic review and meta-analysis. Environ Health Perspect 123(5):412–421

Tapia J, Murray J, Ormachea M, Tirado N, Nordstrom DK (2019) Origin, distribution, and geochemistry of arsenic in the Altiplano-Puna plateau of Argentina, Bolivia, Chile, and Perú. Sci Total Environ 678:309–325

Wang H, Li J, Zhang X, Zhu P, Hao J-H, Tao F-B, Xu D-X (2018) Maternal serum arsenic level during pregnancy is positively associated with adverse pregnant outcomes in a Chinese population. Toxicol Appl Pharmacol 356:114–119

World Health Organization (2011) Arsenic in drinking-water background document for development of WHO guidelines for drinking-water quality. Geneva. https://www.who.int/water_sanitation_health/dwq/chemicals/arsenic.pdf. Accessed 8 Sept 2019
Funding
Research reported in this publication was supported by the National Institutes of Health Fogarty International Center, National Institutes of Environmental Health Sciences, National Cancer Institute, Centers for Disease Control and the NIH under Award Number for research grant U01 TW0101 07. The content is solely the responsibility of the authors and does not necessarily represent the official views of the National Institutes of Health.
Ethics declarations
Conflict of interest
The authors declare that they have no conflict of interest.
Ethical Approval
All procedures performed in studies involving human participants were in accordance with the ethical standards of the institutional and/or national research committee and with the 1964 Helsinki declaration and its later amendments or comparable ethical standards. Free and informed consent of the participants or their legal representatives was obtained and the study protocol was approved by the appropriate Committee for the Protection of Human Participants "Institutional Research Ethics Committee," by the Universidad Peruana Cayetano Heredia, Lima, Peru, Protocol 102434, December 10, 2018.
Additional information
Publisher's Note
Springer Nature remains neutral with regard to jurisdictional claims in published maps and institutional affiliations.
About this article
Cite this article
Fano, D., Vásquez-Velásquez, C., Aguilar, J. et al. Arsenic Concentrations in Household Drinking Water: A Cross-Sectional Survey of Pregnant Women in Tacna, Peru, 2019. Expo Health 12, 555–560 (2020). https://doi.org/10.1007/s12403-019-00337-5
Received:

Revised:

Accepted:

Published:

Issue Date:
Keywords
Arsenic poisoning

Reproductive health

Environmental health

Exposure assessment

Medical geology