Abstract
Despite widespread irrigation with diluted, untreated, or partially treated wastewater in developing countries, health implications of such irrigation on children living in wastewater-irrigated area have rarely been addressed. In a survey study, we investigated health implications of wastewater irrigation on children (8–12 years) in peri-urban Aleppo region, Syria. Six villages were selected within wastewater-irrigated area and six from freshwater-irrigated area. In consultation with the health officials and medical practitioners, two waterborne diseases (typhoid fever and gastroenteritis) and three non-waterborne diseases (flu, chickenpox, and strep throat) were selected along with eczema that may stem from watery or non-watery sources. Flu and strep throat had significantly higher prevalence rates in freshwater-irrigated area than those in wastewater-irrigated area while reverse was the case for gastroenteritis and eczema, i.e. significantly higher prevalence rates in wastewater-irrigated area. The prevalence rates of typhoid and chickenpox in both areas were low with non-significant differences between freshwater and wastewater areas. The annual health cost per child was 73 % higher in wastewater area than the health cost for the same age group in freshwater area. These findings suggest the need for hygiene education and an action plan that would help improving water quality and promoting the use of protective measures in handling wastewater and/or its products.
Access options
Buy single article
Instant access to the full article PDF.
US$ 39.95
Tax calculation will be finalised during checkout.
Subscribe to journal
Immediate online access to all issues from 2019. Subscription will auto renew annually.
US$ 79
Tax calculation will be finalised during checkout.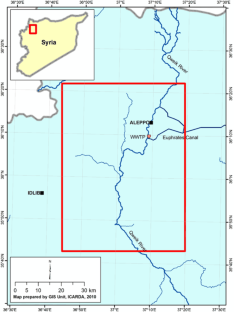 References
Al-Salem SS, Abouzaid H (2006) Wastewater reuse for agriculture: regional health perspective. East Mediterr Health J 12:446–458

Ayers RS, Westcot DW (1985) Water quality for agriculture. Irrigation and drainage paper 29. Rev 1. FAO, Rome

Birley MH, Lock K (1999) The health impacts of peri-urban resource development. Int Ctr Health Impc Asmt Liverpool School of Tropical Medicine. http://www.liv.ac.uk/~mhb. Accessed 1 October 2009

Blumenthal UJ, Cifuentes E, Bennett S, Quigley M, Ruiz-Palacios G (2001) The risk of enteric infections associated with wastewater reuse: the effect of season and degree of storage of wastewater. Trans R Soc Trop Med Hyg 95:131–137

Bouteleux C, Saby S, Tozza D, Cavard J, Lahoussine V, Hartemann P, Mathieu L (2005) Escherichia coli behavior in the presence of organic matter released by algae exposed to water treatment chemicals. Appl Environ Microbiol 71:734–740

Bradford A, Brook R, Hunshal CS (2003) Wastewater irrigation in Hubli-Dharwad, India. Environ Urban 15(2):157–170

Fattal B, Wax Y, Davies M, Shuval HI (1986) Health risks associated with wastewater irrigation. An epidemiological study. Am J Publ Health 76:977–979

Friedel JK, Langer T, Siebe C, Stahr K (2000) Effects of long-term wastewater irrigation on soil organic matter, soil microbial biomass and its activities in central Mexico. Biol Fertil Soils 31(5):414–421

Habbari K, Tifnouti A, Bitton G, Mandil A (1999) Helminthic infections associated with the use of raw wastewater for agricultural purposes in Beni Mellal, Morocco. East Mediterr Health J 5:912–921

Haller L, Hutton G, Bartram J (2007) Estimating the costs and health benefits of water and sanitation improvements at global level. J Water Health 5:467–480

Hammal F, Mock J, Ward KD, Fouad MF, Beech BM, Maziak W (2005) Settling with danger: conditions and health problems in peri-urban and neighborhoods in Aleppo, Syria. Environ Urban 17:113–125

Harpham T, Tanner M (eds.) (1995) Urban health in developing countries, progress and prospects. Earthscan, London, pp 34–47

Ikehata K, Pui O (2008) Health effects associated with wastewater treatment, disposal, and reuse. Water Environ Res 80(10):1980–1996

IWMI (2003) Confronting the realities of wastewater use in agriculture. In: Water policy briefing 9. International Water Management Institute, Colombo

Lazarova V, Bahri A (2005) Water reuse for irrigation: agriculture, landscapes, and turf grass. CRC, Boca Raton

Lekouch N, Sedki A, Bouhouch S, Nejmeddine A, Pineau A, Pihan JC (1999) Trace elements in children's hair, as related exposure in wastewater spreading fields of Marrakesh (Morocco). Sci Total Environ 243–244:323–328

Minhas PS, Samra JS (2004) Wastewater use in peri-urban agriculture: impacts and opportunities. Central Soil Salinity Research Institute, Karnal, p 75

Murtaza G, Ghafoor A, Qadir M, Owens G, Aziz MA, Zia Saifullah MH (2010) Disposal and use of sewage on agricultural lands in Pakistan: a review. Pedosphere 20:23–34

Opryszko MC, Majeed SW, Hansen PM, Myers JA, Baba D, Thompson RE, Burnham G (2010) Water and hygiene interventions to reduce diarrhea in rural Afghanistan: a randomized controlled study. J Water Health 8:687–702

Payne RW (ed) (2011) The guide to GenStat® release 14. Part 2: statistics. VSN International, Hemel Hempstead

Pescod MB (ed) (1992) Wastewater treatment and use in agriculture. Irrigation and drainage paper 47, Food and Agriculture Organization of the United Nations, Rome, Italy

Pettygrove GS, Asano T (eds) (1985) Irrigation with reclaimed municipal wastewater. A guide manual. Lewis, Chelsea

Qadir M (2008) Putting bad water to good use. ICARDA Caravan 25:45–47

Qadir M, Oster JD (2004) Crop and irrigation management strategies for saline-sodic soils and waters aimed at environmentally sustainable agriculture. Sci Total Environ 323:1–19

Qadir M, Ghafoor A, Murtaza G (2000) Cadmium concentration in vegetables grown on urban soils irrigated with untreated municipal sewage. Environ Dev Sustain 2:11–19

Qadir M, Wichelns D, Raschid-Sally L, Minhas PS, Drechsel P, Bahri A, McCornick P (2007a) Agricultural use of marginal-quality water—opportunities and challenges. In: Molden D (ed) Water for food, water for life: a comprehensive assessment of water management in agriculture. Earthscan, London, pp 425–457

Qadir M, Sharma BR, Bruggeman A, Choukr-Allah R, Karajeh F (2007b) Non-conventional water resources and opportunities for water augmentation to achieve food security in water scarce countries. Agric Water Manag 87:2–22

Qadir M, Bahri A, Sato T, Al-Karadsheh E (2010) Wastewater production, treatment, and irrigation in Middle East and North Africa. Irrig Drain Syst 24:37–51

Qishlaqi A, Moore F, Forghani G (2007) Impact of untreated wastewater irrigation on soils and crops in Shiraz suburban area, SW Iran. Environ Monit Assess 141(1–3):257–273

Sato T (2010) Environmental impact assessment of wastewater irrigation in Aleppo region, Syria. Thesis of master's degree joint programme (UNU-IRA-INAT-ICARDA-CAREERI-ALRC) for drylands. Integrated Drylands, Management, Tottori University, Japan

Scott CA, Faruqui NI, Raschid-Sally L (2004) Wastewater use in irrigated agriculture: confronting the livelihoods and environmental realities. CABI, Wallingford

Sedki A, Lekoucha N, Gamonb S, Pineauc A (2003) Toxic and essential trace metals in muscle, liver and kidney of bovines from a polluted area of Morocco. Sci Total Environ 317:201–205

Simmons RW, Qadir M, Drechsel P (2010) Farm-based measures for reducing human and environmental health risks from chemical constituents in wastewater. In: Drechsel P, Scott CA, Raschid-Sally L, Redwood M, Bahri A (eds) Wastewater irrigation and health: assessing and mitigating risks in low-income countries. IWMI, Colombo, pp 209–238

Steele M, Odumeru J (2004) Irrigation water as source of foodborne pathogens on fruit and vegetables. J Food Prot 67:2839–2849

Toze S (2006) Reuse of effluent water—benefits and risks. Agric Water Manag 80:147–159

Van Der Hoek W, Vuong TA, Cam PD, Vicheth C, Dalsgaard A (2005) Skin diseases among people using urban wastewater in Phnom Penh. Urban Agric Mag 14:30–31

Yoon CG, Kwun SK, Ham JH (2001) Effects of treated sewage irrigation on paddy rice culture and its soil. Irrig Drain 50:227–236
Acknowledgements
This publication falls within the framework of the project "Sustainable water use securing food production in dry areas of the Mediterranean region" (Project Acronym: SWUP-MED; Grant Agreement Number: KBBE-2008-212337) funded by the European Commission under the Seventh Framework Programme.
About this article
Cite this article
Grangier, C., Qadir, M. & Singh, M. Health Implications for Children in Wastewater-Irrigated Peri-Urban Aleppo, Syria. Water Qual Expo Health 4, 187–195 (2012). https://doi.org/10.1007/s12403-012-0078-7
Received:

Revised:

Accepted:

Published:

Issue Date:
Keywords
Water quality

Water reuse

Human health

Waterborne diseases

Non-waterborne diseases

Mediterranean region

Health cost