Abstract
Assessment was done of heavy-metal contamination and its related health risks in urban vegetable farming in Accra. Samples of irrigation water (n=120), soil (n=144) and five different kinds of vegetable (n=240) were collected and analyzed for copper, zinc, lead, cadmium, chromium, nickel and cobalt. All water, soil and vegetable samples contained detectable concentrations of each of the seven heavy metals except for irrigation water which had no detectable chromium, cadmium and cobalt. All heavy-metal levels were below permissible limits except lead on vegetables which was 1.8–3.5 times higher. Health risk assessments showed for all elements that normal consumption of each of the vegetables assessed poses no risk. The highest hazard index obtained was 42 % for wastewater irrigated cabbage. Though within permissible limits, cabbage and ayoyo had the highest potential risk. Compared with previous studies on the same sites, the data show that the risk from heavy metals is less significance than that from pathogen contamination which has positive implications for risk mitigation.
Access options
Buy single article
Instant access to the full article PDF.
USD 39.95
Price includes VAT (USA)
Tax calculation will be finalised during checkout.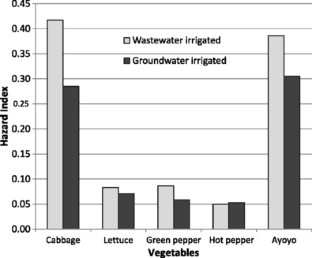 Notes
1.

We noticed in several references that dry weight concentrations were compared with MRLs which referred to fresh weight, resulting in exaggerated risk assessments.
References
Affum HA, Oduro-Afriyie K, Nartey VK, Adomako D, Nyarko BJB (2008) Bio-monitoring of airborne heavy metals along a major road in Accra, Ghana. Environ Monit Assess 137:15–24

Agency for toxic substances and disease registry (ATSDR) (2012) Minimal risk levels (MRLs) for hazardous substances. Accessed on 17/7/212 at: http://www.atsdr.cdc.gov/mrls/mrllist.asp

Akrong OM (2009) The influence of quality of irrigation water and postharvest handling on bacterial contamination and heavy metal accumulation on lettuce cultivated in urban Accra. Unpublished thesis, Environmental Sciences Department, University of Ghana, Accra

American Public Health Association, American Water Works Association, Water Environment Federation (APHA-AWWA-WEF) (2001) Standard methods for the examination of water and wastewater, 22nd edn, Washington, DC

Amoah P, Drechsel P, Abaidoo RC, Henseler M (2007) Irrigated urban vegetable production in Ghana: microbiological contamination in farms and markets and associated consumer risk groups. J Water Health 5(3):455–466

Amoah P, Keraita B, Drechsel P, Abaidoo R, Konradsen F, Akple M (2011) Low cost options for health risk reduction where crops are irrigated with polluted water in west Africa. IWMI research Report no 141 Colombo, Sri Lanka

Ayers RS, Westcot DW (1985) Water quality for agriculture. FAO Irrigation and Drainage Paper 29. Rome

Bakare S, Denloye AA, Olaniyan FO (2004) Cadmium, lead and mercury in fresh and boiled leafy vegetables grown in Lagos, Nigeria. Environ Technol 25(12):1367–1370

Borowski K, Schmaling A (1996) An integrated microwave digestion system for the modern laboratory. Milestone Inc America laboratory

Cui YJ, Zhu YG, Zhai RH, Chen DY, Huang YZ, Qui Y, Liang JZ (2004) Transfer of metals from near a smelter in Nanning, China. Environ Int 30:785–791

Drechsel P, Graefe S, Sonou M, Cofie OO (2006) Informal irrigation in urban West Africa: An overview. IWMI research report series, vol 102. IWMI, Colombo. 34 pp. http://www.iwmi.cgiar.org/Publications/IWMI_Research_Reports/PDF/pub102/RR102.pdf (accessed 7 August 2012)

Eriyamremu GE, Asagba SO, Akpoborie A, Ojeabur SI (2005) Evaluation of lead and cadmium levels in some commonly consumed vegetables in the Niger-Delta oil area of Nigeria. Bull Environ Contam Toxicol 75:278–283

European Commission (EC) (2006) Standards for lead, cadmium and mercury. Commission Regulation (EC) No 1881/2006. Accessed on 18/7/2012 at: http://eurlex.europa.eu/LexUriServ/LexUriServ.do?uri=CONSLEG:2006R1881:20100701:EN:PDF

Ewers U (1991) Standards, guidelines and legislative regulations concerning metals and their compounds. In: Merian E (ed) Metals and their compounds in the environment, relevance. VCH, Weinheim, pp 458–468

FAO/WHO (2010) Evaluations of the joint FAO/WHO expert committee on food additives (JECFA). Accessed 18/7/2012. http://apps.who.int/ipsc/database/evaluations/chemical.aspx?chemID=3511

Jassir MS, Shaker A, Khalip MA (2005) Deposition of heavy metals on green leafy vegetables sold on roadsides of Riyadh city, Saudi Arabia. Bull Environ Contam Toxicol 75:1020–1027

Kylander ME, Rauch S, Morrison GM, Andam K (2003) Impact of automobile emissions on the levels of platinum and lead in Accra, Ghana. J Environ Monit 5:91–95

Mapanda F, Mangwayana EN, Nyamangara J, Giller KE (2005) The effect of long term irrigation using wastewater on heavy metal contents of soils under vegetables in Harare, Zimbabwe. Agric Ecosyst Environ 107:151–165

Mapanda F, Mangwayana EN, Nyamangara J, Giller KE (2007) Uptake of heavy metals by vegetables irrigated using wastewater and the subsequent risks in Harare, Zimbabwe. Phys Chem Earth Parts A/B/C 32(15–18):1399–1405

McBride MB (2003) Toxic metals in sewage sludge-amended soils: has promotion of beneficial use discounted the risks? Adv Environ Res 8:5–19

Muchuweti M, Birkett JW, Chinyanga E, Zvauya R, Scrimshaw MD, Lester JN (2006) Heavy metal content of vegetables irrigated with mixtures of wastewater and sewage sludge in Zimbabwe: implications for human health. Agric Ecosyst Environ 112:41–48

Obuobie E, Keraita B, Danso G, Amoah P, Cofie OO, Raschid-Sally L, Drechsel P (2006) Irrigated urban vegetable production in Ghana: characteristics, benefits and risks. IWMI, Accra; accessed on 18/7/2012 at www.cityfarmer.org/GhanaIrrigateVegis.html

Odai SN, Mensah E, Sipitey D, Ryo S, Awuah E (2008) Heavy metals uptake by vegetables cultivated on urban waste dumpsites: case study of Kumasi, Ghana. Res J Environ Toxicol 2:92–99

Ogwuegbu MOC, Muhanga W (2005) Investigation of lead concentration in the blood of people in the copper belt province of Zambia. J Environ 1:66–75

Sharma RK, Agrawal M, Marshall F (2006) Heavy metals contamination in vegetables grown in wastewater irrigated areas of Varanasi, India. Bull Environ Contam Toxicol 77:312–318

Sharma RK, Agrawal M, Marshall FM (2007) Heavy metals contamination of soil and vegetables in suburban areas of Varanasi,India. Ecotoxicol Environ Saf 66:258–266

Sharma S, Prasad FM (2009) Accumulation of lead and cadmium in soil and vegetable crops along major highways in Agra (India). E-J Chem 7(4):1174–1183

Singh A, Sharma RK, Agrawal M, Marshall FM (2010) Risk assessment of heavy metal toxicity through contaminated vegetables from wastewater irrigated areas in Varanasi India. Trop Ecol 51(2):375–387

Suruchi, Khanna P (2011) Assessment of heavy metal contamination in different vegetables grown in and around urban areas. Res J Environ Toxicol 5:162–179

Umweltbundesamt (1992) Klaerschlammverordnung. www.umweltbundesamt.de/boden-und-altlasten/boden/downloads/Klaerschlammverordnung.pdf (accessed 18 July 2012)

US Environmental Protection Agency (USEPA) (1996) Review of national air quality standards for ozone, assessment of scientific technical information. OAQPS Staff Paper, EPA 452/R-96-007; USEPA Air Quality Criteria for Ozone and related Photochemical Oxidants EPA/600/P-93/004Af

Weigert P (1991) Metal loads of food of vegetable origin including mushrooms. In: Marian E (ed) Metals and their compounds in the environment, occurrence, analysis and biological relevance. VCH, Weinheim, pp 458–468

Weldegebriel Y, Chandravanshi BS, Wondimu T (2012) Concentration levels of metals in vegetables grown in soils irrigated with river water in Addis Ababa, Ethiopia. Ecotoxicol Environ Saf 77:57–63

WHO (2005). Nickel in drinking-water. WHO/SDE/WSH/05.08/55 Accessed on 17/7/2012 at http://www.who.int/water_sanitation_health/gdwqrevision/nickel2005.pdf
Acknowledgements
We duly acknowledge support from the International Water Management Institute (IWMI), the Carnegie Corporation of New York Project and the Office of Research, Innovation and Development (ORID), University of Ghana, Accra.
About this article
Cite this article
Lente, I., Keraita, B., Drechsel, P. et al. Risk Assessment of Heavy-Metal Contamination on Vegetables Grown in Long-Term Wastewater Irrigated Urban Farming Sites in Accra, Ghana. Water Qual Expo Health 4, 179–186 (2012). https://doi.org/10.1007/s12403-012-0077-8
Received:

Revised:

Accepted:

Published:

Issue Date:
Keywords
Heavy-metal contamination

Urban vegetable farming

Wastewater

Human health

Ghana