Abstract
The objective of this study is to assess internalized stigma, perceived public stigma, anticipated discrimination and their associations with demographic, psychiatric and psychosocial characteristics in adult ADHD. Stigmatization was assessed with the Internalized Stigma of Mental Illness Scale, the Questionnaire on Anticipated Discrimination and the Questionnaire on Public Stereotypes Perceived by Adults with ADHD. The sample comprised n = 104 adults with ADHD, of whom n = 24 (23.3%) reported high internalized stigma, n = 92 (88.5%) anticipated discrimination in daily life and n = 70 (69.3%) perceived public stigma. Internalized stigma and/or anticipated discrimination correlated with ADHD symptoms, psychological distress, self-esteem, functional impairment and quality of life and was associated with ADHD family history and employment status. Most frequently perceived stereotypes were doubts about the validity of ADHD as a mental disorder. Internalized stigma and anticipated discrimination are highly prevalent in adult ADHD and correlate with the burden of disease. ADHD is associated with characteristic public stereotypes, which are distinct from stereotypes related to other mental disorders. Stigmatization should be considered in the clinical management of adult ADHD and evaluated further in future studies.
Access options
Buy single article
Instant access to the full article PDF.
USD 39.95
Price excludes VAT (USA)
Tax calculation will be finalised during checkout.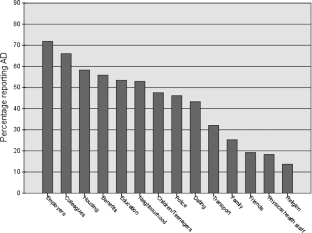 References
Boyd Ritsher J, Otilingam PG, Grajales M (2003) Internalized stigma of mental illness: psychometric properties of a new measure. Psychiatry Res 121:31–49

Boyd JF, Adler EP, Otilingam PG, Peters T (2014) Internalized Stigma of Mental Illness (ISMI) scale: a multinational review. Compr Psychiatry 55(1):221–231. https://doi.org/10.1016/j.comppsych.2013.06.005

Canu WH, Carlson CL (2003) Differences in heterosocial behavior and outcomes of ADHD-symptomatic subtypes in a college sample. J Atten Disord 6:123–133

Cohen J (1988) Statistical power analysis for the behavioral sciences, 2nd edn. Lawrence Erlbaum Associates, Hillsdale

Coleman D, Walker JS, Lee J, Friesen BJ, Squire PN (2009) Children's beliefs about causes of childhood depression and ADHD: a study of stigmatization. Psychiatr Serv 60(7):950–957. https://doi.org/10.1176/appi.ps.60.7.950

Collani G, Herzberg PY (2003) Eine revidierte Fassung der deutschsprachigen Skala zum Selbstwertgefühl von Rosenberg. Zeitschrift Für Differentielle Und Diagnostische Psychologie 24:3–7

Corrigan PW (2005) On the stigma of mental illness: practical strategies for research and social change. American Psychological Association, Washington, DC

Corrigan PW, Rao D (2012) On the Self-Stigma of Mental Illness: stages, disclosure, and strategies for change. Can J Psychiatry 57(8):464–469. https://doi.org/10.1177/070674371205700804

Downey RG, King C (1998) Missing data in Likert ratings: a comparison of replacement methods. J Gen Psychol 125(2):175–191. https://doi.org/10.1080/00221309809595542

Drapalski AL, Lucksted A, Perrin PB, Aakre JM, Brown CH, DeForge BR, Boyd JE (2013) A model of Internalized Stigma and its effects on people with mental illness. Psychiatr Serv 64(3):264–269. https://doi.org/10.1176/appi.ps.001322012

Endicott J, Nee J, Harrison W, Blumenthal R (1993) Quality of Life Enjoyment and Satisfaction Questionnaire: a new measure. Psychopharmacol Bull 29:321–326

Farrelly S, Clement S, Gabbidon J, Jeffery D, Dockery L, Lassman F, Brohan E, Henderson RC, Williams P, Howard LM, Thornicroft G, MIRIAD Study Group (2014) Anticipated and experienced discrimination amongst people with schizophrenia, bipolar disorder and major depressive disorder: a cross sectional study. BMC Psychiatry 14:157. https://doi.org/10.1186/1471-244X-14-157

Ferring D, Filipp SH (1996) Messung des Selbstwertgefühls: Befunde zu Reliabilität, Validität und Stabilität der Rosenberg-Skala. [Measurement of self-esteem: Findings on reliability, validity, and stability of the Rosenberg Scale]. Diagnostica 42:284–292

Finzen A (2001) Psychose und Stigma. Psychiatrie Verlag, Bonn

Firmin RL, Luther L, Lysaker PH, Minor KS, Salyers MP (2016) Stigma resistance is positively associated with psychiatric and psychosocial outcomes: a meta-analysis. Schizophr Res. https://doi.org/10.1016/j.schres.2016.03.008

Franke GH, Ankerhold A, Haase M, Jäger S, Tögel C, Ulrich C, Frommer J (2011) The usefulness of the Brief Symptom Inventory 18 (BSI-18) in psychotherapeutic patients. Psychother Psychosom Med Psychol 61(2):82–86. https://doi.org/10.1055/s-0030-1270518

Franke GH, Jaeger S, Glaesmer H, Barkmann C, Petrowski K, Braehler E (2017) Psychometric analysis of the brief symptom inventory 18 (BSI-18) in a representative German sample. BMC Med Res Methodol 17:14. https://doi.org/10.1186/s12874-016-0283-3

Fuermaier AB, Tucha L, Koerts J, Mueller AK, Lange KW, Tucha O (2012) Measurement of stigmatization towards adults with attention deficit hyperactivity disorder. PLoS ONE 7(12):e51755. https://doi.org/10.1371/journal.pone.0051755

Gabbidon J, Brohan E, Clement S, Henderson RC, Thornicroft G, MIRIAD Study Group (2013) The development and validation of the Questionnaire on Anticipated Discrimination (QUAD). BMC Psychiatry 13:297. https://doi.org/10.1186/1471-244X-13-297

Hansson L, Stjernswärd S, Svensson B (2014) Perceived and anticipated discrimination in people with mental illness—an interview study. Nord J Psychiatry 68(2):100–106

Harangozo J, Reneses B, Brohan E, Sebes J, Csukly G, Lopéz-Ibor J, Sartorius N, Rose D, Thornicroft G (2014) Stigma and discrimination against people with schizophrenia related to medical services. Int J Soc Psychiatry 60(4):359–366. https://doi.org/10.1177/0020764013490263

Kao YC, Lien YJ, Chang HA, Wang SC, Tzeng NS, Loh CH (2016) Evidence for the indirect effects of perceived public stigma on psychosocial outcomes: the mediating role of self-stigma. Psychiatry Res 240:187–195. https://doi.org/10.1016/j.psychres.2016.04.030

Krajewski C, Burazeri G, Brand H (2013) Self-stigma, perceived discrimination and empowerment among people with a mental illness in six countries: Pan European stigma study. Psychiatry Res 210(3):1136–1146. https://doi.org/10.1016/j.psychres.2013.08.013

Lebowitz MS (2016) Stigmatization of ADHD: a developmental review. J Atten Disord 20(3):199–205. https://doi.org/10.1177/1087054712475211

Link BG, Phelan JC (2001) Conceptualizing stigma. Annu Rev Sociol 27:363–385

Livingston JD, Boyd JE (2010) Correlates and consequences of internalized stigma for people living with mental illness: a systematic review and meta-analysis. Soc Sci Med 71(12):2150–2161. https://doi.org/10.1016/j.socscimed.2010.09.030

Mick E, Faraone SV, Spencer T, Zhang HF, Biederman J (2008) Assessing the validity of the Quality of Life Enjoyment and Satisfaction Questionnaire Short Form in adults with ADHD. J Atten Disord 11(4):504–509. https://doi.org/10.1177/1087054707308468

Moncrieff J, Timimi S (2010) Is ADHD a valid diagnosis in adults? No. BMJ (Clin Res Ed) 340:c547

Mueller AK, Fuermaier ABM, Koerts J, Tucha L (2012) Stigma in attention deficit hyperactivity disorder. Atten Defic Hyperact Disord 4(3):101–114. https://doi.org/10.1007/s12402-012-0085-3

Quinn DM, Williams MK, Weisz BM (2015) From discrimination to internalized mental illness stigma: The mediating roles of anticipated discrimination and anticipated stigma. Psychiatr Rehabil J 38(2):103–108. https://doi.org/10.1037/prj0000136

Ramos-Quiroga JA, Montoya A, Kutzelnigg A, Deberdt W, Sobanski E (2013) Attention deficit hyperactivity disorder in the European adult population: prevalence, disease awareness, and treatment guidelines. Curr Med Res Opin 29(9):1093–1104. https://doi.org/10.1185/03007995.2013.812961

Rösler M, Retz W, Retz-Junginger P, Thome J, Supprian T, Nissen T, Stieglitz RD, Blocher D, Hengesch G, Trott GE (2004) Instrumente zur Diagnostik der Aufmerksamkeitsdefizit-/Hyperaktivitätsstörung (ADHS) im Erwachsenenalter. Nervenarzt 75:888–895. https://doi.org/10.1007/s00115-003-1622-2

Roth M, Decker O, Herzberg PY, Brähler E (2008) Dimensionality and norms of the Rosenberg Self-Esteem Scale in a German general population sample. Eur J Psychol Assess 24(3):190–197. https://doi.org/10.1027/1015-5759.24.3.190

Shrive FM, Stuart H, Quan H, Ghali WA (2006) Dealing with missing data in a multi-question depression scale: a comparison of imputation methods. BMC Med Res Methodol 6:57. https://doi.org/10.1186/1471-2288-6-57

Sibitz I, Friedrich ME, Unger A, Bachmann A, Benesch T, Amering M (2013) Internalisiertes Stigma bei Schizophrenie: Validierung der deutschen Version der Internalized Stigma of Mental Illness-Skala (ISMI). Psychiatr Prax 40(2):83–91. https://doi.org/10.1055/s-0032-1332878

Stevanovic D (2011) Quality of Life Enjoyment and Satisfaction Questionnaire—short form for quality of life assessments in clinical practice: a psychometric study. J Psychiatr Ment Health Nurs 18(8):744–750. https://doi.org/10.1111/j.1365-2850.2011.01735.x

Stroes A, Alberts E, Van Der Meere JJ (2003) Boys with ADHD in social interaction with a nonfamiliar adult: an observational study. J Am Acad Child Adolesc Psychiatry 42(3):295–302. https://doi.org/10.1097/00004583-200303000-00009

Tatlow-Golden M, Prihodova L, Gavin B, Cullen W, McNicholas F (2016) What do general practitioners know about ADHD? Attitudes and knowledge among first-contact gatekeepers: systematic narrative review. BMC Fam Pract 17(1):129. https://doi.org/10.1186/s12875-016-0516-x

Thornicroft G, Rose D, Kassam A (2007) Discrimination in health care against people with mental illness. Int Rev Psychiatry 19:113–122. https://doi.org/10.1080/09540260701278937

Üçok A, Brohan E, Rose D, Sartorius N, Leese M, Yoon CK, Plooy A, Ertekin BA, Milev R, Thornicroft G, INDIGO Study Group (2012) Anticipated discrimination among people with schizophrenia. Acta Psychiatr Scand 125(1):77–83. https://doi.org/10.1111/j.1600-0447.2011.01772.x

Weiss M, Canadian Attention Deficit Hyperactivity Disorder Resource Alliance (CADDRA) (2011) Canadian ADHD practice guidelines, 3rd edn. CADDRA, Toronto

World Health Organization (2001) The world health report 2001. World Health Organization, Geneva

Zabora J, BrintzenhofeSzoc K, Jacobsen P, Curbow B, Piantadosi S, Hooker C, Owens A, Derogatis L (2001) A new psychosocial screening instrument for use with cancer patients. Psychosomatics 42(3):241–246. https://doi.org/10.1176/appi.psy.42.3.241
Ethics declarations
Conflict of interest
Esther Sobanski: advisory boards Shire Germany and Medice. All other authors declare that they have no conflict of interest.
Funding
The study received no funding.
Ethical approval
All procedures performed in studies involving human participants were in accordance with the ethical standards of the institutional and/or national research committee and with the 1964 Helsinki Declaration and its later amendments or comparable ethical standards. This article does not contain any studies with animals performed by any of the authors.
Informed consent
Informed consent was obtained from all individual participants included in the study.
About this article
Cite this article
Masuch, T.V., Bea, M., Alm, B. et al. Internalized stigma, anticipated discrimination and perceived public stigma in adults with ADHD. ADHD Atten Def Hyp Disord 11, 211–220 (2019). https://doi.org/10.1007/s12402-018-0274-9
Received:

Accepted:

Published:

Issue Date:

DOI: https://doi.org/10.1007/s12402-018-0274-9
Keywords
ADHD

Stigma

Discrimination

Internalized stigma

Psychosocial