Abstract
Attention-deficit/hyperactivity disorder (ADHD) and generalized joint hypermobility (JH) are two separated conditions, assessed, and managed by different specialists without overlapping interests. Recently, some researchers highlighted an unexpected association between these two clinical entities. This happens in a scenario of increasing awareness on the protean detrimental effects that congenital anomalies of the connective tissue may have on human health and development. To review pertinent literature to identify possible connections between ADHD and GJH, special emphasis was put on musculoskeletal pain and syndromic presentations of GJH, particularly the hypermobile Ehlers–Danlos syndrome. A comprehensive search of scientific databases and references lists was conducted, encompassing publications based on qualitative and quantitative research. Impaired coordination and proprioception, fatigue, chronic pain, and dysautonomia are identified as potential bridges between ADHD and JH. Based on these findings, a map of the pathophysiological and psychopathological pathways connecting both conditions is proposed. Although ADHD and JH are traditionally separated human attributes, their association may testify for the dyadic nature of mind-body connections during critical periods of post-natal development. Such a mixed picture has potentially important consequences in terms of disability and deserves more clinical and research attention.
Access options
Buy single article
Instant access to the full article PDF.
US$ 39.95
Tax calculation will be finalised during checkout.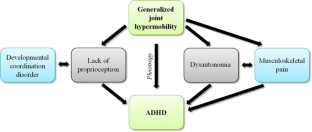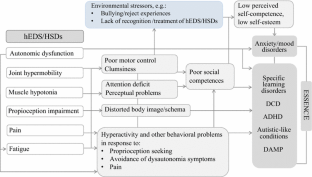 References
Adib N, Davies K, Grahame R, Woo P, Murray P (2005) Joint hypermobility syndrome in childhood. A not so bening multisystem disorer? Rheumatology 44:744–750

American Psychiatric Association (2013) Diagnostic and statistical manual of mental disorders, 5th edn. American Psychiatric Publishing, Arlington

Arnold AC, Haman K, Garland EM, Raj V, Dupont WD, Biaggioni I, Robertson D, Raj SR (2015) Cognitive dysfunction in postural tachycardia syndrome. Clin Sci (Lond) 128:39–45

Baeza-Velasco C, Pailhez G, Bulbena A, Baghdadli A (2015a) Joint hypermobility and the heritable disorders of connective tissue: clinical and empirical evidence of links with psychiatry. Gen Hosp Psychiatry 37:24–30

Baeza-Velasco C, Soussana M, Baghdadli A (2015b) Connective tissue problems and attention deficit and hyperactivity. Atten Deficit Hyperact Disord 7:177–178

Baeza-Velasco C, Grahame R, Bravo JF (2017) A connective tissue disorder may underlie ESSENCE problems in childhood. Res Dev Disabil 60:232–242

Bassi A, Bozzali M (2015) Potential interactions between the autonomic nervous system and higher level functions in neurological and neuropsychiatric conditions. Front Neurol 6:182

Beighton P, De Paepe A, Steinmann B, Tsipouras P, Wenstrup RJ (1998) Ehlers–Danlos syndromes: revised nosology, Villefranche, 1997. Ehlers–Danlos national foundation (USA) and Ehlers–Danlos support group (UK). Am J Med Genet 77:31–37

Benady S, Ivanans T (1978) Hypermobile joints: a benign cause of transitory motor delay in infancy. Clin Pediatr (Phila) 17(790):795–796

Bloom L, Byers P, Francomano C, Tinkle B et al (2017) The international consortium on the Ehlers–Danlos syndromes. Am J Med Genet 175C:5–7

Bravo JF (2012) Dificultades en el diagnostico y tratamiento de la disautonomia. Rev Chil Reumatol 28:152–158

Brikell I, Kuja-Halkola R, Larsson H (2015) Heritability of attention-deficit hyperactivity disorder in adults. Am J Med Genet B Neuropsychiatr Genet 168:406–413

Bulbena A, Duro JC, Mateo A, Porta M, Vallejo J (1988) Joint hypermobility syndrome and anxiety disorders. Lancet 17:694

Bulbena A, Pailhez G, Bulbena-Cabré A, Mallorqui-Bagué N, Baeza-Velasco C (2015) Joint hypermobility, anxiety and psychosomatics: two and a half decades of progress toward a new phenotype. Adv Psychosom Med 34:143–157

Bulbena A, Baeza-Velasco C, Bulbena-Cabré A et al (2017) Psychiatric and psychological aspects in the Ehlers–Danlos syndrome. Am J Med Genet 175C:237–245

Cairney J, Veldhuizen S, Szatmari P (2010) Motor coordination and emotional-behavioral problems in children. Curr Opin Psychiatry 23:324–329

Callewaert B, Malfait F, Loeys B, De Paepe A (2008) Ehlers–Danlos syndromes and Marfan syndrome. Best Pract Res Clin Rheumatol 22:165–189

Casavant V, Chae C, Sherwani A, Perlmuter LC (2012) Subclinical orthostatic pulse pressure confirms mothers' ratings of ADHD in preschoolers. Psychophysiology 49:708–712

Castori M, Hakim A (2017) Contemporary approach to joint hypermobility and related disorders. Curr Opin Pediatr. https://doi.org/10.1097/MOP.0000000000000541

Castori M, Morlino S, Celletti C, Ghibellini G, Bruschini M, Grammatico P, Blundo C, Camerota F (2013) Re-writing the natural history of pain and related symptoms in the joint hypermobility syndrome/Ehlers–Danlos syndrome, hypermobility type. Am J Med Genet A 161A:2989–3004

Castori M, Dordoni C, Valiante M et al (2014) Nosology and inheritance pattern(s) of joint hypermobility syndrome and Ehlers–Danlos syndrome, hypermobility type: a study of intrafamilial and interfamilial variability in 23 Italian pedigrees. Am J Med Genet A 164A:3010–3020

Castori M, Tinkle B, Levy H, Grahame R, Malfait F, Hakim A (2017) A framework for the classification of joint hypermobility and related conditions. Am J Med Genet C Semin Med Genet 175(1):148–157. https://doi.org/10.1002/ajmg.c.31539

Cederlöf M, Larsson H, Lichtenstein P, Almqvist C, Serlachius E, Ludvigsson JF (2016) Nationwide population-based cohort study of psychiatric disorders in individuals with Ehlers–Danlos syndrome or hypermobility syndrome and their siblings. BMC Psychiatry 16:207. https://doi.org/10.1186/s12888-016-0922-6

Celletti C, Mari G, Ghibellini G, Celli M, Castori M, Camerota F (2015) Phenotypic variability in developmental coordination disorder: clustering of generalized joint hypermobility with attention deficit/hyperactivity disorder, atypical swallowing and narrative difficulties. Am J Med Genet Part C 169C:117–122

Celletti C, Camerota F, Castori M, Censi F, Gioffrè L, Calcagnini G, Strano S (2017) Orthostatic intolerance and postural orthostatic tachycardia syndrome in joint hypermobility syndrome/Ehlers–Danlos syndrome, hypermobility type: neurovegetative dysregulation or autonomic failure? Biomed Res Int. https://doi.org/10.1155/2017/9161865

Clark C, Khattab A, Carr E (2014) Chronic widespread pain and neurophysiological symptoms in joint hypermobility syndrome (JHS). Int J Ther Rehabilit 21:60–68

Colombi M, Dordoni C, Chiarelli N, Ritelli M (2015) Differential diagnosis and diagnostic flow chart of joint hypermobility syndrome/Ehlers–Danlos syndrome hypermobility type compared to other heritable connective tissue disorders. Am J Med Genet 169C:6–22. https://doi.org/10.1002/ajmg.c.31429

Davis GH, Stephens PH (2002) ADD/ADHD and fibromyalgia (FMS): where is the connection? http://www.reversingchronicdisease.com. Accessed 20 Oct 2015

De Wandele I, Calders P, Peersman W et al (2014a) Autonomic symptom burden in the hypermobility type of Ehlers–Danlos syndrome: a comparative study with two other EDS types, fibromyalgia, and healthy controls. Semin Arthritis Rheum 44:353–361

De Wandele I, Rombaut L, Leybaert L et al (2014b) Dysautonomia and its underlying mechanisms in the hypermobility type of Ehlers–Danlos syndrome. Semin Arthritis Rheum 44:93–100

Derksen MT, Vreeling MJ, Tchetverikov I (2015) High frequency of adult attention deficit hyperactivity disorder among fibromyalgia patients in the Netherlands: should a systematic collaboration between rheumatologists and psychiatrists be sought? Clin Exp Rheumatol 33(1 Suppl 88):S141

Di Stefano G, Celletti C, Baron R et al (2016) Central sensitization as the mechanism underlying pain in joint hypermobility syndrome/Ehlers–Danlos syndrome, hypermobility type. Eur J Pain 20:1319–1325

Dyck MJ, Piek JP, Patrick J (2011) The validity of psychiatric diagnoses: the case of "specific" developmental disorders. Res Dev Disabil 32:2704–2713

Easton V, Bale P, Bacon H, Jerman E, Armon K, Macgregor AJ (2014) The relationship between bening joint hypermobility syndrome and developmental coordination disorders in children. Arthritis Rheum 66:S124

Eccles JA, Beacher FD, Gray MA, Jones CL, Minati L, Harrison NA, Critchley HD (2012) Brain structure and joint hypermobility: relevance to the expression of psychiatric symptoms. Br J Psychiatry 200:508–509

Eccles JA, Lodice V, Dowell NG, Hugues L, Skipper S, Lycette Y, Humphries K, Harrison NA, Mathias CJ, Critchley HD (2014) Joint hypermobility and autonomic hyperactivity: relevance to neurodevelopmental disorders. J Neurol Neurosurg Psychiatry 85:e3

Eccles JA, Owens AP, Mathias CJ, Umeda S, Critchley HD (2015) Neurovisceral phenotypes in the expression of psychiatric symptoms. Front Neurosci 10(9):4

Falkerslev S, Baagø C, Alkjær T, Remvig L, Halkjaer-Kristensen J, Larsen PK, Juul-Kristensen B, Simonsen EB (2013) Dynamic balance during gait in children and adults with generalized joint hypermobility. Clin Biomech (Bristol, Avon) 28:318–324

Faraone SV, Biederman J, Mick E (2006) The age-dependent decline of attention deficit hyperactivity disorder: a meta-analysis of follow-up studies. Psychol Med 36:159–165

Fatoye F, Palmer S, Macmillan F, Rowe P, van der Linden M (2009) Proprioception and muscle torque deficits in children with hypermobility syndrome. Rheumatology (Oxford) 48:152–157

Ferlini A, Neri M (2016) The "ESSENCE" of child psychiatry: lumping and splitting ADHD and associated conditions. Eur J Hum Genet 24:151. https://doi.org/10.1038/ejhg.2015.136

Frewen J, Savva GM, Boyle G, Finucane C, Kenny RA (2014) Cognitive performance in orthostatic hypotension: findings from a nationally representative sample. J Am Geriatr Soc 62:117–122

Gaub M, Carlson CL (1997) Gender differences in ADHD: a meta-analysis and critical review. J Am Acad Child Adolesc Psychiatry 36(8):1036–1045

Gazit Y, Nahir AM, Grahame R, Jacob G (2003) Dysautonomia in the joint hypermobility syndrome. Am J Med 115:33–40

Gedalia A, Press J, Klein M, Buskila D (1993) Joint hypermobility and fibromyalgia in schoolchildren. Ann Rheum Dis 52:494–496

Ghibellini G, Brancati F, Castori M (2015) neurodevelopmental attributes of joint hypermobility syndrome/Ehlers–Danlos syndrome, hypermobility type: update and perspectives. Am J Med Genet Part C 999:1–10

Gilbert DL, Isaacs KM, Augusta M, Macneil LK, Mostofsky SH (2001) Motor cortex inhibition: a marker of ADHD behavior and motor development in children. Neurology 76:615–621

Gillberg C (2010) The ESSENCE in child psychiatry: early symptomatic syndromes eliciting neurodevelopmental clinical examinations. Res Dev Disabil 31:1543–1551

Gillberg C, Kadesjö B (2003) Why bother about clumsiness? The implications of having developmental coordination disorder (DCD). Neural Plast 10:59–68

Gillberg C, Rasmussen P, Carlström G, Svenson B, Waldenström E (1982) Perceptual, motor and attentional deficits in six-years-old children. Epidemiological aspects. J Child Psychol Psychiatry 23:131–144

Glans M, Bejerot S, Humble MB (2017) Generalised joint hypermobility and neurodevelopmental traits in non-clinical adult population. BJPsych Open 3:236–242

Grahame R, Bird HA, Child A (2000) The revised (Brighton 1998) criteria for the diagnosis of benign joint hypermobility syndrome (BJHS). J Rheumatol 27:1777–1779

Green V, O'Reilly M, Itchon J, Sigafoos J (2005) Persistence of early emerging aberrant behavior in children with developmental disabilities. Res Dev Disabil 26:47–55

Greenwood NL, Duffell LD, Alexander CM, McGregor AH (2011) Electromyographic activity of pelvic and lower limb muscles during postural tasks in people with benign joint hypermobility syndrome and non-hypermobile people. A pilot study. Man Ther 16:623–628

Hakim A, Grahame RA (2003) A simple questionnaire to detect hypermobility: an adjunct to the assessment of patients with diffuse musculoskeletal pain. Int J Clin Pract 57:163–166

Hall MG, Ferrell WR, Sturrock RD, Hamblen DL, Baxendale RH (1995) The effect of the hypermobility syndrome on knee joint proprioception. Br J Rheumatol 34:121–125

Harris MJ (1998) ADD/ADHD and hypermobile joints. J Paediatr Child Health 34:400–401

Hershenfeld SA, Wasim S, McNivel V, Parikh M, Majewski P, So J (2016) Psychiatric disorders in Ehlers–Danlos syndrome are frequent, diverse and strongly associated with pain. Rheumatol Int 36:341–348

Hill LJB, Mushtaq F, O'Neill L, Flatters I, Williams JH, Mon-Williams M (2016) The relationship between manual coordination and mental health. Eur Child Adolesc Psychiatry 25:283–295

Hollertz O (2003) Connective tissue significance for mental illness. Sven Psykiatr 3:22–23

Hollertz O (2012) Searching for a biological marker common for both ADHD and EDS. Lakartidningen 109:41–42

Hunter A, Morgan AW, Bird HA (1998) A survey of Ehlers–Danlos syndrome: hearing, voice, speech and swallowing difficulties. Is there an underlying relationship? Br J Rheumatol 37:803–804

Iatridou K, Mandalidis D, Chronopoulos E, Vagenas G, Athanasopoulos S (2014) Static and dynamic body balance following provocation of the visual and vestibular systems in females with and without joint hypermobility syndrome. J Bodyw Mov Ther 18:159–164

Jaffe M, Tirosh E, Cohen A, Taub Y (1988) Joint mobility and motor development. Arch Dis Child 63:158–161

Jelsma LD, Geuze RH, Klerks MH, Niemeijer AS, Smits-Engelsman BC (2013) The relationship between joint mobiliity and motor performance in children with and without the diagnosis of developmental coordination disorder. BMC Pediatr 13:35

Kaiser ML, Schoemaker MM, Albaret JM, Geuze RH (2014) What is the evidence of impaired motor skills and motor control among children with attention deficit hyperactivity disorder (ADHD)? Systematic review of the literature. Res Dev Disabil 36C:338–357

Kirby A, Davies R (2007) Developmental coordination disorder and joint hypermobility syndrome—overlapping disorders? Implications for research and clinical practice. Child Care Health Dev 33:513–519

Kirby A, Bryan A, Davies R (2005) Hypermobility syndrome and developmental co-ordination disorder: similarities and features. Int J Ther Rehabil 12:431–437

Koldas Dogan S, Taner Y, Evcik D (2011) Benign joint hypermobility syndrome in patients with attention deficit/hyperactivity disorders. Turk J Rheumatol 26:187–192

Kozanoglu E, Benlidayi IC, Akilli RE, Tasal A (2016) Is there any link between joint hypermobility and mitral valve prolapse in patients with fibromyalgia syndrome? Clin Rheumatol 35:1041–1044

Macneil LK, Xavier P, Garvey MA, Gilbert DL, Ranta ME, Denckla MB, Mostofsky SH (2011) Quantifying excessive mirror overflow in children with attention-deficit/hyperactivity disorder. Neurology 76:622–628

Malfait F, Belmont J, Berglund B et al (2017) The 2017 international classification on the Ehlers–Danlos syndromes. Am J Med Genet 175C:148–157

Mallik AK, Ferrell WR, McDonald AG, Sturrock RD (1994) Impaired proprioceptive acuity at the proximal interphalangeal joint in patients with the hypermobility syndrome. Br J Rheumatol 33:631–637

Mallorquí-Bagué N, Garfinkel SN, Engels M, Eccles JA, Pailhez G, Bulbena A, Critchley HD (2014) Neuroimaging and psychophysiological investigation of the link between anxiety, enhanced affective reactivity and interoception in people with joint hypermobility. Front Psychol 14(5):1162

Martínez-Martínez LA, Mora T, Vargas A, Fuentes-Iniestra M, Martínez-Lavín M (2014) Sympathetic nervous system dysfunction in fibromyalgia, chronic fatigue syndrome, irritable bowel syndrome, and interstitial cystitis: a review of case-control studies. J Clin Rheumatol 20:146–150

Masquelier E, Scaillet N, Grisat J, Luminet O, Desmet A (2011) What's about overactive lifestyle in fibromyalgia and chronic fatigue syndrome. Rev Méd Suisse 7(301):1421–1425

Morrison SC, Ferrari J, Smillie S (2013) Assessment of gait characteristics and orthotic management in children with developmental coordination disorder: preliminary findings to inform multidisciplinary care. Res Dev Disabil 34:3197–3201

Mostofsky SH, Newschaffer CJ, Denckla MB (2003) Overflow movements predict impaired response inhibition in children with ADHD. Percept Mot Skills 97:1315–1331

Murray B, Yashar BM, Uhlmann WR, Clauw DJ, Petty EM (2013) Ehlers–Danlos syndrome, hypermobility type: a characterization of the patients' lived experience. Am J Med Genet A 161A:2981–2988

Ofluoglu D, Gunduz OH, Kul-Panza E, Guven Z (2006) Hypermobility in women with fibromyalgia syndrome. Clin Rheumatol 25:291–293

Pacey V, Adams RD, Tofts L, Munns CF, Nicholson LL (2014) Proprioceptive acuity into knee hypermobile range in children with Joint Hypermobility Syndrome. Pediatr Rheumatol Online J 12:40

Piek JP, Pitcher TM, Hay DA (1999) Motor coordination and kinaesthesis in boys with attention deficit-hyperactivity disorder. Dev Med Child Neurol 41:159–165

Raj V, Haman KL, Raj SR, Byrne D, Blakely RD, Biaggioni I, Robertson D, Shelton RC (2009) Psychiatric profile and attention deficits in postural tachycardia syndrome. J Neurol Neurosurg Psychiatry 80:339–344

Remvig L, Jensen DV, Ward RC (2007) Epidemiology of general joint hypermobility and basis for the proposed criteria for benign joint hypermobility syndrome: review of the literature. J Rheumatol 34:804–809

Reyero F, Ponce G, Rodriguez-Jimenez R et al (2011) High frequency of childhood ADHD history in women with fibromyalgia. Eur Psychiatry 26:482–483

Rigoldi C, Cimolin V, Camerota F, Celletti C, Albertini G, Mainardi L, Galli M (2013) Measuring regularity of human postural sway using approximate entropy and sample entropy in patients with Ehlers–Danlos syndrome hypermobility type. Res Dev Disabil 34:840–846

Rombaut L, Malfait F, De Wandele I, Thijs Y, Palmans T, De Paepe A, Calders P (2011) Balance, gait, falls, and fear of falling in women with the hypermobility type of Ehlers–Danlos syndrome. Arthritis Care Res (Hoboken) 63:1432–1439

Rosa Neto F, Goulardins JB, Rigoli D, Piek JP, de Oliveira JA (2015) Motor development of children with attention deficit hyperactivity disorder. Rev Bras Psiquiatr 37:228–234

Rowe PC, Barron DF, Calkins H, Maumenee IH, Tong PY, Geraghty MT (1999) Orthostatic intolerance and chronic fatigue syndrome associated with Ehlers–Danlos syndrome. J Pediatr 135:494–499

Sahin N, Baskent A, Cakmak A, Salli A, Ugurlu H, Berker E (2008) Evaluation of knee proprioception and effects of proprioception exercise in patients with benign joint hypermobility syndrome. Rheumatol Int 28:995–1000

Saint Martin M, Sforza E, Thomas-Anterion C, Barthélémy JC, Roche F, PROOF Study Group (2013) Baroreflex sensitivity, vascular risk factors, and cognitive function in a healthy elderly population: the PROOF cohort. J Am Geriatr Soc 61:2096–2102

Schubert-Hjalmarsson E, Öhman A, Kyllerman M, Beckung E (2012) Pain, balance, activity, and participation in children with hypermobility syndrome. Pediatr Phys Ther 24:339–344

Sendur OF, Gurer G, Bozbas GT (2007) The frequency of hypermobility and its relationship with clinical findings of fibromyalgia patients. Clin Rheumatol 26:485–487

Shiari R, Saeidifard F, Zahed G (2013) Evaluation of the prevalence of joint laxity in children with attention deficit/hyperactivity disorder. Ann Paediatr Rheumatol 3:78–80

Sinibaldi L, Ursini G, Castori M (2015) Psychopathological manifestations of joint hypermobility and joint hypermobility syndrome/Ehlers–Danlos syndrome, hypermobility type: the link between connective tissue and psychological distress revised. Am J Med Genet Part C 169C:97–106

Skogli EW, Teicher MH, Andersen PN, Hovik KT, Øie M (2013) ADHD in girls and boys–gender differences in co-existing symptoms and executive function measures. BMC Psychiatry 13:298

Smith HS, Harris R, Clauw D (2011) Fibromyalgia: an afferent processing disorder leading to a complex pain generalized syndrome. Pain Physician 14:E217–E245

Stray LL, Stray T, Iversen S, Ruud A, Ellertsen B, Tonnessen FE (2009) The motor function neurological assessment (MFNU) as an indicator of motor function problems in boys with ADHD. Behav Brain Funct 5:22

Ting TV, Hashkes PJ, Schikler K, Desai AM, Spalding S, Kashikar-Zick S (2012) The role of bening joint hypermobility in the pain experience in juvenile fibromyalgia: an observational study. Pediatr Rheumatol Online J 10:16

Tirosh E, Jaffe M, Marmur R, Taub Y, Rosenberg Z (1991) Prognosis of motor development and joint hypermobility. Arch Dis Child 66:931–933

Van Houdenhove B, Neerinckx E, Onghena P, Lysens R, Vertommen H (2001) Premorbid "overactive" lifestyle in chronic fatigue syndrome and fibromyalgia. An etiological factor or proof of good citizenship? J Psychosom Res 51:571–576

Vlaeyen JW, Morley S (2004) Active despite pain: the putative role of stop-rules and current mood. Pain 110:512–516

Voermans NC, Knoop H (2011) Both pain and fatigue are important possible determinants of disability in patients with the Ehlers–Danlos syndrome hypermobility type. Disabil Rehabil 33:706–707

Wolfe F, Clauw DJ, Fitzcharles M-A, Goldenberg DL et al (2016) 2016 Revisions to the 2010/2011 fibromyalgia diagnostic criteria. Semin Arthritis Rheum 46:319–329

Young JL, Redmond JC (2007) Fibromylagia, chronic fatigue, and adult attention deficit hyperactivity disorder in the adult: a case study. Psychopharmacol Bull 40:118–126

Zhou R, Xia Q, Shen H, Yang X, Zhang Y, Xu J (2015) Diagnosis of children's attention deficit hyperactivity disorder (ADHD) and its association with cytomegalovirus infection with ADHD: a historical review. Int J Clin Exp Med 8:13969–13975
Acknowledgements
The authors wish to thank all the participants in the International Classification of EDS and related disorders.
Funding
This research did not receive any specific grant from funding agencies in the public, commercial, or not-for-profit sectors.
Ethics declarations
Conflict of interest
The authors have no conflict of interest to disclose.
Ethical approval
This article does not contain any studies with human participants or animals performed by any of the authors.
About this article
Cite this article
Baeza-Velasco, C., Sinibaldi, L. & Castori, M. Attention-deficit/hyperactivity disorder, joint hypermobility-related disorders and pain: expanding body-mind connections to the developmental age. ADHD Atten Def Hyp Disord 10, 163–175 (2018). https://doi.org/10.1007/s12402-018-0252-2
Received:

Accepted:

Published:

Issue Date:
Keywords
Attention-deficit/hyperactivity disorder

Connective tissue

Developmental coordination disorder

Ehlers–Danlos syndrome

Fibromyalgia

Joint hypermobility

Pain