Zusammenfassung
Public diplomacy 2.0 beschreibt den Vorgang, bei dem außenpolitische Akteure Social Media einsetzen, um public diplomacy zu betreiben. Grundlage für die Strategieanalyse dieser Arbeit ist Mark Leonards Konzept der drei Dimensionen von public diplomacy: Management von Nachrichten, strategische Kommunikation, sowie der Aufbau von Beziehungen. Dieses Konzept wird hier auf die sozialen Netzwerke des Auswärtigen Amtes angewendet, um dabei Aufschluss über die verfolgte Strategie zu geben. Untersucht werden die englischsprachige Twitter-Seite sowie der YouTube-Kanal des Auswärtigen Amtes.
Abstract
Public diplomacy 2.0 describes the process of foreign policy actors using social media in order to pursue public diplomacy. Mark Leonard's concept of the three dimensions of public diplomacy is the basis for the strategy analysis of this essay: News Management, Strategic Communications and Relationship Building. This concept is applied to the social media activities of the German Foreign Office in order to shed light on the strategy pursued. This study examines the English Twitter website and the YouTube channel of the Foreign Office.
This is a preview of subscription content, log in to check access.
Access options
Buy single article
Instant access to the full article PDF.
US$ 39.95
Price includes VAT for USA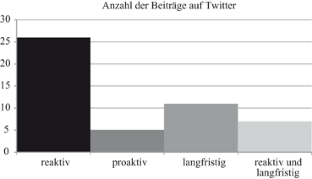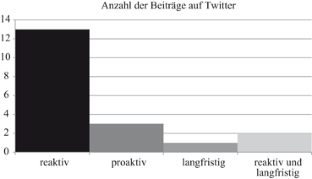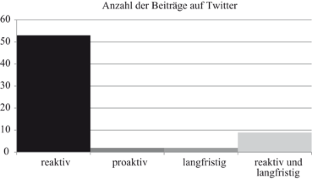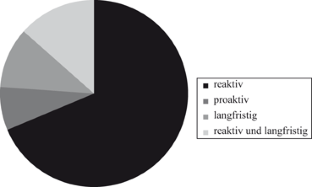 Notes
1.

Twitter ist ein Mikroblogging-Dienst, der 2006 gegründet wurde. Beim Mikroblogging werden Kurzmitteilungen verfasst, die je Tweet 140 Zeichen nicht überschreiten (Coles 2011, S. 88).

2.

Das Videoportal YouTube wurde 2005 gegründet und registrierte Mitglieder können hier Videos hochladen, die öffentlich zugänglich sind. Zudem besteht die Möglichkeit, sich einen YouTube-Kanal einzurichten, der von anderen registrierten NutzerInnen abonniert werden kann (Coles 2011, S. 137).

3.

In diesem Essay beschreibt der Begriff Ereignis nicht alltägliche Geschehnisse sowie unübliche Vorgänge.

4.

5.

Für BenutzerInnen besteht die Möglichkeit Beiträge anderer Mitglieder zu retweeten. Das bedeutet, dass diese Kurznachrichten auf der eigenen Twitter-Seite erscheinen und damit signalisieren, dass sie als interessant oder wichtig empfunden werden.

6.

7.

Posten ist eine bereits im Duden aufgenommene Bezeichnung für das Schreiben in Foren im Internet sowie in Weblogs (Duden online 2013).

8.

9.

10.

Dafür verfügt Regierungssprecher und Chef des Bundespresseamtes Steffen Seibert seit 2011 über eine offizielle Twitter-Seite mit 272.199 FollowerInnen, die unter @RegSprecher auf Twitter aufzurufen ist. Stand: 3. September 2014.
Literatur
Bahrke, J. (2010). Auslandsrundfunk als strategisches Mittel europäischer Public Diplomacy im Nahen Osten. In J. Tenscher, & H. Viehrig (Hrsg.), Politische Kommunikation in Internationalen Beziehungen, 2. Auflage (S. 191–214). Berlin, Münster: LIT.

Coles, L. (2011). Learn marketing with social media in 7 days. Milton, Qld.: Wrightbooks.

Deutsche Vertretungen in Griechenland. (2014). Außenminister Steinmeier besucht Sprachdiplomschule in Griechenland. http://www.griechenland.diplo.de/Vertretung/griechenland/de/06/Weshalb__Deutsch__lernen/Aussenminister__Steinmeier__besucht__Sprachdiplomschule__in__Griechenland.html. Zugegriffen: 25. Juli 2014.

Duden online. (2013). Posten. http://www.duden.de/rechtschreibung/posten_schreiben_Internet_Newsgroup. Zugegriffen: 10. Aug. 2014.

GermanyDiplo. (2013, 9. Okt.). Handover of the German camp in Kunduz. YouTube. http://www.youtube.com/watch?v=Npng4eZzpRo&list=UUg4PnRJ136mCUY8DpQAysmQ. Zugegriffen: 1. Apr. 2014.

GermanyDiplo. (2014a, 15. Jan.). Official visit to Greece: A sign of solidarity. YouTube. http://www.youtube.com/watch?v=fhXfHW0p0Rc&list=UUg4PnRJ136mCUY8DpQAysmQ. Zugegriffen: 1. Apr. 2014.

GermanyDiplo. (2014b, 6. Feb.). US Secretary of State Kerry in Berlin. YouTube. http://www.youtube.com/watch?v=r9tR0L2hWTc&list=UUg4PnRJ136mCUY8DpQAysmQ. Zugegriffen: 1. Apr. 2014.

GermanyDiplo. (2014c, 5. März). Foreign Minister Steinmeier in Washington. YouTube. http://www.youtube.com/watch?v=ZZ-Nmd88×5U&list=UUg4PnRJ136mCUY8DpQAysmQ. Zugegriffen: 1. Apr. 2014.

Keohane, R. O., & Nye, J. S. (1998). Power and interdependence in the information age. Foreign Affairs, 77(5), 81–94.

Leonard, M. (2002). Public diplomacy. London: The Foreign Policy Centre.

Moravcsik, A. (1997). Taking preferences seriously: A liberal theory of international politics. International Organization, 51(4), 513–553.

Nye, Jr., J. S. (2004). Soft power: The means to success in world politics. New York: Public Affairs.

Ostrowski, D. (2010). Die Public Diplomacy der deutschen Auslandsvertretungen weltweit. Wiesbaden: VS Verlag für Sozialwissenschaften.
About this article
Cite this article
Gündogan, S. Public diplomacy 2.0. Die Strategie des Auswärtigen Amtes in sozialen Netzwerken. Z Außen Sicherheitspolit 8, 551–571 (2015). https://doi.org/10.1007/s12399-015-0530-4
Schlüsselwörter
Public diplomacy

Auswärtiges Amt

Soziale Netzwerke

Twitter

YouTube
Keywords
Public diplomacy

German Foreign Office

Social media

Twitter

YouTube