Abstract
Feasible and profitable business models to better integrate and harness decentrally generated renewable energy are expected to constitute a key element for the energy transition in Germany. Until now, generated electricity of decentralized systems is to the largest extent only used by the property owner directly or fed into the public grid. To make better use of the generated electricity, it is necessary to find business models that provide an opportunity for different market actors, such as municipal utilities and residential prosumers. Due to the importance, yet low-anticipated monetary potential of such solutions, the legislator encourages their implementation by exemption of statutory fees, levies and taxes as well as by offering public remunerations, premiums and compensations in some cases. Capitalizing on these benefits, however, is only feasible under compliance with the legal requirements. In the light of the considerations above, this work states and analyzes the legal and regulatory framework of different business models within the German energy landscape. The major aim is to identify opportunities and challenges for the implementation of the business models self consumption, direct consumption, direct marketing, demand response, community electricity storage and net metering at the municipal level. The findings show that the profitability of various decentralized on-site business models depends primarily on the current statutory cost exemptions and compensations. At the same time, the regulation is characterized by unsystematic specific exemptions which leads to uncertainty regarding long-term planning. Additionally, although not directly privileged by the existing legal framework, municipal utilities are better suited to handle the legal burdens due to their experience and their administrative infrastructure.
Zusammenfassung
Dieser Beitrag befasst sich mit den Chancen und den Herausforderungen der Erzeugung und des Verbrauchs von erneuerbarer Energie direkt in der Kommune. Es werden dezentrale Geschäftsmodelle wie Selbstverbrauch, Mieterstrom, Direktvermarktung, Lastgangsverschiebung und Quartierspeicher unter Heranziehung des rechtlichen und regulatorischen Ordnungsrahmens skizziert. Daraus folgend werden ökonomische Implikationen für kommunale Stadtwerke abgeleitet. Dezentrale Stromversorgungssysteme stellen heute noch eine Nische dar. In Zukunft ist mit einem signifikanten Anstieg solcher Systeme zu rechnen. Die Integration der einzelnen Systeme stellt einen wesentlichen Erfolgsgaranten der Energiewende dar und gleichzeitig eine Geschäftsmöglichkeit für kommunale Energieversorgungsunternehmen. Aufgrund des geringen Margenpotentials dezentraler Geschäftsmodelle unterstützt der Gesetzgeber die Entwicklung und Implementierung durch Ausnahme- und Vergütungsregelungen. Dementsprechend sind die betreffenden rechtlichen und regulatorischen Rahmenbedingungen zunehmend entscheidend für die Umsetzung. Die vorliegende Arbeit identifiziert den rechtlichen und regulatorischen Rahmen, insbesondere hinsichtlich der zu zahlenden Abgaben, Umlagen und Steuern. Hierdurch soll eine initiale Abschätzung der Geschäftsmodelle hinsichtlich ihrer Wirtschaftlichkeit sowie ein Zukunftsausblick möglich gemacht werden, um strategische Implikationen für Energieversorgungsunternehmen abzuleiten. Konkret werden Aussagen über Selbstverbrauch, Mieterstrom, Direktvermarktung, Lastgangsverschiebung, Quartierspeicher und Netzspeicher getroffen. Die Ergebnisse der Rechtsanalyse legen nahe, dass die Wirtschaftlichkeit aller Stromversorgungssysteme erheblich von deren rechtlichem Umfeld sowie dessen künftiger Entwicklung abhängt und mit großen Unsicherheiten verbunden ist. Des Weiteren zeigt sich, dass die regulatorischen Anforderungen durch die bestehende Infrastruktur und Administration von Stadtwerken besser gehandhabt werden können.
Access options
Buy single article
Instant access to the full article PDF.
US$ 39.95
Tax calculation will be finalised during checkout.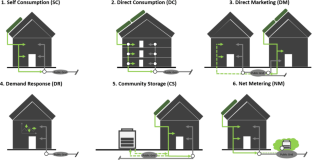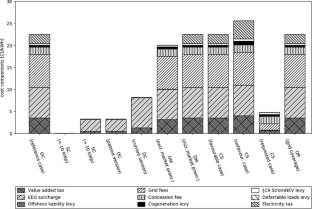 Abbreviations
AbLaV::

Verordnung zu abschaltbaren Lasten vom 16. August 2016 (BGBl. I S. 1984)

EEG 2017::

Erneuerbare-Energien-Gesetz vom 21. Juli 2014 (BGBl. I S.  1066)

EEV::

Erneuerbare-Energien-Verordnung vom 17. Februar 2015 (BGBl. I S. 146)

EnWG::

Energiewirtschaftsgesetz vom 7. Juli 2005 (BGBl. I S. 1970, S. 3621)

GDEW::

Gesetz zur Digitalisierung der Energiewende vom 29. August 2016 (BGBl. I S.2034)

KAV::

Konzessionsabgabenverordnung vom 9. Januar 1992 (BGBl. I S. 12, S. 407)

KWKG::

Kraft-Wärme-Kopplungsgesetz vom 21. Dezember 2015 (BGBl. I S. 2498)

StromNEV::

Stromnetzentgeltverordnung vom 25. Juli 2005 (BGBl. I S. 2225)

StromNZV::

Stromnetzzugangsverordnung vom 25. Juli 2005 (BGBl. I S. 2243)

StromStG::

Stromsteuergesetz vom 24. März 1999 (BGBl. I S. 378; 2000 I S. 147)

StromStV::

Stromsteuer-Durchführungsverordnung vom 31. Mai 2000 (BGBl. I S. 794)

UStG::

Umsatzsteuergesetz vom 21. Februar 2005 (BGBl. I S. 386)
References
Agora Energiewende (2016) Die Energiewende im Stromsektor: Stand der Dinge 2015. http://www.agora-energiewende.de/fileadmin/Projekte/2016/Jahresauswertung_2016/Agora_Jahresauswertung_2015_web.pdf. Accessed 18 July 2017

Agora Energiewende (2017) Energiewende und Dezentralität. Zu den Grundlagen einer politisierten Debatte. https://www.agora-energiewende.de/fileadmin/Projekte/2016/Dezentralitaet/Agora_Dezentralitaet_WEB.pdf. Accessed 18 July 2017

Bardt H, Chrischilles E, Growitsch C, Hagspiel S, Schaupp L (2014) Eigenerzeugung und Selbstverbrauch von Strom – Stand, Potentiale und Trends. Z Energiewirtsch 38(2):83–99. https://doi.org/10.1007/s12398-014-0133-0

BDEW (2014) Definition des Begriffes Energiespeicher: Begriffsdefinition und Vorschlag für eine Befreiung von Letztverbraucherabgaben. https://www.bdew.de/internet.nsf/id/20140606-o-definition-des-begriffes-energiespeicher-de/$file/2014-06-06_Definition_Energiespeicher_final_ohne-Ansprechpartner.pdf. Accessed 18 July 2017

BDEW (2015) Strompreisanalyse März 2015. Haushalte und Industrie. https://www.bdew.de/internet.nsf/id/9D1CF269C1282487C1257E22002BC8DD/$file/150409%20BDEW%20zum%20Strompreis%20der%20Haushalte%20Anhang.pdf. Accessed 1 Aug 2017

BDEW (2017) Strompreisanalyse Februar 2017. Haushalte und Industrie. https://www.bdew.de/internet.nsf/res/9729C83961C37094C12580C9003438D3/$file/170216_BDEW_Strompreisanalyse_Februar2017.pdf. Accessed 20 Mar 2107

BMF (2016) Steuern von A bis Z. http://www.bundesfinanzministerium.de/Content/DE/Downloads/Broschueren_Bestellservice/2012-06-16-steuern-von-a-z.pdf?__blob=publicationFile&v=13. Accessed 18 July 2017

BMWi (2016a) EEG 2016: Wettbewerbliche Förderung von Erneuerbaren Energien. http://www.bmwi.de/DE/Themen/Energie/Erneuerbare-Energien/eeg-2016-wettbewerbliche-foerderung.html. Accessed 18 July 2017

BMWi (2016b) Regionale Grünstromkennzeichnung: Eckpunktpapier. Z Neues Energier 2:139–141

BMWi (2017a) Entwurf eines Gesetzes zur Förderung von Mieterstrom und zur Änderung weiterer Vorschriften des Erneuerbare-Energien-Gesetzes. https://www.bmwi.de/Redaktion/DE/Downloads/E/entwurf-mieterstrom.pdf?__blob=publicationFile&v=8. Accessed 18 July 2017

BMWi (2017b) Mieterstrom: Energiewende im eigenen Haus. https://www.bmwi.de/Redaktion/DE/Artikel/Energie/mieterstrom.html. Accessed 18 July 2017

BNetzA (2016) Leitfaden zur Eigenversorgung. https://www.bundesnetzagentur.de/SharedDocs/Downloads/DE/Sachgebiete/Energie/Unternehmen_Institutionen/ErneuerbareEnergien/Eigenversorgung/Finaler_Leitfaden.pdf?__blob=publicationFile&v=2. Accessed 18 July 2017

BNetzA (2017) Bundesnetzagentur verbessert die Bedingungen zur Teilnahme an den Regelenergiemärkten Strom. https://www.bundesnetzagentur.de/SharedDocs/Downloads/DE/Allgemeines/Presse/Pressemitteilungen/2017/28062017_Regelenergie.pdf?__blob=publicationFile&v=3. Accessed 18 July 2017

Bourwieg K (2015) Eine regulatorische Einordnung von Stromspeichern im aktuellen Rechtsrahmen. In: BMWi Plattform Netze – AG Flexibilität. https://www.bmwi.de/Redaktion/DE/Downloads/A/ag-2-plattform-strommarkt-sitzung-20150120-praesentation-1.pdf?__blob=publicationFile&v=3. Accessed 18 July 2017

BSI (2014) Protection profile for the gateway of a smart metering system (smart meter gateway PP). https://www.commoncriteriaportal.org/files/ppfiles/pp0073b_pdf.pdf. Accessed 18 July 2017

BVES (2016) Positionspapier zu den regulatorischen Rahmenbedingungen für Speicher im Rahmen des Forschungsprojektes Strombank

BVES, DIHK (2016) Faktenpapier Energiespeicher: Rechtsrahmen, Geschäftsmodelle, Forderungen. https://www.dihk.de/ressourcen/downloads/faktenpapier-energiespeicher.pdf/. Accessed 18 July 2017

Connect Energy Economics (2015) Aktionsplan Lastmanagement. Endbericht. https://www.agora-energiewende.de/fileadmin/Projekte/2014/aktionsplan-lastmanagement/Agora_Aktionsplan_Lastmanagement_web.pdf. Accessed 21 July 2017

Darghouth NR, Barbose G, Wiser R (2011) The impact of rate design and net metering on the bill savings from distributed PV for residential customers in California. Energy Policy 39(9):5243–5253. https://doi.org/10.1016/j.enpol.2011.05.040

dena (2014) Systemdienstleistungen 2030: Sicherheit und Zuverlässigkeit einer Stromversorgung mit hohem Anteil erneuerbarer Energien. https://shop.dena.de/fileadmin/denashop/media/Downloads_Dateien/esd/9094_Ergebniszusammenfassung_dena-Studie_Systemdienstleistungen_2030.pdf. Accessed 19 July 2017

Doleski OD (2016) Utility 4.0: Transformation vom Versorgungs- zum digitalen Energiedienstleistungsunternehmen, 1st edn. Springer, Wiesbaden https://doi.org/10.1007/978-3-658-11551-7

European Commission (2015) Best practices on renewable energy self-consumption. http://ec.europa.eu/energy/sites/ener/files/documents/1_EN_autre_document_travail_service_part1_v6.pdf. Accessed 20 July 2017

Gaudchau E, Resch M, Zeh A (2016) Quartierspeicher: Definition, rechtlicher Rahmen und Perspektiven. Ökolog Wirtsch Fachz 31(2):26–27. https://doi.org/10.14512/OEW310226

Generalzolldirektion (2017) Informationen zu den Stromsteuerbefreiungen nach § 9 Absatz 1 Nummer 1 und Nummer 3 Stromsteuergesetz (StromStG). https://www.clearingstelle-eeg.de/files/Generalzolldirektion_Informationspapier_Stromsteuerbefreiung_170221.pdf. Accessed 20 July 2017

Grundner C, Meyer M (2014) Update zum Investorenleitfaden Photovoltaik: Markthilfe und Praxisübersicht zu PV-Geschäftsmodellen in Deutschland. BSW – Bundesverband Solarwirtschaft e.V., Berlin

Grundner C, Urbschat C, Rieseberg S, Wörlen C (2014a) Investorenleitfaden Photovoltaik: Marktübersicht und Praxishilfe zu PV-Geschäftsmodellen in Deutschland. BSW – Bundesverband Solarwirtschaft e. V., Berlin

Grundner C, Baez MM, Wörlen C (2014b) PV investor guide: new business models for photovoltaics in international markets. BSW – Bundesverband Solarwirtschaft e. V., Berlin

Haleakala-Stiftung (2016) Vor-Ort-Strom:Wege zur Dezentralisierung der Stromversorgung. https://www.haleakala-stiftung.de/app/download/6896003562/Vor-Ort-Strom_Bericht_Haleakala-Stiftung_Juni%202017_2.pdf?t=1503307567. Accessed 29 Aug 2017

Heller H (2013) Optimierung der energierechtlichen Rahmenbedingungen durch den Einsatz moderner Stromspeichertechnologie. Z Inst Energie Wettbewerbsr Kommunalen Wirtsch 13(4):175–234

Hennig B, Herz S (2016) Ausgewählte Rechtsfragen dezentraler Energiekonzepte – Teil 1: Eigenversorgung und Energiespeicher. Z Neues Energier 1(1):30–37

iCES Workshop (2016) Aktuelle Projekte und Fragestellungen für den Speichermarkt der Zukunft. In: 1st international Community Electricity Storage Workshop: Zusammenfassung der Arbeitsgruppe 3. http://reiner-lemoine-institut.de/wp-content/uploads/2016/02/iCES_Gruppe_3.pdf. Accessed 18 Aug 2017

Karg L, Kleine-Hegermann K, Wedler M, Jahn C (2014) E‑Energy Abschlussbericht–Ergebnisse und Erkenntnisse aus der Evaluation der sechs Leuchtturmprojekte. Bundesministerium für Wirtschaft und Technologie

Konstantin P (2017) Praxisbuch Energiewirtschaft: Energieumwandlung, -transport und -beschaffung, Übertragungsnetzausbau und Kernenergieausstieg, 4th edn. Springer, Berlin

Kühl R (2016) Quartierspeicher können zur Zukunft der dezentralen Energiewende werden. http://www.energynet.de/2016/05/20/quartierspeicher-dezentrale-energiewende/. Accessed 25 July 2017

Leipziger Institut für Energie (2016) Mittelfristprognose zur deutschlandweiten Stromerzeugung aus EEG-geförderten Kraftwerken für die Kalenderjahre 2017 bis 2021. https://www.netztransparenz.de/portals/1/Content/EEG-Umlage/EEG-Umlage%202017/20161006_Abschlussbericht_EE_IE_Leipzig.pdf. Accessed 22 July 2017

Pellinger C, Schmid T (2016) Merit Order der Energiespeicherung 2030: Technoökonomische Analyse funktionaler Energiespeicher. Forschungsstelle für Energiewirtschaft eV (FfE), München

Poullikkas A (2013) A comparative assessment of net metering and feed in tariff schemes for residential PV systems. Sustain Energy Technol Assess 3:1–8. https://doi.org/10.1016/j.seta.2013.04.001

Prognos (2017) Mieterstrom. https://www.bmwi.de/Redaktion/DE/Downloads/P-R/plattform-strommarkt-ag3-12-sitzung-praesentation-mieterstrom-studie-prognos-und-bh-w.pdf?__blob=publicationFile&v=4. Accessed 18 July 2017

Richter M (2012) Utilities' business models for renewable energy: a review. Renew Sustain Energy Rev 16(5):2483–2493. https://doi.org/10.1016/j.rser.2012.01.072

Richter M (2013) Business model innovation for sustainable energy: German utilities and renewable energy. Energy Policy 62:1226–1237. https://doi.org/10.1016/j.enpol.2013.05.038

Schäfer-Stradowsky S, Bachmann S (2016) Rechtspolitische Rahmenbedingungen für Prosumer. Ökolog Wirtsch Fachz 31(2):21. https://doi.org/10.14512/OEW310221

Siano P (2014) Demand response and smart grids-A survey. Renew Sustain Energy Rev 30:461–478. https://doi.org/10.1016/j.rser.2013.10.022

Solar BSW (2016) Impuls zur Mieterstrom-VO gem. §95 EEG 2017 – Definition, Markteintrittsbarrieren, Potenziale und Vorschläge. https://www.bmwi.de/Redaktion/DE/Downloads/P-R/plattform-strommarkt-ag3-10-praesentation-bsw-solar.pdf?__blob=publicationFile&v=4. Accessed 18 July 2017

Thomann R, Schubert M, Sellke P, Kottnik W, Lachmann Y, Prahl O, Pawlowicz M, Kropp T, Wurster T, Wist SK, Knösel M, Mühlbach J, Nau N, Papenheim J, Kubach M, Schellenberger M, Sebastian E, Schmidt P, Chen L, Kölblin P, Lambidis I, Wang J (2016) Abschlussbericht Strombank – Innovatives Betreibermodell für Quartierspeicher. Forschungsbericht http://www.fachdokumente.lubw.baden-wuerttemberg.de/servlet/is/120150/bwe13017_13020.pdf?command=downloadContent&filename=bwe13017_13020.pdf&FIS=203. Accessed 18 July 2017

Weniger J, Tjaden T, Quaschning V (2012) Solare Unabhängigkeitserklärung. Photovoltaik 10:50–54

Weniger J, Tjaden T, Quaschning V (2014) PV-Eigenverbrauch: Ökonomie von Photovoltaiksystemen im Eigenverbrauchszeitalter. Sonnenenergie 2:26–27

Will H, Lohr M (2016) Geschäftsmodelle mit PV Mieterstrom. https://www.pv-mieterstrom.de/wp-content/uploads/2016/11/PV_Financing_Mieterstrom.pdf. Accessed 18 July 2017

Zapf M (2017) Stromspeicher und Power-to-Gas im deutschen Energiesystem: Rahmenbedingungen, Bedarf und Einsatzmöglichkeiten. Springer Vieweg, Wiesbaden

Zeh A, Mueller M, Hesse HC, Jossen A, Witzmann R (2015) Operating a multitasking stationary battery storage system for providing secondary control reserve on low-voltage level. International ETG Congress 2015; Die Energiewende – Blueprints for the new energy age, pp 1–8 https://doi.org/10.13140/RG.2.1.1807.7202

Zeller M (2014) Analyse und Simulation von Geschäftsmodellen für Elektrizitätsvertriebsunternehmen: Untersuchungen für die Implementierung von Smart Metern: Technische Universität, Disseration, 2014. Univ.-Verl. der TU Berlin
About this article
Cite this article
Scheller, F., Johanning, S., Seim, S. et al. Legal Framework of Decentralized Energy Business Models in Germany: Challenges and Opportunities for Municipal Utilities. Z Energiewirtsch 42, 207–223 (2018). https://doi.org/10.1007/s12398-018-0227-1
Keywords
On-site business models

Decentralized energy systems

German energy law

Statutory electricity cost components

Strategic opportunities and challenges for regional development

Profitability and feasibility of business models