Abstract
American Jews, particularly those who are highly engaged in Jewish communal life, learn many stories about Israel's past. They learn the story of Israel as the culmination of a heroic two thousand year struggle and about the waves of immigrants who came to the Holy Land with nothing and made the desert bloom. But when these stories are subjected to critical scrutiny, they may fail to hold up. This study analyzed 438 short narratives of the history of Israel written by Jewish American high school students attending Jewish day schools. Their responses suggested that many students are aware of the tensions between various historical accounts and adopt different strategies to negotiate between critical historical analysis and Jewish collective belonging. Although there were no differences in the content of the accounts by students' religious denomination or prior study of Israel's history, students adopted different approaches to negotiating critical analysis and collective belonging. Some students told stories of Jewish heritage without taking into account other possible perspectives. Some students engaged with challenges to their inherited stories but only to dispute them. Finally, some students managed to synthesize multiple narratives together while still using a Jewish perspective to frame their account. This last strategy suggests that students can be historically sophisticated without abandoning a commitment to their heritage.
Access options
Buy single article
Instant access to the full article PDF.
US$ 39.95
Tax calculation will be finalised during checkout.
Subscribe to journal
Immediate online access to all issues from 2019. Subscription will auto renew annually.
US$ 79
Tax calculation will be finalised during checkout.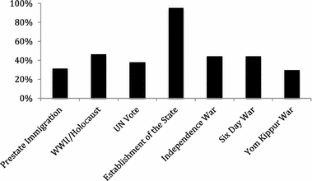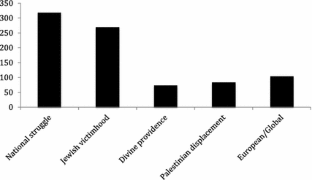 Notes
1.

I included the word "State" rather than simply asking students to tell the history of Israel. In a small pilot study, students were overwhelmed by a request to narrate thousands of years of history. This choice may have biased students toward more recent historical events. However, notwithstanding this, 25% of students began their accounts in the Bible.

2.

In eight cases, the time to submission was well over one hour. Because I knew that no teacher gave students more than one hour to complete the survey, I inferred that these students had forgotten to log out of the survey. Therefore, I excluded these cases from the data set.

3.

Students chose from a list of 10 possible denominational categories: Orthodox, Conservadox, Conservative, Reform, Reconstructionist, "Secular," "Cultural," "Just Jewish," "Not Jewish," and "Other." Only a few students selected some of the categories. To facilitate analysis, I grouped the smaller categories together. I combined "Reform" and "Reconstructionist" into a "Liberal" category, and grouped "Secular," "Cultural," and "Not Jewish" (N = 2) into an "Unaffiliated" category. This grouping ensured that the expected value for each cell in the Chi squared analysis was greater than or equal to five, a requirement of the technique.

4.

I chose 10% as the cutoff to ensure that I could use the Chi squared test to analyze the relationship between denomination and event. The test requires that each cell have an expected value of at least five. Therefore, with six denominational categories, an event had to be included by at least 30 students to qualify, almost 10% of the total sample.

5.

Throughout, I have edited students' spelling.

6.

It is worth emphasizing that these narratives, produced in a particular context, a voluntary research study conducted in a high school classroom, do not represent distillations of these particular students' knowledge of the history of the State of Israel. Therefore, throughout my analysis, I try, whenever possible, to talk about what the students' accounts say or do rather than about the students themselves. I suspect that in conversation, on another day, or in a different context, these same students might have produced different accounts. Nevertheless, even if these narratives tell us little about what these students believe, they can still clarify a great deal about the possible ways of telling the story of the history of Israel.

7.

Ari Shavit's recent book, My Promised Land: The Triumph and Tragedy of Israel, demonstrates the power of these normative perspectives. Given Shavit's acknowledgement of Israeli expulsions of Palestinians during the 1948 war, many were surprised by the almost universal acclaim the book received within the American Jewish community. By situating his critiques within the framework of normative American Jewish discourse on the history of Israel, Shavit neutralized his more critical claims and made them palatable to a broad American Jewish audience (Hassenfeld 2014).

8.

All student names are pseudonyms.
References
AVI CHAI Foundation. 2013, January 2. 2012–2013 day school enrollment data demonstrate stability and commitment. Avichai.org. AVI CHAI Foundation. Retrieved 13 May 2014. http://avichai.org/knowledge_base/2012-13-day-school-enrollment-data-demonstrate-stability-and-commitment-January-2-2013/.

Barton, K.C., and A.W. McCully. 2005. History, identity, and the school curriculum in Northern Ireland: An empirical study of secondary students' ideas and perspectives. Journal of Curriculum Studies 37(1): 85–116.

Barton, K., and A.W. McCully. 2010. 'You can form your own point of view': Internally persuasive discourse in Northern Ireland students' encounters with history. Teachers College Record 112(1): 142–181.

Chazan, R. 2010. Winter. Faith and critical Jewish history: A complex relationship. Hayidion: The RAVSAK Journal 50: 52–53.

Cohen, S., and A. Kelman. 2010. Thinking about distancing from Israel. Contemporary Jewry 30(2): 287–296.

Corbin, J., and A. Strauss. 2008. Basics of qualitative research. Thousand Oaks: Sage Publications.

Cronon, W. 1992. A place for stories: Nature, history, and narrative. Journal of American History 78(4): 1347–1376.

Epstein, T. 1998. Deconstructing differences in African-American and European-American adolescents' perspectives on US history. Curriculum Inquiry 28(4): 397–423.

Epstein, T. 2000. Adolescents' perspectives on racial diversity in US history: Case studies from an urban classroom. American Educational Research Journal 37(1): 185–214.

Ferretti, R.P., C.D. MacArthur, and C.M. Okolo. 2001. Teaching for historical understanding in inclusive classrooms. Learning Disability Quarterly 24(1): 59.

Funkenstein, A. 1993. Perceptions of Jewish history. Oakland: University of California Press.

Goldberg, T., B.B. Schwarz, and D. Porat. 2011. Could they do it differently?: Narrative and argumentative changes in students' writing following discussion of 'hot' historical issues. Cognition and Instruction 29(2): 185–217.

Gottlieb, E., and S. Wineburg. 2012. "Between 'veritas' and 'communitas': Epistemic switching in the reading of academic and sacred history. Journal of the Learning Sciences 21(1): 84–129.

Halbwachs, M. 1992. On collective memory. Chicago, Ill: University of Chicago Press.

Hassenfeld, J. 2014, February 7. The dangers of discomfort or what Shavit's My Promised Land means for Israel education. EDJS blog. Retrieved January 4, 2016. http://web.stanford.edu/group/edjs/cgi-bin/wordpress/2014/02/07/the-dangers-of-discomfort-or-what-shavits-my-promised-land-means-for-israel-education/.

Kelner, S. 2010. Tours that bind. New York, NY: New York University Press.

Khalidi, R. 2007. The iron cage: The story of the Palestinian struggle for statehood. Boston, MA: Beacon Press.

Kopelowitz, E., and L. Grant. 2012. Israel education matters: A 21st century paradigm for Jewish education. Israel: Center for Jewish Peoplehood Education.

Letourneau, J. 2006. Remembering our past: An examination of the historical memory of young Québécois. In To the past: History education, public memory, and citizenship in Canada, ed. R.W. Sandwell, 71–87. Toronto: University of Toronto Press.

Letrouneau, J., and S. Moisan. 2004. Young people's assimilation of a collective historical memory: A case study of Quebeckers of French-Canadian heritage. In Theorizing historical consciousness, ed. P. Seixas, 109–128. Toronto, Canada: University of Toronto Press.

Levstik, L., and K. Barton. 1998. 'It wasn't a good part of history': National identity and ambiguity in students' explanations of historical significance. Teachers College Record 99(3): 478–513.

Lowenthal, D. 1998. The heritage crusade and the spoils of history. Cambridge, UK: Cambridge University Press.

Mink, L.O. 1966. The autonomy of historical understanding. History and Theory 5(1): 24–47.

Morris, B. 2004. The birth of the palestinian refugee problem revisited. Cambridge, UK: Cambridge University Press.

Mosborg, S. 2002. Speaking of history: How adolescents use their knowledge of history in reading the daily news. Cognition and Instruction 20(3): 323–358.

Nash, G.B., C. Crabtree, and R.E. Dunn. 1998. History on trial: Culture wars and the teaching of the past. New York, NY: Random House.

Obama, B. 2013. Remarks by the president at fourth of July celebration. www.whitehouse.gov. Office of the Press Secretary. Retrieved June 6, 2014. http://www.whitehouse.gov/the-press-office/2013/07/04/remarks-president-fourth-July-celebration.

Paxton, R.J. 1997. 'Someone with like a life wrote it': The effects of a visible author on high school history students. Journal of Educational Psychology 89(2): 235–250.

Pomson, A., and H. Deitcher. 2010. Day school Israel education in the age of Birthright. Journal of Jewish Education 76(1): 52–73.

Pomson, A., J. Wertheimer, and H. Hacohen Wolf. 2014. Hearts and minds: Israel in North American Jewish day schools (1–74). Jerusalem, Israel: AVI CHAI Foundation.

Porat, D.A. 2004. It's not written here, but this is what happened: Students' cultural comprehension of textbook narratives on the Israeli-Arab conflict. American Educational Research Journal 41(4): 963–996.

Rouet, J.F., M. Favart, M.A. Britt, and C.A. Perfetti. 1997. Studying and using multiple documents in history: Effects of discipline expertise. Cognition and Instruction 15(1): 85–106.

Sasson, T. 2013. The New American Zionism. New York, NY: New York University Press.

Sasson, T., C. Kadushin, and L. Saxe. 2010. Trends in American Jewish attachment to Israel: An assessment of the 'distancing' hypothesis. Contemporary Jewry 30(2): 297–313.

Saxe, L., and B. Chazan. 2008. Ten days of birthright Israel: A journey in young adult identity. Waltham, MA: Brandeis University Press.

Saxe, L., M. Shain, S. Hecht, G. Wright, M. Rieser, and T. Sasson. 2014. The impact of Taglit-Birthright Israel: Marriage and family. Waltham, MA.: Brandeis University. https://www.brandeis.edu/cmjs/pdfs/jewish%20futures/JewishFutures2014V1.pdf.

Seixas, P. 1997. Mapping the terrain of historical significance. Social Education 61(1): 22–27.

Sinclair, A. 2013. Loving the real Israel: An educational agenda for liberal zionism. Teaneck, NJ: Ben Yehuda Press.

Sinclair, A. 2014, May 11. The complexity of 'complexity' in Israel education. Ejewishphilanthropy.com. Retrieved May 20, 2014. http://ejewishphilanthropy.com/the-complexity-of-complexity-in-israel-education/.

Sinclair, A., B. Solmsen, and C. Goldwater. 2013 May 13. The Israel educator. Casje.com. Retrieved May 13, 2014. http://www.casje.org/resources/israel-education-brief-israel-educator.

Understanding the Settlements. 2011. www.davidproject.org. Retrieved May 20, 2014. http://www.davidproject.org/wp-content/uploads/Settlements-Primer-and-Discussion-Guide.pdf.

Walsh, W.H. 1960. Philosophy of history: An introduction. New York, NY: Harper & Row.

Wertsch, J. 1994. Struggling with the past: Some dynamics of historical representation. In Cognitive and Instructional Processes in History and the Social Sciences, eds. J. Voss and M. Carretero, 323–338. Routledge

Wertsch, J. 2002. Voices of collective remembering. Cambridge, UK: Cambridge University Press.

White, H. 1975. Metahistory: The historical imagination in nineteenth-century Europe. Baltimore, MD: Johns Hopkins University Press.

Wineburg, S.S. 1991. Historical problem solving: A study of the cognitive processes used in the evaluation of documentary and pictorial evidence. Journal of Educational Psychology 83(1): 73–87.

Yerushalmi, Y.H. 1982. Zakhor: Jewish history and Jewish memory. Seattle, Wash: University of Washington Press.

Zakai, S. 2014. 'My heart is in the East and I am in the West': Enduring questions of Israel education in North America. Journal of Jewish Education 80(3): 287–318.
Appendices
Appendix 1: Coding Scheme
Appendix 2: Survey Instrument
The survey was designed and administered using Qualtrics. Below, is a list of all questions that students answered (excluding consent and assent).
Survey questions:
1.

In 2–3 paragraphs, tell the history of the State of Israel as you understand it:

2.

What is your gender?

3.

Do you consider yourself to be:

Reform (1)

Orthodox (2)

Conservative (3)

Reconstructionist (4)

Just Jewish (5)

Secular (6)

Cultural (7)

Not Jewish (8)

Other: (9) ____________

Conservadox (10)

4.

What grade are you currently in?

9th (1)

10th (2)

11th (3)

12th (4)

5.

How many years have you attended Jewish Day Schools?

Less than 1 year (1)

1 to 5 years (2)

More than 5 years (3)

6.

Have you attended a Jewish overnight camp?

7.

Do you now or have you in the past been a regular participant in a Jewish youth group?

8.

Do you participate in any religious school other than a Jewish day school (for example a congregational school or Sunday school)?

9.

Do you have a non-Jewish parent?

10.

How many times have you been to Israel?

Never (1)

Once (2)

More than once (3)

11.

What is the longest time you have ever spent in Israel?

Less than 1 month (1)

1 to 6 months (2)

More than 6 months (3)

12.

Have you ever visited Israel on a trip with a Jewish organization (for example, summer camp, school, synagogue, or youth group)?

13.

Do you have family or close friends who live in Israel?

14.

Are you Israeli?

Yes (1)

No (2)

Other: (3) ______________

15.

Have you ever taken a course in which you studied the history of the State of Israel?
About this article
Cite this article
Hassenfeld, J. Negotiating Critical Analysis and Collective Belonging: Jewish American Students Write the History of Israel. Cont Jewry 36, 55–84 (2016). https://doi.org/10.1007/s12397-016-9157-6
Received:

Accepted:

Published:

Issue Date:
Keywords
History education

Jewish identity

Jewish day school

Israel

Narrative

Israel education