Abstract
A Jewish visual and religious icon of Jerusalem, the Western Wall is also a profoundly sensory space. In this article, I interrogate the interface between sound and space at the Western Wall, exploring the soundscape of Wall as a forum within which the multiple meanings and resonances, both literal and figurative, of this space are imagined and contested on a daily basis. While the physical environment of the Western Wall—as a historical and archaeological site—and its role in hegemonic Israeli discourses have been discussed at length by scholars, there has to date been relatively little discussion of the everyday practices, verbal or non-verbal, narrative or noisy, through which the wall has been (re)appropriated into contemporary Jewish life during the past five decades. Here, by focusing on the Western Wall plaza as a sensory space, I unpick this complicated and changing human landscape, where the politics of presence, proximity, and voice—on an individual, communal, and national level—are not only built into the physical location of the space, but are also creatively enacted and contested by the individuals and groups who come there to pray.
Access options
Buy single article
Instant access to the full article PDF.
USD 39.95
Price excludes VAT (USA)
Tax calculation will be finalised during checkout.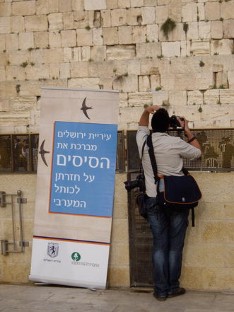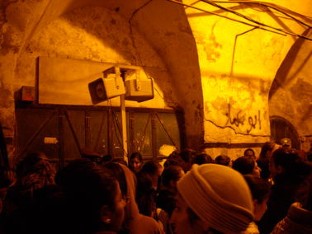 Notes
The lower stones of the Western Wall formed part of Herod's renovation program of the Temple. See Frenkel 2009 for detailed discussion of the place of the Temple in Jewish thought from 70 CE until the present day.

See League of Nations report 1930, section 3. While the Mount of Olives was also an important location for the prayers of visiting Jews, multiple sources cite the church father Jerome (4th century CE) in establishing the antiquity of the Jewish practice of lamentation at the Western Wall.

See Monk 2005, for discussion of the symbolic nature of this photograph.

See Monk 2005, pp. 170-1.

In the latter three cases, the sound of the shofar is mentioned in the Biblical narrative itself; later rabbinic literature additionally links the shofar with the ram Abraham sacrificed instead of his son Isaac (see Mishna Brura on Shulchan Aruch OH 596:1).

See also Reiter and Seligman 2009, pp. 251-2.

Interview with the author, November 28, 2009.

Fieldnotes, February 14, 2014.

The enforcement of Orthodox prayer norms at the Western Wall has been the matter of ongoing debate in Israeli society as well as various court cases, see discussion of Women of the Wall below.

A prayer area in a neighboring archaeological park, next to an adjacent stretch of the same wall, established by an Israeli government commission in 1998 to serve as a location for egalitarian Conservative and Reform prayer services at the Western Wall (Charmé 2005, p. 31). This site was expanded in 2013.

Fieldnotes and recording of morning Women of the Wall service, August 11, 2010.

Another modern ritual drawing upon the same roots, which preceded the one discussed here, is the circling of the gates of the Old City on the eve of Tisha b'Av. This ritual and the Geniza sources are detailed here: http://www.thekotel.org/newsletter/article.asp?Id=55 (last accessed February 16, 2014).

In accordance with religious prohibitions, no recorded music is used on Rosh Hodesh Av.

Shurin's recording is available online here: http://www.youtube.com/watch?v=DbZbygwuqfI. (Last accessed February 16, 2014). Many recordings of the song are available on Youtube; a number of them return to the original Biblical text.

A similar ceremony is discussed in detail by Don Handelman 1998, ch. 9.
References
Armstrong, Karen. 1996. A history of Jerusalem: One city, three faiths. London: Harper Collins.

Atkinson, Rowland. 2007. Ecology of sound: The sonic order of urban space. Urban Studies 44(10): 1905–1917.

Charmé, Stuart. 2005. The political transformation of gender traditions at the Western Wall in Jerusalem. Journal of Feminist Studies in Religion 21(1): 5–34.

Chesler, Phyllis, and Rivka Haut (eds.). 2002. Women of the wall: Claiming sacred ground at Judaism's holiest site. Woodstock, VT: Jewish Lights.

Gavriely-Nuri, Dalia. 2007. The social construction of 'Jerusalem of Gold' as Israel's unofficial national anthem. Israel Studies 12(2): 104–120.

Goldhill, Simon. 2008. Jerusalem: City of longing. Cambridge, MA: Belknap, Harvard University Press.

Frenkel, Miriam. 2009. The Temple Mount in Jewish thought (70 CE to the present). In Oleg Grabar and Benjamin Z. Kedar, eds. Where heaven and earth meet: Jerusalem's sacred esplanade. Jerusalem: Yad Ben Zvi Press and Austin, TX: University of Texas Press.

Friedland, Roger, and Richard Hecht. 2000. To rule Jerusalem. Berkeley: University of California Press.

Gorenberg, Gershom. 2006. The accidental empire: Israel and the birth of the settlements, 1967-1977. New York, NY: Times Books.

Haberman, Bonna Devora. 1997. Women of the Wall: From Text to Praxis. Journal of Feminist Studies in Religion 13(1): 5–34.

Handelman, Don. 1998. Models and mirrors: An anthropology of public events, 2nd ed. New York and Oxford: Berghahn books.

League of Nations. 1930. Report of the Commission appointed by His Majesty's Government in the United Kingdom of Great Britain and Northern Ireland, with the approval of the Council of the League of Nations, to determine the rights and claims of Moslems and Jews in connection with the Western or Wailing Wall at Jerusalem. London: His Majesty's Stationery Office.

Liebman, Charles S. and Eliezer Don-Yehiya. 1983. Civil religion in Israel. Berkeley: University of California Press.

Monk, Daniel. 2005. Diskotel 1967: Israel and the Western Wall in the aftermath of the Six Day War. RES: Anthropology and Aesthetics 48: 166–178.

Nusseibeh, Sari, with Anthony David. 2007. Once upon a country: A Palestinian life. New York: Picador.

Panagia, Davide. 2009. The political life of sensation. Durham and London: Duke University Press.

Porcello, Thomas, Louise Meintjes, Ana Maria Ochoa, and David Samuels. 2010. The reorganization of the sensory world. Annual Review of Anthropology 39: 51–66.

Qleibo, Ali. 2000. Jerusalem in the heart. Jerusalem: Kloreus.

Reiter, Yitzhak and Jon Seligman. 2009. 1917 to the present: Al-Haram Al-Sharif/Temple Mount (Har Ha-Bayit) and the Western Wall. In Oleg Grabar and Benjamin Z. Kedar, eds. Where Heaven and Earth Meet: Jerusalem's Sacred Esplanade. Jerusalem: Yad Ben Zvi Press and Austin, TX: University of Texas Press.

Sarton, George. 1954. The Jerusalem congress. Isis 45(1): 63–77.

Sermer, Tanya. 2014. The politicization of neo-hasidic popular music: The musical discourse of religious Zionism and its role in the struggle to claim the public sphere of Jerusalem. In Moods and modes of Jewish music, ed. Yuval Shaked. Haifa: Department of Music, University of Haifa.

Shurin, Dov. 2002. Biblical revenge: The Nekama album. Self-produced CD recording.

The Jews' wailing place. 1888. Waikato Times XXXI(2543): 2.

Wood, Abigail. 2013. Disruptive listening: Geographies of sensation in Jerusalem's Old City. Middle East Journal of Culture and Communication 6(3): 286–307.

Zerubavel, Yael. 1995. Recovered roots: Collective memory and the making of Israeli national tradition. Chicago, IL: University of Chicago Press.
About this article
Cite this article
Wood, A. The Cantor and The Muezzin's Duet: Contested Soundscapes At Jerusalem's Western Wall. Cont Jewry 35, 55–72 (2015). https://doi.org/10.1007/s12397-015-9136-3
Received:

Accepted:

Published:

Issue Date:

DOI: https://doi.org/10.1007/s12397-015-9136-3
Keywords
Western Wall

Jerusalem

Soundscape

Jewish music

Heterotopia