Abstract
On their arrival in Montreal, Moroccan Jews established themselves as a community and created a festival in order to promote, gain recognition of, and institutionalize their culture and identity into the broader Jewish community of Montreal. In this article, I propose to analyse the festival as a "thing" (Kopytoff 1986), the biography of which will give us information about its transformation, in terms of representation, through time. From ethnography and historical analysis of the festival, as well as an examination of cultural policies in Canada, Quebec and Montreal during the last decades, we will discover that Sephardic musical heritage, which was initially used for community celebration, was progressively transformed into a marketable product embodied by international pop stars. The representation of Sephardic identity transitioned from a specific cultural reference to Morocco, to Judeo-Spanish and Judeo-Arabic songs, to a plethora of references promoted by Sephardic pop stars, mainly from France and Israel. More broadly, this study will illuminate issues surrounding strategies implemented by the community leaders to be part of these cultural policies and gain visibility in the public sphere.
Access options
Buy single article
Instant access to the full article PDF.
USD 39.95
Price excludes VAT (USA)
Tax calculation will be finalised during checkout.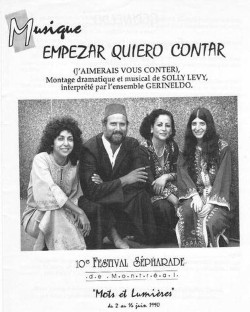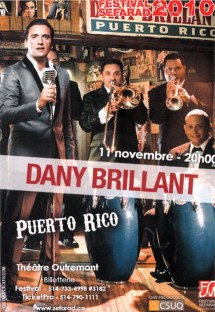 Notes
I would like to clarify that the word "Sephardic" refers to the term that Moroccan Jews from Montreal use to talk about themselves and their heritage. The issues surrounding the name will be discussed later in the paper.

I use the term "community" to refer to the Sephardic organized community. It is an endogenous word. However, this use does not mean that Sephardim in Montreal form a homogenous group, quite the contrary (Anctil 2011), and not all Sephardim that I met recognize themselves in the Sephardic organization. However, this organized community, CSUQ (Communauté Sépharade Unifiée du Québec), is visible in the public space, engages in dialogue with other Jewish organizations and politicians from the three levels of government (municipal, provincial, federal), and defends the Sephardim of Montreal as a sort of community voice.

Théâtre Outremont has served as a launching pad for a plethora of well-known singers and performers and is renowned for having been the destination for repertory cinema throughout the 1970s and 1980s. Since its inception in 1929, Théâtre Outremont has been considered as one of Montreal's most elegant architectural monuments, bearing witness to the Golden Age of Cinema. Today, it is a leading cultural centre in Montreal, in terms of cinema, music, dance and theatre, with programs designed to be particularly eclectic in an effort to make the site accessible to everyone. As a well-known building in Montreal, the province of Quebec, and Canada as a whole, the theatre is identified as having exceptional heritage value by the municipal jurisdiction; it is protected by Quebec's Cultural Heritage Act and has been listed as a Historic Site of Canada since 1993.

These two concerts are used as case studies to discuss the transformation of the festival programming, but they are particularly representative of this broader change in terms of choice of artists and musical genres.

I would like to specify that the festival has never limited musical performances to traditional music or Judeo-Spanish repertoire. However, musical artists and groups had always performed music related to "Jewish heritage," something that has recently changed.

The organization of the Jewish community in Montreal is unique in Canada and more broadly in North America. After Confederation (1867), Protestants and Catholics maintained separate school systems for each religious group, thus creating a division in terms of language. With the growth of the Jewish population of Montreal, the provincial government had to find a way to integrate the children of the community in the public system. Non-Catholic and non-Protestant children had no legal status, so a provincial law declared that Jews in Montreal and Outremont would be considered Protestants in the domain of education, "shutting the door to more systematic contact with Francophone Catholics who already formed the majority of the population in Montreal" (Croteau 2010, quoted by Anctil 2011, p. 238). If I may borrow the words of Pierre Anctil, this represented a real rendez-vous manqué (missed opportunity) between Jews and Quebecers (Anctil 1988).

In this paper, patrimony and patrimonialization will be used in order to closely reflect the sense and use of the words patrimoine and patrimonialisation in French, the language of Moroccan Jews. Patrimony is the object constituted over time through a process and offers an opening toward the future, contrary to heritage, which takes into consideration goods from the past and does not necessarily presuppose a process of selection. In 2010, the architecture historian Lucie Morisset wrote an article about the difference between the two terms: "On the one hand, as in the case of heredity, heritage is inherited. You cannot change it; you can only maintain it. On the other hand, patrimoine/patrimony is something that you are responsible for developing. You may have inherited it, but beyond that, it has to be actively constituted in order to be handed down to future generations. Heritage thus comes from the past, while patrimony looks to the future" (Morisset 2010, p. 54). Barbara Kirshenblatt-Gimblett also notes this distinction: "Heritage is something new in the present that has recourse to the past." The relationship with the future is not evoked (1995, 1998).

"Le génie Sépharade constitue une mosaïque précieuse dans l'architecture générale de la culture juive et doit se conserver intact sous toutes ses formes et se transmettre comme héritage de génération en génération." ("The Sephardic genius is a valuable mosaic in the overall architecture of Jewish culture and should be kept intact in all its forms and transmitted by inheritance from generation to generation") Presence. Organe de l'Association Sépharade Francophone, vol. 2, no 4 (1973).

I would like to specify that this paper will not address the perception of this representation by the audience. It will instead focus on the representation of identity and its negotiations.

Moroccan Jewry is also particularly diverse in terms of ethnicity, languages, and cultural practices since there are those who identify themselves as Judeo-Spanish, Judeo-Arabic, or with French culture.

The dhimmi is the status of "protected person" that non-Muslim citizens acquired in Islamic states. This juridical status implied specific rights and restrictions.

In the community journal Voix Séfarad (July–August 1981), the programming of the cultural department and its members are listed.

Official titles have changed over the years: she is designated as coordinator, then responsible for the festival, but when I interviewed Brigitte Danino in 2012 she used the title of director to refer to her position since 1989.

This background is not necessarily related to Moroccan Jewry; it includes all non-Ashkenazi Jews from North Africa, the Ottoman Empire, and more recently Israel.

The Paytanim are the authors of piyyut (Jewish liturgical poems usually designated to be sung, chanted or recited during religious services).

I want to clarify that Quebec further defines its policies in terms of interculturalism, including its position vis-à-vis Canada (see Emongo and White 2014). In the article I use the term multiculturalism, which includes the Quebec specificity.

The attribution of the status of National Historic Sites of Canada to Boulevard Saint-Laurent (The Main) is particularly emblematic of this integration of cultural community heritage into the identity of the nation. The Boulevard is recognized as a special place in Canada that speaks to the emergence and development of the cultural communities representative of Canadian society as a whole. As the immigrants' corridor, the district has a cosmopolitan character and reflects the constant renewal brought about by a merging and mixing of cultures and aesthetics, thus providing a very special sense of place. Cf. http://www.historicplaces.ca/en/rep-reg/place-lieu.aspx?id=1813.

For most interviewees that I met at CSUQ and in Montreal Synagogue, the Sephardic patrimony refers to Judeo-Arabic and Judeo-Spanish language and more broadly to cultural practices related to Morocco.

The use of stars to sell a cultural event is not unique to the festival but in the case of community festivals of the general public forces us to examine the role and the meaning of these mise en scene of religious and ethnic identities in the transformation of the heritage of the intimate.
References
Appaduraï, Arjun. 2006. The thing itself. Public Culture 18/1: 15–21.

Anctil, Pierre. 1988. Le rendez-vous manqué: Les Juifs de Montréal face au Québec de l'Entre-deux-guerres. Québec: Institut québécois de recherche sur la culture.

Anctil, Pierre. 2011. A community in transition: The Jews of Montréal. Contemporary Jewry 31: 225–245.

Barth, Fréderik. 1969. Ethnic groups and boundaries: The social organization of culture difference. Bergen/Oslo: Universitetsforlaget. London: George Allen &Uwin.

Baudrillard, Jean. 1970. La société de consommation. Paris: Gallimard.

Bauman, Zygmunt. 1994. Från pilgrim till turist. Modernatider 47(5): 20–34.

Bédard, Jean-Luc. 2005. Identité et transmission intergénérationnelle chez les Sépharades. Montreal, PhD thesis in anthropology, Université Laval.

Benaïm, Esther. 1976. Intégration des Juifs marocains à Montréal. PhD thesis in sociology, Université Paris Sorbonne.

Bensimon, Jacques. 1977. 20 ans après… Documentary, Montreal: National FilmBoard. https://www.onf.ca/film/20_ans_apres. Accessed 13 Feb 2014.

Berdugo-Cohen, Marie, Yolande Cohen, and Joseph J. Levy. 1987. Juifs Marocains à Montréal: Témoignages d'une immigration moderne. Montréal: VLB éditeur.

Brennetot, Arnaud. 2004. Des festivals pour animer les territoires. Annales Géographie 635: 29–50.

Cohen, Yolande. 2010. Juifs au Maroc, Séfarades au Canada. Migrations et processus de construction identitaire. Archives Juives 43/2: 132–144.

Croteau, Jean-Philippe. 2010. La communauté juive et l'éducation à Montréal l'aménagement d'un nouvel espace scolaire, 1873-1973. In Les communautés juives de Montréal, histoire et enjeux contemporains, ed. Pierre Anctil and Ira Robinson, 65–91. Sillery: les Editions du Septentrion.

Duffy, Michelle. 2000. Lines of drift: Festival participation and performing a sense of place. Popular Music 19: 51–64.

Emongo, Lomomba, Bob White. 2014. L'interculturel au Québec. Rencontres historiques et enjeux politiques. Montréal: Presses de l'Université de Montréal.

Juteau, Danièle. 1999. L'ethnicité et ses frontières. Montreal: Presses de l'Université de Montréal.

Kirshenblatt-Gimblett, Barbara. 1995. Theorizing heritage. Ethnomusicology 39(3): 367–380.

Kirshenblatt-Gimblett, Barbara. 1998. Destination culture. Tourism, museums, and heritage. Berkeley: University of California Press.

Kopytoff, Igor. 1986. The cultural biography of things: Commoditization as process. In The social life of things, ed. Arjun Appaduraï, 64–91. Cambridge: Cambridge University Press.

Lasry, Jean-Claude, and Claude Tapia (eds.). 1989. Les Juifs du Maghreb. Montréal: Presses de l'Université de Montréal/L'Harmattan.

Ronström, Owe. 2001. Concerts and festivals: Public performances of folk music in Sweden. The World of Music 43/2+3: 49–64.

Shahar, Charles, Morton Weinfeld, Adam Blander. 2010. Analyse démographique et socioculturelle de la communauté juive montréalaise. In Les communautés juives de Montréal, eds. Pierre Anctil, Pierre, Ira Robinson. Quebec City: Septentrion.

Vertovec, Steven. 2007. Super-diversity and its implications. Ethnic and Racial Studies 30/6: 1024–1054.
About this article
Cite this article
Roda, J. Pop Stars as Ambassadors of Sephardic Culture at the Festival Sefarad in Montreal. Cont Jewry 35, 73–88 (2015). https://doi.org/10.1007/s12397-014-9130-1
Received:

Accepted:

Published:

Issue Date:

DOI: https://doi.org/10.1007/s12397-014-9130-1
Keywords