Abstract
Recent extensive studies of long non-coding RNAs (lncRNAs) have shown that lncRNAs play an important role in plant development and growth. Populus euphratica Oliv. is the only natural tree species in the Taklimakan desert with leaves that change shapes at different growth stages. LncRNAs can affect biological functions in P. euphratica heterophyllous morphogenesis, but there are few reports on this subject in the literature. In this study, chain-specific transcriptome sequencing and small RNA sequencing were performed using linear, lanceolate, broad-ovate and ovoid leaves of P. euphratica. A total of 442 novel P. euphratica lncRNAs were predicted and the expression profiles of 4460 lncRNAs were analyzed. 371 lncRNAs were significantly different among the varied leaf shapes studied. Using co-expression analysis and according to the principle of competing endogenous RNA (ceRNA), we found that 28 lncRNAs could regulate the expression of 133 mRNAs by antagonizing 17 miRNAs. These mRNAs are involved in 23 biological functions, such as cell growth, developmental processes, metabolic processes and biological regulation, thereby affecting the formation of P. euphratica heteromorphic leaves. These results provide the foundation to study the formation of P. euphratica heteromorphic leaves, revealing the function of lncRNAs in the development of leaves in plants.
This is a preview of subscription content, log in to check access.
Access options
Buy single article
Instant access to the full article PDF.
US$ 39.95
Price includes VAT for USA
Subscribe to journal
Immediate online access to all issues from 2019. Subscription will auto renew annually.
US$ 99
This is the net price. Taxes to be calculated in checkout.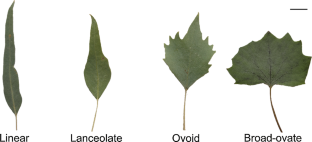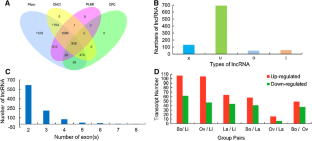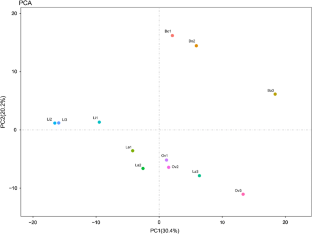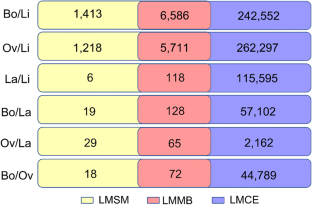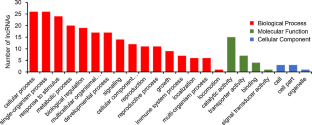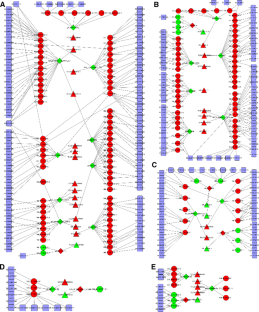 References
Anders S, Huber W (2013) Differential expression of RNA-Seq data at the gene level—the DESeq package. EMBL Heidelberg, Germany

Bai Y, Dai X, Harrison AP, Chen M (2015) RNA regulatory networks in animals and plants: a long noncoding RNA perspective. Brief Funct Genom 14:91–101

Boerner S, McGinnis KM (2012) Computational identification and functional predictions of long noncoding RNA in Zea mays. PLoS ONE 7:e43047

Dai X, Zhao PX (2011) psRNATarget: a plant small RNA target analysis server. Nucleic Acids Res 39:W155–W159

Deng P, Wang L, Cui L, Feng K, Liu F, Du X, Tong W, Nie X, Ji W, Weining S (2015) Global Identification of MicroRNAs and their targets in barley under salinity stress. PLoS ONE 10:e0137990

Dou C, Cao Z, Yang B, Ding N, Hou T, Luo F, Kang F, Li J, Yang X, Jiang H, Xiang J, Quan H, Xu J, Dong S (2016) Changing expression profiles of lncRNAs, mRNAs, circRNAs and miRNAs during osteoclastogenesis. Sci Rep 6:21499

Finn RD, Bateman A, Clements J, Coggill P, Eberhardt RY, Eddy SR, Heger A, Hetherington K, Holm L, Mistry J, Sonnhammer EL, Tate J, Punta M (2014) Pfam: the protein families database. Nucleic Acids Res 42:D222

Inagaki S, Suzuki T, Ohto MA, Urawa H, Horiuchi T, Nakamura K, Morikami A (2006) Arabidopsis TEBICHI, with helicase and DNA polymerase domains, is required for regulated cell division and differentiation in meristems. Plant Cell Online 18:879–892

Kim ED, Sung S (2012) Long noncoding RNA: unveiling hidden layer of gene regulatory networks. Trends Plant Sci 17:16–21

Kong L, Zhang Y, Ye ZQ, Liu XQ, Zhao SQ, Wei L, Gao G (2007) CPC: assess the protein-coding potential of transcripts using sequence features and support vector machine. Nucleic Acids Res 35:W345–W349

Li A, Zhang J, Zhou Z (2014) PLEK: a tool for predicting long non-coding RNAs and messenger RNAs based on an improved k-mer scheme. BMC Bioinform 15:311

Ling H, Zhang P, Xu H, Zhao X (2015) How to regenerate and protect desert Riparian Populus euphratica forest in arid areas. Sci Rep 5:15418

Liu J, Jung C, Xu J, Wang H, Deng S, Bernad L, Arenas-Huertero C, Chua NH (2012) Genome-wide analysis uncovers regulation of long inter genic noncoding RNAs in Arabidopsis. Plant Cell Online 24:4333–4345

Meng X, Wang H, He Y, Liu Y, Walker JC, Torii KU, Zhang S (2012) A MAPK cascade downstream of ERECTA receptor-like protein kinase regulates Arabidopsis inflorescence architecture by promoting localized cell proliferation. Plant Cell 24:4948–4960

Mockenhaupt S, Makeyev EV (2015) Non-coding functions of alternative pre-mRNA splicing in development. Semin Cell Dev Biol 47–48:32–39

Ohashi-Ito K, Bergmann DC (2007) Regulation of the Arabidopsis root vascular initial population by Lonesome Highway. Development 134:2959–2968

Ponjavic J, Oliver PL, Lunter G, Ponting CP (2009) Genomic and transcriptional co-localization of protein-coding and long non-coding RNA pairs in the developing brain. PLoS Genet 5:e1000617

Qin SW, Jiang RJ, Zhang N, Liu ZW, Li CL, Guo ZZ, Bao LH, Zhao LF (2018) Genome-wide analysis of RNAs associated with Populus euphratica Oliv. heterophyll morphogenesis. Sci Rep 8(1):17248

Rinn JL, Chang HY (2012) Genome regulation by long noncoding RNAs. Annu Rev Biochem 81:145–166

Rubio-Somoza I, Zhou CM, Confraria A, Martinho C, von Born P, Baena-Gonzalez E, Wang JW, Weigel D (2014) Temporal control of leaf complexity by miRNA-regulated licensing of protein complexes. Curr Biol 24:2714–2719

Salmena L, Poliseno L, Tay Y, Kats L, Pandolfi PP (2011) A ceRNA hypothesis: the Rosetta Stone of a hidden RNA language? Cell 146:353–358

Sun L, Luo H, Bu D, Zhao G, Yu K, Zhang C, Liu Y, Chen R, Zhao Y (2013) Utilizing sequence intrinsic composition to classify protein-coding and long non-coding transcripts. Nucleic Acids Res 41:e166

Trapnell C, Williams BA, Pertea G, Mortazavi A, Kwan G, van Baren MJ, Salzberg SL, Wold BJ, Pachter L (2010) Transcript assembly and quantification by RNA-Seq reveals unannotated transcripts and isoform switching during cell differentiation. Nat Biotechnol 28:511–515

Trapnell C, Roberts A, Goff L, Pertea G, Kim D, Kelley DR, Pimentel H, Salzberg SL, Rinn JL, Pachter L (2012) Differential gene and transcript expression analysis of RNA-seq experiments with TopHat and Cufflinks. Nat Protoc 7:562–578

Wang JW, Schwab R, Czech B, Mica E, Weigel D (2008) Dual effects of miR156-targeted SPL genes and CYP78A5/KLUH on plastochron length and organ size in Arabidopsis thaliana. Plant Cell Online 20:1231–1243

Wang T, Sun MY, Wang XS, Li WB, Li YG (2016) Over-expression of GmGIa-regulated soybean miR172a confers early flowering in transgenic Arabidopsis thaliana. Int J Mol Sci 17:645

Wilusz JE, Sunwoo H, Spector DL (2009) Long noncoding RNAs: functional surprises from the RNA world. Genes Dev 23:1494–1504

Yang Y, Zhang F, Zhao M, An L, Zhang L, Chen N (2007) Properties of plasma membrane H+-ATPase in salt-treated Populus euphratica callus. Plant Cell Rep 26:229–235

Zhao L, Qin S (2017) Expression profiles of miRNAs in the genesis of P euphratica Oliv heteromorphic leaves. Plant Growth Regul 81:231

Zhou J, Xiong Q, Chen H, Yang C, Fan Y (2017) Identification of the spinal expression profile of non-coding RNAs involved in neuropathic pain following spared nerve injury by sequence analysis. Front Mol Neurosci 10:91

Zuo C, Wang Z, Lu H, Dai Z, Liu X, Cui L (2013) Expression profiling of lncRNAs in C3H10T1/2 mesenchymal stem cells undergoing early osteoblast differentiation. Mol Med Rep 8:463–467
Acknowledgements
This study was supported by grants from National Natural Science Foundation of China (No. 30660298), Major Program of Tarim University President Fund (TDZKZD201801) and Graduate Research & Innovation Project of Xinjiang Uygur Autonomous Region of China (No. XJ2019G271).
Electronic supplementary material
Below is the link to the electronic supplementary material.
About this article
Cite this article
Guo, Z., Qin, S., Li, C. et al. Genome-Wide Identification and Functional Prediction of Long Non-coding RNAs in the Genesis of Populus euphratica Oliv. Heteromorphic Leaves. J. Plant Biol. 63, 131–140 (2020). https://doi.org/10.1007/s12374-020-09229-7
Received:

Revised:

Accepted:

Published:

Issue Date:
Keywords
Populus euphratica oliv.

Heteromorphic leaf

LncRNA

Function prediction