Abstract
MicroRNAs (miRNAs) are single-stranded, noncoding small RNAs that usually function as posttranscriptional negative regulators by base pairing to target genes. They are pivotal to plant development. MiR396 is conserved among plant species and is predicted to target GRF (growth-regulating factor) genes in Arabidopsis. Here, overexpression of ath-miR396 in tobacco reduced the levels of three NtGRF-like genes containing an miR396 match site. Furthermore, its elevated expression resulted in a small, narrow leaf phenotype similar to that found with the Arabidopsis grf1grf2grf3 triple mutant. We also demonstrated that 35S:MIR396a transgenic plants were defective in the four whorls of floral organs. These results provide a link between the miR396-mediated regulatory pathway of NtGRF-like gene expression and the developmental processes for leaves and flowers in tobacco.
Access options
Buy single article
Instant access to the full article PDF.
USD 39.95
Price excludes VAT (USA)
Tax calculation will be finalised during checkout.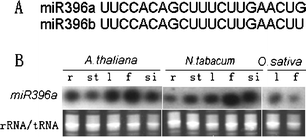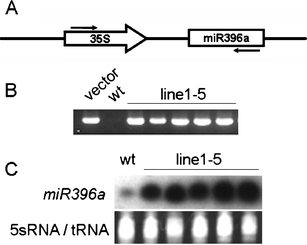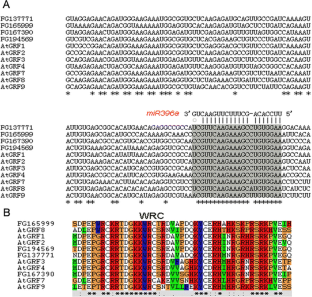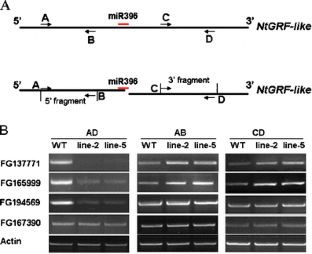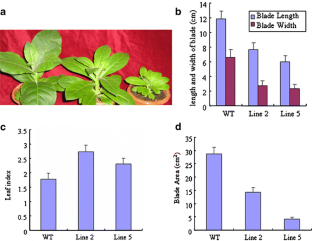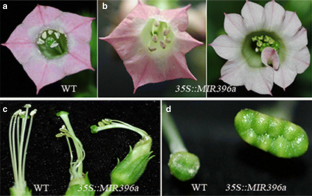 References
Achard P, Herr A, Baulcombe DC, Harberd NP (2004) Modulation of floral development by a gibberellin-regulated microRNA. Development 131:3357–3365

Akbergenov R, Si-Ammour A, Blevins T, Amin I, Kutter C, Vanderschuren H, Zhang P, Gruissem W, Meins F Jr, Hohn T, Pooggin MM (2006) Molecular characterization of geminivirus-derived small RNAs in different plant species. Nucleic Acids Res 34(2):462–471

Ambros V, Bartel B, Bartel DP, Burge CB, Carrington JC, Chen X, Dreyfuss G, Eddy S, Griffiths-Jones S, Marshall M, Matzke M, Ruvkun G, Tuschl T (2003) A uniform system for microRNA annotation. RNA 9:277–279

Baker CC, Sieber P, Wellmer F, Meyerowitz EM (2005) The early extra petals1 mutant uncovers a role for microRNA miR164c in regulating petal number in Arabidopsis. Curr Biol 15:303–315

Bartel DP (2004) MicroRNAs: genomics, biogenesis, mechanism, and function. Cell 116:281–297

Chen XM (2004) A microRNA as a translational repressor of APETALA2 in Arabidopsis flower development. Science 303:2022–2025

Cho KH, Jun SE, Lee YK, Jeong SJ, Kim GT (2007) Developmental processes of leaf morphogenesis in Arabidopsis. J Plant Biol 50(3):282–290

Choi D, Kim JH, Kende H (2004) Whole genome analysis of the OsGRF gene family encoding plant-specific putative transcription activators in rice (Oryza sativa L). Plant Cell Physiol 45:897–904

Curtis IS, Davey MR, Power JB (1995) Leaf disc and transformation. Methods Mol Biol 44:59–70

Dugas DV, Bartel B (2008) Sucrose induction of Arabidopsis miR398 represses two Cu/Zn superoxide dismutases. Plant Mol Biol 67(4):403–417

Floyd SK, Bowman JL (2004) Gene regulation: ancient microRNA target sequences in plants. Nature 428:485–486

Fujii H, Chiou TJ, Lin SI, Aung K, Zhu JK (2005) A miRNA involved in phosphate-starvation response in Arabidopsis. Curr Biol 15:2038–2043

Griffiths-Jones S, Grocock RJ, van Dongen S, Bateman A, Enright AJ (2006) miRBase: MicroRNA sequences, targets and gene nomenclature. Nucleic Acids Res 34:140–144

Guo HS, Xie Q, Fei JF, Chua NH (2005) MicroRNA directs mRNA cleavage of the transcription factor NAC1 to downregulate auxin signals for Arabidopsis lateral root development. Plant Cell 17:1376–1386

Horiguchi G, Kim GT, Tsukaya H (2005) The transcription factor AtGRF5 and the transcription coactivator AN3 regulate cell proliferation in leaf primordia of Arabidopsis thaliana. Plant J 43:68–78

Jones-Rhoades MW, Bartel DP (2004) Computational identification of plant microRNAs and their targets, including a stress-induced miRNA. Mol Cell 14:787–799

Jones-Rhoades MW, Bartel DP, Bartel B (2006) MicroRNAs and their regulatory roles in plants. Annu Rev Plant Biol 57:19–53

Juarez MT, Kui JS, Thomas J, Heller BA, Timmermans MC (2004) microRNA-mediated repression of rolled leaf1 specifies maize leaf polarity. Nature 428:84–88

Kawashima CG, Yoshimoto N, Maruyama-Nakashita A, Tsuchiya YN, Saito K, Takahashi H, Dalmay T (2009) Sulphur starvation induces the expression of microRNA-395 and one of its target genes but in different cell types. Plant J 57:313–321

Kim JH, Kende H (2004) A transcriptional coactivator, AtGIF1, is involved in regulating leaf growth and morphology in Arabidopsis. Proc Natl Acad Sci USA 101:13374–13379

Kim JH, Choi D, Kende H (2003) The AtGRF family of putative transcription factors is involved in leaf and cotyledon growth in Arabidopsis. Plant J 36:94–104

Kim J, Jung JH, Reyes JL, Kim YS, Chung KS, Kim JA, Lee M, Lee Y, Kim VN, Chua NH, Park CM (2005) MicroRNA-directed cleavage of ATHB15 mRNA regulates vascular development in Arabidopsis inflorescence stems. Plant J 42:84–94

Liu DM, Song Y, Chen ZX, Yu DQ (2009) Ectopic expression of miR396 suppresses GRF target gene expression and alters leaf growth in Arabidopsis. Physiol Plant 136:223–236

Llave C, Xie Z, Kasschau KD, Carrington JC (2002) Cleavage of scarecrow-like mRNA targets directed by a class of Arabidopsis miRNA. Science 297(5589):2053–2056

Lu C, Fedoroff N (2000) A mutation in the Arabidopsis HYL1 gene encoding a dsRNA binding protein affects responses to abscisic acid, auxin, and cytokinin. Plant Cell 12:2351–2366

Mallory AC, Dugas DV, Bartel DP, Bartel B (2004) MicroRNA regulation of NAC-domain targets is required for proper formation and separation of adjacent embryonic, vegetative, and floral organs. Curr Biol 14:1035–1046

Navarro L, Dunoyer P, Jay F, Arnold B, Dharmasiri N, Estelle M, Voinnet O, Jones DGJ (2006) A plant miRNA contributes to antibacterial resistance by repressing auxin signaling. Science 312(5772):436–439

Oka SI, Hirai S, Shoi KS, Kodama H (2008) Preferential spreading of RNA silencing into the 3′ downstream region of the transgene in tobacco. J Plant Biol 51(3):227–232

Palatnik JF, Allen E, Wu X, Schommer C, Schwab R, Carrington JC, Weigel D (2003) Control of leaf morphogenesis by microRNAs. Nature 425:257–263

Park W, Li J, Song R, Messing J, Chen X (2002) CARPEL FACTORY, a Dicer homolog, and HEN1, a novel protein, act in microRNA metabolism in Arabidopsis thaliana. Curr Biol 12:1484–1495

Reyes JL, Chua NH (2007) ABA induction of miR159 controls transcript levels of two MYB factors during Arabidopsis seed germination. Plant J 49:592–606

Sunkar R, Zhu JK (2004) Novel and stress-regulated microRNAs small RNAs from Arabidopsis. Plant Cell 16:2001–2019

Treich I, Cairns BR, de los Santos T, Brewster E, Carlson M (1995) SNF11, a new component of the yeast SNF–SWI complex that interacts with a conserved region of SNF2. Mol Cell Biol 15(8):4240–4248

van der Knaap E, Kim JH, Kende H (2000) A novel gibberellin-induced gene from rice and its potential regulatory role in stem growth. Plant Physiol 122:695–704

Vaucheret H, Vazquez F, Crete P, Bartel DP (2004) The action of ARGONAUTE1 in the miRNA pathway and its regulation by the miRNA pathway are crucial for plant development. Genes Dev 18:1187–1197

Zhang BH, Pan XP, Cannon CH, Cobb GP, Anderson TA (2006) Conservation and divergence of plant microRNA genes. Plant J 46:243–259

Zhang DF, Li B, Jia GQ, Zhang TF, Dai JR, Li JS, Wang SC (2008) Isolation and characterization of genes encoding GRF transcription factors and GIF transcriptional coactivators in maize (Zea mays L.). Plant Sci 175:809–817
Acknowledgments
This research was supported by the National High Technology Research and Development Program of China (863 Program; 2006AA02Z129), the National Natural Science Foundation of China (90408022), the Science Foundation of Yunnan Province (2004C0051M), and the "Hundred Talents" Program of the Chinese Academy of Sciences.
Additional information
Fengxi Yang and Gang Liang contributed equally to this paper.
About this article
Cite this article
Yang, F., Liang, G., Liu, D. et al. Arabidopsis MiR396 Mediates the Development of Leaves and Flowers in Transgenic Tobacco. J. Plant Biol. 52, 475–481 (2009). https://doi.org/10.1007/s12374-009-9061-7
Received:

Revised:

Accepted:

Published:

Issue Date:

DOI: https://doi.org/10.1007/s12374-009-9061-7
Keywords