Abstract
Phenotypic plasticity is an important attribute that enables plants to survive across a range of environments. We conducted two experiments to investigate the plasticity of architectural traits and biomass ratios for Fagopyrum esculentum Moench in response to population density and sowing date. These included (1) inter-planting distances of 5, 10, 15, or 20 cm; and (2) sowing on 25 July, 1 August, 5 August, or 10 August. Many traits exhibited phenotypic plasticity that was coupled with changes in plant size. However, variations in leaf/mass ratio from either experiment, as well as leaf/root ratios in response to sowing date, were independent of size. When coefficients of variation were computed, some consistency was found in the magnitude of trait plasticity for both density and sowing date. For each experiment, leaf/root ratios, leaf/mass ratios, and stem/mass ratios were most plastic. Although this suggests that biomass ratios could be more responsive to environmental changes, a wide array of traits should be considered if we are to fully understand the mechanism for these phenomena.
Access options
Buy single article
Instant access to the full article PDF.
USD 39.95
Price excludes VAT (USA)
Tax calculation will be finalised during checkout.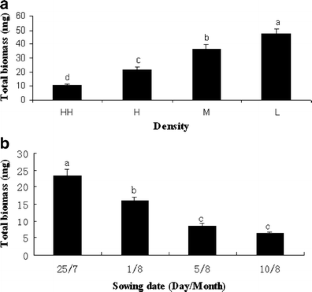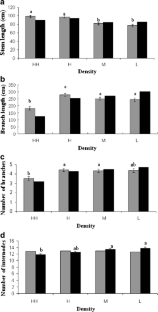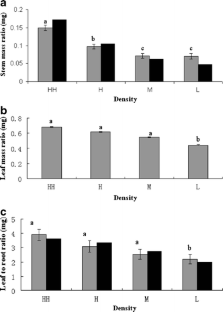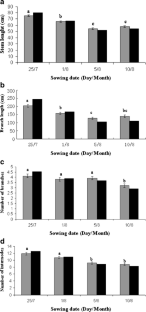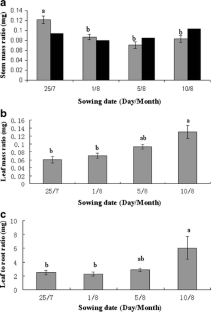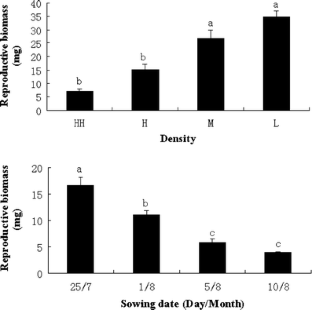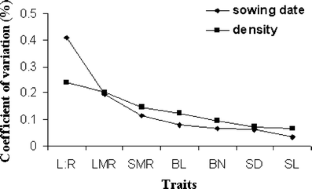 References
Ballaré CL, Scopel AL (1991) Photocontrol of stem elongation in plant neighbourhoods: effects of photon fluence rate under natural conditions of radiation. Plant Cell Environ 14:57–65

Bell DL, Galloway LF (2007) Plasticity to neighbour shade: fitness consequences and allometry. Funct Ecol 21:1146–1153

Bell DL, Galloway LF (2008) Population differentiation for plasticity to light in an annual herb: adaptation and cost. Am J Bot 95:59–65

Bloom AJ, Chapin FS, Mooney HA (1985) Resource limitation in plants—an economic analogy. Annu Rev Ecol Syst 16:363–392

Bonser SP, Aarssen LW (1996) Meristem allocation: a new classification theory for adaptive strategies in herbaceous plants. Oikos 77:347–352

Bonser SP, Aarssen LW (2003) Allometry and development in herbaceous plants: functional responses of meristem allocation to light and nutrient availability. Am J Bot 90:404–412

Bouvet JM, Vigneron P, Saya A (2005) Phenotypic plasticity of growth trajectory and ontogenetic allometry in response to density for Eucalyptus hybrid clones and families. Ann Bot 96:811–821

Bradshaw AD (1965) Evolutionary significance of phenotypic plasticity in plants. Adv Genet 13:115–155

Callaway RM, Pennings SC, Richards CL (2003) Phenotypic plasticity and interactions among plants. Ecology 84:1115–1128

Cheplick GP (2003) Evolutionary significance of genotypic variation in developmental reaction norms for a perennial grass in competition. Evol Ecol 17:175–196

Coleman JS, McConnaughay KDM, Ackerly DD (1994) Interpreting phenotypic variation in plants. Trends Ecol Evol 9:187–191

de Kroon H, Hutchings MJ (1995) Morphological plasticity in clonal plants: the foraging concept reconsidered. J Ecol 83:143–152

Dewar RC (1993) A root-shoot partitioning model based on carbon–nitrogen–water interactions and Munch phloem flow. Funct Ecol 7:356–368

Dudley SA (2004) Plasticity and the functional ecology of plants. In: Dewitt TJ, Scheiner SM (eds) Phenotypic plasticity: functional and conceptional approaches. Oxford University Press, Oxford, pp 151–172

Dudley SA, Schmitt J (1996) Testing the adaptive plasticity hypothesis: density-dependent selection on manipulated stem length in Impatiens capensis. Am Nat 147:445–465

Duffy NM, Bonser SP, Aarssen LW (1999) Patterns of variation in meristem allocation across genotypes and species in monocarpic Brassicaceae. Oikos 84:284–292

Egli DB, Bruening WP (2000) Potential of early-maturing soybean cultivars in late plantings. Agron J 92:532–537

Fagerström T (1992) The meristem–meristem cycle as a basis for defining fitness in clonal plants. Oikos 63:449–453

Gautier H, Varlet-Grancher C, Membre JM (2001) Plasticity of petioles of white clover (Trifolium ripens) to blue light. Physiol Plant 112:293–300

Geber MA (1990) The cost of meristem limitation in Polygonum arenastrum: negative genetic correlations between fecundity and growth. Evolution 44:799–819

Gedroc JJ, McConnaughay KDM, Coleman JS (1996) Plasticity in root/shoot partitioning: optimal, ontogenetic or both? Funct Ecol 10:44–50

Hirose T (1987) A vegetative plant model: adaptive significance of phenotypic plasticity in matter partitioning. Funct Ecol 1:195–202

Huber H, Wiggerman L (1997) Shade avoidance in the clonal herb Trifolium fragiferum: a field study with experimentally manipulated vegetation height. Plant Ecol 130:53–62

Huber H, During HJ (2001) No long-term costs of meristem allocation to flowering in stoloniferous Trifolium species. Evol Ecol 14:731–748

Johnson IR, Thornley JHM (1987) A model of root:shoot ratio partitioning with optimal growth. Ann Bot 60:133–142

McConnaughay KDM, Coleman JS (1999) Biomass allocation in plants: ontogeny or optimality? A test along three resource gradients. Ecology 80:2581–2593

Moriuchi KS, Winn AA (2005) Relationships among growth, development and plastic response to environmental quality in a perennial plant. New Phytol 166:149–158

Müller I, Schmid B, Weiner J (2000) The effect of nutrient availability on biomass allocation patterns in 27 species of herbaceous plants. Perspect Plant Ecol Evol Syst 3:115–127

Navas ML, Garnier E (2002) Plasticity of whole plant and leaf traits in Rubia peregrina in response to light, nutrient and water availability. Acta Oecol 23:375–383

Pigliucci M (2001) Phenotypic plasticity: beyond nature and nurture. Johns Hopkins University Press, Baltimore, MD, USA

Poorter H, Nagel O (2000) The role of biomass allocation in the growth response of plants to different levels of light, CO2, nutrients and water: a quantitative review. Aust J Plant Physiol 27:595–607

Ryser P, Eek L (2000) Consequences of phenotypic plasticity vs. interspecific differences in leaf and root traits for acquisition of aboveground and below ground resources. Am J Bot 87:402–411

Sadras VO, Bange MP, Milroy SP (1997) Reproductive allocation in cotton in response to plant and environmental factors. Ann Bot 80:75–81

Salomonson A, Ohlson M, Ericson L (1994) Meristem activity and biomass production as response mechanisms in two forest herbs. Oecologia 100:29–37

Schlichting CD (1986) The evolution of phenotypic plasticity in plants. Annu Rev Ecol Syst 17:667–693

Schlichting CD, Levin DA (1986) Phenotypic plasticity: an evolving plant character. Biol J Linn Soc 29:37–47

Schmitt J (1993) Reaction norms of morphological and life-history traits to light availability in Impatiens capensis. Evolution 47:1654–1668

Schmitt J, Wulff RD (1993) Light spectral quality, phytochrome and plant competition. Trends Ecol Evol 8:47–50

Schmitt J, McCormac AC, Smith H (1995) A test of adaptive plasticity hypothesis using transgenic and mutant plants disabled in phytochrome-mediated elongation responses to neighbors. Am Nat 146:937–958

Schwinning S, Weiner J (1998) Mechanisms determining the degree of size asymmetry in competition among plants. Oecologia 113:447–455

Semchenko M, Zobel K (2005) The effect of breeding on allometry and phenotypic plasticity in four varieties of oat (Avena sativa L.). Field Crops Res 93:151–168

Sultan SE (1995) Phenotypic plasticity and plant adaptation. Acta Bot Neerl 44:363–383

Sultan SE (2000) Phenotypic plasticity for plant development, function and life history. Trends Plant Sci 5:537–542

Sultan SE (2004) Promising directions in plant phenotypic plasticity. Perspect Plant Ecol Evol Syst 6:227–233

Sultan SE, Bazzaz FA (1993) Phenotypic plasticity in Polygonium persicaria. 1. Diversity and uniformity in genotypic reaction norms to light. Evolution 47:1009–1031

Thompson WA, Kriedemann PE, Craig IE (1992) Photosynthetic response to light and nutrients in sun-tolerant and shade-tolerant rain forest trees. 1. Growth, leaf anatomy and nutrient content. Aust J Plant Physiol 19:1–18

Tilman D (1988) Plant strategies and the dynamics and structure of plant communities. Princeton University Press, Princeton, NJ, USA

van Kleunen M, Fischer M (2003) Effects of four generations of density-dependent selection on life history traits and their plasticity in a clonally propagated plant. J Evol Biol 16:474–484

Waite S, Hutchings MJ (1982) Plastic energy allocation patterns in Plantago coronopus. Oikos 38:333–342

Wang T, Zhou D, Wang P, Zhang H (2006) Size-dependent reproductive effort in Amaranthus retroflexus: the influence of planting density and sowing date. Can J Bot 84:485–492

Watson MA, Casper BB (1984) Morphogenetic constraints on patterns of carbon distribution in plants. Annu Rev Ecol Syst 15:233–258

Watson MA, Hay MJM, Newton PCD (1997) Developmental phenology and timing of determination of shoot bud fates. Ways in which the development program modulates fitness in clonal plants. In: de Kroon H, van Groenendael J (eds) The ecology and evolution of clonal plants. The Netherlands, Backhuys, Leiden, pp 31–53

Weiner J (2004) Allocation, plasticity and allometry in plants. Perspect Plant Ecol Evol Syst 6:207–215

Weiner J, Fishman L (1994) Competition and allometry in Kochia scoporia. Ann Bot 73:263–271

West-Eberherd MJ (2003) Developmental plasticity and evolution. Oxford University Press, New York, USA

White J (1979) The plant as a metapopulation. Annu Rev Ecol Syst 10:109–145

Wright SD, McConnaughay KDM (2002) Interpreting phenotypic plasticity: the importance of ontogeny. Plant Species Biol 17:119–131

Zhang H, Zhou D, Huang Y, Japhet W, Sun D (2008) Plasticity and allometry of meristem allocation in response to density in three annual plants with different architectures. Botany 86:1291–1298

Zhou D, Wang T, Valentine I (2005) Phenotypic plasticity of life-history characters in response to different germination timing in two annual weeds. Can J Bot 83:28–36
Acknowledgments
We thank Zhang Boatian and the other staff at the research station for managing these experiments. This manuscript benefited from discussions with Jacob Weiner and Cory Mathew. We thank Colleen Cassady St. Clair for helping with the language and Daffay Mamudu for assistance with the statistical analysis. Input from Josphert Kimatu and Yiying Zheng is also acknowledged. We thank the two anonymous reviewers for their helpful comments on an earlier version of the manuscript. Financial support was given by the National Key Basic Research Development Program, Grant no. 2007CB106801.
About this article
Cite this article
Japhet, W., Zhou, D., Zhang, H. et al. Evidence of Phenotypic Plasticity in the Response of Fagopyrum esculentum to Population Density and Sowing Date. J. Plant Biol. 52, 303–311 (2009). https://doi.org/10.1007/s12374-009-9037-7
Received:

Revised:

Accepted:

Published:

Issue Date:

DOI: https://doi.org/10.1007/s12374-009-9037-7
Keywords