Abstract
Geoheritage sites are gaining more and more importance due to their natural beauty and curiosity they arouse, besides their value as objects of study and research. Going by the vast geodiversity in India, the declared geoheritage sites are far less and thus, there is a scope to recognize and develop more across the country. The Karnataka State in southern India with rocks and landforms of antiquity offers one of the excellent provinces for recognizing geoheritage sites. Here, spectacular structural, textural, geomorphological and ancient life-form features have been studied and mapped and they could be sites of educational, scientific, research, and esthetic values, besides tourist attraction. Steep fault gorges in Sandur, lofty granite massifs in Ramanagara, natural rocky sculptures in Mudgal, abandoned open cast iron ore mines amid outstanding scenic beauty in Kudremukh, typical spinifex textures in the Archaean ultramafic lavas in Banasandra and Gattihosahalli and stromatolitic structures in Chitradurga schist belt are some of the excellent features worth declaring as geoheritage sites, which could add to the existing list of 4 such sites already declared and protected in the State. Most of the sites which are being proposed now are in mining/quarrying areas and need urgent attention for their conservation. Some of them are already facing irreversible damage and therefore it is time that their scientific value is realized and conserved. SWOT analysis has been carried out for these sites and strategies recommended by analyzing the TOWS matrix for their conservation. It is recommended that the Geological Survey of India (GSI) in coordination with the State Department of Mines and Geology (DMG) should play a key role in this endeavor with assistance from academic Institutions, Private Exploration Companies, NGOs, and individual geoscience professionals. The Government should appoint geoscience representatives on the "Boards" meant to draw policies on nature conservation. The fund available in "District Mineral Foundation," collected as a share of the royalty for mineral mining, could be utilized to protect and maintain the identified geoheritage sites in the respective districts of the State.
Access options
Buy single article
Instant access to the full article PDF.
USD 39.95
Price excludes VAT (USA)
Tax calculation will be finalised during checkout.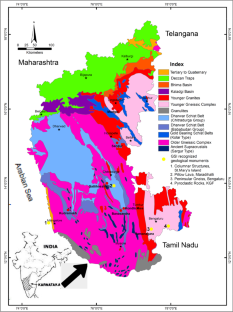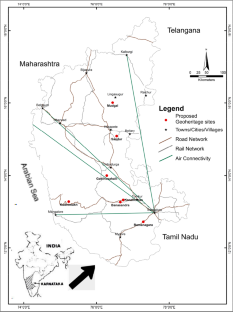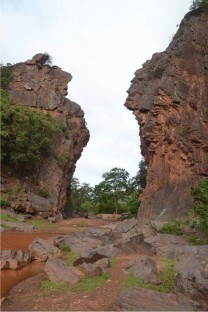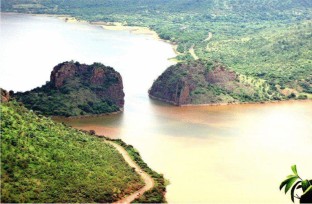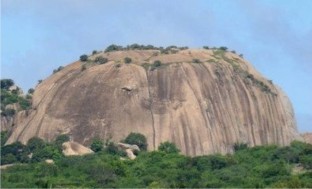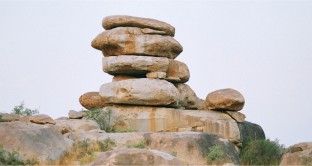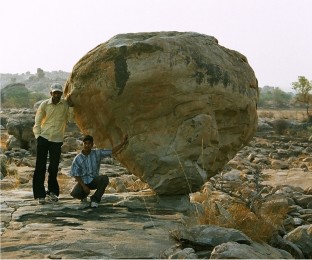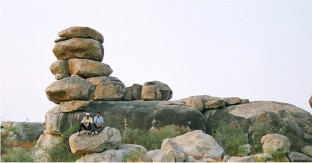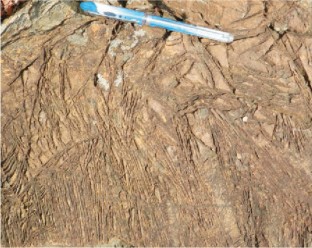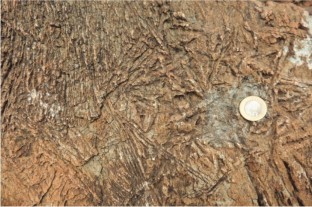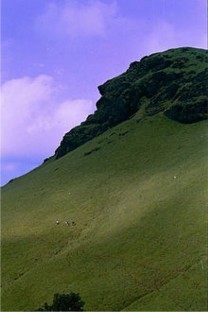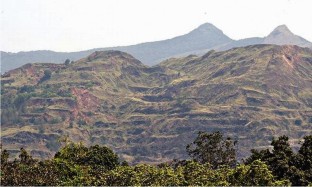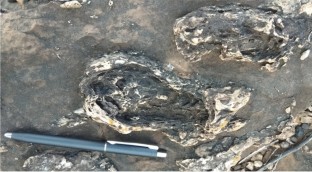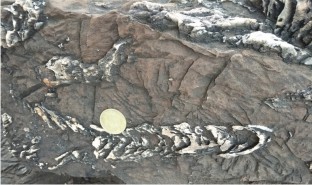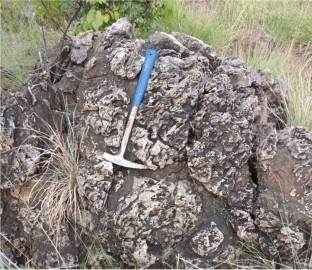 References
Ahluwalia AD (2006) Indian geoheritage, geodiversity: geosites and geoparks. Curr Sci 91:1307–1307. http://www.jstor.org/stable/24094048. Accessed 1 June 2021

Arndt N (2008) Komatiite. Cambridge University Press; 1 edition

Allwood AC, Walter MR, Burch IW, Kamber BS (2007) 3.42 billion-year-old stromatolite reef from the Pilbara Craton of Western Australia: ecosystem-scale insights to early life on Earth. Precambrain Res 158:198–227. https://doi.org/10.1016/j.precamres.2007.04.013

Andrasanu A (2005) The Geopark – framework for research, education and training in sustainable development. In: Proceedings of Second Conference on the Geoheritage of Sebia, pp 171–175. ISBN 502.131–1.55

Bacci CD (2008) Geoparks, geosicences and environmental education. In: Proceedings 3rd International UNESCO Conference on Geoparks, Germany, pp 18–19

Bakliwal PC, Grover AK, Kaura SC (2004) Earth Science related features for Geotoursim in Arunachal Pradesh, Northeastern India. In: Workshop on Geotourism in NE India with special emphasis on Meghalaya, Shillong. Geol. Surv. Ind. Abstract Volume, p 37–38

Balakrishnan S, Hanson GN, Rajamani V (1991) Pb and Nd isotope constraints on the origin of high Mg and tholeiitic amphibolites, Kolar Schist Belt, South India. Contrib Mineral Petrol 107:279–292. https://doi.org/10.1007/BF00325099

Baral MC (1986) Archaean stromatolites from Dodguni Belt of Karnataka Craton, India. J Geol Soc India 28(4):328–333

Beraaouz M, Abioui M, Deb SP (2019) Precambrian (Edicaran) stromatolites in the Amanen'Tourhart, Anti-Atlas, Morocco. Int J Earth Sci 108:1273–1274. https://doi.org/10.1007/s00531-019-01690-1

Bhosale S, Chaskar K, Pandey DK, Lakhote A, Thakkar A, Chauhan G, Bhandari S, Thakkar MG (2021) Jurassic geodiversity and geomorphosite of Kanthkot area, Wagad, Kachchh, Western India. Int J Geoheritage Parks 9(1):51–68. https://doi.org/10.1016/j.ijgeop.2020.12.008

Bhushan SK, Rao KN, Vidyadharan KT (2010) Petrography and geochemistry of St. Mary's Islands, near Malpe, Dakshina Kannada District, Karnataka. J Geol Soc India 76(2):155–163. https://doi.org/10.1007/s12594-010-0088-7

Brilla J (2009) Geological Heritage and geoconservation in Portugal. In: Neto de Carvalho, C, Rodrigues J (eds) New challenges with geotourism. Proceedings of the VIII European geoparks Conference Portugal, pp 31–35

Brocx M, Semeniuk V (2007) Geoheritage and geoconservation - history, definition, scope and scale. J R Soc West Aust 90:53–87

Chauhan G, Biswas S, Thakkar MG, Page KN (2021) The unique geoheritage of the Kachchh (Kutch) Basin, Western India, and its conservation. Geoheritage 13(1):23. https://doi.org/10.1007/s12371-021-00535-1

Dowling RK, Newsome D (eds) (2010) Global geotourism perspectives. Good fellow Publishers, Oxford

Dowling RK (2011) Geotourism's global growth. Geoheritage 3(1):1–13

Duraiswami RA, Mustaqueem IM, Shaikh TN (2013) Emplacement of pillow lavas from the ~2.8 Ga Chitradurga Greenstone Belt, South India: A physical, volcanological, morphometric and geochemical perspective. J Volcanol Geoth Res 264:134–149. https://doi.org/10.1016/j.jvolgeores.2013.08.002

Frey ML (ed) (2003) European geoparks network magazine no. 1, p 32

Geological Society of America (2011) National park saervice USA. Web source. https://www.geolsoc.org.uk. Accessed 19 May 2020

Geological Society of London (2019) Geoheritage and the UK's top geological sites. Web source. https://www.geolsoc.org.uk. Accessed 26 May 2020

Ghosh A, Mukhopadhyay, Chatterjee S (2021) Assessment of geoheritage and prospects of geotoursim: an approach to geoconservation of important geological and geomorphological sites of Puruliya district, West Bengal, India. Int J Geoheritage Parks. https://doi.org/10.1016/j.ijgeop.2021.03.001

Gordon JE, Crofts R, Díaz-Martínez E (2018) Geoheritage conservation and environmental policies: retrospect and prospect. In: Reynard E, Brilha J (eds) Geoheritage: assessment, protection and management. Elsevier, Amsterdam, pp 213–235. https://doi.org/10.1016/B978-0-12-809531-7.00012-5

Gray M (2013) Geodiversity. Valuing and conserving abiotic nature. Chichester: Wiley Blackwell. ISBN: 978–0–470–74215–0

Grover AK, Mahanta BN (2018) Geotourism potential in Arunachal Pradesh – a preliminary appraisal. Indian J Geosc 72(4):345–360. https://www.researchgate.net/publication/332633372. Accessed 4 Oct 2020

INTACH (Indian National Trust for Art and Cultural Heritage: Natural Heritage Division) (2016) A monograph on national geoheritage monuments of India Web. http://naturalheritage.intach.orguploads2017/11. Accessed 4 May 2020 

Jayananda M, Martin H, Peucat JJ, Mahabaleswar B (1995) Late Archaean crust–mantle interactions in the Closepet granite, Southern India: evidence from Sr–Nd isotopes, major and trace element geochemistry. Contrib Miner Petrol 119:314–329. https://doi.org/10.1007/BF00307290

Jayananda M, Moyen JF, Martin H, Peucat JJ, Auvray B, Mahabaleswar B (2000) Late Archaean (2550–2520 Ma) juvenile magmatism in the Eastern Dharwar craton, southern India: constraints from geochronology, Nd–Sr isotopes and whole rock geochemistry. Precambr Res 99(3–4):225–254

Jayananda M, Miyazaki T, Gireesh RV, Mahesha N, Kano T (2009) Synplutonic mafic dykes from late Archaean granitoids in the Eastern Dharwar Craton, Southern India. J Geol Soc India 73(1):117–130. https://doi.org/10.1007/s12594-009-0007-y

Jayananda M, Duraiswami RA, Aadhiseshan KR, Gireesh RV, Prabhakar BC, Kafo K, Tushipokla, Namratha R (2016) Physical volcanology and geochemistry of Palaeoarchaean komatiite lava flows from the western Dharwar craton, southern India: implications for Archaean mantle evolution and crustal growth. https://doi.org/10.1080/00206814.2016.1172350

Krogstad EJ, Hanson GN, Rajamani V (1995) Sources of continental magmatism adjacent to late Archaean Kolar suture zone, south India: distinct isotopic and elemental signatures of two late Archaean magmatic series. Contrib Mineral Petrol 122:159–173. https://doi.org/10.1007/s004100050119

Kumar HSB, Jayananda M, Kano T, Shadakshara N, Mahabaleswar B (2003) Late Archaean juvenile accretion process in the Eastern Dharwar Craton; Kuppam-Karimangala area. Mem GeolSoc India 50:375–408. https://www.researchgate.netpublication284045888. Accessed 7 Oct 2020

Larwood JG, Badman T, McKeever PJ (2013) The progress and future of geoconservation at a global level. Proc Geol Assoc 124(4):720–730. https://doi.org/10.1016/j.pgeola.2013.04.001

Lee Y, Jayakumar R (2021) Economic Impact of UNESCO Global Geoparks on Local Communities: Comparative Analysis of Three UNESCO Global Geoparks in Asia. Int J Geoheritage Parks. https://doi.org/10.1016/j.ijgeop.2021.02.002

Lemmon TC, Gee RD, MorganWR, Elkington CR (1979) Important geological sites in the Perth and southwestern area of Western Australia. Geological Society of Australia Western Australian Division report to the National Trust. Perth, WA

Manikyamba C, Naqvi SM, Sawkar RH, Group GR (1997) Identification of Sandur schist belt as a potential gold field. Curr Sci 72:515–518. https://www.jstor.org/stable/24098461. Accessed 15 Oct 2020

Martini G (2003) Presentation of the Reserve Geologique de Haute Provence. In: NHM of petrified forest. Proceedings of 2nd International Symposium of Natural Monuments and Geological Heritage, Greece, pp 25–28

Mathur S, Sudhanshu SSK, Mathur SC (2020) Paleontological resources for geotourism in Barmer Area of Western Rajasthan, India: implication for a national fossil park development. Geoj Tour Geosites 28(1):203–216. https://doi.org/10.30892/gtg.28116-463

Mathur S (2020) Concept of geoheritage: a review in Indian context. SGVU J CLIM CHANGE WATER 7:01–17. Web: https://www.gyanvihar.org/journals/wp-content/uploads/2020/06/MS-JCCW01.pdf. Accessed 8 Oct 2020.

Mazumdar MK (2010) Sustainable use of landscapes through geo-conservation promotion: the Geoparks approach with particular reference to Northeast India. In: Islam S, Barua P, Das KC (eds) Biodiversity Conservation and Sustainable Development, Commerce College, Guwahati, 137–166

Migon P, Migon PE (2017) Viewpoint geosites—Values, conservation and management issues. Proc Geol Assoc 128(4):511–522

Migon PE, Migon P (2019) Promoting and interpreting geoheritage at the local level – bottom-up approach in the land of extinct volcanoes, Sudetes, SW Poland. Geoheritage 11:1227–1236. https://doi.org/10.1007/s12371-019-00357-2

Moyen JF, Martin H, Jayananda M, Auvray B (2003a) Late Archaean granites: a typology based on the Dharwar Craton (India). Precambr Res 127(1–3):103–123. https://doi.org/10.1016/S0301-9268(03)00183-9

Moyen JF, Nédélecb A, Martina H, Jayananda M (2003b) Syntectonic granite emplacement at different structural levels: the Closepet granite, South India. J Struct Geol 25: 611–631. https://www.elsevier.com/locate/jstrugeo*. Accessed 20 Oct 2020

Mukhopadhyay D, Ghosh D (1983) Superposed deformation in the Dharwar rocks ofthe southern part of the Chitradurga schist belt near Dodguni, Karnataka. In: Naqvi SM, Rogers JJW (eds) Precambrian of South India Mem GeolSoc India 4:275–292

Naqvi SM, Venkatachala BS, Shukla M, Kumar B, Natarajan R, Sharma M (1987) Silicified cyanobacteria from the cherts of Archaean Sandur Schist Belt Karnataka India. J Geol Soc India 29(6):535–539

Nutman AP, Chadwick B, Rao KB, Vasudev VN (1996) SHRIMP U/Pb zircon ages of acid volcanic rocks in the Chitradurga and Sandur Groups, and granites adjacent to the Sandur Schist Belt, Karnataka. J Jeol Soc India 42:153–164. https://doi.org/10.2465/jmps.150316

Nutman AP (2017) IsuaStromatolites – understanding the field setting.Technical Report, University of Wollongong.https://doi.org/10.13140/RG.2.2.13602.63681

Paddayya K (1968) Infestations in to the Neolithic culture of the Shorapur Doab, South India.pub. E.L.Brill.Leiden

Pappu RS (1997) Prachinathamamanavasamskrithi. Sundar A (ed) Karnataka charithre (Ancient Human History in vernacular) vol. 1. Kannada Hampi University. pp 28–93

Phani PRC (2016) Geological excursion to Eparchaean unconformity at Namalagundu, Anantapur District, Andhra Pradesh, India. e-Journal Earth Science India, 1–8. https://www.researchgate.net/publication/297546285. Accessed 13 Oct 2020

Prabhakar BC (2005) An overview of multifaceted threat to ecosystem – a study from Sandur mining area, Bellary district. VijnanaBharathi 17:27–31

Prabhakar BC, Namratha R (2014) Morphology and textures of komatiite flows of J.C. Pura schist belt, Dharwar Craton. Jour GeolSoc India 83:13–20

Prabhakar BC, Jayananda M, Shareef M, Kano T (2009) Synplutonic mafic injections into crystallizing granite pluton from Gurgunta area, northern part of eastern Dharwar Craton: implications for magma chamber processes. J Geol Soc India 74(2):171–188. https://doi.org/10.1007/s12594-009-0120-y

Prabhakar BC (2007) Mudgalbaliyanisargashilpagalu (natural sculptures near Mudgal in Vernacular language) Published in Vijaya Karnataka., special volume, 2007

Prosser C, Díaz-Martínez E, Larwood JG (2018) The conservation of geosites: principles and practice. In: Reynard E, Brilha J (eds) Geoheritage: assessment, protection, and management. Elsevier, Amsterdam, pp 193–212. https://doi.org/10.1016/B978-0-12-809531-7.00011-3

Radhakrishna BP, Vaidyanadhan R (2011) Geology of Karnataka. Geol Soc India :298

Raghuram G (1995) Konkan Railway Corporation: choice of alignment in Goa. Manag Case 20(3):53–65. https://web.archive.org/web/20090304113258. Accessed 17 Oct 2020

Ranawat PS, George S (2019) Potential geoheritage and geotourism sites in India. Int J Sci Res Publ 9(6):91–96

Ranganathan N, Jayaram S (eds) (2006) Geomorphology of Karnataka. Karnataka Geologists association. ISBN:81–89650–02–5

Rao VM, Nagabhushana JC, Jeygopal AV (1989) Uranium mineralization in the Middle Proterozoic carbonate rocks of the CuddapahSupergroup, Southern Peninsular India. Explor Res Atom Miner 2:1–25

Reynard, Brilha (2018) Geoheritage: a multidisciplinary and applied research topic. In: Reynard, Brilha (ed) Geoheritage: assessment, development and management. Elsevier pp 3–9 ISBN: 978–0–12–809531–7

Sharma M, Pandey SK (2012) Stromatolites of the Kaladgi basin, Karnataka, India: systematics, biostratigraphy and age implications. The Palaeobotanist, 61:103–121. https://www.researchgate.net/publication/303331308. Accessed 19 Oct 2020

Sharma M, Shukla M (2004) A new Archaeanstromatolite from the Chitradurga Group, Dharwar Craton, India and its significance. Palaeobotanist 53:5–16. https://14.139.63.228:8080/pbrep/bitstream/123456789/1030/1/PbV53_5.pdf. Accessed 15 Oct 2020

Sharma M, Sergeev VN (2004) Genesis of carbonate precipitate patterns and associated microfossils in Mesoproterozoic formations of India and Russia—a comparative study. Precambr Res 134:317–347. https://doi.org/10.1016/j.precamres.2004.07.001

Shekhar S, Kumar P, Chauhan G, Thakkar MG (2019) Conservation and sustainable envelopment of geoheritage, geopark and geotourism: a case study of Cenozoic successions in Western Kutch, India. Geoheritage.https://doi.org/10.1007/s12371-019-00362-5

Sheth H, Samant H, Patel V, D'Souza J (2016) The volcanic geoheritage of the Elephanta caves, Deccan Traps, Western India. Geoheritage. https://doi.org/10.1007/s12371-016-0214-z

Singh RS, Ghosh P (2021) Geotourism potential of coal mines: an appraisal of Sonepur-Bazari open cast project, India. Int J Geoheritage Parks.https://doi.org/10.1016/j.ijgeop.2021.02.007

Smeeth WF (1916) Outline of the geological history of Mysore. Dept. of Mines and Geology; Mysore State Bull 6:1–21

Suresh SR, Basavanna M, Lakkundi T (2014) Geology and geochemistry of mafic and felsic volcanics of Joga (Sandur Schist Belt), Karnataka, India. Int J Earth Sci Eng 7(5):1637–1645. https://www.researchgate.net/publication/286318471. Accessed 18 Oct 2020

Swarna K, Biswas SK, Harinarayana T (2013) Development of geotourism in Kutch Region, Gujarat, India: an innovative approach. J Environ Prot 4:1360–1372. https://doi.org/10.4236/jep.2013.412157

UNESCO (2017) UNESCO Global geoparks contributing to the sustainable development goals: celebrating earth heritage, sustaining Local Communities (SC-2017/WS/9) [Online]. Available: https://unesdoc.unesco.org/ark:/48223/pf0000247741. Accessed 19 Oct 2020

UNESCO (2020) International Geoscience and Geoparks Programme (IGGP) UNESCO Earth Sciences Web: http://www.unesco.org/new/en/naturalsciences/environment/earth-sciences/international-geoscience-and-geoparks-programme/. Accessed 20 Oct 2020

Vaidyanadhan R (1975) Evolution of landforms over Precambrian terrains in India. Studies in Precambrian, Geology Department, Bangalore University, Bangalore. pp 283–291

Vasudev VN, Prabhakar BC (1991) Chemical sedimentary sequences- potential zones for gold in the late Archaean Sandur copper Mountain range of South India. In: Ladiera EA (ed) proceedings volume of the Symposium Brazil Gold, pp735–741

Venkatachala BS, Shukla M, Sharma M, Naqvi SM, Srinivasan R, Udairaj B (1990) Archaean microbiota form the Donimalai formation, DharwarSupergroup, India. Precambr Res 47:27–34. https://doi.org/10.1016/0301-9268(90)90028-O

Viljoen MJ, Viljoen RP (1969) Evidence for the existence of a mobile extrusive peridotitic magma from the Komati Formation of the Onvernacht Group. Geol Survey South Afr, Spec Publ 21:87–112

Wimbledon W (2013) Geoheritage in Europe and its conservation. Episodes 36(1):68–68. https://doi.org/10.18814/epiiugs/2013/v36i1/010

Wadhawan SK (2021) Geoheritage and potential geotourism in geoparks—Indian perspective. In: Singh, Wei D, Anand S (eds) Global Geographical heritage, geoparks and geotourism geoconservation and development, Springer, Singapore, 257–281. https://doi.org/10.1007/978-981-15-4956-4

Zouros N, McKeever P (2009) European geoparks network and tourism. In: Neto de Carvalho C, Rodrigues J (eds) In New challenges with geotourism. Proceedings of the VIII European geoparks Conference, Portugal, pp 19–21

Zouros N (2004) The European geoparks network. Geological heritage protection and local development. Episodes 27:165–171. https://doi.org/10.18814/epiiugs/2004/v27i3/002

Zwolinski Z, Stachowiak J (2012) Geodiversity map of the Tatra National Park for geotourism. QuaestionesGeographicae 31:99–107. https://doi.org/10.2478/v10117-012-0012-x
Acknowledgements
Dr.P.C.Nagesh, Department of Geology, Bangalore University provided key inputs on stromatolitic locations in Chitradurga belt. Dr.Mohamed Shareef, Sr. Geologist, GSI and Dr.R.V.Gireesh, Geologist, MGD assisted in fieldwork in the Mudgal area. Mr. Tejas K, Assistant Professor, Department of Civil Engineering, Acharya Institute of Technology, is thanked for his assistance in fieldwork in the central part of the Chitradurga schist belt. Critical comments and suggestions by an anonymous reviewer have greatly helped in improving the quality of this paper.
Ethics declarations
Conflict of Interest
The authors declare no competing interests.
About this article
Cite this article
Prabhakar, B.C., Radhika, K.N. Recognizing New Geoheritage Sites in Karnataka, India. Geoheritage 14, 3 (2022). https://doi.org/10.1007/s12371-021-00626-z
Received:

Accepted:

Published:

DOI: https://doi.org/10.1007/s12371-021-00626-z
Keywords