Abstract
Although Sri Lanka is known for its many geodiverse attractions, it has not fully recognized and capitalized on its potential to promote geotourism. This study evaluates the potential of two geotourism case study areas, Ussangoda and the Kudawella blowhole, in the southern part of the island which is well frequented by tourists. We provide a blueprint on how to assess the development potential of geotourism sites by employing three types of analyses: Firstly, we estimated the numerical value of various characteristics of the sites important for the development for geotourism, including their scientific, tourism, and conservation values along with the value added by other (non-geotourism) features. Secondly a strengths, weaknesses, opportunities, and threats (SWOT) analysis was performed which builds on the results from the numerical evaluation but provides a more in-depth narrative evaluation. Thirdly, the SWOT analysis can be extended and used to generate a threats, opportunities, weaknesses and strengths (TOWS) matrix which identifies the relationships between these factors and enables to select strategies by providing a succinct tabular overview as the basis for tourism development strategies. We exemplified this multi-step analysis on the Ussangoda and Kudawella blowhole and identified that both sites harbor significant potential as geotourism sites. A private–public partnership between communities and local authorities, as well as universities should be considered to develop geotourism in Sri Lanka.
Access options
Buy single article
Instant access to the full article PDF.
US$ 39.95
Tax calculation will be finalised during checkout.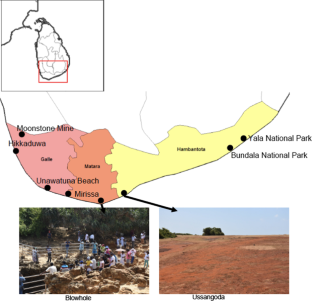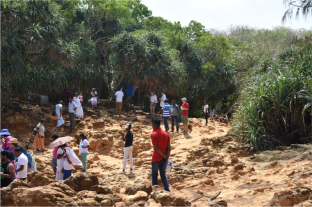 References
Ashley C, Roe D (1998) Enhancing community development in wildlife tourism: issues and challenges. International Institute for Environment and Development, UK

Arouca D (2011) Portugal. http://www.europeangeoparks.org/?p=223. Accessed 25 September 2018

Ateş HC, Ateş Y (2019) Geotourism and rural tourism synergy for sustainable development—Marçik Valley case—Tunceli, Turkey. Geoheritage 11:207–215

Bouzekraoui H, Barakat A, Mouaddine A, ElYoussi M, Touhami F, Hafid A (2018) Mapping geoheritage for geotourism management, a case study of Aït Bou Oulli Valley in Central High-Atlas (Morocco). Environ Earth Science 77:413

Brooks RR (1987) Serpentine and its vegetation. Dioscorides, Portland.

Brilha J (2016) Inventory and quantitative assessment of geosites and geodiversity sites: a review. Geoheritage 8:119–134

Carrión MP, Herrera FG, Briones J, Caldevilla P, Domínguez-Cuest M, Berrezueta E (2018) Geotourism and local development based on geological and mining sites utilization, zaruma-portovelo. Ecuador Geosciences 8:205

Chiarucci A, Baker AJM (2007) Advances in the ecology of serpentine soils. Plant Soil 293:1–2

Cocean G, Cocean P (2016) An assessment of gorges for purposes of identifying geomorphosites of geotourism value in the Apuseni Mountains (Romania). Geoheritage 9:71–81

Dowling R, Newsome D (2006) Geotourism. Elsevier, Oxford

Dowling RK (2009) Geotourism's contribution to local and regional development. In: Carvalho de C, Rodrigues J (eds) Geotourism and local development. Portugal, pp 15–37

Dowling R, Newsome D (2010) Geotourism: the tourism of geology and landscape. Goodfellow, Oxford

Dowling RK (2013) Global Geotourism – an emerging form of sustainable tourism. Czech Journal of Tourism 2:59–79

Dowling RK, Newsome D (2018) Handbook of geotourism. Edward Elgar, UK

Dowling RK (2018) Geoheritage and geotourism. In: Reynard E, Brilha J (eds) Geoheritage: assessment, protection, management. Elsevier, Amsterdam, pp 305–321

Farsani NT, Coelho C, Costa C (2012) Geotourism and geoparks as gateways to socio-cultural sustainability in Qeshm rural areas. Iran Asia Pacific Journal of Tourism Research 17:30–48

Farsani NT, Carvalho de CN, Xu K (2018) Education as a key tenet of geotourism. In Dowling R, Newsome D (eds) Handbook of geotourism. Cheltenham, UK, pp 234–243

Gray, M (2013) Geodiversity: valuing and conserving abiotic nature. Wiley Blackwell, UK

Gray, M (2018) Geodiversity, geoheritage, geoconservation and their relationship to geotourism. In: Dowling RK, Newsome D (eds), Handbook of geotourism. Edward Elgar, UK

Green RJ, Corft DB, Wolf ID (2019) Preface: Special issue on environmental impact of nature-based tourism. Environments 6:112

Hambantota Integrated Costal Zone Management Project (2000) Status report on special area management programme of the Mawella and Kudawell costal Area, Hambantota, district. Southern Development Authority of Sri Lanka

Hose TA (1995) Selling the story of Britain's Stone. Environmental Interpretation 10:16–17

Hose TA (2008) Towards a history of geotourism: definitions, antecedents and the future. In: Burek CV, Prosser CD (eds) The history of geoconservation. The Geological Society of London, pp 37–60.

Hose TA (2012) 3G's for modern geotourism. Geoheritage 4:7–24

Hull JS (2010) Promoting geotourism: a case study from Northeast Iceland. In: Newsome D, Dowling R (eds) Geotourism: the tourism of geology and landscape. Goodfellow, pp 61–76

International Union for Conservation of Nature (2004) The list of threatened fauna and fauna of Sri Lanka. IUCN, Colombo

Joyce EB (2006) Geomorphological sites and the new geotourism in Australia. Geological Society of Australia, Melbourne

Khoshraftar R, Farsani NT (2019) Geomythology: an approach for attracting geotourists (case study: Takht-e Soleymān – Takab World Heritage Sites). Geoheritage 11:1879–1888

Kubalikova L (2013) Geomorphosite assessment for geotoursim purposes. Czech Journal of Tourism 2:80–104

Kubalíková L, Kirchner K (2013) Relief assessment methodology with respect to geoheritage based on example of the Deblinska vrchovina Highland. In: Fialová J, Kubíčková H (eds) Public recreation and landscape protection – with man hand in hand. University in Brno, Mendel.

Kubalikova L, Kirchner K (2016) Geosite and geomorphosite assessment as a tool for geoconservation and geotourism purposes: a case study from Vizovická vrchovina Highland (Eastern-Part of the Czech Republic). Geoheritage 8:5–14

Kubalíková L (2019) Assessing geotourism resources on a local level: a case study from Southern Moravia (Czech Republic). Resources 8:150

Kubalíková L, Kirchner K, Kuda F, Machar I (2019) The role of anthropogenic landforms in sustainable landscape management. Sustainability 11:4331

Kubalíková L, Kirchner K, Kuda F, Bajer A (2020) Assessment of urban geotourism resources: an example of two geocultural sites in Brno. Czech Republic Geoheritage 12:2–12

Mucivuna VC, Reynard E, Garcia MDGM (2019) Geomorphosites assessment methods: comparative analysis and typology. Geoheritage 11:1799–1815

National Geographic Society (2005) Geotourism charter. Retrieved from http://travel.nationalgeographic.com/travel/sustainable/pdf/geotourism_charter_template.pdf. Accessed 20, 24 Nov 2020

Newsome D, Dowling R, Leung Y (2012) The nature and management of geotourism: a case study of two established iconic geotourism destinations. Tourism Management Perspectives 2:19–27

Ólafsdóttir R (2019) Geotourism Geosciences 9:48

Olafsdóttir R, Tverijonaite E (2018) Geotourism: a systematic literature review. Geosciences 8:234

Pereira P, Pereria D (2010) Methodological guidelines for geomorphosite assessment geomorphologie: relief, processes. Environment 1:215–222

Pralong JP (2005) A method for assessing tourist potential and used of geomorphological sites. Geomorphology: relief, processes. Environment 1(3):189–196

Proctor J (2003) Vegetation and soil and plant chemistry on ultramafic rocks in the tropical Far East. Perspectives in Plant Ecology, Evolution and Systematic 6:105–124

Ranasinghe PN, (2002) Geotourism map of Sri Lanka. Geological Survey and Mines Bureau, Sri Lanka.

Rajapaksha AU, Vithanage M, Oze C, Bandara WMAT, Weerasooriya R (2012) Nickel and manganese release in serpentine soil from the Ussangoda Ultramafic complex. Sri Lanka Geoderma 189:1–9

Ravibhanu, AS, Aouititen M, Taylor B, Sameera, G, Bandara, A (2020) Danigala Coding Sri Lanka. Sri Lanka.

Robinson MA (2008) Geotourism: Who is the geotourist? Inaugural National Conference on Green Travel, Climate Change and Ecotourism. Adelaide.

Reynard E, Fontana R, Kozlik L, Scapozza G, Lausanne (2007) A method for assessing the scientific and additional values of geomorphosites. Geographica Helvetica 62:148–158

Reynard E (2008) Scientific research and tourist promotion of geomorphological heritage. Geogr Fis Dinam Quat 31:225–230

Reynard E, Perret A, Bussard J, Grangier L, Martin S (2016) Integrated approach for the inventory and management of geomorphological heritage at the regional scale. Geoheritage 8:43–60

Selmi L, Coratza P, Gauci R, Soldati M (2019) Geoheritage as a tool for environmental management: a case study in Northern Malta (Central Mediterranean Sea). Resources 8:168

Slomka T, Kicinska-Swiderska A (2004) Geotourism – the basic concepts. Geoturystyka 1:2–5

Somadeva R, Wanninayake A, Devage D, Fernando R (2019) A review of rock art studies in Sri Lanka. Expression 25:70–85

Stueve AM, Cock SD, Drew D (2002) The geotourism study: phase 1 executive summary. Travel Industry Association of America.

Štrba L, Rybár P, Baláž B, Molokáč M, Hvizdák L, Kršák B, Lukáč M, Muchová L, Tometzová D, Ferenčíková J (2015) Geosite assessments: comparison of methods and results. Current Issue Tourism 18:496–510

Sunamapala D (2018) A review: national parks in Sri Lanka and impending development and research. Asian J Tourism Res 3(2):121–147

Sumanapala D, Kotagama S, Silva S (2012) Pleliminary inquiry in to constraints to the effective implementation of ecotourism practices at the local government. Department of forestry and environmental Science, University of Sri Jayewardenapura, Proceeding of the International Forestry and Environment Symposium

Sumanapala D, Wolf ID (2020) Man-made impacts on emerging geopark in the Asian region. Geoheritage 12:1–9

Sumanapala D, Wolf ID (2019) Recreational ecology: a review of research and gap. Environment 6:81

Tennakone K, Senevirathna MKI, Kehelpannala KVW (2007) Extraction of pure metallic nickel from ores and plants at Ussangoda, Sri Lanka. J Nat Sci Found 35:245–250

Torland M, Weiler B, Moyle BD, Wolf ID (2015) Are your ducks in a row? External and internal stakeholder perceptions of the benefits of parks in New South Wales, Australia. Managing Sport and Leisure 20:211–237

Uña-Álvarez E, Álvarez-Vásquez MA, Cuquejo-Bello MC (2017) Landform values for rural sustainability: recognition and assessment in a Spanish-Portuguese border region case study. Moravian Geographical Reports 25:257–270

Weihrich H (1982) The TOWS Matrix: a tool for situational analysis. Long Range Plan 15:45–66

Weihrich H (1993) Daimler-Benzs move towards the next century with the TOWS matrix. Eur Bus Rev 95:4–11

Weerasinghe HAS, Iqbal MCM (2011) Plant diversity and soil characteristics of the Ussangoda serpentine site. Journal of National Science Foundation Sri Lanka 39:355–363

Weiler B, Moyle BD, Wolf ID, De Bie K, Torland M (2017) Assessing the efficacy of communication interventions for shifting public perceptions of park benefits. J Travel Res 56:468–481

Wolf ID, Stricker HK, Hagenloh G (2013) Interpretive media that attract park visitors and enhance their experiences: a comparison of traditional and digital tools using GPS tracking and GIS technology. Tourism Management Perspectives 7:59–72

Wolf ID, CroftGreen DBRJ (2019) Nature conservation and nature-based tourism: a paradox? Environments 6:104

Zwoliński Z, Najwer A, Giardino M (2018) Methods for assessing geodiversity. In: Reynard E (ed) Geoheritage assessment, protection, and management, Elsevier, pp. 27–52
Additional information
Publisher's note
Springer Nature remains neutral with regard to jurisdictional claims in published maps and institutional affiliations.
About this article
Cite this article
Sumanapala, D., Kubalíková, L. & Wolf, I.D. Assessing Geosites for Geotourism Development: Case Studies from the Southern Part of Sri Lanka. Geoheritage 13, 85 (2021). https://doi.org/10.1007/s12371-021-00608-1
Received:

Accepted:

Published:
Keywords
Geotourism

Geodiversity

Assessment methods and criteria

Sustainable tourism

Sustainable development

Sri Lanka