Abstract
Mehrangarh ridge (MGR) of Jodhpur, situated in north western part of India, is endowed with wide variety of Georesource of volcanic rocks of Malani Igneous Suite (MIS) of Cryogenian age and overlying Jodhpur Group (JG) of Ediacaran age belonging to Marwar Supergroup (MSG). MIS is the third largest, felsic, anorogenic, and terrestrial volcanic province of the world that witnessed Pan African orogeny related to the splitting of Rodinia Supercontinent. Unique and rare volcanic features of MIS at MGR have been declared as the National Geological Monuments of India with its interface with JG. The suite of fluvio-deltaic to coastal sediments of JG at MGR preserved text book style sedimentary structures with rich assemblage of oldest and complex Ediacaran fossils. MIS and JG altogether at MGR constitute the strato-type sections and outdoor geological museums in India that display geological processes of about 200 million years of Earth's history. Such records of past tectonics, climates, and environments characterize the land-sea interaction and distribution in this part of Eastern Gondwana land that represent global geodiversity and provide eminent narratives for geo-education. However, these relict volcanic and sedimentary Georesources though formed site-specific landforms of MGR but have received less attention towards their geoheritage values. MGR is also endowed with many archaeological heritage monuments (HM) with additional cultural values that are constructed by indigenous Heritage Stone Resources (HSR) of JG. The HM represents old patronage of Jodhpur since medieval time that makes it a famous tourist destination of the world. In absence of geotourism applications and infrastructures in India, efforts are made under present study to provide suitable qualitative methodologies to identify geosites and assess geoheritage of educational and geotourism values taking MGR as a case study. Based on the proposed methodologies, we propose twelve geosites of geological, geomorphological, and archaeological types of geoheritage at MGR. These significant geosites of the Cryogenian—Ediacaran successions should be conserved as important geoheritage sites for geotourism through the proposed Geopark at MGR in Jodhpur.
Access options
Buy single article
Instant access to the full article PDF.
USD 39.95
Price excludes VAT (USA)
Tax calculation will be finalised during checkout.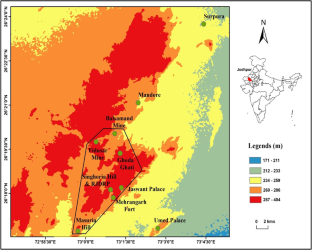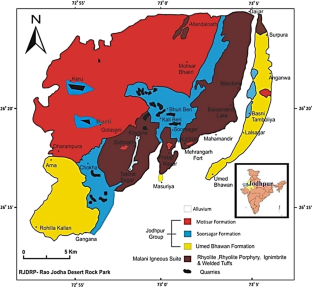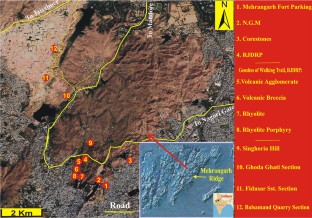 References
Ahluwalia AD (2006) Indian geoheritage, geodiversity: Geosites and Geopark. Curr Sci 10:91

Ashwal LD, Demaiffe D, Torsvik TH (2002) Petrogenesis of Neoproterozoic granitoids and related rocks from the Seychelles: evidence for the case of an Andean-type arc origin. J Petrol 43:45–83

Bhushan SK (1975) The Malani rhyolite; Indian Minerals. Geol Survey India 30:99–100

Bhushan SK (2000) Malani Rhyolite: a review. Gondwana Res 3:65–77

Biswas SK, Harinarayana T (2013) Development of Geotourism in Kutch Region, Gujarat, India: an innovative approach. J Environ Prot 4:1360–1372

Bowles O (1918) The structural and ornamental stones of Minnesota. US Geolog Surv 1:352

Brilha J (2005) Geological heritage and geoconservation: nature conservation in its geological aspect. Palimage Publisher, Portugal

Brilha J (2016) Inventory and quantitative assessment of geosites and geodiversity sites: a review. Geoheritage 8:119–134

Brilha J (2018) Geoheritage: inventories and evaluation. In: Reynard Emmanuel, Brilha José (eds) Geoheritage. pp 67–86

Brilha J (2009) Geological heritage and geo-conservation in Portugal. In: Neto de Carvalho, C., and Rodrigues, J. (eds) New challenges with geotourism. Proceedings of the VIII European Geopark Conference, Portugal: 31–35

Brocx M, Semeniuk V (2009) Coastal geoheritage: encompassing physical, chemical and biological processes, landforms and other geological features in the coastal zone. J R Soc West Aust 92:243–260

Bull KF, Mc Phie J (2007) Fiamme textures in volcanic successions: flaming issues of definition and interpretation. Volcanol Geother Res 164:205–216

Burek CV, Prosser CD (2008) The history of geo-conservation. Geol Soc London Spec Publ 300:1–5

Carvalho C, Neto de, Rodrigues JC, Baucon A, (2014) "Fossil Art": the importance and value of the palaeo-biodiversity in the Naturtejo Global Geopark, under UNESCO (Portugal). Comunicações Geológicas 101:91–99

Chauhan DS, Ram B, Ram N (2004) Jodhpur Sandstone: a gift of ancient beaches to western Rajasthan. J Geolog Soc India 64:265–276

Chauhan G, Biswas SK, Thakkar MG, Page KN (2021) The unique geoheritage of the Kachchh (Kutch) Basin. West India Conserv Geoherit 13:23

Chauhan DS (1999) Tectonic and sedimentary evolution of the Marwar Basin: a Neo- Proterozoic Rajasthan. Status and Perspective. Proc. Seminar (A.B. Roy felicitation volume). Department of Geology, Mohan Lal Sukhadia University, Udaipur: 111–125

Collins AS (2006) Madagascar and the amalgamation of Central Gondwana. Gondwana Research (GR Focus) 9:3–16

Crofts R, Gordon JE (2015) Geoconservation in protected areas. Protect Area Govern Manag 18:531–568

Dowling RK (2011) Geotourism, global growth. Geoheritage 3:1–13

Dowling RK, Newsome D (2006) Geotourism. Elsevier, Oxford

Eder FW (2004) The Global UNESCO Network of Geoparks. In: Zhao X, Jiang J, Dong S, Li M, Zhao T (eds) Proceedings of the First International Conference on Geoparks

EGN (2000). http://www.europeangeoparks.org

European Geopark Charter, European Geoparks EGN (2000) Network. Geological Publishing House, Beijing, pp 1–3

Evaluation Mission Report (2017) Tacaná, Chiapas, México as per the Application Dossier for the Global Geopark Network. p 15

Farsani NT, Coelho COA, Costa CMM (2014) Analysis of network activities geoparks as geotourism destinations. Int J Tour Res 16:1–10

Fernandez MP, Timon DL, Martin RG (2014) Geosites inventory in the Geopark Villuercas- Ibores-Jara (Extremadura, Spain): a proposal for a new classification. Geoheritage 6:17–27

Frey ML, Martini G, Zouros N (2001) European Geopark charter. In: Frey M-L (ed) European Geoparks magazine. pp 1–28

Gehling JG, García-Bellido DC, Droser ML, Tarhan ML, Runnegar B (2019) The Ediacaran-Cambrian transition: sedimentary facies versus extinction. Estudios Geologicos e-099 75(2):1–6

Gooday RJ, BrownDJ GMK, Kerr AC (2018) A proximal record of caldera-forming eruptions: the stratigraphy, eruptive history and collapse of the Palaeogene Arran caldera, western Scotland. Bull Volcanol 70:80–89

Gray M (2011) Other nature: geodiversity and geosystem services. Environ Conserv 38:271–274

Gray JM (2013) Geodiversity: valuing and conserving abiotic nature. John Wiley & Sons, England

Gregory LC, Joseph G, Meert BB, Pandit MK, Trond H, Torsvik, (2009) Paleomagnetism and geochronology of the Malani Igneous Suite, Northwest India: implications for the configuration of Rodinia and the assembly of Gondwana. Precambr Res 170:13–26

GSI (2001a) National Geological Monuments, Jodhpur Group-Malani Igneous Suite Contact. Memmo Geolog Surv India 27:65–67

GSI (2001b) Monuments of Stratigraphic significance, Malani volcanism overlain by Jodhpur sandstone. Memmo Geologic Surv India 27:68–69

Hendrix MS (2011) Geology underfoot in Yellowstone country. Mountain Press Publishing Company, Montna

Ibrahim K (2003) Conservation geology — protecting hidden treasure of Malaysia. Academy Science of Malaysia Inaugural Lectures 2003. Acad Sci Malay Lestari UKM Public Bangi 51:113–119

Irimus IA, Balint-Balint L, Dombay S, Crisan H, Magyari-Saska Z (2015) Classification and evaluation criteria for volcanic geomorphosites in Harghita Mountains. Science and technologies in geology, exploration and mining, SGEM, Vol. I. Book Series: Int. Multidisciplinary Scientific Geo-Conference-SGEM. pp 77–84

José Luis Sánchez -Cortez (2019) Conservation of geoheritage in Ecuador: situation and perspectives. Inter J Geoherit Parks 7:91–101

Joyce EB (1994) Assessing the significance of geological heritage sites: from the local level to world heritage. Proceedings of the 1st International Symposium on the Conservation of Our Geological Heritage, Digne les Bains. Memoir Societegeol France 165:37–43

Kaur G, Ahuja A, Thakur SN, Pandit MK, Duraiswami R, Singh A, Kaur P, Saini J, Goswami RG, Prakash J, Acharya K, Singh S, Garg S (2020) Jodhpur Sandstone: an architectonic heritage stone from India. Geoheritage 12(16):1–17

Kochhar N (2001) Signatures and significance of the Pan-African thermo-tectonic event in the Indian subcontinent. Bull Ind Geol Association 34:36–42

Kumar S (2012) Stratigraphy and correlation of the Neoproterozoic deposits of central and western India: an overview. Geol Soc London Spec Publ 366:75–90

Kumar S, Ahmad S (2012) Discovery of Thalassinoides burrows in the Ediacaran jodhpur sandstone (Pokaran sandstone), Marwar Supergroup, Pokaran area, western Rajasthan. J Palaeontol Soc India 57(2):159–162

Kumar S, Ahmad S (2014) Microbial induced sedimentary structures (MISS) from the Ediacaran Jodhpur Sandstone, Marwar Supergroup, western Rajasthan. J Asian Earth Sci 91:352–361

Kumar S, Pandey SK (2009) Note on the occurrence of Arumberia banksi and associated fossils from the Jodhpur Sandstone, Marwar Supergroup, Western Rajasthan. India J Palaeonto Soc India 54:171–178

Kumar S, Misra PK, Pandey SK (2009) Ediacaran megaplant fossils with Vaucheriacean affinity from the Jodhpur Sandstone, Marwar Supergroup, western Rajasthan. Curr Sci 97(5):701–705

Kumar S, Srivastava DK, Ahmad S (2012) Five-armed body fossil from Ediacaran Jodhpur Sandstone, Marwar Supergroup, western Rajasthan, India: a possible Precursor. J Palaeontol Soc India 57:159–162

Lima FF, Brilha JB, Salamuni E (2010) Inventorying geological heritage in large territories: a methodological proposal applied to Brazil. Geoheritage 2:91–99

Lustrino M, Morra V, Melluso L, Brotzu P, d'Amelio F, Fedele L, Franciosi L, Lonis R, Petteruti LAM (2004) The Cenozoic igneous activity of Sardinia. Periodico Di Mineralogia: Trachytes from Sardinia. Geoherit Curr Use 73:105–134

Maheshwari A, Sial AN, Mathur SC (2003) Carbonate and oxygen isotope profiles from the terminal Precambrian Marwar Supergroup, Rajasthan India. Int J Carbon Evap USA 18:64–73

Maheshwari A, Sial AN, Mathur SC, Tripathi RP (2004) S13 C Variation in Late Jurassic Carbonates, Jaisalmer Formation, Western India. Gondwana Research, Japan 6:931–934

Maheshwari A, Coltorti M, Rajput SK, Verma M (2009) Geochemical characteristics, discrimination and petrogenesis of Neoproterozoic peralkaline granites, Barmer District, SW Rajasthan, India. Int Geol Rev 51:12–19

Mathur VK (2008) Ediacaran multi-cellular biota from Krol Group, Lesser Himalaya and its stratigraphic significance-a review. The Palaeobotanist 57:53–61

Mathur S (2020) Concept of geoheritage: a review in Indian context. SGVU Jour Climate Change and Water 7:1–17

Mathur SC, Pradip K (2016) Rao Jodha Desert Rock Park, Mehrangarh Fort, Jodhpur, India: a possible potential Geoheritage site for Geopark. 35th International Geological Congress, Cape Town, p 2294

Mathur SC, Gaur SD, Gupta A, Loyal TA, Tripathi RP (2005a) First report on magnetic spherules recovered from Maastrichtian bone bed, in the sedimentary sequence of Fatehgarh Formation, Barmer Basin, India. Curr Sci 89:1259–1268

Mathur SC, Gaur SD, Loyal RS, Tripathi A, Sisodia MS (2005b) Spherules in the Fatehgarh Formation (Cretaceous) of Barmer Basin, India. Gondwana Research, Japan 8:579–584

Mathur SC, Mathur SK, Loyal RS (2006) First Report of micro-vertebrate assemblage from Cretaceous Fatehgarh Formation of the Barmer Basin. Geological Society of India 67:759–769

Mathur SC, Parihar VS, Nama SL, Soni A, Ram H, Mathur S (2017) The Global Ediacaran Event in the Geological Record of Jodhpur Group of the Marwar Super - group: enigmas in geology's prelude to the Cambrian Explosion. Proceedings of the seminar and Field Trip on "Recent Updates in Precambrian Geology, Udaipur, Rajasthan, India. pp 5–9

Mathur SC, Parihar VS, Ram H, Mathur S (2019a) a) Stratigraphic and sedimentological investigation of the Ediacaran Jodhpur Group in and around Jodhpur City India. Estud Geolog Spain 75(2):20–22

Mathur S, Sudhanshu Singh SK, Mathur SC (2019b) Ediacaran Fauna of the Jodhpur Group (Marwar Supergroup) in Jodhpur city, Western Rajasthan, India: Implication for potential Geoheritage Sites. Estud Geolog Spain e-107.75(2):1–4

Mathur SC, Moharana PC, Wadhawan SK, Rathore SS, Nama SL, Parihar VS (2020a) Thar desert: its evolution and geoheritage, Western Rajasthan, India. 36th IGC Field Guide Book (WR004). p 85

Mathur S, Sudhanshu SSK, Mathur SC (2020b) Paleontological resources for geo- tourism in barmer area of Western Rajasthan, India: implication for a National Fossil Park Development. Geoj Tour Geosit 28:203–216

Mathur S, Sudhanshu, Singh SK, Khichi CP, Mathur SC (2020c) Landslide in rocks of Jodhpur Group at Masuria Hill in Jodhpur, Western Rajasthan, India: its causes and threat to significant Georesource. Landscape and Environment (Under Review)

Mathur S, Sharma Sudhanshu, Singh S K & Mathur SC (2021) First Report of late Ediacaran penetrative boring trace fossils from Jodhpur Group of Marwar Supergroup, Western Rajasthan, India: Implication for GlobalAgronomic Revolution and Geotourism, ICSSG 2021: International Conference on Sedimentology and SedimentaryGeology, Rome, Italy (Extended Abstract)

Mazumdar MK (2010) Sustainable use of landscapes through geo-conservation promotion: the Geopark approach with particular reference to Northeast India. In: Islam S, Barua P (eds) Biodiversity Conservation and Sustainable Development. K.C.Das Commerce College, Guwahati, pp 137–166

Meert JG (2003) A synopsis of event related to the assembly of East Gondwana. Precambr Res 362:1–40

Meert JG, Lieberman BS (2008) The Neoproterozoic assembly of Gondwana and relationship to the Ediacaran-Cambrian Radiation. Gondwana Res 14:5–21

Mikhailenko V, Ruban DA, Dmitry A (2019) A geoheritage in deltaic environments: classification notes, case example, and geopark implication. Environments 6:1–10

Moufti MR, Nemeth K (2016) Geoheritage of volcanic Harrats in Saudi Arabia. In: Eder W, Bobrowsky PT, Martínez-Frías J (eds) Geoheritage, Geoparks and Geotourism. Springer, Heidelberg, pp 1–194

Naresh K, Naveen K (2015) Geological observations of rocks of Mewanagar area and its tectonic approach — a preliminary report, Barmer district, western Rajasthan, India. International Journal of Geology, Earth & Environmental Sciences 5:147–155

Newsome D, Dowling RK (eds) (2010) Geotourism: the tourism of geology and landscape. Good fellow Publishers, Oxford

Newsome D, Dowling R, Leung YF (2012) The nature and management of geotourism: a case study of two established iconic geotourism destinations. Tourism Management Perspectives 2:19–27

Page KN, Carvalho CND, Canudo JI, Couto MHM, Henriques MH, Orús AH, Meléndez G (2017) Collecting fossils for research and education in UNESCO Global Geopark and other Protected Areas. 14th Conference on Conservation, Science and Research, European Geopark, (Abstract): 57

Pandit MK (2001) Neoproterozoic acid magmatism in western India An. Acad Bras Ciênc 73:461–464

Pandit MK, Shekhawat LS, Ferreira VP, Sial AN, Bohra SK (1999) Trondhjemite and granodiorite assemblages from West of Barmer: probable basement for Malani magmatism in Western India. J Geol Soc India 53:89–96

Pandit MK, Carter LM, Ashwal LD, Tucker RD, Torsvik TH, Jamtveit B, Bhushan SK (2003) Age, petrogenesis and significance of 1 Ga granitoids and related rocks from the Sendra area, Aravallicraton, NW India. J Asian Earth Sci 22:363–381

Pareek HS (1984) The Quaternary geology and mineral resources of North-western Rajasthan. Memoir Geological Survey of India 115:99

Parihar VS, Gaur V, Nama SL, Mathur SC (2015) Thalassinoides and its associated trace fossils from Girbhakar Sandstone of Marwar Supergroup, Bhopalgarh area, Jodhpur, Rajasthan, India. In: Shrivaatava KL, Shrivastava PK (eds) Frontiers of Earth Sciences. Scientific Pub, India, pp 408–416

Parihar VS, Ram H, Nama SL, Mathur SC (2019) Aspidella: the Ediacaran body fossil from the Jodhpur Sandstone of the Marwar Supergroup, Sursagar area, Jodhpur, western Rajasthan, India. Estud Geolog Spain e-109:75(2):1–4

Pereira D, Page KN (2017) A new IUGS Commission for Geoheritage: The 'ICG'. Episodes 40(1):77–78

Pereira P, Pereira DI (2010) Methodological guidelines for geomorphosite assessment. Géomorphol Relief, Processus, Environ 2:215–222

Pereira P, Pereira DI (2012) Assessment of geosites tourism value in geoparks: theexample of Arouca Geopark (dvPortugal). Proceedings of the 11th European Geopark Conference, Arouca. pp 231–232

Pereira P, Pereira DI, Alves MIC (2007) Geomorphosite assessment in Montesinho Natural Park (Portugal). Geogr Helv 62:159–168

Pereira P, Pereira DI, Brilha J, Cunha P (2015) The Iberian Massif Landscape and Fluvial Network in Portugal: a geoheritage inventory based on the scientific value. Proceedings of the Geologists' Association 126(2):252–265

Phani PRC (2016) Geological Excursion to Eparchaean Unconformity at Namalagundu Anantapur District Andhra Pradesh India. e-Journal Earth Science India 1:1–8

Pradhan VR, Meert JG, Pandit MK, Kamenov G, Gregory LC, Malone S (2010) India's changing place in global Proterozoic reconstructions: new geochronologic constraints on key paleomagnetic poles from the Dharwar Aravalli/Bundelkhand Cratons. J Geodyn 1:1–19

Pradip K (2011) Plant guide to Rao Jodha desert rock park, Mehrangarh Museum Trust, Jodhpur. Aegean Offset Printers, New Delhi, p 19

Raghav KS, De C, Jain RL (2005) The first record of Vendian Medusoid and trace fossil-bearing algal mat-ground from the basal part of the Marwar Supergroup of Rajasthan. Indian Minerals 59:23–30

Ranawat PS, Soni G (2019) Potential Geoheritage & Geotourism Sites in India Potential Geoheritage & Geotourism Sites in India International. J Sci Res Publ 9(6):91–96

Ranawat PS (2016) Geoheritage of Udaipur Region. Udaipur, Rajasthan: Kumbha Exclusives, :5–9

Rathore SS, Venkatesan TR, Srivastava RK (1999) Rb/Sr isotope dating of Neoproterozoic (Malani Group) magmatism from southwest Rajasthan, India: evidence of younger Pan-African Thermal event by 40Ar -39Ar studies. Gondwana Res 2:271–281

Reynard E, Brilha J (2018) Geoheritage: a multidisciplinary and applied research topic. In: Reynard E, Brilha J (eds) Geoheritage: assessment, protection, and Management. Elsevier, Amsterdam, pp 433–438

Roy AB, Jakhar SR (2002) Geology of Rajasthan (NW India) — Precambrian to Recent. Scientific Publishers, India, p 421

Ruban DA (2010) Quantification of geodiversity and its loss. Proc Geol Assoc 121(3):326–333

Samanta P, Mukhopadhyay S, Mondal A, Sarkar S (2011) Microbial mat structures in profile: the Neoproterozoic Sonia Sandstone, Rajasthan, India. Journal of Asian Earth Science 40:542–549

Sarkar S, Bose PK, Samanta P, Sengupta P, Eriksson G (2008) Microbial mat mediated structures in the Ediacaran Sonia Sandstone, Rajasthan, India, and their implications for Proterozoic sedimentation. Precambr Res 162:248–263

Sharma KK (2005) Malani magmatism: an extensional lithospheric tectonic origin. Geol Soc Am Spec Pap 388:463–476

Sharma M, Mathur SC (2014) Paleontological note on Arumberia –like Mat of Ediacaran age of the Jodhpur Group of the Marwar Supergroup, Western Rajasthan, India. In: Shrivastava KL, Kumar A (eds) Georesource. Indian Science congress Scient Pub, Jodhpur, pp 167–175

Sharma M, Patricia VR, Hall Mike, Pandey S, Kaufmann AJ, Ulf Linnemann, Hofmann M, Kathleen G, Ivantsov A, Sereznikova E, Mathur SC (2021) The Marwar Supergroup in Rajasthan, India — a Neoproterozoic to Early Cambrian Transition. Palaeobiology and Palaeoenvironmetal change over the time. pp 1–21

Shekhar S, Kumar P, Chauhan GM, Thakkar G (2019) Conservation and sustainable development of geoheritage, geopark, and geotourism: a case study of Cenozoic successions of W. Kutch, India. Geoheritage 11:1–14

Shirke KD, Patil J, Bandivedkad K, Pawar NJ, Vishwas SK (2018) Spectacular basalt columns of Panhala-Masai range, Maharashtra: a potential geoheritage site in the Deccan Traps. Curr Sci 115(4):626–628

Singh RB, Anand S (2013) Geodiversity, geographical heritage and Geopark in India. Geoheritage 1(1):10–26

Singh S, Mathur SC (2014) Journey of Jodhpur city since its foundation through water impounding structures. In: Shrivastava KL, Shrivastava PK (eds) Frontiers of Earth Science. Scientific Publishers, India, pp 527–550

Singh S (2013) Geological investigation of natural and traditional water structures and their relationship with rising ground water problem of the Jodhpur city, Western Rajasthan. India. J.NV. University, pp. 120, (Unpublished Ph.D. thesis)

Singtuen V, KritWon-In, (2018) Geoheritage conservation for sustainable geotourism in Petrified Wood Forest Park, TAK Province, Thailand. Turk Online J Design Art Commu 1:1532–1537

Sinha J (2007) Beyond the dunes: journeys in Rajasthan. Penguin, India :27

Srivastava P (2012) Treptichnuspedum: an ichnofossil representing Ediacaran-Cambrian boundary in the Nagaur Group, the Marwar Supergroup, Rajasthan, India. Proc Indian Natl Sci Acad 78(2):161–169

Srivastava P (2013) Largest Ediacaran discs from the Jodhpur Sandstone, Marwar Supergroup, India: their palaeobiological significance. Geosci Front 30:1–9

Srivastava P (2014) Largest Ediacaran discs from the Jodhpur Sandstone, Marwar Supergroup, India: their palaeobiological significance. Geosci Front 5:183–191

Swarna K, Biswas SK, Harinarayana T (2013) Development of Geotourism in Kutch Region, Gujarat, India: an innovative approach. J Environ Prot 4:1360–1372

Tahir SS, Baba M, Ismail AR (2010) Geological heritage features of Tawau volcanic sequence. Bull Geologic Soc Malaysia 56:79–85

Tavares GND, Boggiani PC, Leme JM, Trindade IR (2020) The inventory of the geological and paleontological sites in the area of the aspirant geopark Bodoquena-Pantanal in Brazil. Geoheritage 12(28):42–51

Tillotson GHR (1987) The Rajput Palaces: the development of an architectural 1450–1750. Yale University Press, Nand, p 224

Torsvik TH, Carter LM, Ashwal LD, Bhushan SK, Pandit MK, Jamtveit B (2001) Rodinia refined or obscured; palaeomagnetism of the Malani Igneous Suite (NW India). Precambr Res 108:319–333

UNESCO (2016) UNESCO Global Geopark, Celebrating Earth heritage, sustaining local communities. http://www.globalgeopark

Wade M (1972) Hydrozoa and Scyphozoa and other medusoides from the Precambrian, Ediacara Fauna. South Australia Palaeontology 15(2):197–225

White S, Mitchell M (2006) Geological heritage sites: a procedure and protocol for documentation and assessment. AESC2006, Melbourne, pp 1–2 (ASEG Extended Abstracts)

White GA (2017) Geoheritage of the Central West Wakelin Associates, sites of geological and geomorphological significance in the veac central west investigation area: a report to the Victorian Environmental Assessment Council, Susan Wakelin-King Wakelin Associates: 29

Wilson JJ (2014) Rocks: Mehrangarh Museum Trust, Jodhpur. Amatrra Communication, New Delhi, pp 1–36

Wimbledon WA (2011) Geosites—a mechanism for protection, integrating national and international valuation of heritage sites. Geologiadell'ambiente, Supplement 2:13–25

Xiao S, Sharma M (2014) International Field Workshop on the Marwar Supergroup, Rajasthan. India Episodes 37(1):74–75

Zangmo TG, Kagou AD, Guimolaire DN, Dedzo GM, Kamgang P (2016) The volcanic geoheritage of the Mount Bamenda Calderas (Cameroon Line): assessment for geotouristic and geoeducational purposes. Geoheritage. pp 1–24
Acknowledgements
The authors are highly grateful and they express their sincere sentiments of gratitude to HH Gaj Singh Ji for his esteemed guidance, encouragement, and support throughout the project work. The authors are highly gratified to Mr. Karni Singh Ji and Mr. Jagat Singh Ji of MMT for their help during fieldwork on MGR. The authors are very grateful to Prof. Jose Brilha, Geologist and Professor, University of Minho (Portugal) for twice reviewing the MS along with anonymous reviewers for providing thoughtful suggestions and guidance to improve the quality of the paper. The authors are also grateful to Dr. Shruti Kanga, Head, C3WR, SGVU, Jaipur; Prof. S.R. Jakhar, Head, Department of Geology, JNVU, Jodhpur; Dr. S.S. Rathore, honorable member, RPSC, Ajmer; and Prof. M.G. Thakkar, Head, Dept. of Geology, Kachchh University, Bhuj, for providing facilities and support respectively for the present work. It gives us immense pleasure to extend thanks to Mr. Shailesh Mathur (MMT), Dr. V.N Mishra, Dr. Pranay Diwate (SGVU), Dr. S.D. Gour, Dr. V.S. Parihar, Dr. S.L. Nama, Dr. N.S. Shekhawat, Dr. C.P. Khichi, and Mr. Danzil for their help in one and other ways.
Additional information
The original online version of this article was revised: The wrong Supplementary file was originally published with this article; it has now been replaced with the correct file.
Supplementary Information
Below is the link to the electronic supplementary material.
About this article
Cite this article
Saurabh, M., Sudhanshu, S., K., S.S. et al. Qualitative Assessment of Geoheritage for Geotourism Promotion: a Case Study from Mehrangarh Ridge in Jodhpur City, Western Rajasthan, India. Geoheritage 13, 80 (2021). https://doi.org/10.1007/s12371-021-00604-5
Received:

Accepted:

Published:

DOI: https://doi.org/10.1007/s12371-021-00604-5
Keywords