Abstract
The Salt Range, Pakistan exhibits the most complete record of sedimentary successions, ranging from Precambrian to Quaternary period and acts as a natural field museum for geologists. Unfortunately, the lack of responsiveness among population and geo heritage managing institutions in Pakistan, this beautiful and valuable museum is excavated for construction purposes. Based on the preliminary geo heritage assessment and evaluation, the Salt Range, Pakistan is subdivided into a possible combinations of eight different geo-sites. So, a new methodology (multidisciplinary integrated approaches (MMIA)) has been adopted in this paper which combines three key quantitative indicators i.e., scientific values (SV), relevance grade (RG) and abstract perceptiveness (AP).The classification scheme of the geo-sites in the Salt Range further define the divisions based on the global, conceptual, and scenic values having global stratigraphic correlation and fossils abundances. This research provides the preliminary studies to evaluate, identify, and categorizes the potential of the exposed successions of Salt Range to become a global geopark under the UNESCO operational guidelines and global geopark features. This work may help in the development of new geoparks in a country where the global geopark perception is innovative and evolving. In general, the proposed geo-sites of the Salt Range have high scientific values, regional to global relevance grade and poor geoconservation which are at the high risk of erosion or other means of degradation by natural or anthropogenic.The inventories and their results display the scientific importance of the study area. Therefore unified policies should be implemented for the protection and conservation of natural museums of geology for the future which could help in the country's sustainable development by promoting geo-tourism.
Access options
Buy single article
Instant access to the full article PDF.
US$ 39.95
Tax calculation will be finalised during checkout.
Subscribe to journal
Immediate online access to all issues from 2019. Subscription will auto renew annually.
US$ 79
Tax calculation will be finalised during checkout.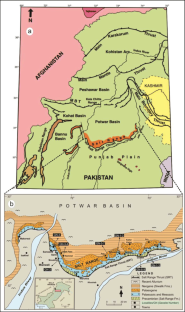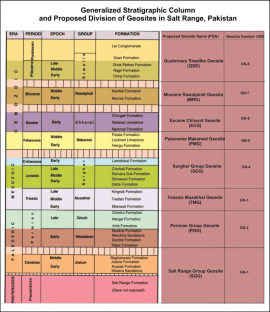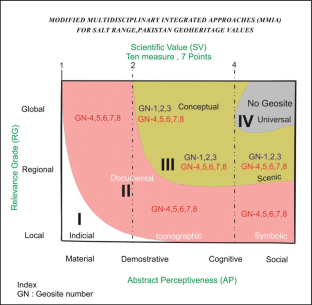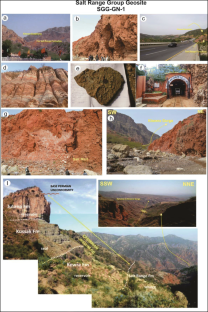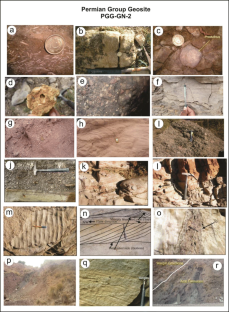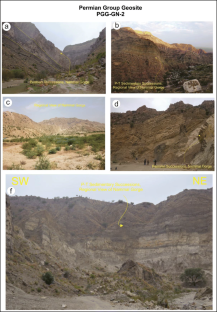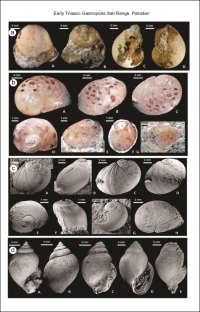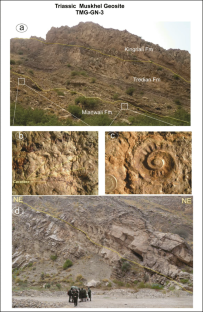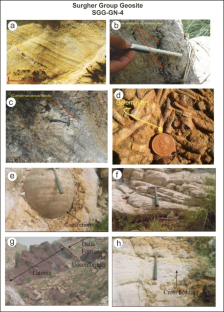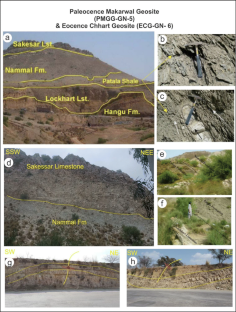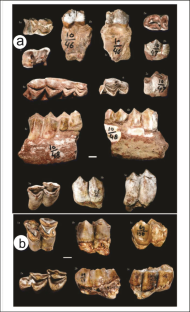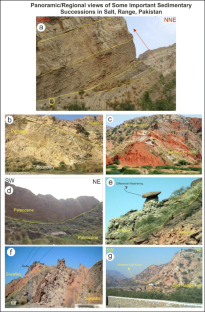 References
Abbas SG, Khan MA, Babar MA, Shahid R, Nawaz MK, Akhtar M (2016) Some new fossils of Protanancus chinjiensis (Proboscidea, Mammalia) from Middle Miocene of Pakistan. Biologia (Pakistan) 62:345–349

Ahmed S Jr, Ahmed S Sr, Waheed K, Ali A (2013) Facies analysis and dynamic depositional modeling: implications for hydrocarbon prospecting in the early Jurassic Datta Formation, Salt Ranges, Northwest Pakistan. Pakistan J Hydrocarbon Res 23:63–71

Alam GS, Mashhadi STA, Khan MA (1987) Interim report on Permian coal exploration in Punjab Plains (drilling at Ashaba, district Jhang). Geol Surv Pakistan Inform Release 286:30

Baker DM, Lillie RJ, Yeats RS, Johnson GD, Yousuf M, Zamin ASH (1988) Development of the Himalayan frontal thrust zone: Salt Range, Pakistan. Geology 16(1):3–7

Brilha J (2016) Inventory and quantitative assessment of geosites and geodiversity sites: a review. Geoheritage 8(2):119–134

Brühwiler T, Bucher H, Brayard A, Goudemand N (2010) High-resolution biochronology and diversity dynamics of the Early Triassic ammonoid recovery: the Smithian faunas of the Northern Indian Margin. Palaeogeogr Palaeoclimatol Palaeoecol 297(2):491–501

Catana MM, Brilha JB (2020) The role of UNESCO global geoparks in promoting geosciences education for sustainability. Geoheritage 12(1):1

Cozzi A, Rea G, Craig J (2012) From global geology to hydrocarbon exploration: Ediacaran-Early Cambrian petroleum plays of India, Pakistan and Oman. Geological Society, London, Special Publications 366(1):131–162

Dingwall P, Weighell T, Badman T (2005) Geological world heritage: a global framework. A contribution to the global theme study of World Heritage natural sites, Protected Area Programme, IUCN, 51

Dos Reis RP, Henriques MH (2009) Approaching an integrated qualification and evaluation system for geological heritage. Geoheritage 1(1):1–10

Farid A, Khalid P, Ali MY, Iqbal MA, Jadoon KZ (2018) Seismic stratigraphy of the Mianwali and Bannu depressions, north-western Indus foreland basin. Int J Earth Sci 107(5):1557–1578

Fuertes-Gutiérrez I, Fernández-Martínez E (2012) Mapping geosites for geoheritage management: a methodological proposal for the regional park of Picos de Europa (León, Spain). Environmental management, 50(5), 789-806. Geoheritage 1(1):1–10

Ghazi S, Mountney NP (2012) Petrographic composition, sedimentary structures and palaeocurrent analysis in Northern Gondwana: the Lower Permian Warchha Sandstone of the Salt Range, Pakistan. J Asian Earth Sci 59:185–207

Ghazi S, Ali SH, Sahraeyan M, Hanif T (2015) An overview of tectonosedimentary framework of the Salt Range, northwestern Himalayan fold and thrust belt, Pakistan. Arab J Geosci 8(3):1635–1651

Hermann E, Hochuli PA, Méhay S, Bucher H, Brühwiler T, Ware D, Hautmann M, Roohi G, ur-Rehman K, Yaseen A (2011) Organic matter and palaeoenvironmental signals during the Early Triassic biotic recovery: the Salt Range and Surghar Range records. Sediment Geol 234(1-4):19–41

Hermann E, Hochuli PA, Bucher H, Roohi G (2012) Uppermost Permian to Middle Triassic palynology of the Salt Range and Surghar Range, Pakistan. Rev Palaeobot Palynol 169:61–95

Iqbal S, Jan IU, Hanif M (2014) The Mianwali and Tredian formations: an example of the Triassic progradational deltaic system in the low-latitude western Salt Range, Pakistan. Arab J Sci Eng 39(7):5489–5507

Iqbal S, Jan IU, Akhter MG, Bibi M (2015) Palaeoenvironmental and sequence stratigraphic analyses of the Jurassic Datta Formation, Salt Range, Pakistan. J Earth Syst Sci 124(4):747–766

Jan IU, Stephenson MH, Khan FR (2009) Palynostratigraphic correlation of the Sardhai Formation (Permian) of Pakistan. Rev Palaeobot Palynol 158(1-2):72–82

Kaim A, Nützel ALEXANDER, Hautmann MICHAEL, Bucher HUGO (2013) Early triassic gastropods from salt range, Pakistan. Bull Geosci 88(3):505–516

Kazmi AH, Rana RA (1982) Tectonic map of Pakistan. Scale 1:2000000, first edn. Geological Survey of Pakistan, Quetta

Khan MA, Iliopoulos G, Akhtar M (2009) Boselaphines (Artiodactyla, Ruminantia, Bovidae) from the Middle Siwaliks of Hasnot, Pakistan. Geobios 42(6):739–753

Khan MA, Akhtar M, Irum A (2014) Bramatherium (Artiodactyla, Ruminantia, Giraffidae) from the middle Siwaliks of Hasnot, Pakistan: biostratigraphy and palaeoecology. Turk J Earth Sci 23(3):308–320

Khan N, Anjum N, Ahmad M, Awais M, Ullah N (2018) Hydrocarbon source rock potential evaluation of the Late Paleocene Patala Formation, Salt Range, Pakistan: organic geochemical and palynofacies approach. J Earth Syst Sci 127(7):98

Machalski M, Stróżyk K, Grabarczyk A (2019) The Cretaceous-Paleogene (K-Pg) boundary site at Lechówka—a new point on the geoheritage map of southeastern Poland. Geoheritage 11(4):1237–1245

Magliulo P, Di Lisio A, Sisto M, Valente A (2020) Geotouristic enhancement of high-quality wine production areas: examples from Sannio and Irpinia landscapes (Campania Region, Southern Italy). Geoheritage 12(1):18

Mahmood K, Khan MA, Siddiq MK, Babar MA, Akhtar M (2015) New fossils of Giraffokeryx (Mammalia: Cetartiodactyla: Giraffidae) from Chinji Formation, Pakistan. Pakistan J Zool 47(2)

Moura P, Garcia MDGM, Brilha JB, Amaral WS (2017) Conservation of geosites as a tool to protect geoheritage: the inventory of Ceará Central Domain, Borborema Province-NE/Brazil. An Acad Bras Cienc 89(4):2625–2645

Murata M (1981) Permian and Triassic Gastropoda from Guryul Ravine. Palaeontol Indica 46:125–133

Panizza M (2001) Geomorphosites: concepts, methods and examples of geomorphological survey. Chin Sci Bull 46(1):4–5

Powell CM, Conaghan PJ (1973) Plate tectonics and the Himalayas: Earth and Planetary Sci 20(1):1–12

Reynard E (2005) Géomorphosites et paysages. Géomorphol: Relief, Process Environ 11(3):181–188

Rosado-González EM, Sá AA, Palacio-Prieto JL (2020) UNESCO global geoparks in Latin America and the Caribbean, and their contribution to agenda 2030 sustainable development goals. Geoheritage 12:1–15

Sameeni SJ (2009) The Salt Range: Pakistan's unique field museum of geology and paleontology=[Le Salt Range: un musée de géologie et de paléontologie à ciel ouvert au Pakistan]. In PaleoParks: the protection and conservation of fossil sites worldwide (pp. 65–73). Université de Bretagne occidentale Département des sciences de la terre.

Shah SMI (2009) Stratigraphy of Pakistan (memoirs of the geological survey of Pakistan). Geol Survey Pakistan 22

Shami BA, Baig MS (2002) Geomodeling for the enhancement of hydrocarbon potential of Joya Mair field, Potwar, Pakistan. Pakistan Association of Petroleum Geoscientists Society of Petroleum Engineers, annual technical conference, Islamabad, 124-145

Sharif QM, Hussain M, Hussain MT, Ahmad VU, Raza Shah M (2007) Chemical evaluation of major salt deposits of Pakistan. J Chem Soc Pakistan 29(6):569

Shekhar S, Kumar P, Chauhan G, Thakkar MG (2019) Conservation and sustainable development of geoheritage, geopark, and geotourism: case study of Cenozoic successions of Western Kutch, India. Geoheritage 11(4):1475–1488

Stephenson MH, Jan IU, Sa'ad Zeki A (2013) Palynology and correlation of Carboniferous–Permian glacigene rocks in Oman, Yemen and Pakistan. Gondwana Res 24(1):203–211

UNESCO (2017) UNESCO moving forward the 2030 agenda for sustainable development

UNESCO. WORLD HERITAGE CENTRE (2016) Tentative lists. The Salt Range and Khewra Salt Mine, (https://whc.unesco.org/en/tentativelists/6118). Accessed on Sept 2020

Wardlaw BR, Mei S (1999) Refined conodont biostratigraphy of the Permian and lowest Triassic of the Salt and Khizor Ranges, Pakistan. In Proceedings International Conference Pangea and Paleozoic–Mesozoic Transition, Wuhan (pp. 154-156)

Wardlaw BR, Pogue KR (1995) The Permian of Pakistan. In The Permian of Northern Pangea. Springer, Berlin, pp 215–224

Warwick PD (2007) Overview of the geography, geology and structure of the Potwar regional framework assessment project study area, north-ern Pakistan. Regional Studies of the Potwar Plateau Area, northern Pakistan. US Geol. Surv. Bull 2078

Yaseen A, Rajpar AR, Munir M, Roohi G (2011) Micropaleontology of Lockhart Limestone (Paleocene), Nilawahan Gorge, Central Salt Range, Pakistan. J Himalayan Earth Sci 44(2):9–16

Yaseen M, Ghani M, Anjum MN, Sajid M, Jan IU, Mehmood M, Ullah E, Muzaffir W (2019) A novel approach to evaluate, highlight, and conserve the geologically significant geoheritage sites from the Peshawar Basin, Khyber Pakhtunkhwa, Pakistan: insights into their geoscientific, educational, and social importance. Geoheritage 11(4):1461–1474

Zaidi SNA, Brohi IA, Ramzan K, Ahmed N, Mehmood F, Brohi AU (2013) Distribution and hydrocarbon potential of Datta sands in Upper Indus Basin, Pakistan. Sindh Universi
Acknowledgments
This manuscript is a part of the author PhD disseration/Fieldwork. Mr. Muhammad Yaseen thanks to the Chairman Dr Amir Ali, Associate Professor, faculty, and staff of the Department of Earth Sciences, Quaid-i-Azam University Islamabad for supporting during the PhD coursework.I am very thankful to Mr. Umer Habib (PhD) from University of Tasmania, UTAS Hobart, Australia for reviewing the draft in respect of English correction.The suggestions of including new references and revising the figures/diagrams by the two reviewers further enhanced the clarity of the paper. The authors acknowledge the support of Department of Geology, Abdul Wali Khan University, Mardan in assisting the field observations.
About this article
Cite this article
Yaseen, M., Naseem, A.A., Ahmad, J. et al. Integrated Approach for Inventories and Quantitative Assessment of Geological and Paleontological Sites from Precambrian to Quaternary Successions in the Salt Range, Pakistan. Geoheritage 13, 31 (2021). https://doi.org/10.1007/s12371-021-00553-z
Received:

Accepted:

Published:
Keywords
Characterization

Inventories

Geo-heritage Geo-sites

Precambrian-Quaternary successions

Salt Range

Pakistan