Abstract
The aim of this study is to analyse the evolution of and educational interest in the Spanish Geology Olympiads after ten editions of this initiative. The primary purpose of Geology Olympiads is to encourage students to acquire earth sciences knowledge by highlighting its importance in the current world. Geology Olympiads have been one of the initiatives to encourage a slow but steady recovery in the number of students interested in pursuing earth sciences degrees. In addition, this initiative puts university teachers and students in contact with those from pre-university levels, improving the exchange of ideas and teaching materials related to geology. This also motivates students and promotes the value of geological heritage and the importance of geodiversity conservation. The results show an increase in the number of participants; more male than female students gained access to the national phase, with boys being those who occupied the winning positions. In this way, in all editions, the highest score in the individual phase was obtained by one of the participating male students. Males also always obtain an average score higher than the average obtained by participating females. Other results show a greater number of questions about the internal and external geodynamics of the planet in the tests as well as a progressive increase in focus on issues related to geological heritage and regional geology in group tests. Finally, the total average has been less than 50 points in only one edition, so it can be assumed that, in general, the knowledge of the participants is acceptable.
Access options
Buy single article
Instant access to the full article PDF.
USD 39.95
Price includes VAT (USA)
Tax calculation will be finalised during checkout.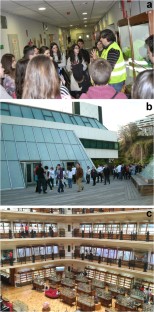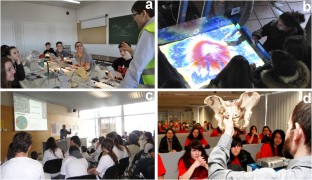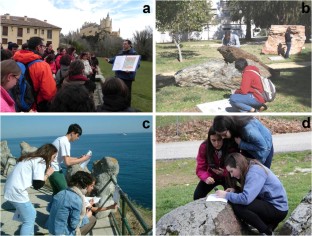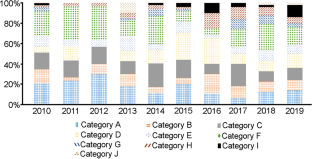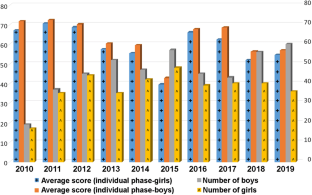 References
Acedo A, Fesharaki O, García-Frank A (2020) Análisis comparativo de menciones al patrimonio paleontológico y otros tipos de patrimonio en los currículos de Educación Secundaria en España (periodo 1970-2020). Rev Soc Geol Esp 33(2):41–62

AEPECT (2019) Web about Spanish Olympiads: http://www.aepect.org/actividades-geologicas/olimpiada-geologia/ Internet Sources. Accessed 15 July 2019

Brocx M, Semeniuk V (2019) Building stones can be of geoheritage significance. Geoheritage 11:133–149. https://doi.org/10.1007/s12371-017-0274-8

Calonge A (2019) Olimpiadas de Geología: ¡Cumplimos 10 años! Enseñanza de las Ciencias de la Tierra 27(1):125–127

Calonge A, Greco R (2011) Olimpiada Internacional de Ciencias de la Tierra (IESO): Una oportunidad a la Geología. Enseñanza de las Ciencias de la Tierra 19(2):130–140

Calonge A, López Carrillo MD (2017) The Spanish Earth Science Olympiads. In: X International Conference and Summer School abstracts book "Geology in school and university: Earth science and civilization". St. Petersburg (Russia), pp 398–401

Cervilla-Muros MA, Rodríguez-Castro I, Vitón I, Salas-Herrera J, Acedo A, García-Frank A, Fesharaki O (2019) "With your fossil… to the past!" A paleontological escape room proposal for the XVIII Science Week in Madrid. In: Blanco F et al. (eds) 4th international meeting of early-stage researchers in palaeontology book of abstracts. pp 16

Crocker J, Karpinski A, Quinn DM, Chase SK (2003) Grades determine self-worth: consequences of contingent self-worth for male and female engineering and psychology majors. J Pers Soc Psychol 85:507–516

De Celis A, Sanguino F, Díaz-Cáceres JA (2018) The didactic potential of the Toarcian-Aalenian transition at the section of Fuente del Molino (Guadalajara, Spain). Geoheritage 10:443–449. https://doi.org/10.1007/s12371-017-0260-1

Escorihuela J (2017) Ineffectiveness in natural resource management in modern society: geoparks proposed as possible tools for increasing the awareness in the short to medium term. Episodes 40(1):57–62

Fermeli G, Hevia GM, Koutsouveli A, Dermitzakis M, Calonge A, Steininger F, D'Arpa C, Di Patti C (2015) Geoscience teaching and student interest in secondary schools-preliminary results from an interest research in Greece, Spain and Italy. Geoheritage 7(1):13–24. https://doi.org/10.1007/s12371-013-0094-4

Fesharaki O, Torices A, García Yelo BA, Tejedor-Navarro N, de la Ossa L, Hernández Fernández M (2012) The Somosaguas Palaeontology Project: an envision of Nieves López Martínez for linking science and society. Spanish J Palaeontol 27(2):83–92

Fesharaki O, Taboada-Trujols I, Sánchez-Pastor N (2019) Biominerales del cuerpohumano: propuestainterdisciplinar para la Biología y Geología de Bachillerato. Rev Soc Geol Esp 32(1):63–76

García-Frank A, Fesharaki O, Orejana D, González-Acebrón L, Gómez-Heras M, Castiñeiras P (2019) Geologuía19: Patrimonio geológico del Parque Nacional de la Sierra de Guadarrama y del Parque Geológico de los Valles de Lozoya y Jarama. In: Sociedad Geológica de España (ed) Colección Geolodía. pp 1–8

Greco R, Hlawatsch S, Bronte N (2013) The International Earth Science Olympiad (IESO): a way to raise public awareness of geoscience, particularly amongst younger people and enhance the quality of geoscience education internationally. Episodes 36(3):235–239

Henriques MH, Pena Dos Reis R (2015) Framing the paleontological heritage within the geological heritage: an integrative vision. Geoheritage 7(3):249–259. https://doi.org/10.1007/s12371-014-0141-9

Henriques MH, Tomaz C, Sá A (2012) The Arouca Geopark (Portugal) as an educational resource: a case study. Episodes 35(4):481–488

Kassim MA, Hanafi RM, Hancock DR (2008) Test anxiety and its consequences on academic performance among university students. Adv Psychol Res 53:75–95

King C (2013) Geoscience education across the globe – results of the IUGS-COGE/IGEO survey. Episodes 36(1):19–30

King C (2015) The need for an international geoscience school syllabus: its development and publication. Sci Educ Int 26(4):420–438

Machin S, Pekkarinen T (2008) Global sex differences in test score variability. Science 322:1331–1332. https://doi.org/10.1126/science.1162573

Manduca CA (2007) Improving instruction in mineralogy, petrology and geochemistry. Lessons from research on learning. Elements 3:95–100

Moral F, Olías M (2012) Evolución del alumnado de Geología en las universidades españolas (1999 a 2010). In: Sarmiento AM, Cantano M, Almodóvar GR (eds) Comunicaciones del XVII Simposio sobre Enseñanza de la Geología. Publicaciones de la Universidad de Huelva, España, pp 106–111

Núñez-Peña MI, Suárez-Pellicioni M, Bono R (2016) Gender differences in test anxiety and their impact on higher education students' academic achievement. Procedia Soc Behav Sci 228:154–160. https://doi.org/10.1016/j.sbspro.2016.07.023

Onukwufor JN, Ugwu CJ (2018) Level of schooling and gender differences in test anxiety among secondary school students in Port Harcourt local government area of Rivers State. Adv Soc Sci Res J 5(2):154–159. https://doi.org/10.14738/assrj.52.4219

Pedrinaci E, Alcalde S, Alfaro P, Barrera JL, Belmonte Á, Brusi D, Calonge A, Cardona V, Crespo A, Feixas JC, Fernández-Martínez EM, González-Díez A, Jiménez-Millán J, López-Ruiz J, Mata-Perelló JM, Pascual JA, Quintanilla L, Rábano I, Rebollo L, Rodrigo A, Roquero E (2013) Alfabetización en Ciencias de la Tierra. Enseñanza de las Ciencias de la Tierra 21(2):117–129

Reis J, Póvoas L, Barriga FJAS, Lopes C, Santos VF, Ribeiro B, Cascalho J, Pinto A (2014) Science education in a museum: enhancing earth sciences literacy as a way to enhance public awareness of geological heritage. Geoheritage 6:217–223. https://doi.org/10.1007/s12371-014-0105-0

Rodrigo A (2015) Recursos didácticos del Museo Geominero: hacia una alfabetización en Ciencias de la Tierra. Revista de Museología 64:31–43

Rodríguez-Pérez E, Romero-Nieto D, Fesharaki O (2014) Gymkhana geourbana como método didáctico y de motivación de estudiantes de geología. Reduca 6(1):1–25

Rodríguez-Pérez E, Romero-Nieto D, Fesharaki O (2015) Evaluación de competencias previas y adquiridas tras la realización de una gymkhana urbana en Madrid por alumnos de Grado en Geología. In: Domingo L. et al. (eds) Current Trends in Paleontology and Evolution. pp 219–228

Spanish Official Bulletin BOE-284, del 24 de noviembre de 2018, que recoge el Real Decreto 1397/2018, de 23 de noviembre, por el que se regula la concesión [...] de las Olimpiadas científicas durante el año 2018. pp: 114572–114576

Spanish Official Bulletin BOE-3, del 3 de enero de 2015, que recoge el Real Decreto 1105/2014, de 26 de diciembre, por el que se establece el currículo básico de la Educación Secundaria Obligatoria y del Bachillerato. pp: 36–50

Zecha S, Regelous A (2018) Promoting geodiversity education by using earth catching in national geoparks. Geoheritage 10:637–643. https://doi.org/10.1007/s12371-018-0280-5
Acknowledgements
The authors would like to thank the efforts of all the people who have been involved in the organisation of the Spanish Geology Olympiads during these first ten editions. The financial support for this investigation in the frame of project CGL2015-69805-P, the Spanish Association for the Teaching of Earth Sciences (AEPECT) and the research group of the University of Alcalá: Teaching of Earth Sciences (CCEE2008/R02) are gratefully acknowledged. We would like to thank Dr. Manuel Megías for the English style and grammar review and two anonymous reviewers for their comments, which helped improve this paper.
About this article
Cite this article
Fesharaki, O., Calonge, A. & López Carrillo, M.D. The Educational Role of Geology Olympiads in Spain: Promotion of Geological Heritage and Geoconservation in Youngsters. Geoheritage 12, 96 (2020). https://doi.org/10.1007/s12371-020-00521-z
Received:

Accepted:

Published:
Keywords
Earth sciences

Education

Gender differences

Geodiversity

Geology

Secondary school