Abstract
Terceira Island (Azores archipelago, central Atlantic Ocean) presents a unique but poorly studied Quaternary palaeobotanical record. Among the sites referenced in the literature, Fanal Bay, within Angra do Heroísmo city, is known at least since the 1940s. Field prospection in the summer of 2016 revealed two layers of leaf fossils with an unexpected fossil abundance. The preliminary results showed that these represented autochthonous or para-autochthonous (T0) fossil assemblages, preserved by the emplacement of ash or lapilli layers by volcanic events, in a leaf litter of a laurel palaeoforest. Unfortunately, in 2018, the site was destroyed due to development works to consolidate and requalify the Fanal Bay cliff from further sea erosion. This prevented a detailed study and the ex situ preservation of an important palaeontological site, within the Azores UNESCO Global Geopark. With this work, we hope to call the attention to the need of implementing geoconservation strategies in order to prevent the destruction of important geoheritage within the Azores Islands and to transpose this warning to other geoconservationists in oceanic islands worldwide.
Access options
Buy single article
Instant access to the full article PDF.
US$ 39.95
Tax calculation will be finalised during checkout.
Subscribe to journal
Immediate online access to all issues from 2019. Subscription will auto renew annually.
US$ 79
Tax calculation will be finalised during checkout.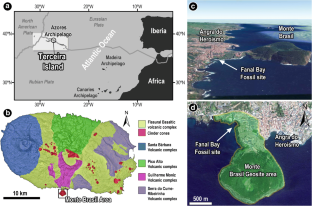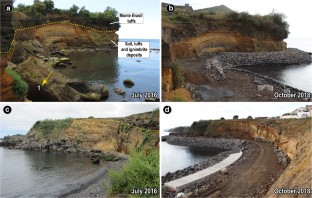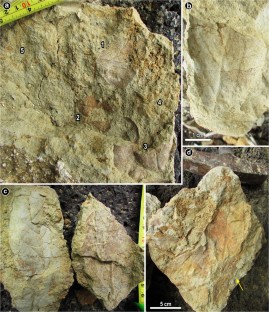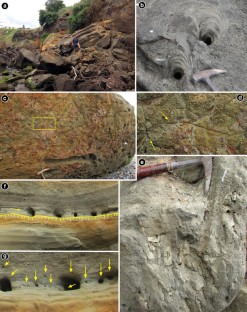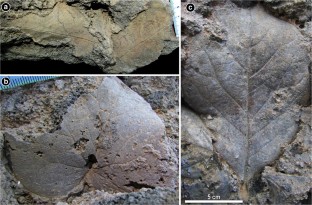 References
Agostinho J (1949) O monte Brasil: esboço monográfico. Açoreana 4:343–355

Anderson CL, Channing A, Zamuner AB (2009) Life, death and fossilization on Gran Canaria – implications for Macaronesian biogeography and molecular dating. J Biogeogr 36:2189–2201

Ávila SP, Ramalho RS, Habermann J, Quartau R, Kroh A, Meireles R, Berning B, Kirby M, Zanon V, Titschack J, Goss A, Rebelo AC, Melo C, Madeira P, Cordeiro R, Bagaço L, Hipólito A, Johnson M, Uchman A, Marques da Silva C, Cachão M, Madeira J (2015) Palaeoecology, taphonomy, and preservation of a lower Pliocene shell bed (coquina) from a volcanic oceanic island (Santa Maria Island, Azores, NE Atlantic Ocean). Palaeogeogr Palaeoclimatol Palaeoecol 430:57–73

Ávila SP, Cachão M, Ramalho RS, Botelho AZ, Madeira P, Rebelo AC, Cordeiro R, Melo C, Hipólito A, Ventura MA, Lipps JH (2016) The Palaeontological heritage of Santa Maria Island (Azores: NE Atlantic): a re-evaluation of geosites in GeoPark Azores and their use in geotourism. Geoheritage 8(2):155–171

Ávila SP, Ramalho RS, Habermann JM, Titschack J (2018) The marine fossil record at Santa Maria Island (Azores). In: Kueppers U, Beier C (eds) Volcanoes of the Azores, active volcanoes of the world. Springer-Verlag, Berlin, pp 155–196

Brilha J, Reynard E (2018) Geoheritage and geoconservation: the challenges. In: Reynard E, Brilha J (eds) Geoheritage assessment, protection, and management. Elsevier, Amsterdam, pp 433–438

Burnham RJ (1994) Plant deposition in modern volcanic environments. Earth Environ Sci Trans R Soc Edinb 84:275–281

Burnham RJ, Spicer RA (1986) Forest litter preserved by volcanic activity at El Chichon, Mexico; a potentially accurate record of the pre-eruption vegetation. PALAIOS 1:158–161

Clarkson BR, McGlone MS, Lowe DJ, Clarkson BD (1995) Macrofossils and pollen representing forests of the pre-Taupo volcanic eruption (c. 1850 yr BP) era at Pureora and Benneydale, central North Island, New Zealand. J R Soc N Z 25:263–281

Dias E (2007) A Chegada dos portugueses às ilhas – o antes e o depois - Açores, In: Silva J (Ed.) Árvores e Florestas de Portugal: Açores e Madeira - A Floresta das Ilhas. Público, Comunicação Social SA, Fundação Luso Americana para o Desenvolvimento e Liga para a Protecção da Natureza, Lisboa, pp 137–164

DiMichele WA, Falcon-Lang HJ (2011) Pennsylvanian 'fossil forests' in growth position (T0 assemblages): origin, taphonomic bias and palaeoecological insights. J Geol Soc 168:585–605

Diniz F (1962) Vegetais dos tufos vulcânicos da ilha de São Miguel, Açores. Comun Serv Geol Port XLVI:317–329

Elias RB, Gil A, Silva L, Fernández-Palacios JM, Azevedo EB, Reis F (2016) Natural zonal vegetation of the Azores Islands: characterization and potential distribution. Phytocoenologia 46:107–123

Ellis B, Daly D, Hickey LJ, Johnson KR, Mitchell J, Wilf P, Wing SL (2009) Manual of leaf architecture. Cornell University Press, New York

Fernández-Palacios JM, de Nascimento L, Otto R, Delgado JD, García-del-Rey E, Arévalo JR, Whittaker RJ (2011) A reconstruction of Palaeo-Macaronesia, with particular reference to the long-term biogeography of the Atlantic island laurel forests. J Biogeogr 38:226–246

Forjaz VH, Mojardino JL, Fernandes NSM (1970) Contribuição para o estudo das jazidas fossilíferas das ilhas do Faial, Pico, S. Jorge e Terceira (Açores). Comun Serv Geol Port 54:27–37

Fosberg FR, Corwin G (1958) A fossil flora from Pagan, Mariana Islands. Pac Sci 12:3–16

Gertisser R, Self S, Gaspar JL, Kelley SP, Pimentel A, Eikenberg J, Barry TL, Pacheco JM, Queiroz G, Vespa M (2010) Ignimbrite stratigraphy and chronology on Terceira Island, Azores. Geol Soc Am Spec Pap 464:133–154

Góis-Marques CA, Menezes de Sequeira M (2015) Darwin, Hooker and Arruda Furtado and the palaeobotany of Azores: rediscovering the first collections. Rev Palaeobot Palynol 221:47–51

Góis-Marques CA, Madeira J, Menezes de Sequeira M (2018) Inventory and review of the Mio-Pleistocene São Jorge flora (Madeira Island, Portugal): palaeoecological and biogeographical implications. J Syst Palaeontol 16:159–177

Góis-Marques CA, de Nascimento L, Menezes de Sequeira M, Fernández-Palacios JM, Madeira J (2019a) The Quaternary plant fossil record from the volcanic Azores Archipelago (Portugal, North Atlantic Ocean): a review. Hist Biol:1–17. (In press). https://doi.org/10.1080/08912963.2018.1444761

Góis-Marques CA, Mitchell RL, de Nascimento L, Fernández-Palacios JM, Madeira J, Menezes de Sequeira M (2019b) Eurya stigmosa (Theaceae), a new and extinct record for the Calabrian stage of Madeira Island (Portugal): 40Ar/39Ar dating, palaeoecological and oceanic island palaeobiogeographical implications. Quat Sci Rev 206:129–140

Henriques MH, Pena dos Reis R (2015) Framing the palaeontological heritage within the geological heritage: an integrative vision. Geoheritage 7:249–259

Lima EA, Nunes JC, Costa MP, Machado M (2014) Basis for the geological heritage management in the Azores Archipelago (Portugal). J Integr Coast Zone Manag 14:301–319

Lima EA, Machado M, Guerreiro M, Nunes JC, Costa MP (2018) Geological heritage management in small islands: the example of the Azores UNESCO Global Geopark (Portugal). Geoheritage 10:659–671

Madeira J (2005) The volcanoes of Azores Islands: a world-class heritage. Examples from Terceira, Pico, and Faial Islands. Lattex (Laboratory of Tectonophysics and Experimental Tectonics), Lisbon

Marra MJ, Alloway BV, Newnham RM (2006) Paleoenvironmental reconstruction of a well-preserved Stage 7 forest sequence catastrophically buried by basaltic eruptive deposits, northern New Zealand. Quat Sci Rev 25:2143–2161

Nunes JC, Lima EA, Ponte D, Costa MP, Castro R (2011) Azores Geopark Application. Azores Geopark (available on-line at http://www.azoresgeopark.com/media/docs/candidatura_ga/Application.pdf), Horta

Opluštil S, Pšenička J, Bek J, Wang J, Feng Z, Libertin M, Šimůnek Z, Bureš J, Drábková J (2014) T0 peat-forming plant assemblage preserved in growth position by volcanic ash-fall: a case study from the Middle Pennsylvanian of the Czech Republic. Bull Geosci 89:773–818

Page KN (2018) Chapter 6 - Fossils, heritage and conservation: managing demands on a precious resource. In: Reynard E, Brilha J (eds) Geoheritage assessment, protection, and management, Elsevier, pp 107–128

Patiño J, Whittaker RJ, Borges PAV, Fernández-Palacios JM, Ah-Peng C, Araújo MB, Ávila SP, Cardoso P, Cornuault J, de Boer EJ, de Nascimento L, Gil A, González-Castro A, Gruner DS, Heleno R, Hortal J, Illera JC, Kaiser-Bunbury CN, Matthews TJ, Papadopoulou A, Pettorelli N, Price JP, Santos AMC, Steinbauer MJ, Triantis KA, Valente L, Vargas P, Weigelt P, Emerson BC (2017) A roadmap for island biology: 50 fundamental questions after 50 years of the theory of island biogeography. J Biogeogr 44:963–983

Quartau R, Hipólito A, Romagnoli C, Casalbore D, Madeira J, Tempera F, Roque C, Chiocci FL (2014) The morphology of insular shelves as a key for understanding the geological evolution of volcanic islands: insights from Terceira Island (Azores). Geochem Geophys Geosyst 15:1801–1826

Ramalho RS, Helffrich G, Madeira J, Cosca M, Thomas C, Quartau R, Hipólito A, Rovere A, Hearty PJ, Ávila SP (2017) Emergence and evolution of Santa Maria Island (Azores)—the conundrum of uplifted islands revisited. Geol Soc Am Bull 129:372–390

Raposo VB, Melo CS, Silva L, Ventura A, Câmara R, Pombo J, Johnson ME, Ávila SP (2018) Comparing methods of evaluation of geosites: the fossiliferous outcrops of Santa Maria Island (Azores, NE Atlantic) as a case study for Sustainable Island Tourism. Sustainability 10:3596

Rößler R, Zierold T, Feng Z, Kretzschmar R, Merbitz M, Annacker V, Schneider JW (2012) A snapshot of an Early Permian ecosystem preserved by explosive volcanism: new results from the Chemnitz petrified forest, Germany. PALAIOS 27:814–834

Santos AMC, Field R, Ricklefs RE (2016) New directions in island biogeography. Glob Ecol Biogeogr 25:751–768

Silva L, Pinto N, Press B, Rumsey F, Carine M, Henderson S, Sjögren E (2005) Lista das plantas vasculares (Pteridophyta e Spermatophyta). In: Borges PAV, Cunha R, Gabriel R, Martins AF, Silva L, Vieira V (Eds) a list of the terrestrial fauna (Mollusca and Arthropoda) and flora (Bryophyta, Pteridophyta and Spermatophyta) from the Azores. Direcção Regional do Ambiente e Universidade dos Açores, Horta, Angra do Heroísmo e Ponta Delgada pp 131-155

Uchman A, Torres P, Johnson ME, Berning B, Ramalho RS, Rebelo AC, Melo CA, Madeira P, Cordeiro R, Ávila SP (2018) Feeding traces of recent ray fish and occurrences of the trace fossil Piscichnus waitemata from the Pliocene of Santa Maria Island, Azores (Northeast Atlantic). Palaios 33(8):361–375

Wang J, Pfefferkorn HW, Zhang Y, Feng Z (2012) Permian vegetational Pompeii from Inner Mongolia and its implications for landscape paleoecology and paleobiogeography of Cathaysia. Proc Natl Acad Sci 109 (13):4927-4932

Zbyszewski G, Cândido de Medeiros A, da Veiga FO, Torre de Assunção C (1971) Carta geológica de Portugal na escala de 1/50 000: Notícia explicativa da folha Ilha Terceira. Serviços Geológicos de Portugal, Lisboa
Acknowledgments
The authors wish to thank Fernando Pereira for allowing CAG-M to the fossil collections of the Volcano-speleological Museum at Angra do Heroísmo.
Funding
This study was financially supported by the ARDITI – Regional Agency for the Development of Research, Technology and Innovation, project M1420- 09-5369-FSE-000001- PhD grant.
About this article
Cite this article
Góis-Marques, C.A., Elias, R.B., Steinbauer, M. et al. The Loss of a Unique Palaeobotanical Site in Terceira Island Within the Azores UNESCO Global Geopark (Portugal). Geoheritage 11, 1817–1825 (2019). https://doi.org/10.1007/s12371-019-00401-1
Received:

Accepted:

Published:

Issue Date:
Keywords
Macaronesia

Azores Islands

Palaeobotany

Geoconservation

Anthropic impact