Abstract
The Rock Garden "Geologist Juan Paricio" of Alcorisa provides a free geological environment in which both earth science students and visitors interested in geotourism have the educational and recreational opportunity to observe within a pleasant urban environment (a park next to a lake), 14 samples of sedimentary rocks that characterize and synthesize the geology of Alcorisa within the context of the Maestrazgo Geopark. The project offers a unique opportunity for the teaching of Geology and skills in the recognition of rocks, contextualized within the geological history of the Iberian Mountain Range through information panels, a guide accessible to a broader public (in PDF format), and additional information (available brochures) in English and Spanish. The balance of the first 5 years of activity of this accessible resource and low initial investment is positive, demonstrating great profitability and social interest, all an example of effective geological spreading in an urban context.
Access options
Buy single article
Instant access to the full article PDF.
US$ 39.95
Tax calculation will be finalised during checkout.
Subscribe to journal
Immediate online access to all issues from 2019. Subscription will auto renew annually.
US$ 79
Tax calculation will be finalised during checkout.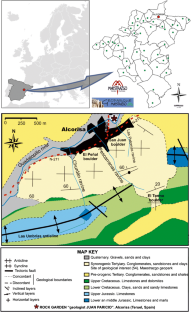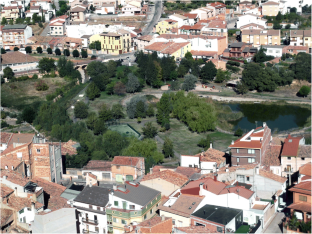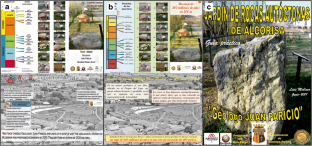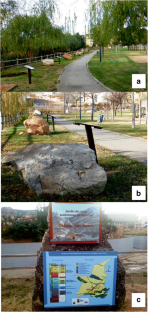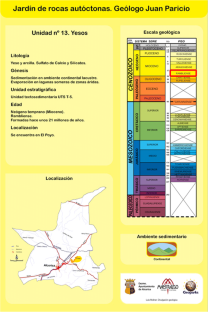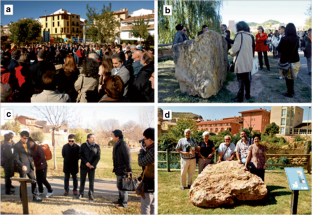 References
Alcalá L (2005) Fundamentos paleontológicos 101. Diario de Teruel 5 junio 2005: 27

Benison KC (2005) Artificial outcrops give real experience in interpreting a geologic history: the CMU land group project for historical geology courses. J Geosci Educ 53(5):501–507

Buhay DN, Best L, Ramsay N (2012) Informal science learning in geoparks. In: Sá AA, Rocha D, Paz A, Correia V (eds) Proceedings of the 11th European Geoparks Conference, AGA- Associaçao Geoparque Arouca, pp 55–56

Calderone GJ, Thompson JR, Johnson WM, Kadel SD, Nelson PJ, Hall-Wallace M (2003) GeoScape: an instructional rock garden for inquiry-based cooperative learning exercises in introductory geology courses. J Geosci Educ 51(2):171–176

Castro JM, García A, Gómez JJ, Goy A, Molina JM, Ruiz Ortiz PA, Sopeña A (2008) Sucesiones mesozoicas de las Cordilleras Ibérica y Bética. In: García-Cortés A (ed) Contextos geológicos españoles. Una aproximación al patrimonio geológico español de relevancia internacional. Instituto Geológico y Minero de España, pp 73–90

Chylińska D, Kołodziejczyk K (2018) Geotourism in an urban space? Open Geoscience 10:297–310. https://doi.org/10.1515/geo-2018-0023

Cobos A, Alcalá L (2018) Palaeontological heritage as a resource for promoting geotourism in the rural setting: El Castellar (Teruel, Spain). Geoheritage 10(3):405–414. https://doi.org/10.1007/s12371-017-0248-x

Crespo-Blanc A, Alcalá L, Carcavilla L, Simón JL (2011) Geolodía: origen, presente y futuro. Enseñanza de las Ciencias de la Tierra 19(1):95–103

Cuevas MA (2009) Divulgación geológica en la Facultad de Geología de la Universidad de Barcelona. Tierra y tecnología 35:103

Del Lama EA, de La Corte Bacci D, Martins L et al (2015) Urban geotourism and the old centre of Sao Paulo City, Brazil. Geoheritage 7:147–164. https://doi.org/10.1007/s12371-014-0119-7

Dillon DL, Hicock SR, Secco RA, Tsujita CJ (2000) A geologic rock garden as an artificial mapping area for teaching and outreach. J Geosci Educ 48(1):24–29. https://doi.org/10.5408/1089-9995-48.1.24

Diputación General de Aragón (1999) Ley 3/1999, de 10 de marzo, del Patrimonio Cultural Aragonés. Boletín Oficial de Aragón 36(1999):1780–1795

Hernández A, Moliner L (2014) Garden of Stones: "Geólogo Juan Paricio". Alcorisa (Teruel). EGN Magazine 11:49

Hose T (1995) Selling the story of Britain's stone. Environ. Interpret. 10(2):16–17

Kean WF, Enochs L (2001) Urban field geology for K-8 teachers. J Geosci Educ 49(4):258–363. https://doi.org/10.5408/1089-9995-49.4.358

Marsick VJ, Watkins KE (2001) Informal and incidental learning. New Dir Adult Cont Educ 89:25–34. https://doi.org/10.1002/ace.5

Martini G, Alcalá L, Brilha J, Iantria L, Sá A, Tourtellot J (2012) Reflections about the geotourism concept. 11th European Geoparks Conference 2012. Arouca Geopark, Portugal: 187–188

Moliner L (2013) El Jardín de rocas autóctonas de Alcorisa "geólogo Juan Paricio". Excmo. Ayuntamiento de Alcorisa (Teruel)

Moliner L (2017) Jardín de rocas autóctonas de Alcorisa "geólogo Juan Paricio". Excmo. Ayuntamiento de Alcorisa (Teruel), Maestrazgo Geopark and Fundación Dinópolis

Moliner Oliveros L (2012) La discordancia angular progresiva del Oligoceno-Mioceno de Alcorisa, Teruel. Naturaleza Aragonesa 29:16–19

Moliner L, Gil Imaz A (2018) La discordancia sintectónica de "El Calvario". Alcorisa (Teruel). Excmo. Ayuntamiento de Alcorisa y Geoparque del Maestrazgo (eds). Tríptico informativo

Moliner L, Mampel L (2017) A journey through 200 million year in 200 m. Rock Garden Geologist Juan Paricio, Alcorisa, Spain. City Council of Alcorisa and Maestrazgo Geopark (eds). Informative triptych

Moliner L, Mampel L (2018) Asociación amigos del Patrimonio Geológico de Teruel. Una Nueva asociación para promover el patrimonio geológico turolense. In: Molina-Alto Tajo Geopark and Sociedad Española para la Defensa del Patrimonio Geológico y Minero (eds). X Congreso Internacional Minería y Metalurgia históricas en el SW Europeo (in press)

Navarro O (2013) El Jardín de rocas de Alcorisa. Blog de Geología "Aventuras geológicas en el Cuaternario" https://www.aventurasgeologicas.com/2013/12/el-jardin-de-rocas-de-alcorisa.html Accessed November 6, 2018

Newsome D, Dowling RK (eds) (2010) Geotourism: the tourism of geology and landscape. Goodfellow, Oxford

Rodrigues ML, Machado CR, Freire E (2011) Geotourism routes in urban areas: a preliminary approach to the Lisbon Geoheritage survey. GeoJournal of Tourism and Geosites 2(8):281–294

Simón JL, Catana MM, Poch J (2011) La enseñanza de la Geología en el campo: un compromiso de los Geoparques reconocidos por la Unesco. Enseñanza de las Ciencias de la Tierra 19(1):74–80

Sopeña A, de Vicente G (2004) Subdivisiones de las Cordilleras Ibérica y Costero-Catalana. In: Vera JA (ed) Geología de España. Sociedad Geológica de España e Instituto Geológico y Minero de España, Madrid, pp 467–469

Spanish Geological Survey (2013) Geosite #IBs076. http://infoigmees/ielig/LIGInfoaspx?codigo=IBs076 Accessed November 6, 2018

United Nations Educational, Scientific and Cultural Organization (2010) Guidelines and criteria for National Geoparks seeking UNESCO's assistance to join the Global Geoparks Network. http://www.globalgeopark.org/portals/1/documents/2008ggn-guidelinesjuneendorsed.pdf Accessed January 15, 2019

Waldron JWF, Locock A, Pujadas-Botey A (2016) Building an outdoor classroom for field geology: the geosciences garden. J Geosci Educ 64:215–230

Wever De P, Baudin F, Pereira D, Cornée A, Egoroff G, Page K (2017) The importance of geosites and heritage stones in cities-a review. Geoheritage 9:561–575. https://doi.org/10.1007/s12371-016-0210-3
Acknowledgements
The authors thank the Town Hall and inhabitants of Alcorisa for their interest in including geology within the area's developmental plans though projects like the Rock Garden. To teacher Ciarán Rowe Hibbits for helping us improve the English writing of the manuscript and to the anonymous reviewers, whose useful suggestions have improved the quality of this paper. Also, thanks to the Department of Education, Culture and Sport and the Department of Innovation, Research and University of the Government of Aragón, the FEDER Aragón 2014-2020 funds "Construyendo Europa desde Aragón" (FOCONTUR Quality Research Group E04_17R), Instituto Aragonés de Fomento, and the Maestrazgo Geoparks aUUGp scientific board and to all those who contributed with ideas and suggestions to improve the rock garden. This work is for the memory of Dr. J. Paricio Cardona, geologist of Teruel.
About this article
Cite this article
Moliner, L., Mampel, L. The Rock Garden "Geologist Juan Paricio" (Alcorisa, Maestrazgo Geopark, Spain): An Effective Example of Geosciences Popularization. Geoheritage 11, 1869–1878 (2019). https://doi.org/10.1007/s12371-019-00398-7
Received:

Accepted:

Published:

Issue Date:
Keywords
Rock-garden

Geotourism

Outdoor classroom

Geopark