Abstract
Recently, a project has been set in motion to declare the Cape Ortegal complex (NW Iberian Peninsula), a geological reference in Spain and Europe, as a geopark. This initial phase has the purpose of reflecting and discussing the benefits of creating a geopark as a tool to foment education in geodiversity, geotourism, and scientific debate. We define geo-singularities as those elements of a geopark that stand out the most to a tourist due to their processes, forms, compositions, or mere presence in situ, being able to do so in a scientific, spiritual or sensitive manner, among others. Geo-singularities are, therefore, of first-rate geotourism value. This case report focuses on the Teixidelo valley-fault geo-singularity, whose main attraction is the movement of its base (> 30 m in the last 70 years). We relied on field observations and literature review and benefited from discussions during conference workshops, meetings, and personal interviews with local associations, the local community, and municipal administrators. Thanks to this information, we were able to conduct our analysis towards the development of a collective reflection exercise about tourism on a global, regional, and local level, capable of providing insight to politicians and local organizations in the management of geotourism at the Cape Ortegal complex, as well as questioning if the geopark is a good strategy for the member municipalities. This analysis and collective interpretation allowed us to determine the potentialities, dangers, and challenges of the Teixidelo valley-fault as a geotourism asset in the framework of the Cape Ortegal complex. The current tourism situation, within a global context, is characterized by a significant increase in tourists who have experienced different geological assets. In many cases, this translated into a massification of places that were not prepared to receive so many tourists. We have identified two types of massification: projected (places that the Administration promotes without a proper management and protection plan) and another random one (the popularity of a place for a specific and unforeseeable reason). Geo-singularities are a strategic tool that can become a showcase piece for a geopark. The type of management strategy applied will largely determine the future geo-conservation of the geological values of the study area. Based on this, a first action plan was designed aimed at municipal governments and local associations. The reflections, approaches, and proposals carried out in this case report can be extrapolated to other territories, whether or not they are geoparks.
Access options
Buy single article
Instant access to the full article PDF.
USD 39.95
Price excludes VAT (USA)
Tax calculation will be finalised during checkout.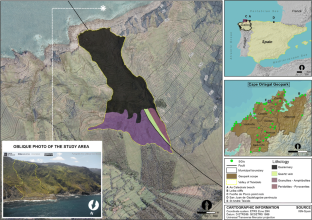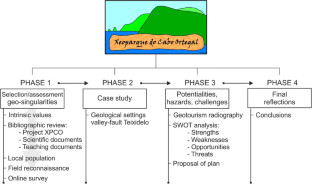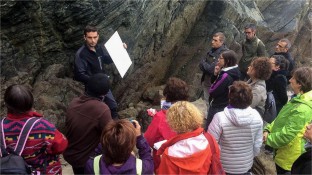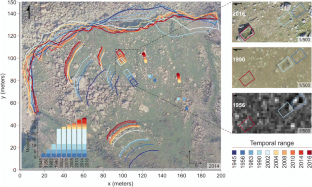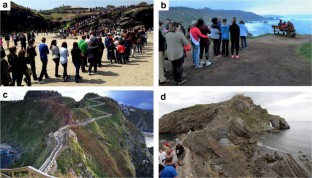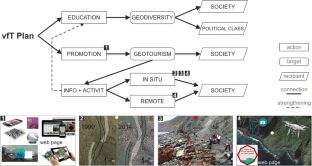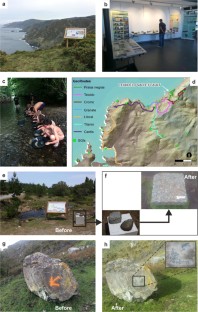 References
Ábalos B, Azcárraga J, Gil Ibarguchi JI, Mendia M & Puelles P (2000) Mapa geológico del Complejo de Cabo Ortegal (NO de España)

Appreciating physical landscapes: three hundred years of geotourism (2016) Geological Society

Arán-Ferreiro D, Macías F, de Anta RC, Pérez-Alberti A, Otero XL, Verde-Vilanova JR, Pérez-Llaguno C, Saiz-Rubio R, Díez E, Bolaños-Guerrón D & Macías-García F (2014) Complejo Básico-Ultrabásico de Capelada-Cabo Ortegal. Andavira Editorial

Arenas R (1988) Evolución petrológica y geoquímica de la unidad alóctona inferior del complejo metamórfico básico-ultrabásico de Cabo Ortegal (Unidad de Moeche) y del Silúrico parautoctono, Cadena Hercínica Ibérica (NW de España). Fundación Pedro Barrié de la Maza, Conde de Fenosa, Corpus Geologicum Gallaeciae

Avances y retos en la conservación del Patrimonio Geológico en España. Actas de la IX Reunión Nacional de la Comisión de Patrimonio Geológico (Sociedad Geológica de España), (2011)

Azcárraga J (2000) Evolución tectónica y metamórfica de los mantos inferiores de grado alto y alta presión del complejo de Cabo Ortegal. Nova Terra

Benito-Calvo A, Pérez-González A, Magri O, Meza P (2009) Assessing regional geodiversity: the Iberian Peninsula. Earth Surf Process Landf 34:1433–1445

Brilha J (2016) Inventory and quantitative assessment of geosites and geodiversity sites: a review. Geoheritage 4:45–63

Burek C (2012) The role of LGAPs (Local Geodiversity Action Plans) and Welsh RIGS as local drivers for geoconservation within geotourism in wales. Geoheritage 4(1):45–63

Canosa F (2014) Proyecto de creación del "Xeoparque do Cabo Ortegal" (Geoparque del Cabo Ortegal)

Canosa F (2015) Guía geológica de siete georutas en el Concello de Cedeira. Concello de Cedeira

Chen A, Lu Y, Ng YCY (2015) In: role of tourism earth-science in tourism development. Springer, Berlin Heidelberg

Cocean G, Cocean P (2017) An assessment of gorges for purposes of identifying geomorphosites of geotourism value in the Apuseni Mountains (Romania). Geoheritage 9:71–81

Costa-Casais M, Caetano-Alves MI, Blanco-Chao R (2015) Assessment and management of the geomorphological heritage of Monte Pindo (NW Spain): a landscape as a symbol of identity. Sustainability 7:7049–7085

Crofts R (2014) Promoting geodiversity: learning lessons from biodiversity. Proc Geol Assoc 125:263–266

Dowling RK, Newsome D (2010) Global geotourism perspectives. Goodfellow Publishers, Oxford

Duque-Lucas LC, Elizaga-Muñoz E & Vidal-Romaní JR (1983) Instituto Geológico y Minero de España

Farsani NT, Coelho COA, Costa CMM, Amrikazemi A (2014) Geo-knowledge management and geoconservation via geoparks and geotourism. Geoheritage 6:185–192

Fernández-Martínez E, Castaño de Luis R (2011) Avances y retos en la conservación del Patrimonio Geológico en España. Actas de la IX Reunión Nacional de la Comisión de Patrimonio Geológico (Sociedad Geológica de España). Universidad de León

García-Álvarez J (2009) Lugares, paisajes y políticas de memoria: una lectura geográfica. Boletín de la Asociación de Geógrafos Españoles:175–202

Global Geotourism Perspectives (2010) Goodfellow Publishers

Gray M (2008) Geodiversity: developing the paradigm. Proc Geol Assoc 119:287–298

Henriques MH, dos Reis RP, Brilha J, Mota T (2011) Geoconservation as an emerging geoscience. Geoheritage 3:117–128

Hjort J, Heikkinen RK, Luoto M (2012) Inclusion of explicit measures of geodiversity improve biodiversity models in a boreal landscape. Biodivers Conserv 21:3487–3506

Horacio J, Muñoz-Narciso E, Sierra-Pernas JM, Canosa F, Pérez-Alberti A (2016) Dinámica geomorfológica del frente costero del valle de Teixidelo (NO Península Ibérica) entre 1945 y 2014. Revista Geográfica del Sur 7:34–46

Hose TA (2016a) Appreciating physical landscapes: Three hundred years of Geotourism. Geol. J. https://doi.org/10.1002/gj.2852

Hose TA (2016b) Geoheritage and geotourism: a European perspective. Boydell Press

Hose TA, Marković SB, Komac B, Zorn M (2011) Geotourism – a short introduction. Acta geographica Slovenica 51:339–342

Jorgenson J, Nickerson N (2016) Geotourism and sustainability as a business mindset. J Hosp Mark Manag 25:270–290

Julia E (2017) The contribution of the geotourism to the sustainable development: The role of geoethics. Arch & Anthropol Open Acc 1(3). https://doi.org/10.31031/AAOA.2017.01.000511

Kubalíková L, Kirchner K (2016) Geosite and geomorphosite assessment as a tool for geoconservation and geotourism purposes: a case study from Vizovická vrchovina highland (eastern part of the Czech Republic). Geoheritage 8:5–14

Lahuerta-Mouriño F & Lucas-Domínguez N (1990) Itinerario xeolóxico no norte de Galicia. Diputación de Lugo

Marcos A, Farias P, Galán G, Fernández FJ & Llana-Fúnez S (2002) In: Variscan-Appalachian dynamics: the building of the late Paleozoic basement. Geological Society of America, pp 143–162

Martínez-Catalán JR, Hatcher RD, Arenas R & Díaz García F (2002) Variscan- Appalachian dynamics: the building of the late Paleozoic basement. Geological Society of America 305p

Martínez-Catalán JR, Arenas R, Abati J, Sánchez Martínez S, Díaz García F, Fernández Suárez J, González Cuadra P, Castiñeiras P, Gómez Barreiro J, Díez Montes A, González Clavijo E, Rubio Pascual FJ, Andonaegui P, Jeffries TE, Alcock JE, Díez Fernández R, López Carmona A (2010) Geología del Complejo de Cabo Ortegal y de las unidades relacionadas del basamento de Galicia. Guía de campo. Concello de Cariño

Martínez-Graña AM, Goy JL, Cimarra CA (2013) A virtual tour of geological heritage: valourising geodiversity using Google Earth and QR code. Comput Geosci 61:83–93

Martínez-Graña AM, Serrano L, González-Delgado JA, Dabrio CJ, Legoinha P (2017) Sustainable geotourism using digital technologies along a rural georoute in Monsagro (Salamanca, Spain). Int J Digital Earth 10:121–138

Mendía MS (2000) Petrología de la unidad eclogítica del Complejo de Cabo Ortegal (NW de España). Nova Terra, p 424

Migoń P, Pijet-Migoń E (2017) Viewpoint geosites — values, conservation and management issues. Proc Geol Assoc 128:511–522

Mikhailenko AV, Nazarenko OV, Ruban DA, Zayats PP (2017) Aesthetics-based classification of geological structures in outcrops for geotourism purposes: a tentative proposal. Geologos 23:45–52

Monterrubio, S.; Lunar, R. & Oyarzun, R.(1992). Mineralizaciones de cromo-platinoides y oro en los complejos polimetamórficos de Galicia. Laboratorio Xeolóxico de Laxe. Serie Nova Terra

Motte E, McInnes R (2019) Using artistic imagery to improve understanding of coastal landscape changes on the Rance Estuary (French Channel Coast). Geoheritage

Musila W, Todt H, Uster D, Dalitz H (2005) Is geodiversity correlated to biodiversity? A case study of the relationship between spatial heterogeneity of soil resources and tree diversity in a Western Kenyan Rainforest. Springer, US, pp 405–414

Newsome D, Dowling R (2010) Geotourism: the tourism of geology and landscape. Goodfellow Publishers Limited

Ólafsdóttir R, Dowling R (2014) Geotourism and geoparks---a tool for geoconservation and rural development in vulnerable environments: a case study from Iceland. Geoheritage 6:71–87

Ollero A (2017) Hidrogeomorfología y geodiversidad: el patrimonio fluvial. Ríos: hidrogeomorfología, problemática, rehabilitación. In: Ayuntamiento de Zaragoza

Puelles P (2004) Deformación, Metamorfismo y Exhumación de las Granulitas de Alta Presión de La Bacariza (Complejo de Cabo Ortegal, No España)

Pulido-Fernández M, Largar Timón D & García Marín R (2011) El geoturismo como estrategia de desarrollo en áreas rurales deprimidas: propuestas de geoparque Villuercas, Ibores, Jara (Extremadura). Boletín de la A.G.E., pp 485–497

Reynard E (2008) Scientific research and tourist promotion of geomorphological heritage. Geogr Fis Din Quat 31:225–230

Ruban DA (2016) Representation of geologic time in the global geopark network: a web-page study. Tourism Management Perspectives 20:204–208

Santos I, Henriques R, Mariano G, Pereira DI (2018) Methodologies to represent and promote the geoheritage using unmanned aerial vehicles, multimedia technologies, and augmented reality. Geoheritage 10:143–155

Serrano Cañadas E & Ruiz Flaño P (2007) Geodiversidad: concepto, evaluación y aplicación territorial. El caso de Tiermes Caracena (Soria). Boletín de la AGE, pp 79–98

Świerkosz K, Koźma J, Reczyńska K, Halama M (2017) Muskau arch geopark in Poland (Central Europe)---is it possible to integrate geoconservation and geoeducation into biodiversity conservation? Geoheritage 9:59–69

Verde-Vilanova JR (2009) Influencia de los factores de formación y uso del suelo en las propiedades ándicas, formas y mecanismos de estabilización de carbono en suelos del noroeste de la Península Ibérica. Universidade de Santiago de Compostela

Višnić T, Spasojević B, Vujičić M (2016) The potential for geotourism development on the Srem Loess Plateau based on a preliminary Geosite Assessment Model (GAM). Geoheritage 8:173–180

Walliss J, Kok K (2014) New interpretative strategies for geotourism: an exploration of two Australian mining sites. J Tour Cult Chang 12:33–49

Wójtowicz B (2011) The possibility of development of tourism and education in areas of geological parks based on the opinion of students of geography UJK in Kielce. Problemy Ekologii Krajobrazu, pp 133–140

Zgłobicki W, Baran-Zgłobicka B (2013) Geomorphological heritage as a tourist attraction. A case study in Lubelskie Province, SE Poland. Geoheritage 5:137–149
Acknowledgements
The authors thank Víctor Bouzas Blanco (author of Fig. 1), Ian C. Fuller, Alissa Jensen, and Jeremy Miller for their help.
Funding
The first author is a beneficiary of the post-doctoral fellowship named Programa de ayudas de apoyo a la etapa inicial de formación posdoctoral (2017) founded by the Consellería de Cultura, Educación e Ordenación Universitaria de la Xunta de Galicia (Government of Galicia, Spain). The second author is a beneficiary of the pre-doctoral fellowship FPU 13/00168 founded by the Ministry of Education, Culture and Sport of Spain.
Electronic Supplementary Material
About this article
Cite this article
Horacio, J., Muñoz-Narciso, E., Sierra-Pernas, J.M. et al. Geo-Singularity of the Valley-Fault of Teixidelo and Candidacy to Geopark of Cape Ortegal (NW Iberian Peninsula): Preliminary Assessment of Challenges and Perspectives. Geoheritage 11, 1043–1056 (2019). https://doi.org/10.1007/s12371-019-00349-2
Received:

Accepted:

Published:

Issue Date:

DOI: https://doi.org/10.1007/s12371-019-00349-2
Keywords
Geopark

Geo-singularity

Geotourism

SWOT analysis

Galicia