Abstract
Traditional building stones are part of a city's tangible and intangible heritage. Their conservation is essential to maintaining the integrity of historic city centres. Barrio de las Letras is one of the most historic and touristic neighbourhoods in Madrid, the capital of Spain. Social change over the last few decades has also contributed to the decay of its building stones. Fifty-eight percent of the streets in Barrio de las Letras exhibit interventions in the majority of the buildings that cover the original stone plinths, thus damaging the integrity of the stone of this neighbourhood. The plinths on the busiest streets suffer the greatest decay. The building stones of Barrio de las Letras are in a highly vulnerable condition. However, in recent years, there is a trend towards refurbishment with traditional building stones. This study aims to identify the building stones used in the plinths of historic buildings in Barrio de las Letras and determine their origin and state of decay. Mapping of all the stones that make up the plinths of buildings in this neighbourhood has been achieved. This investigation of materials can provide data of great interest for heritage studies, assisting in the provision of suitable conservation solutions.
Access options
Buy single article
Instant access to the full article PDF.
US$ 39.95
Tax calculation will be finalised during checkout.
Subscribe to journal
Immediate online access to all issues from 2019. Subscription will auto renew annually.
US$ 79
Tax calculation will be finalised during checkout.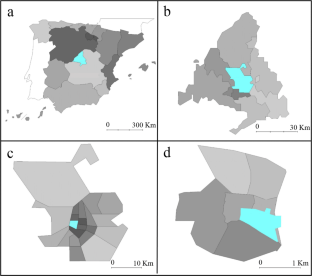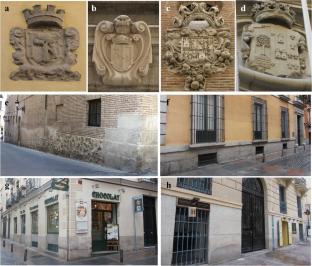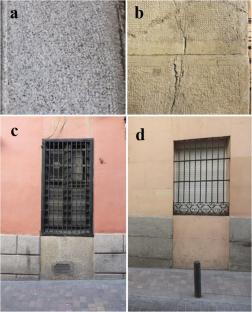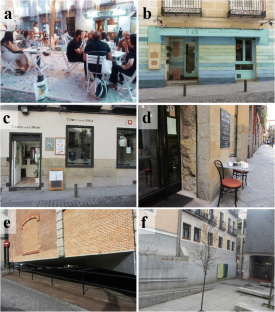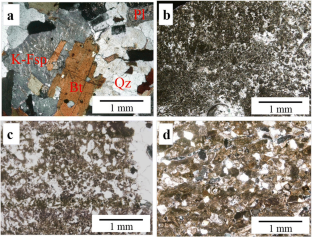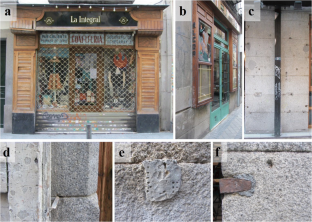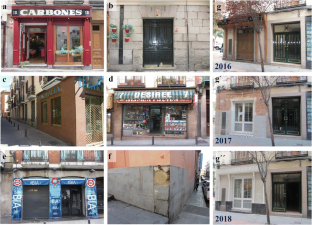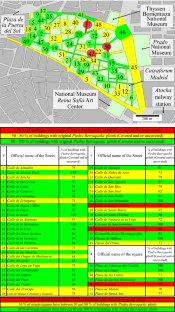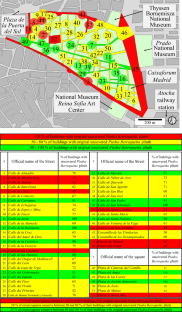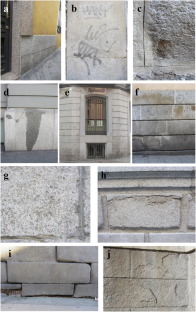 References
Barroso CE, Oliveira DV, Ramos LF (2018) Vernacular schist farm walls: materials, construction techniques and sustainable rebuilding solutions. J Build Eng 15:334–352. https://doi.org/10.1016/j.jobe.2017.12.00

Bost M, Pouya A (2017) Stress generated by the freeze–thaw process in open cracks of rock walls: empirical model for tight limestone. Bull Eng Geol Environ 76:1491–1505

Cassar J (2002) Deterioration of the Globigerina limestone of the Maltese islands, special publication. In: Siegesmund S, Weiss T, Vollbrecht A (eds) Natural stone, weathering phenomena, conservation strategies and case studies, geological society, London 205:33–49

Cassar J (2016) The historic and archaeological heritage: pollution and non-urban sites. In: Brimblecombe P (ed) Urban Pollution and Changes to Materials and Building Surfaces. Imperial College Press, p 255–290

Cooper BJ, Marker BR, Thomas IA (2013) Towards international designation of a heritage dimension stone. Key Eng Mater 548:329–335

Costa A (2014) Natural stone in the built heritage of the interior of Brazil: the use of stone in Minas Gerais. In: Pereira D, Marker B, Kramar S, Cooper B, Schouenborg B. (eds) Global heritage stone: towards international recognition of Building and ornamental stones. Geological society, London, special publications, p 407. First published on July 22, 2014, Doi: 10.1144/SP407.13, 261

De Kock T, Turmel A, Fronteau G, Cnudde V (2017) Rock fabric heterogeneity and its influence on the petrphysical properties of a building limestone: Lede stone (Belgium) as an example. Eng Geol 216:31–41

De Wever P, Baudin F, Pereira D, Cornée A, Egoroff G, Page K (2016) The importance of Geosites and heritage stones in cities. Geoheritage DOI: https://doi.org/10.1007/s12371-016-0210-3, 9, 561, 575

Elsorady DA (2012) Heritage conservation in Rosetta (Rashid): a tool for community improvement and development. Cities 29:379–388

Farsani NT, Coelho COA, Costa CMM, Amrikazemi A (2014) Geoknowledge management and geoconservation via Geoparks and Geotourism. Geoheritage 6(3):185–192. https://doi.org/10.1007/s12371-014-0099-7

Fort R, Bernabéu A, García del Cura MA, Ordoñez S, López de Azcona MC, Mingarro F (2002) Novelda stone: a stone widely used within the Spanish architectural heritage. Constr Build Mater 52(266):19–32

Fort R, Alvarez de Buergo M, Pérez-Monserrat EM, Gómez-Heras M, Varas-Muriel MJ, Freire-Lista DM (2013) Evolution in the use of natural building stone in Madrid, Spain. Q J Eng Geol Hydrogeol 46:421–429

Fort R, Varas-Muriel MJ, Alvarez de Buergo M, Perez-Monserrat EM (2015) Colmenar limestone, Madrid, Spain: considerations for its nomination as a global heritage stone resource due to its long term durability. Geol Soc Lond, Spec Publ 407:121–135. https://doi.org/10.1144/SP407.8

Freire-Lista DM, Fort R, Varas-Muriel MJ (2015a) Alpedrete granite (Spain). A nomination for the "global heritage stone resource" designation. Episodes 38(2):1–8

Freire-Lista DM, Fort R, Varas-Muriel MJ (2015b) Nomination of Zarzalejo granite, a Spanish heritage building stone, as a "global heritage stone resource". Energy Procedia 76:642–651

Freire-Lista DM, Fort R (2016a) The Piedra Berroqueña region: candidacy for global heritage Stone Province status. Geosci Can 43:43–52

Freire-Lista DM, Fort R (2016b) Causes of scaling on brush hammered heritage ashlars. A case study: Plaza Mayor of Madrid (Spain). Environ Earth Sci 75:932. https://doi.org/10.1007/s12665-016-5688-0

Freire-Lista DM, Fort R (2017a) Stone provenance and conservation of the Trinitarias Descalzas of San Ildefonso convent, Madrid (Spain). Ge-Conservación 1(11):25–33

Freire-Lista DM, Fort R (2017b) Historical quarries, decay and petrophysical properties of carbonate stones used in the historical Center of Madrid (Spain). AIMS Geosciences 3(2):284–302

Hughes T, Lott GK, Poultney MJ, Cooper BJ (2013) Portland stone: a nomination for "global heritage stone resource" from the United Kingdom. Episodes 36:221–226

Kramar S, Bedjanič M, Boštjan R, Nina Ž, Mojca B, Ana M (2014) Podpeč limestone: a heritage stone from Slovenia. In: Pereira D, Marker B, Kramar S, Cooper B, Schouenborg B (eds) Global heritage stone: towards international recognition of Building and ornamental stones. Geological society, London, special publications. 407(1):219–231. First published on June 10, 2014, doi: 10.1144/SP407.2, 231

Garcia-Ramon MD, Ortiz A, Prats M (2004) Urban planning, gender and the use of public space in a peripherial neighbourhood of Barcelona. Cities 21(3):215–223

Graue B, Siegesmund S, Middendorf B (2011) Quality assessment of replacement stones for the cologne cathedral: mineralogical and petrophysical requirements. Environ Earth Sci 63:1799–1822

Kovacs JF, Galvin KJ, Shipley R (2015) Assessing the success of heritage conservation districts: insights from Ontario, Canada. Cities 45:123–132

Kronlund D, Lindén M, Smått JH (2016) A polydimethylsiloxane coating to minimize weathering effects on granite. Constr Build Mater 124:1051–1058

Martin R (2012) Regional economic resilience, hysteris and recessionary shocks. J Econ Geogr 12:1–32

Martin S, Reynard E, Pellitero Ondicol R, Ghiraldi L (2014) Multi-scale web mapping for Geoheritage visualisation and promotion. Geoheritage 6:141–148

Martínez-Martínez J, Corbí H, Martin-Rojas I, Baeza-Carratalá JF, Giannetti A (2017) Stratigraphy, petrophysical characterization and 3D geological modelling of the historical quarry of Nueva Tabarca island (western Mediterranean): implications on heritage conservation. Eng Geol 231:88–99

Mateos RM, Durán JJ, Robledo PA (2011) Mares quarries on the Majorcan coast (Spain) as geological heritage sites. Geoheritage 3:41–54

Matthews T, Grant-Smith D (2017) Managing ensemble scale heritage conservation in the Shandon architectural conservation area in Cork, Ireland. Cities 62:152–158

Mısırlısoy D, Günc K (2016) Adaptive reuse strategies for heritage buildings: a holistic approach. Sustain Cities Soc 26:91–98

Morey B (2018) Cataloguing, characterization, valuation and management of the Palaeontological Heritage: a perspective from Majorca (Spain). Geoheritage. https://doi.org/10.1007/s12371-017-0278-4

Norum R, Mostafanezhad M (2016) A chronopolitics of tourism. Geoforum 77:157–160

Reynard E, Giusti C (2018) Chapter 8—the landscape and the cultural value of Geoheritage. Geoheritage 147–166

Pendlebury J, Short M, While A (2009) Urban world heritage sites and the problem of authenticity. Cities 26:349–358

Pereira D, Baltuille JM, Cooper BJ (2013) Documenting the architectonic heritage: the best way of preserving it. In: Rogerio-Candelera MA, Lazzari M, Cano E (eds) Science and technology for the conservation of cultural heritage. Taylor and Francis Group, London, pp 411–414

Pereira D, Marker B (2016) The value of original natural stone in the context of architectural heritage. Geosciences 6:13. https://doi.org/10.3390/geosciences6010013

Pérez-Monserrat EM, Alvarez de Buergo M, Gómez-Heras M, Varas Muriel MJ, Fort R (2013) An urban geomonumental route focusing on the petrological and decay features of traditional building stones used in Madrid, Spain. Environ Earth Sci 69:1071–1084

Ping-Sheng W, Chun-Ming H, Min-Fu H (2014) Using heritage risk maps as an approach to estimating the threat to materials of traditional buildings in Tainan (Taiwan). J Cult Herit 15:441–447

Pozo-Antonio JS, Rivas T, Fiorucci MP, López AJ, Ramil A (2016) Effectiveness and harmfulness evaluation of graffiti cleaning by mechanical, chemical and laser procedures on granite. Microchem J 125:1–9

Sajid M, Coggan J, Arif M, Andersen J, Rollinson G (2016) Petrographic features as an effective indicator for the variation in strength of granites. Eng Geol 202:44–54. https://doi.org/10.1016/j.enggeo.2016.01.001

Siegesmund S, Török A (2011) Building stones. In: Siegesmund S, Snethlage R (eds) Stone in architecture-properties, durability, 4 edit edn. Springer, Berlin, pp 11–96

Soini K, Birkeland I (2014) Exploring the scientific discourse on cultural sustainability. Geoforum 51:213–223

Sousa LMO, Gonçalves BMM (2013) Differences in the quality of polishing between sound and weathered granites. Environ Earth Sci 69(4):1347–1359

Sousa LMO (2014) Petrophysical properties and durability of granites employed as building stone: a comprehensive evaluation. Bull Eng Geol Environ 73:569–588

UNESCO (2011) A new international instrument: The proposed UNESCO recommendation on the historic urban landscape (HUL). UNESCO, Paris

Varas-Muriel MJ, Pérez-Monserrat EM, Vázquez-Calvo C, Fort R (2015) Effect of conservation treatments on heritage stone. Characterization of decay processes in a case study. Constr Build Mater 95:611–622

Vázquez P, Shushakova V, Gómez-Heras M (2015) Influence of mineralogy on granite decay induced by temperature increase: experimental observations and stress simulation. Eng Geol 189:58–67

Vasanelli E, Colangiuli D, Calia A, Sileo M, Aiello MA (2015) Ultrasonic pulse velocity for the evaluation of physical and mechanical properties of a highly porous building limestone. Ultrasonics 60:33–40

Zoghlami K, Martín-Martín JD, Gómez-Gras D, Navarro A, Parcerisa D, Rosell JR (2017) The building stone of the roman city of Dougga (Tunisia): provenance, petrophysical characterisation and durability. Compt Rendus Geosci 349:402–411. https://doi.org/10.1016/j.crte.2017.09.017
Acknowledgements
The authors are members of the Applied Petrology for Heritage Conservation Research Group [ref. 921349]. Authors are grateful to the Cristian Zapatero, a member of petrophysic laboratory of IGEO (CSIC, UCM) for creating the maps.
Funding
This work was funded by the Regional Government of Madrid, Spain, within the framework of the GEOMATERIALS-2CM [S2013/MIT-2914] programme.
About this article
Cite this article
Freire-Lista, D.M., Fort, R. Historical City Centres and Traditional Building Stones as Heritage: Barrio de las Letras, Madrid (Spain). Geoheritage 11, 71–85 (2019). https://doi.org/10.1007/s12371-018-0314-z
Received:

Accepted:

Published:

Issue Date:
Keywords
Granite

Ashlars

Plinths

Conservation

Decay