Abstract
The paper presents the geotouristic project carried out on Busca Onyx quarry (Piedmont, Italy). Busca Onyx (also called Busca Alabaster) is an ornamental stone quarried from the seventeenth century until the early years of 1900, when the quarry was closed. This stone was greatly appreciated by the architects working for the House of Savoy who used this material in the decorative apparatus of many churches and civil buildings mainly in Turin, the ancient seat of the House. The quarry site is very interesting from both geological and historical point of views. The area is characterized by paleokarst formations and the deposits developed in an ancient cave system. Despite its name, Busca Onyx is a speleothem-derived rock (calcite-alabaster). The peculiarity of the quarry lies in its morphology; in fact, it is composed of four artificial canyons exploited in the side of the hill. The canyons are around 100 m long, 2–3 m wide, and up to 40 m deep, determining a landscape, which is very suggestive for tourists and excursionists. Nowadays, the quarry is abandoned and the site can be used for didactic and geotouristic purposes; in fact, a characterization project recently started. Busca Onyx and its quarry were characterized using a multidisciplinary approach, linking data obtained from geoscience studies (such as mineralogy, petrography, geochemistry, and geomorphology) to local history. All the information obtained through the characterization project describes a complex geological and environmental system, which is also a precious site for local cultural enhancement.
Access options
Buy single article
Instant access to the full article PDF.
US$ 39.95
Tax calculation will be finalised during checkout.
Subscribe to journal
Immediate online access to all issues from 2019. Subscription will auto renew annually.
US$ 79
Tax calculation will be finalised during checkout.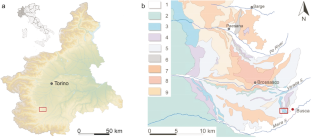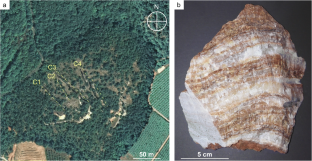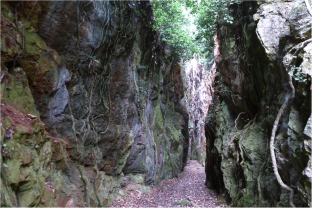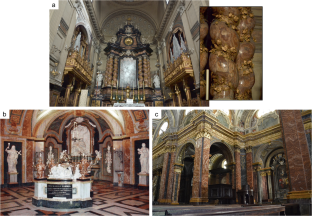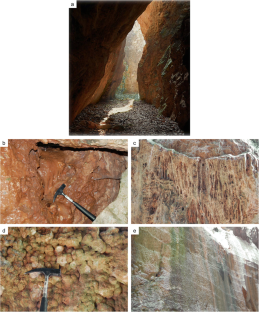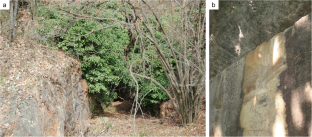 Notes
1.

Originally existed other caves in the area, completely destroyed by the quarry expliotation.
References
Badino V, Bottino I, Bottin G, Fornaro M, Frisa Morandini A, Gomez Serito M, Marini P (2001) Valorizzazione delle risorse lapidee del bacino estrattivo dei marmi del monregalese. Geoingegneria Ambientale e Mineraria XXXVIII:97–108

Barelli V (1835) Cenni di statistica mineralogica degli Stati di S.M. il Re di Sardegna ovvero Catalogo ragionato della raccolta formatasi presso l'Azienda Generale dell'Interno. Fodratto, Torino, pp 1–687

Borghi A, Cadoppi P, Dino GA (2016) Heritage stone 2. The Dora-Maira unit (Italian Cottian alps): a reservoir of ornamental stones since roman times. Geosci Can 43:1–18

Borghi A, d'Atri A, Martire L, Castelli D, Costa E, Dino G, Favero Longo SE, Ferrando S, Gallo LM, Giardino M, Groppo C, Piervittori R, Rolfo F, Rossetti P, Vaggelli G (2014) Fragments of the western alpine chain as historic ornamental stones in Turin (Italy): enhancement of urban geological heritage through Geotourism. Geoher 6:41–55

Brandolini P, Faccini F, Robbiano A, Bulgarelli F (2011) Geomorphology and cultural heritage of the Ponci Valley (Finalese karstic area, Ligurian alps). Geogr Fis Din Quat 34:65–74

Brandolini P, Canepa G, Faccini F, Robbiano A, Terranova R (2007) Geomorphological and geo-environmental features of the Graveglia Valley (Ligurian Apennines). Geogr Fis Din Quat 30:99–116

Casalis G (1834) Dizionario geografico, storico, statistico, commerciale degli Stati di S.M. il Re di Sardegna, vol. II and XIV. Maspero e Marzorati, Torino

Chopin C, Henry C, Michard A (1991) Geology and petrology of the coesite-bearing terrain, Dora Maira massif, western alps. Eur J Mineral 3:263–291

Di Saluzzo A (1845) Le Alpi che cingono l'Italia considerate militarmente così nell'antica così come nella presente loro condizione. Mussano Edition, Torino, pp 107–108

Eandi G (1833) Statistica della Provincia di Saluzzo, vol vol. I. Lobetti-Bodoni Typography, Saluzzo

Fairchild IJ, Baker A (2012) Speleothem science—from process to past environments. Wiley-Blackwell, 431

Fiora L, Carando M, Sandrone R (2007) Multimedia petrographic guide of the city of Torino, Italy. Per Miner 76:91–97

Fiora L, De Rossi A, Sandrone R, Alciati L (2001) Esempi di pavimentazioni lapidee storiche e contemporanee nella città di Torino. Geoingegneria Ambientale e Mineraria XXXVIII:271–276

Klemm DD, Klemm R (1991) Calcit–alabaster oder Travertin? Göttinger Miszellen 122:57–70

Marengo A (2017) Mineralogical and petrographic characterization of calcite-alabaster. The case study of Busca Onyx Plinius 43. https://doi.org/10.19276/plinius.2017.01012

Marengo A, Borghi A, Cadoppi P, Costa E (2014) The Busca Onyx: an historical ornamental stone from Piedmont. In: Research and preservation of ancient mining areas, IES yearbook, 289–299. Silvertant ed, Valkenburg, pp 171–181

Marengo A, Costa E (2016) L'Alabastro di Busca tra Arte e Scienza, 160pp. ISBN 972-12-200-1174-7

Margiotta S, Sansò P (2017) Abandoned quarries and Geotourism: an opportunity for the Salento Quarry District (Apulia, southern Italy). Geoher 9:463–477

Nita J (2012) Quarries in landscape and geotourism. Geogr Pol 85:5–12

Occelli S (1930) Busca nei tempi antichi e moderni. Ed. Marchisio, Turin, 260

Prosser CD (2016) Geoconservation, quarrying and mining: opportunities and challenges illustrated through working in partnership with the mineral extraction industry in England Geoher Doi: 10.1007/s12371-016-0206-z

Sandrone R, Cadoppi P, Sacchi R, Vialon P (1993) The Dora-Maira massif. In: von Raumer JF, Neubauer F (eds) Pre-Mesozoic geology in the alps. Springer-Verlag, p 317–325

Sandrone R, Colombo A, Fiora L, Fornaro M, Lovera E, Tunesi A, Cavallo A (2004) Contemporary natural stones from the Italian western alps (Piedmont and Aosta Valley regions). Per Min 73:211–226

Spissu M, Elia E, Lerda M, Chesta M (2000) Grotta della Marmorera. Mondo Ipogeo 15

Stella A (1908) Le cave di alabastro e di altri materiali calcarei del Saluzzese. Bollettino del Regio Comitato Geologico d'Italia 4

Tom H, Gurli M (2015) Assessment of ancient stone quarry landscape as heritage sites. Eng Geol Soc Territory 8:253–256

Zunino M, Cavagna S, Clari P, Pavia G (2012) Two examples of the Geoheritage potential of piedmont (NW Italy): Verrua Savoia for the present, Valle Ceppi for the future. Geoher 4:165–175
Acknowledgements
The authors wish to thank the Municipal Administration of the City of Busca for the support to the project.
About this article
Cite this article
Marengo, A., Borghi, A., Bittarello, E. et al. Touristic Fruition of the Disused Quarry of Busca Onyx: Problematics and Strategies. Geoheritage 11, 47–54 (2019). https://doi.org/10.1007/s12371-018-0311-2
Received:

Accepted:

Published:

Issue Date:
Keywords
Quarry

Ornamental stone

Geotourism

Piedmont

Calcite-alabaster