Abstract
Makrana marble is one of the most preferred ornamental and masonry stones from north-west India that finds its usage in several spectacular heritage buildings and monuments within the country and abroad. The Taj Mahal of Agra (one of the Seven Wonders of the World and a UNESCO world heritage site) and the Victoria Memorial of Kolkata are both made in Makrana marble, enumerating the two most iconic monuments representing the Moghul and British era architectonic heritage from India. Makrana marble has also been a major building material for scores of forts, palaces and archaeologically significant buildings in India that include white marble structures within Red Fort (both in Delhi and in Agra), Humayun's Tomb, Akbar's Tomb, among others. The international use of Makrana marble includes the Sheikh Zayed Mosque, Abu Dhabi, UAE, and Moti Masjid, Lahore, Pakistan. The Makrana marble holds a unique place in the history of heritage stones owing to its visual appeal and homogenous monomineralic attributes. Its crystalline granoblastic, compact and interlocking texture renders it less porous and enhances its resistance and durability. These qualities have made the Makrana marble an ideal material for monuments and buildings. Mineralogically, the Makrana White marble commercial variety, referred to locally as 'Sang-e-Marmar' (meaning pure white/ivory stone), contains ~ 100% white calcite grains. On the other hand, the streaks/bands of grey, green and pink shades in other commercial varieties of Makrana marble are attributed to the silicate mineral impurities. Contemporary use of Makrana marble as a dimension stone include cladding, paving, flooring and façade. It is commonly used for making sculptures, ornate garden furniture and fountains which commonly adorn the popular public places like gardens, shopping arcades and malls. Makrana marble has been widely used across the Indian subcontinent, and in combination with its unique geological properties, it fulfils all the criteria and norms to be accredited as a Global Heritage Stone Resource.
This is a preview of subscription content, log in to check access.
Access options
Buy single article
Instant access to the full article PDF.
US$ 39.95
Price includes VAT for USA
Subscribe to journal
Immediate online access to all issues from 2019. Subscription will auto renew annually.
US$ 99
This is the net price. Taxes to be calculated in checkout.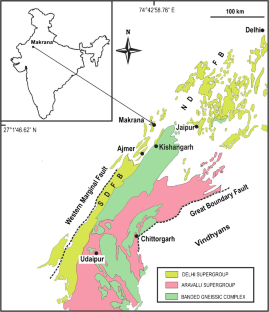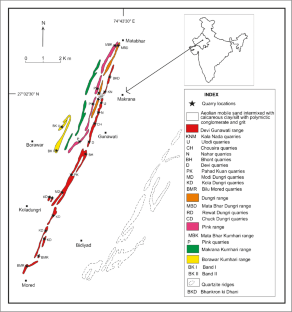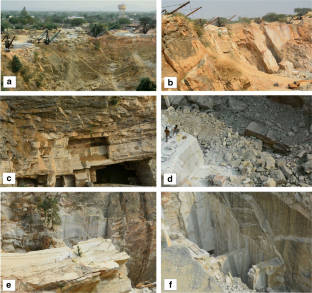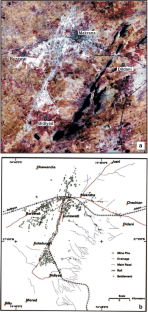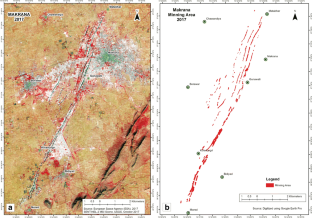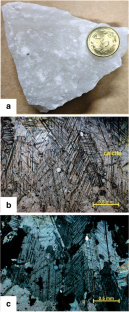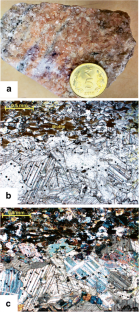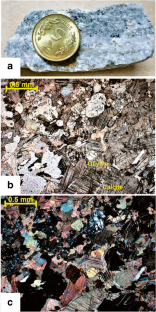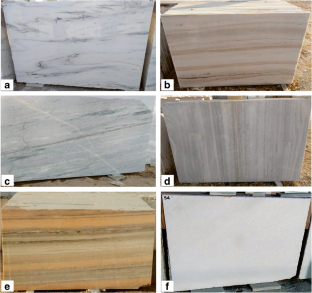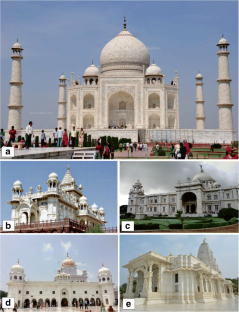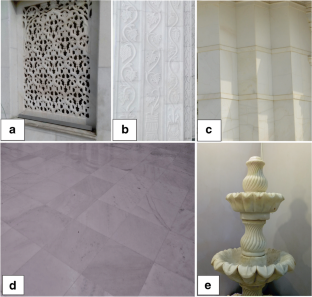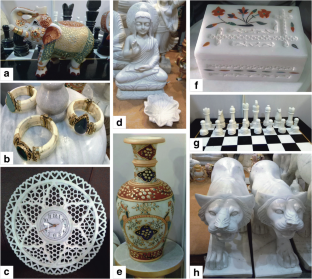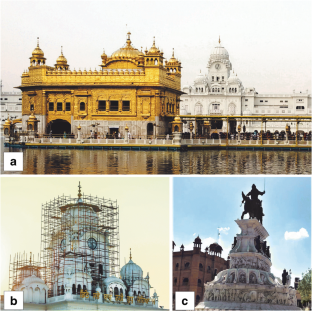 References
Bhadra BK, Gupta AK, Sharma JR, Choudhary BR (2007) Mining activity and its impact on the environment: study from Makrana marble and Jodhpur sandstone mining areas of Rajasthan. J Geol Soc India 70(4):557

Dube RK (2008) Superiority of Makrana (Rajasthan) Marble. Ind J His Sci 43(2):285–288

Fermor LL (1948) Thomas Henry Holland. Obituary Notices of Fellows of the Royal Society 6(17): 83–114

Gregory LC, Meert JG, Pradhan V, Pandit MK, Tamrat E, Malone SJ (2006) A paleomagnetic and geochronologic study of the Majhgawan kimberlite, India: implications for the age of the Upper Vindhyan Supergroup. Precambrian Res 149:65–75

Gupta BC (1934) The geology of central Mewar. Office of the Geol Surv India

Gupta SN, Arora YK, Mathur RK, Iqbaluddin BP, Sahai TN, Sharma SB, Murthy MVN (1980) Lithostratigraphic map of Aravalli region, southern Rajasthan and northeastern Gujarat. Geological Survey of India, Hyderabad

Gupta SN, Arora YK, Mathur RK, Iqbaluddin PB, Sahai TN, Sharma SB (1997) Precambrian geology of the Aravalli region, Southern Rajasthan and northeastern Gujarat, India. Mem Geol Soc India 123:262

Heron AM (1953) The geology of central Rajputana. Mem Geol Soc India 79

Natani JV (2000) Geoenvironmental impact assessment studies of Makrana marble mining area, Nagaur district, Rajasthan. Geol Surv India (unpubl report)

Natani JV (2002) Regional assessment of marble and calc-silicate rocks of Rajasthan. Rec Geol Surv Ind 135(7):53–55

Natani JV, Raghav KS (2003) Environmental impact of marble mining around Makrana, Nagaur district, Rajasthan. J Geol soc India 62(3):369–376

Paliwal BS, Pareek US, Vyas A (1977) Structural frame work of the Makrana marble deposit and its bearing on the Precambrian stratigraphy of Rajasthan. Geology in South Asia-II. Geological Survey and Mines Bureau, Sri Lanka, Professional Paper 7: 123–136

Pereira D, Marker BR, Kramar S, Cooper B, Schouenborg B (2015) Introduction. Geol Soc Spec Publ 407:1–4

Prasad, B (1984) Geology, sedimentation and palaeogeography of the Vindhyan Supergroup, southeastern Rajasthan. Memoirs of the Geological Survey of India

Rasmussen B, Bose PK, Sarkar S, Banerjee S, Fletcher IR, McNaughton NJ (2002) 1.6 Ga U-Pb zircon age for the Chorhat Sandstone, lower Vindhyan, India: possible implications for early evolution of animals. Geology 30(2):103–106

Ray JS, Martin MW, Veizer J, Bowring SA (2002) U-Pb zircon dating and Sr isotope systematics of the Vindhyan Supergroup, India. Geology 30(2):131–134

Roy AB (1988a) Precambrian of the Aravalli Mountain, Rajasthan, India (ed vol). Mem Geol Soc India 7: 439

Roy AB (1988b) Stratigraphic and tectonic framework of the Aravalli mountain range. Mem Geol Soc India 7:3–31

Roy AB, Jakhar AR (2002) Geology of Rajasthan (Northwestern India). Precambrian to Recent: Jodhpur, Scientific Publication: 421

Roy AB, Kataria P (1999) Precambrian geology of the Aravalli mountains and neighbourhood: Analytical update of recent studies. In: Kataria P (ed), Proceedings of the Seminar on Geology of Rajasthan – Status and Perspective. (AB Roy felicitation volume), Geology Department, Mohanlal Sukhadia University, Udaipur, 1–56

Roy AB, Kröner A (1996) Single zircon evaporation ages constraining the growth of the Archaean Aravalli craton, northwestern Indian shield. Geol Mag 133(3):333–342

Sarkar SL, Bhadra AK, Mandal PK (1994) Investigation of mortar and stone deterioration in the Victoria Memorial, Calcutta. Mater Struct 27:548–556

Sinha Roy S (1984) Precambrian crustal interaction in Rajasthan, NW India. In: Proc Seminar on Crustal evolution of Indian shield and its bearing on metallogeny. Indian J Earth Sci: 84–91

Sinha-Roy S (1988) Proterozoic Wilson cycles in Rajasthan. Mem Geol Soc India 7:95–107

Sinha J (2007) Beyond the Dunes: Journeys in Rajasthan. Penguin books: 235 (ISBN13: 9780143063063)

Sinha-Roy S, Malhotra G, Mohanty M (1998) Geology of Rajasthan. Geol Soc India, Bangalore: 278p

Wiedenbeck M, Goswami JN, Roy AB (1996) Stabilization of the Aravalli Craton at 2.5 Ga: an ion-microprobe zircon study. Chem Geol 129:325–340
Further Reading
Acknowledgements
The authors wish to acknowledge people who helped in making this project possible. The Head of Department of Geology, Rajasthan University, Jaipur, is thanked for extending logistic facility at Jaipur. Mr. Aamir, Geologist, Department of Mines and Geology, Makrana, is acknowledged for organising field trip to the various quarries of Makrana. Mr. Rohit Jain (Geologist, Geological Survey of India, Jaipur) and Ms. Navjot Kaur (Junior Hydrogeologist, Central Ground Water Board, Jaipur) are sincerely thanked for providing access to literature. We are thankful to Mr. Paras Bhalla, Ms. Nidhi Lohani, Ms. Rashpinder Kaur, Mr. Gursewak Singh, Mr. Navpreet Singh and Mr. Pawanjit Singh for sharing photographs of various monuments. Mr. Rajeev, Department of Geology, Panjab University, Chandigarh, is thankfully acknowledged for preparing thin sections of the Makrana marbles. The European Space Agency and USGS are acknowledged for satellite images of Makrana region. We also thank the reviewer for constructive comments that have enhanced the value of this presentation.
About this article
Cite this article
Garg, S., Kaur, P., Pandit, M. et al. Makrana Marble: a Popular Heritage Stone Resource from NW India. Geoheritage 11, 909–925 (2019). https://doi.org/10.1007/s12371-018-00343-0
Received:

Accepted:

Published:

Issue Date:
Keywords
Taj Mahal

Makrana marble

Export

Quarries

Heritage stone